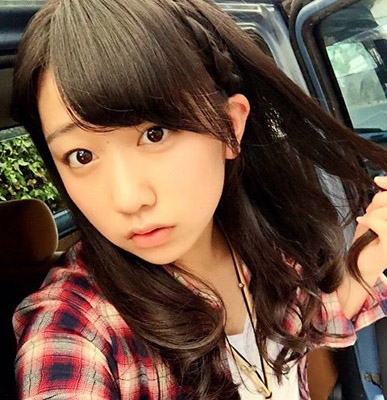 1: 【中国電 73.1 %】 ◆fveg1grntk 2016/01/03(日) 21:58:44.18 0.net
(asleep) "ZZzzZZzzZZ… mmm… huh?"
"Wait. Wait, what?!?!"
(jumps out of train, runs onto the platform)
"Wait a minute… Wait a minute!?! (ToT)/~~~"

(calls father while crying)
"Dad, the bullet train is gone…!!"
( ´_ゝ`)< Why don't you just get on the next one?
"But this was the last one of the day!!"
( ´_ゝ`)< Well, try asking one of the station attendants if there's no other way to get home.

"Dad, they said there's something called the night train!!!"
( ´_ゝ`)< See, that's great! Remember now, if this ever happens again, make sure to just calm down first. As long as you keep a cool head, you can always find ways of getting things done. ♪

※ My apologies to all of the staff whom I made worry. I'll be careful to not let anything like this happen again.
http://ameblo.jp/kobushi-factory/entry-12113482238.html
4: 【中国電 71.2 %】 ◆fveg1grntk 2016/01/03(日) 22:08:13.66 0.net
How amazing would it be to have a daughter as cute as her?
2: 名無し募集中。。。 2016/01/03(日) 22:01:58.60 0.net
Her dad seems really kind.
5: 名無し募集中。。。 2016/01/03(日) 22:10:01.27 0.net
If I was her dad, I'd make things ten time worse by going into complete panic mode, screaming at her to stay right where she is and telling her I'd head over there to pick her up immediately.
6: 名無し募集中。。。 2016/01/03(日) 22:11:17.20 0.net
Night train? Does she mean the Ogaki Yakou? Even idols ride trains as filthy as that one?
27: 猫 2016/01/03(日) 22:52:28.41 0.net
>>6
It's different to how it was some decades ago. I rode it some years back and it was surprisingly pleasant.
12: 名無し募集中。。。 2016/01/03(日) 22:18:45.46 0.net
When's the last bullet train of the day?
13: 名無し募集中。。。 2016/01/03(日) 22:22:09.63 0.net
To Nagoya from Tokyo, 22:00.
14: 名無し募集中。。。 2016/01/03(日) 22:27:59.54 0.net
To think how exhausted she must've been… (;_q)
17: 名無し募集中。。。 2016/01/03(日) 22:40:44.00 0.net
The same thing once happened to me. I had my old man from Osaka come pick me up all the way from Nagoya. Thank you, dad.
20: 名無し募集中。。。 2016/01/03(日) 22:46:54.34 0.net
Her dad sure is calm.
48: 名無し募集中。。。 2016/01/03(日) 23:16:38.61 0.net
They make her get back to Nagoya all by herself? That's scary.
37: 名無し募集中。。。 2016/01/03(日) 23:01:54.40 0.net
Really though, missing the last train of the day as a junior high schooler… that'd feel like no laughing matter if it happened to you.
54: 名無し募集中。。。 2016/01/03(日) 23:36:52.66 0.net
Missing the last train as a junior high schooler? Man, I'd be crying, too.
Source: http://colorhello.blog.jp/archives/1049160480.html