Aya & Ayaya
Part Three: Future
A rather premature autobiography (2004)
Asking a girl who is only about to turn 18 about her ultimate goals in life — a rather pointless exercise perhaps, but that is just what we have done here. Some of her answers are what one might expect to hear from a teenage girl, being along the lines of, "I just want to live in the moment." But some of her answers also hint at a concrete, proper plan for her own future… In addition, she reveals exactly what she was told by a fortune-teller!

Here, at the very end of the interview, she describes herself for us in a single word.
A Twentysomething Mother

— I understand you would like to be married by the age of 25, right?

Aya: Yes. But what I mean by that is, I want to still be in my twenties when my child enters elementary school. I want to be a mother in my twenties. Because my mom was the same.
— So whenever you had parents' days at school, people would be going, "Aya-chan's mom sure is young and pretty"?

Aya: Right! They were always saying that about my mom, and it made me so happy. I'd often go shopping with her and I felt that she had such good taste in things, so I could depend on her with things like that. That must also be because she's so young. So when I become a mother myself, I'd like to build a relationship that's like… "parents, but also friends." So my goal is to be a mother by the age of 25.
— So let's say you got married and had kids. How do you see your life looking like then?

Aya: Mmm. I think I'd still like to be in Tokyo. Especially if I have a girl, I want to live in Tokyo. Fashion and stuff is more showy in Tokyo… It's easier to be fashionable.
— What if it's a boy? Would you try to get him to grow up strong?

Aya: Oh, in that case, I doubt I'd do much at all. If it was a boy, I'd go like, "you just grow up freely to be however you'd like." (laughs)
— In your profession, even after one gets popular it can be difficult to maintain it. There's that instability. So how about work-wise? If one day you feel like you've given this job all you can, will you quit? Also, will you retire once you get married?

Aya: Hmm… I don't think about the future that deeply. I never have. I do dream of becoming a mother, but then I also feel that I would like to keep doing this job if at all possible, and I also want to become a songwriter… But I've never thought more deeply about what I would do if that actually happens. Even just thinking about next year is about the best I can do. So yes, I don't think about it much. (laughs)
— To be fair, I'm well aware that I'm asking these questions of someone who is only about to turn 18 this year… (laughs)

Aya: One thing that I often do think about is… For example, when it comes to food, I'll start by eating my favorite things of the meal first. Because let's say there was an earthquake and I wasn't able to eat my favorite thing… I don't want to die regretting it. Like, "I wish I would've eaten that thing!" (laughs) That's something I think about. That kind of stuff.
— So when you're eating sushi…?

Aya: I start from my favorite toppings.
The Early Discovery of One's Dream

— Among the members of Hello! Project you're especially close with Fujimoto Miki, aren't you?

Aya: Me and Miki-chan are actually polar opposites — that's why we get along so well. I'm the eldest daughter while she is the youngest daughter, I'm blood type B while she is blood type A — people often talk about how A and B don't get along well, right? And she's two years older than me, too.
— What kinds of things do you usually talk about?

Aya: About work, about shopping… "I liked that manga!" "That movie was great!" Or like, "my mom said you should come over for dinner!" "I'll go, I'll go!" (laughs) Just normal stuff.
— In your line of work, don't you have to work hard just to maintain that sense of normalcy?

Aya: Not at all. I don't do anything special to stay normal. I was already normal to begin with. (laughs) Just three years ago, I really was a normal junior high school student. People see me on TV and they imagine all these things about me when really there's nothing special about me…
Like, when I go to the supermarket, the staff will be all surprised to see me there. "Huh, so even Ayaya goes to the supermarket!" And I'll answer, "of course I do!" I really do walk out on the street and stuff just like everyone else.
— I would think the reason someone in your position might feel that they're special is because they've realized, "I can do something that other people can't." Do you not think anything like that?

Aya: Huh?
— I mean, you're able to do things like perform concerts that attract huge audiences, or appear in movies. Does that not make you feel at all like you're doing something special?

Aya: I think in my case it's just that I found my dream in life so early on, and I've been pursuing it with all my might ever since. Let's say there was a 17-year-old who said, "I love the piano. I'm going to practice the piano every single day, and one day I'm going to be a pianist." In my case, it's just that I happened to reach that "pianist" stage early. But other than that, I don't think anything else has changed about me.
Well, appearing on TV and being seen by many people in that way — some people might think that's special. Yes, I guess it's not normal, and it is a big part of what I do. But I love singing so I'm just giving it my all. Someone else out there loves to play the piano so they're giving their all at practicing the piano. I don't think there's any difference between those two things.
— Being able to pass an audition is also partly because of luck, right? I mean, there are certain things in the world that one just can't help; things that are all based on luck. But you were able to make a profession out of your desire to sing. Do you have any advice for people who are doing their best at trying to do what it is they want to do?
Aya: I wonder… I definitely think hard work is essential, as is the act of not giving up, and believing in yourself… Really, I don't think there's much advice I could give you other than that. I do think luck plays a part in it, too. Because for me, everything has just happened so shockingly fast. Yeah… In my case, the only thing I can describe myself as is "lucky." (laughs)
— But in your case, even if you are indeed lucky, maybe it all worked out because you didn't presume upon your good luck?

Aya: Right. It's not that I was thinking, "I'm lucky and that's why I passed." It's only now looking back on these past three years that I can think, "I must've gotten lucky." But at the time of my debut, the only thing I was thinking about was giving it my absolute best.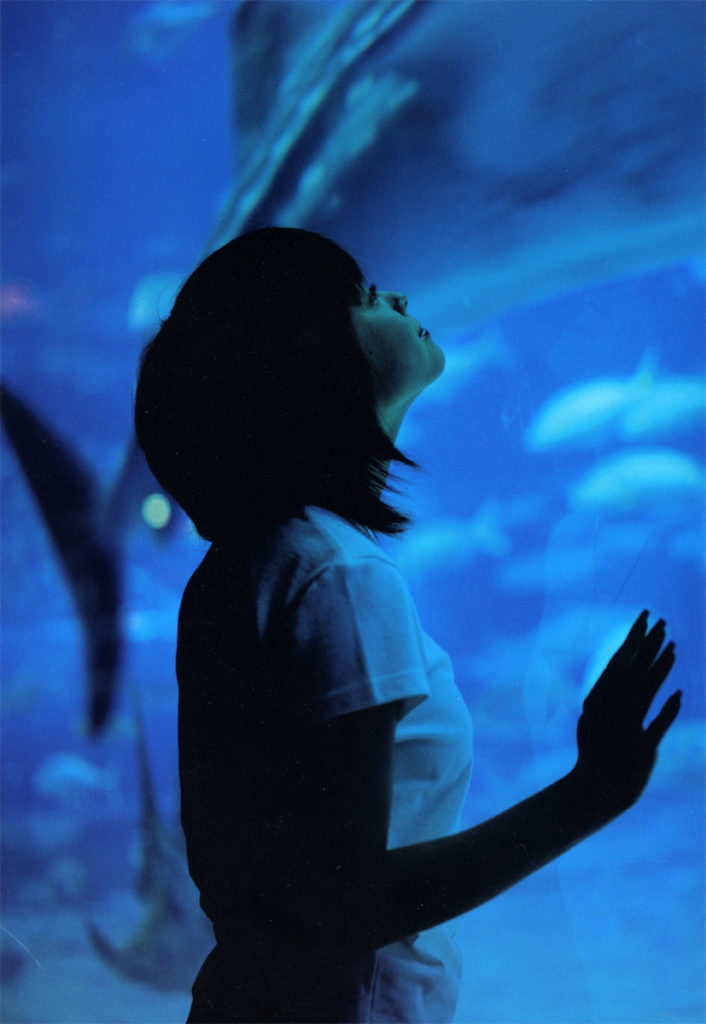 Touring the Country with a Live Band

— Can you picture yourself three years from now, at around 20 years old? Do you have any secret future plans? What kinds of songs do you think will suit you then?

Aya: What kinds of songs…? Oh, but one thing I would like to do is to sing with a live band.
— I wasn't expecting something so specific!
Aya: Yes. (laughs) I've gotten the opportunity to sing with a live band a few times, and it feels sooo good! When you're singing to the instrumental, you're just singing on top of it and you try to express the songs with the staging and your voice alone. But when there's a live band, it's like I'm communicating with the other performers and with the sound itself, and that produces something new altogether. When it's not just me but other people doing their best, too, I can release a different kind of energy. So that's something I would like to do more of.
— After you've experienced it once…

Aya: Right. (laughs) I've gotten to sing with a live band on a TV show, and then at an NHK charity concert I sang with the backing of a live orchestra of tens of people.
— So it's your dream then to maybe take your own band along on tour?

Aya: Yes, that would be great. (laughs) One day I want to do a country-wide tour like that.
— How about you personally? How do you see yourself having changed mentally at 20 years old?

Aya: One thing I always think about is, even as I grow older in years, I don't want to forget how I feel right now either. To use my mom as an example again, of course she is mature in some ways, but then she also has parts about her that are really childlike. I think that's exactly why she can get along with us so well. That's the kind of woman I want to be.
— Is that sort of like… Being able to say that something is pretty when you think it is?

Aya: That's a part of it. Like, the people around me often tell me to never change, and so I'll tell them, "don't worry, I'm not going to change that easily!" I personally hope I don't change. Certain things like your character — that's something that would be difficult to change even if you tried. (laughs)
— But if that means expanding your territory and increasing your assets, that would make you a truly charming, personable individual. Please do aim for that. (laughs)
Aya: Sure. But I've always hated forcing myself to do anything. I'm only human — it's difficult for me to keep giving 100% every single day. Sometimes when I'm on tour for example, I'll convince myself to take it easy by thinking, "I already had the audience have fun at today's concert." I never think to perfect anything at the expense of forcing myself. Because you can see it on someone's face when they're forcing themselves to do something. Instead of showing myself to everyone with an expression like that, I'd rather have them see me looking natural.
— It does stiffen one's expression when they're forcing themselves.

Aya: Right? Like, they look all tense. There's something about it that makes others go, "something is off about this person…" As a viewer, when I'm watching a show on TV, or when I'm talking to someone I'm appearing on a show with, I can tell if there's something a bit different like that about the person. And since I can tell something like that just by looking at them, I've decided that personally I would rather just act naturally.
Giving It Her All and Not Hiding It

— There's something I really wanted to ask you. At Hello! Project concerts for example, the performers all greet the audience at the end with a final "thank you!" But while the rest of the members are almost shouting it, with you it's a much more mid-range "thank you," as if you were talking to someone who was standing right next to you. That's something that really left an impression on me. It's like it's in a totally different key from everyone else…

Aya: Hmm… But I think I too was originally saying it in a really high pitch. It was like this thing I had… "I have to show myself looking energetic until the very end! No matter how hard I was singing, dancing, and running around, I have to finish it with a smile!" I was being self-conscious.
But then at some point I just thought, "why do I have to force myself to do that?" Running around with all my might during concerts — honestly, it does tire me out! But for some reason I thought that was something you weren't allowed to say. But then one day when I asked the staff about it, they said, "Why not? Go ahead and say it." And I just thought, "YES! All right!" (claps hands)
— "YES!"… (laughs)

Aya: Just as I used to genuinely say "ahh, I sure did my best today!," I will now genuinely say, "ahh, I'm beat!" That is my mood now when I now do those final greetings to the audience, having given my all. Recently at my own concerts, since my dancing can be so intense, I'll even go, "Ahh… I'm so tired… Gimme a second to catch my breath…"
— It takes courage to say that. The audience could lose interest because of it.

Aya: But I only do so just for an instant when I'm out of breath. After that, I try to get myself all fired-up again. (laughs) Like, "Not yet! I have to keep pushing!"
— So that has actually been a big turning point for you: having the realization that you can express yourself to your audience not only by giving it your all, but also through being natural.
Aya: Yes. I think I realized it after I started touring on my own. Initially, I felt a bit embarrassed about it. Being out of breath after I stop singing — I thought it was something you just had to endure and something you absolutely shouldn't show the audience. But I am tired, so of course my breathing will become heavy. I realized there's nothing embarrassing about it since it's only the result of me having given it my all.
— Similarly, getting emotional and crying on stage is something that Japanese fans are accepting of, right? Especially when it's an idol doing so, the fans will find it cute when it happens. What are your thoughts on that? Do you feel that since you're a professional you want to keep singing no matter what?

Aya: Whether you're laughing or crying it's all a part of the live experience, so I don't think there's anything wrong with that. But in my case, I just can not cry on stage. Up until now, no matter how moved I may have felt, I've done my best to hold back the tears. Not once have I stood on stage and cried as I was singing.
Just the other day when I was performing the final concert of my tour in Nagoya, I was singing "Sougen no Hito" when the whole venue suddenly turned green. Everyone turned their glow sticks to green — it was their present to me as to say, "good work." I was so touched by that and normally I would have been crying, but I really just don't want to show my tears. I wonder why that is?
— Would you then get teary-eyed once you make it back to the dressing room?

Aya: If there was no one else in the room, I might. But that day there were people around, so I couldn't.
— Next time, how about you try being by yourself after a concert?

Aya: Ahahahaha. Well, I mean, I always get emotional at tour finals. I do get teary-eyed. But actually crying is something I just can't do…
— I've seen you get your lyrics wrong before during a concert… Oh, and I'm sorry for asking you a question like this. (laughs) But anyway, when you did, in the very next moment you had this huge smile on your face… This smile that makes one want to forgive you for everything. And what's more is that it didn't seem at all intentional on your part!

Aya: Oh, is that so? (laughs)
— It's just a very convincing smile. (laughs)

Aya: Oh my. (laughs) I see. Well, I'm very honest — almost to a fault. Things like that will show up in my expression immediately. Like, "I messed uuuuup!" (laughs)
The Pros and Cons of Being a Solo Artist

— Morning Musume has their graduation system to mark a person's departure from the group. You, however, are a solo artist. Is this something you're mindful of?
Aya: I'm not sure how I feel about that… But I do think that I probably wouldn't last long as part of a group. I think that's a blood type B thing. People often say how B's have a tendency of disrupting the group harmony and atmosphere, and I think that's exactly right.
— But you were in Gomattou with Goto Maki and Fujimoto Miki, weren't you?

Aya: Yes, but if it's just a unit or like a special event type of thing like that, I can enjoy it for what it is. But if I was suddenly told, "starting now, you're going to be a permanent member of a group," I don't think I could do it. I'm such a stubborn person and I tend to think, "it is the way I say it is!" So it would probably be difficult for me.
— By "stubborn," do you mean that you're someone who stays firm in their convictions?
Aya: I didn't realize this about myself, but I've often been told by others that if I was a member of a group, what would surely happen is that… Well, I might at times stick to my opinions, but conversely, I might take others' opinions into consideration too much and just think, "oh, never mind, I'll just yield on this matter." So ultimately, I wouldn't be able to express myself properly.
When you're a part of a group, it's like the person who can put themselves out there the most, wins. And I would probably… not necessarily "give up," but I might yield to the others in the group. This is something that people around me have pointed out about me.
— It would be like choosing the half measure.
Aya: Right. It's tougher in some ways to be by yourself and not in a group, but at least it allows me to properly speak my mind.
— Do you get influenced by manga or movies?

Aya: Influenced… I'm not sure. Rather than actually wanting to become like the protagonist in the movie, I'm more just seeking to feel moved by watching it. Like, "ahh, what a nice depiction of love that is!" I do experience that.
— What is your ideal kind of love? A couple deepening their bonds through shared hardship? Or is it the prince coming for the girl at the end?

Aya: Oh, I do like the lovey-dovey, happy endings. Rather than being unable to predict what's going to happen next, I think I actually prefer the kind of story where I can just tell how it's going to end. Happy endings make me feel so happy myself.
— Like, "Yes! There you go!"?

Aya: Right! "Yes! That's how it's supposed to go!" (laughs) Oh, I just remembered something. Do you mind if I tell a story? I recently read this manga and it had an ending that I really just could not accept. From the very beginning the story followed these two people, but ultimately they didn't get together. It finished with the two of them ending up with a different woman and a different man. I was going, "UWAAAAHHH!!" I so did not agree with it. It really happened in just the last 20 pages or so. It made me so, so annoyed! (laughs)
— Did you call the publisher or something?

Aya: No, nothing like that. But I was going, "what is this?!" I did call my friend who was reading the same manga and I said to them, "Did you read it? I can't accept that ending!" (laughs)
Company President at 40?

— Now then, we have just about reached the end of what has been a truly long interview. I would like to finish by asking: what sort of a person do you see yourself becoming in the future?
Aya: I was told something by a fortune-teller. This was about a year ago. They told me that one of my ancestors was a princess. She wore a ceremonial kimono and everything, and she had lots of girls as servants. But then as the times changed, she was working at some kind of a factory during war. She was in a leadership position with about 30 girls working under her, with her giving them orders. "Do this! And you do this!" But it's not that she was a strict person — on the contrary, she was adored by everyone. That's apparently the kind of person she was. Always surrounded by all those girls… And that is in fact how it is with me right now, as I'm working in a company full of girls…
Then, when I had the fortune-teller look not at my past but my future, they said: "at about age 40, you are going to be the president of a company." They went on to say something like, "in your life you will always be surrounded by young women." And I thought, "I see… A company president, huh…?" And when I thought about the kind of company that I might be the president of, it felt like… "Maybe that actually would suit me."
— So in other words, both your past as well as your future speak of you exercising leadership among young women.

Aya: Maybe it's not totally impossible.
— So you're going to be a businesswoman — there's no doubt about that?
Aya: You never know. But since I'm apparently going to be surrounded by lots of young women, it could be that I'll end up starting my own company in the entertainment industry. Or maybe it's something completely different altogether.
— I'll have to treasure our relationship. After all, in the long term I might have to ask many favors of you — that is, when I'm going to be referring to you as "President." (laughs)

Aya: Ahahahaha. Okay. But who knows what might happen? The future is a mystery.