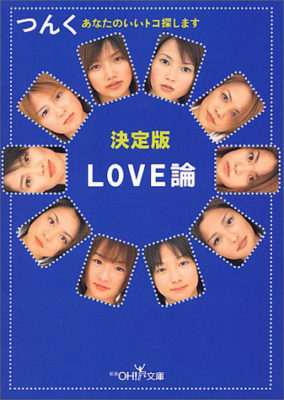 Lots of women are fun for play,
but when it's time to marry…
Don't you find that in any one class in school, there's always that one girl who everyone calls "mother" or "mom"?
"Mom" is one of those nicknames that tends to stick even if the girl in question was to transfer classes. In fact, even if she changes schools altogether and is surrounded by people she doesn't know, her new classmates will soon have adopted for her the nickname of "mom" just the same. The characteristics for girls like that tend to include roundish features, a light complexion, and a bright, warm aura. She's also broad-minded, she takes care of the people around her, and she has a sort of heartiness about her.
Girls like that might not be terribly pleased about being called "mom." "Why won't everyone call me by (name)-chan?" "I'm only 16 years old…" But it's really nothing to worry yourself over. People calling you "mom" is not the same as them calling you an old auntie. If anything, being called "mom" is a compliment — in fact, it's a sign of popularity.
To begin with: all guys out there are more or less mommy's boys. No guy out there dislikes a motherly girl. It's often said that when guys begin to think it's embarrassing to depend on their mothers, that's when they first fall in love with someone. In other words, guys spend their whole lives in pursuit of a mother figure. When it becomes too embarrassing to rely on their mothers, they look at girls closer to their own age, unconsciously seeking for a replacement to their mothers.
And indeed: once more they are back to sucking on a breast.