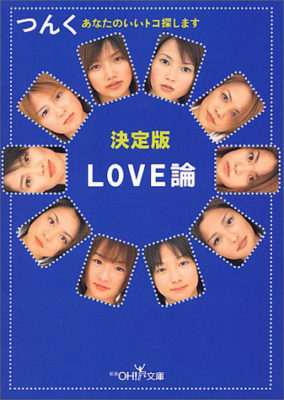 Countryside calm or metropolitan bustle?
I think quite a lot of girls who don't live in the very busiest suburban cities — even if they're not from a complete countryside area, but just somewhere where people lead even slightly more laidback lifestyles — might've been surprised upon first seeing Goto Maki, one of the additions to Morning Musume.
Goto is someone who entered the world of show business quite literally out of nowhere. Yet, from the very beginning, she's had the freshness and the looks of someone you could line up with other celebrities and she wouldn't look out-of-place at all. Sure, some of it is thanks to her naturally lovely facial features and her nice figure. But frankly, I think a lot of it has to do with the fact that she's a Tokyo girl. In addition, she has older sisters who are quite a bit older than her, making her seem mature for her age — but not in a bad sense of the word, mind you: she's just your average Tokyo girl who became fashionable thanks to the influence of her big sisters.
Someone like Goto might go, "well, summer vacation's started and all — I guess I'll try dying my hair blonde!" But if it was a girl from the countryside, dying your hair blonde would be a momentous decision. People all around town would be rumoring about you. "Did you see what the girl from that house did?" Her parents would be crying, begging her not to go through with it. This is something that would be a non-issue for Tokyo girls.
Assuming your parents weren't the abnormally bossy type, they'd think nothing of it if you showed up one day, going "I decided to change my hairstyle!" To a girl like that, it might be similar to something like the countryside girl simply getting her nails done. This might sound unthinkable to anyone from the more rural areas. I can see it being an issue even for someone living in a larger suburban city like Osaka. I really think it's something you can only get away with if you're one of the big city, Tokyo girls.