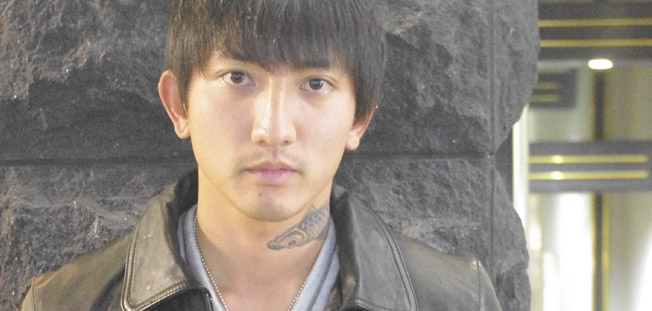 Goto Yuki, younger brother of Goto Maki, was in 2008 found guilty of a 2007 theft of electrical cable and convicted to imprisonment with hard labor for a term of five years and six months. He was released on parole in October 2012 and then in January 2013 — for the first time since his group EE Jump went on an indefinite hiatus in 2002 — he gave a public interview.
The interview was done for a Japanese tattoo website and it's a pretty interesting (if short) read, so I do recommend checking it out and reading more about not only his tattoos, but about what drove him to a life of crime, what he thought about his time in jail and also an answer to a certain persistent rumor about him and Maki.
Translated in January 2013.
Original interview, text & photography: tattoo navi
English translation: Henkka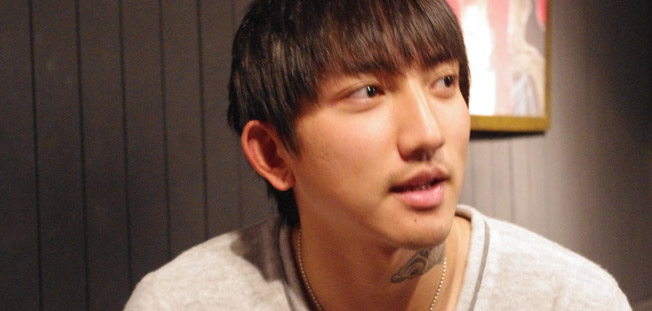 Goto Yuki
~The Dash for Freedom~
— I suppose I should begin by saying congratulations on your release.
I'm not sure if "congratulations" is the right word for it… but, well, thank you. (laughs)
— Getting right into it, how was being inside? Was there any added stress or hardships because of the fact that you're famous?
It was entirely different being inside than how I'd imagined it. It was all surprising for me. And yes, being an ex-performer, I did get my part of harassment and teasing.
— How long did you spend inside in total?
A total of five years. My first placement was at a penitentiary cleaning workshop. I lent a book to a guy I was sharing a room with and was accused of dealing. I was able to prove that I wasn't so I didn't get reprimanded, but they did change my placement. I was then assigned to do lawn mowing and pruning and so on, but I got framed for something that then led to an investigation that concluded in me getting punished. My final placement was at a factory where they make things out of wood, and that's where I worked at until my release. Well, naturally I don't really have many good things to say about my time inside.
— May I touch on the subject of the scandals?
You may.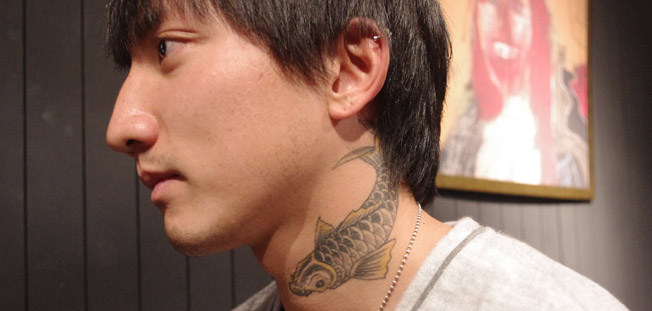 — First of all, what shocked quite some people was the "carp." When did you get it?
I got the carp on my neck when I was 20, during a time when I was really fed up with my everyday life. It's a good memory now though, so I don't regret it. Where I got the idea? Basically, I had this senior who did tattoos and honestly I just thought it looked cool.
— I hope you don't mind me saying, but it was a rather rough picture everyone saw of you in the reports. Is it accurate to say you'd been "straying from the right path"?

To be honest, it was only after my release that I first saw the pictures of my arrest. When I saw them, I thought to myself "wow, I looked like a total criminal." I don't think it was even on the level of looking like I was "straying from the right path" anymore. I felt embarrassed. Around that time there was no one to watch over me and I was a constant source of concern for my family. The people around me were all bad, too, and there was no one there to stop me. I was constantly up to doing bad stuff.
— You had quite the cute image during your time in the entertainment business. Were you aware that the public had such a huge reaction to your arrest?
I think more than anything, the general public remembered me from being a performer which led to everyone being shocked. I was in the middle of puberty when I was a performer so it was difficult for me to freely enjoy myself at a time when I most wanted to. But, on the flip side I was able to experience lots of good things, too. Even while I was inside, I had people telling me things like "you didn't look like the kind of guy who'd do something like that."
— According to a certain weekly magazine, you were apparently quite the playboy. Is there any truth to this?
I hear that a lot, but when I was a performer I hardly even had any free time to myself. After I quit, I messed about just like any other high school student. I did fool around with several people, but doesn't everyone? (laughs)
— For both you and your older sister, we've been hearing this and that about you doing porn…
That rumor is completely baseless… I was surprised to hear about it. Neither me or my older sister are going to do it, so I'm sorry but we won't be able to respond to society's expectations. (laughs) For starters, I have a kid now so I wish they'd just give me a break already.
— The style of music you were doing when you were younger seems so different from your image today. Was that really something you wanted to do?
To be honest, it wasn't just the genre of music — I didn't like singing or doing the music thing in itself at all. I was told I had no ear for music and I just generally didn't like doing things in front of people like that. That's something that's different about me now, though. ♪
— What sort of things do you hope to challenge from now on?
Right now I'm still in the midst of thinking everything through, but little by little I hope to once again get back to doing things in public entertainment.
— Do you have any other tattoos? May we see them?
Sure.
※ A lion on the underside of his left arm, still a work-in-progress. His wife's name in kanji on the underside of his right arm.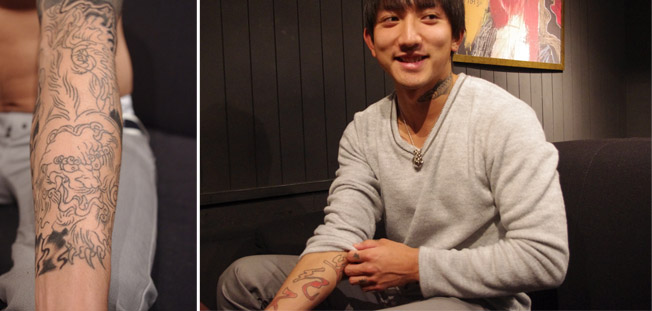 ※ A clown on his left shoulder, splendidly blending Japanese and Western styles.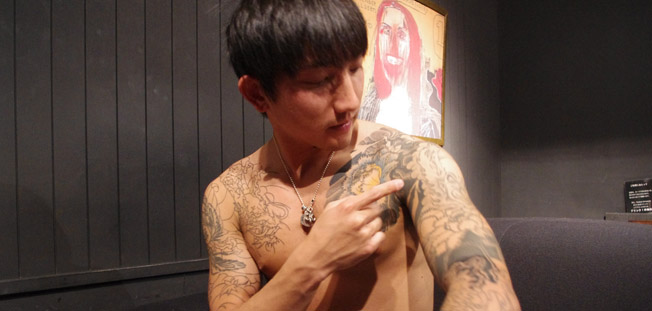 ※ A tree peony on his left chest and a dragon on his right. He's making frequent visits to a studio to get it finished.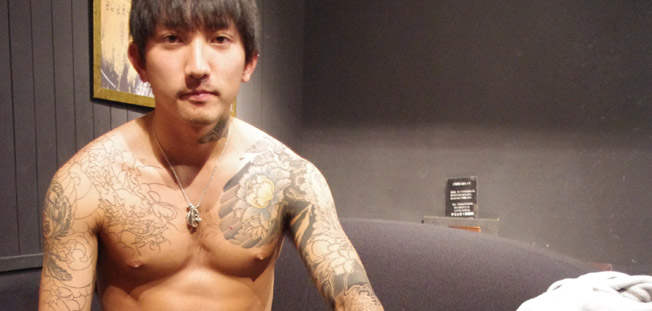 ※ Three shots of his upper body. His tattoos were all done at different times and locations. You can really sense his way of life through seeing them.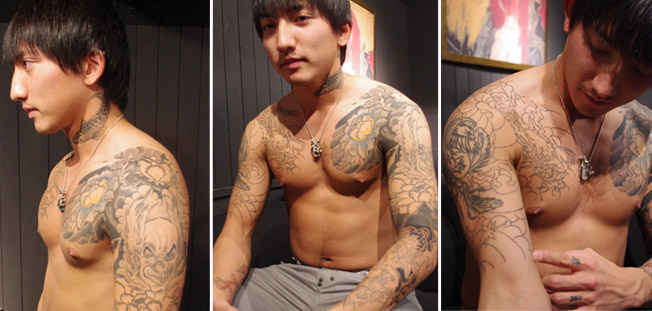 — You've had work done by more than one person, right?
Right. I've worked with three tattoo artists. Right now I'm working with a guy in Nagano called Horido.
— How is he like as a tattoo artist?
Hmm. He's very methodical and respects his customers' opinions. More than anything, you get a feeling that he really loves tattoos. He has a sense of seriousness in his attitude towards them, so I'm thinking about trusting him with all my future tattoos as well.
— How is the tattoo percentage among your friends and acquaintances?
I've quite a lot of acquaintances with tattoos. My group of friends are a fun-loving bunch so no matter where we are, we're always all laughs. Quite many of them are into martial arts as well.
— Thank you for your answers. That's all the questions we had prepared, but we actually had one more favor to ask… This is very sudden, but we would like to feature a column about your tattoo life on our site. How about it? Instead of a time-restricted Q&A session, I'm sure people would be interested in your opinions on a variety of subjects!
Alright, sure. I'll do it. I've never done a column before so I'd be happy to. There's quite a lot of baseless rumors going on about me and there's lots of other things I'd like to talk about, too, so I'll try it out.
— Awesome! You hear that, readers? We have Yuki's consent!
Huh?! It's my first time so you shouldn't feel too excited! Well, at least I got to read a bunch of books while I was inside… I'm a bit more confident in my writing than I was before.
— Finally, could we get a message to all the tattoo fans who are reading?
To all you tattoo lovers, you have my heartfelt apologies for committing crimes while inked and thus worsening the public image of tattoos. However, I'm going to be actively doing my best to make tattoos even a tiny bit more accepted part of our society, so I'm hoping for your support. I'm going to keep you updated on the progress of my own tattoos as well as other things on the column, so I hope to have you all reading.