— For this feature, we'd like to have you two writers discuss the topic of "lyrics in Hello! Project music."

Asai: I actually printed out all the things I'd like to touch on today. I'd hate it if I forgot to mention any of it.
Yuzuki: Wow, that's very admirable of you. I remember when the two of us did a talk event at the Aoyama Book Center back in March 2014, and we came out on stage dancing to "Ai no Gundan."
Asai: This was just after the "Dance Shot Ver." PV of the song had been released. We couldn't help but imagine how we'd look if we went in there while doing that choreography… I think a lot of people in our audience were left in a state of shock.
Yuzuki: What makes you say that?! Didn't we get some compliments?!
Asai: This is what you get for being someone who, like, "seriously" wants to attend a talk show by writers of all people.
— "Seriously…" (laughs)

Yuzuki: Are you saying you're not going to dance with me at the next event we do?
Asai: No! I definitely will!
Yuzuki: We could either do a dance battle like in ANGERME's "Taiki Bansei," or I could just do that bit by Kusumi in Morning Musume's "Resonant Blue," the part where she's smiling. And hey, you're actually a really good dancer!
Asai (smugly): I used to dance, you know.
Yuzuki: Me, I just look up their videos on YouTube every day and dance to them in front of my husband. It's definitely not at a level where I should be showing it to anyone else. But I still do.
Asai: Your way of dancing "Kanashiki Amefuri" is very… jerky. (laughs)
Yuzuki: It completely ruins the song when I'm trying to sing it in karaoke.
Asai: We always sing "Nikutai wa Shoujiki EROS" when we go to karaoke, don't we?
Yuzuki: I still remember when you, me, Tsurugi Mikito and Inuyama Kamiko went to karaoke by the four of us for the first time and I gave a shot at singing Goto Maki's "Glass no Pumps." It felt amazing!
Asai: I imagine it  must've felt something like in the past when things were more strictly regulated, but you somehow managed to find a secret nightclub somewhere… Like, "if it's in here, it's okay for me to sing whatever I want!"
Yuzuki: "Wait — it's okay for me to sing v-u-den with you guys?!" "Of course!" It was so fun. I also sang stuff like Morning Musume's "Lemon Iro to Milk Tea"… Wait a minute. Weren't we supposed to be talking about the lyrics?! Well, the first thing I just want to say is: the Japanese of Tsunku♂'s lyrics is absolutely wonderful, language-wise.
Asai: Yes. There's so much power behind the words he uses. Some 10-odd years ago, just as I was in the midst of puberty and I was beginning to enter that mindset of "everyone who does their best at the school sports day is lame," suddenly here was Tsunku♂ with "Koi no Dance Site," saying "Sou yo seishun wa carnival / Odoru hito ni miteru hito / Onaji hito nara odorouze wai yai!" ("Youth is a carnival / You have the people dancing and the people watching / But if we're all people just the same, then why don't we all just dance!") That's when I decided: I was going to be one of the people who dance.
Yuzuki: That became your motto.
Asai: It's what laid the basis for me eventually winning the Naoki Prize.
Yuzuki: When I wrote "Honya-san no Diana," I wanted to do a story about these female friends who had a rift in their relationship, but they overcame all those obstacles in order to become close friends again. However, shortly after the book was published, Kago-chan made an appearance on Tsuji-chan's blog… and I was just going, "They've got me beat. Diana's got nothing on what these two went through."
Asai: Tsunku♂'s lyrics hit you especially hard when you write them down like a sutra. "Nebusoku wa neru shika nai" ("Sleep is the only cure for a lack of sleep")… Damn you. Why do you have to put it like that? (cries)
— Writing them down like a sutra… (laughs)

Yuzuki: "Kono yo no naka ni kurasu onnanoko de…" ("Out of all the girls living in the world…")
Asai & Yuzuki: "Watashi no ranking nani darou ka?" ("…what would my ranking be?") Uwaaaahh!
Asai: … He has so many gems like that.
Yuzuki: You'd think Berryz Koubou's "Tomodachi wa Tomodachi nan da!" was about how fleeting female friendships are — how, when a girl finds a boyfriend, she's quick to make him the no. 1 priority in her life and forget about her friends. But instead, it's about her friends telling her: "Go be with your boyfriend. We'll be here waiting for you — because we're your friends." This is the kind of concept I could spend an entire novel trying to explain, but Tsunku♂'s able to say it just like that, in an instant. And especially when it's in the context of the members of Berryz Koubou and their relationships…
Asai: I could write a book with tens upon tens of thousands of words, and he'd be able to say the same thing in just a couple of words.
Yuzuki: I was planning to write an epic next, until I realized: whatever it was that I might've wanted to say in that book I had planned, Tsunku♂ had already said it all in the song "1oku 3zenman Sou Diet Oukoku."
Asai: It really is shocking. It's like suddenly you become completely unable to take your mind off the message when you're listening to a song of his. I like to call it his "Knock-The-Wind-Out-Of-You Words" — and he always has at least one in every song. Like, "wait a minute, what was that they just said?!"
Yuzuki: Yeah, a phrase that you just can't ignore… almost like a pebble in your shoe. Some people call that aspect about his lyrics "lame." I think those people just don't know what they're talking about. "Iroppoi biscuit!"
Asai: Words that just make you go, "what the heck is that?!" "Uchuu no doko ni mo miataranai you na / Yakusoku no kuchizuke wo / Harajuku de shiyou" ("A kiss of promise that one couldn't find anywhere in the universe / Let's share one in Harajuku." Wait, so you're going to Harajuku… to find something that doesn't exist anywhere in the universe?!
Yuzuki: There are a lot of references to Harajuku.
Asai: It comes up in Tanpopo's "Otome Pasta ni Kandou," too.
Yuzuki: I love mysteries and stuff like that, and I love to do profiling on people, so this one time I analyzed the lyrics of "Otome Pasta." The word "afternoon break" comes up — that means the girl has to be an OL, right? But then, this girl is spending her afternoon break having her love fortune told to her…
Asai: She must be a bit of an airhead.
Yuzuki: Well, no Harajuku OL in her twenties would be spending her afternoon break getting told her love fortune. So she must be about 18 or 19. There's a good chance she started working at a company of an acquaintance of her father's right after graduating high school. So you have to take into account the fact that she must then be on a tight budget when she's deciding the kind of pasta she wants to eat. After doing extensive research on the cheapest pasta available in Harajuku, I came to the conclusion that what the protagonist had was soup pasta from Goemon.
Asai: One of the three types they have available, right?
Yuzuki: And she's going on about how it's Friday so she's going to the convenience store to buy a bunch of stuff — not a sign of someone with a very good sense for money.
Asai: Convenience stores can be surprisingly expensive.
Yuzuki: Taking that sort of naivety into consideration, I'd bet she was somewhere around 19 years old or so.
Asai: There's so much depth in his words. The girls in his lyrics aren't stereotypes. They aren't the idealized, easy-to-understand girls that boys usually like to imagine.
Yuzuki: "Amai ice de iyasare" ("healing herself with sweet ice cream")… Häagen-Dazs, maybe?
Asai: Or perhaps the slightly more expensive Lady Borden?
Yuzuki: … Now I suddenly feel like looking up all sorts of ice cream brands.
Asai: The moment I realized Tsunku♂ himself thinks of idols as just average girls was when I heard Hello! Pro Kenshuusei's "'Idol wa Robot' tte Showa no Hanashi ne." That chorus — "idol wa robot tte hou ga raku na no yo" ("it's easier if you just think of idols as robots") — is just him saying to the listener: "yeah, I know that's how you people want to think." And we think we're somehow the "real" people. It makes me cry…
Yuzuki: It so does.
Asai: I end up crying every time I listen to "Give me Ai." It has a lyric that goes "konna fuu ni hito wo suki ni naru no nante motto saki da tte omotteta" ("I didn't think I would fall in love with someone like this so soon.") It's the "so soon" part that makes the lyric so good! If it was a poor lyricist, they would've made it "I didn't think I'd ever…" — because they're idols and they have to protect the no-dating rule. But if they say "so soon," that means they were aware that they'd fall in love sooner or later. I think that gives you a glimpse into how Tsunku♂ sees idols.
Yuzuki: He acknowledges the existence of things like appetite and sexual desire. In "A B C D E-cha E-cha Shitai," the lyrics "ichaicha shitai" ("I want to flirt") appear several times. When it comes to sexual desire, in girls especially, flirting is obviously a big part of what they desire.
Asai: Wasn't it also quite surprising hearing Tsuji-chan's lines in "Joshi Kashimashi Monogatari?" The bit about how she invited a girl she shouldn't have to a mixer party. I mean, have you ever heard an idol self-introduction song with the words "mixer party" before? It's great!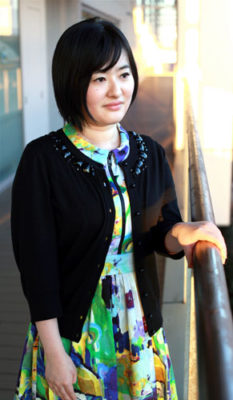 Yuzuki: Fujimoto Miki's line, too: "joushi to jouzu ni oshaberi, isshu no sainou kamo" ("being able to sweet-talk your bosses could be considered a kind of talent")… You'd take those lyrics to mean something like a girl who maybe just compliments her bosses or stuff… but instead, after everyone's finished singing, she gives us an example of that sweet-talk: "oishii cake-ya-san mitsuketan de, tsuretette kudasai yo~" ("I found this great cake shop the other day — you've gotta take me some time~"). I love it. They really need to take that line and make it a permanent, running gag at companies and schools and stuff, because it has the perfect format for a joke. See, I always assumed everyone knew about that line and how it came from that song, and so one time when I was out drinking with a senior writer acquaintance, I jokingly went "I found this great cake shop the other day — you've gotta take me some time~" and they thought I was being serious! "Oh, sure, let's go!" (laughs)
Asai: Oh, yeah. That definitely happens. One time as I was coming home from school, I said to this girl: "You wanna go for some udon? Tomorrow's waiting and all." And they just blankly stared at me. I had to explain, "it's a °C-ute lyric!" (laughs)
Yuzuki: Whenever I go to karaoke with some female friend who happens to be dating a bad guy, I always make it a point of singing "Shabondama." I'll be belting out lyrics like "koi wo suru nara kono tsugi wa anta meigi na koi wo shina" ("if you're going to fall in love, then next time do so with someone who actually deserves you")… but they always fail to realize that I'm actually singing about their situation.
Asai: That's because most people you go to karaoke with just stare at their smartphones instead of the lyrics on the monitor.
Yuzuki: They so do. To the point where it just bores me. Like, I'm there singing "BREAK UP WITH HIM!" and it's like they can't even hear me. It sucks.
Asai: Maybe it just hits too close to home for them.
Yuzuki: Which reminds me: we never talk about songs like "LOVE Machine" much.
Asai: Right. I think we both prefer songs that are a lot more personal. Like, the themes of songs like "Dekkai Uchuu ni Ai ga Aru" are too big for us — you can't really analyze the protagonist's background very much.
Yuzuki: I like "Inspiration!" First of all, it's a funk song. That's important. I'll get hooked on pretty much anything that's funk with lyrics about daily life.
Asai: That's also the reason I love "Taiki Bansei," even if it's not a Tsunku♂ song. And while we're on the topic of funk, I can't help but mention Taiyou to Ciscomoon.
Yuzuki: You sure do love your Taiyou to Ciscomoon, don't you?
Asai: "Uchuu de La Ta Ta" is possibly my favorite Tsunku♂ song of them all.
Yuzuki: And that line, "machi no gyarutachi ni wa makenai" ("I won't lose to the gyaru around town") ("Magic of Love")… I like how they specifically sing "gyaru" and not just "girls" — because not losing to gyaru is definitely no easy feat. You really have your work cut out for you if you're serious about not losing to them. (laughs) The girls who appear in Hello! Project's lyrics all have such humble ambitions. It's like they all want to take the world head-on.
Asai: Same thing with "Yeah! Meccha Holiday" — that girl, too, is going out to take part in that "sungee, sungee, sungee, sungee" battle of hers. It's moving.
Yuzuki: There's also just a hint of teenage delinquency that hits you. "Yonaka nukedashitari" ("sneaking out at night") ("Ai no Bakayarou")… Like, "Huh? Did you just say you'd sneak out of the house in the middle of the night?" Plus, the protagonists always want to start cooking right now, or head out shopping right now…
Asai: Enrolling to school to learn about computers so she can start up a store with her boyfriend… ("Kare to Issho ni Omise ga Shitai!")
Yuzuki: The protagonists are immature, but they're still desperately trying to get out there and live their lives. Berryz Koubou wanted to go study abroad — just because they felt down after eating too much. (laughs) ("Otona na no yo")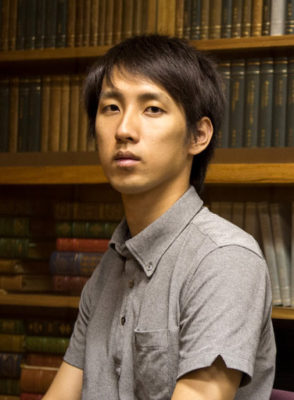 Asai: Also, sometimes it feels like there are deeper implications with the line distribution. For example, in "I'm Lucky girl," Michishige is earnestly singing in her (usual poor vocals): "ano ko ga mitaku uta ga jouzu de areba" ("If only I was a good singer like her"). Her lines are followed by better singers going "sonna iiwake watashi shinai kara ne" ("that's the type of an excuse I would never make"). You're going, "What is this? Am I watching a musical here?!" Like, the line distribution really matches real life. Idols aren't chess pieces.
Yuzuki: That's why — even though I really love them all — I don't think I have an oshi. If anything, I might be a Tsunku♂ oshi. I'm constantly listening to his song "TOUCH ME," as well as his demo vocal versions of the songs.
Asai: Tsunku♂'s demo vocals are art!
Yuzuki: I was on the verge of tears listening to Tsunku♂'s version of "Osaka Koi no Uta."
Asai: If you watch the ASAYAN footage of Taiyou to Ciscomoon recording "Gatamekira" you can catch a glimpse of his genius, but also the loneliness that comes with it. Tsunku♂ is too much of a genius for his advice to ever reach the ears of amateurs: people in the ASAYAN studio audience were laughing when he was trying to convey what he wanted the girls to sing, as if he was being weird or something.
Yuzuki: Yeah. I wanted to say to all of them, "Shut your mouths! It's Tsunku♂ speaking now!"
Asai: I love "Gatamekira." His usage of words in that song went way beyond my power of understanding. I'm still with him at the "negao, ase, kubisuji" ("your sleeping face, your sweat, the back of your neck") — okay, that's supposed to convey sexiness. But then the next phrase is "tachiba, mizu, hayarikotoba" ("standpoints, water, buzzwords")… that's where I lose track. That's where the genius of his words leaves me behind in the dust. Or, like… "Genshoku gal wa hade ni yukube! Otsukemono mo hade yo!" (Goto Maki's "Genshoku GAL Hade ni Yukube!"). The bit about her otsukemono being flashy, too… No ordinary person could ever rival him.
Yuzuki: "Gatamekira" is an example of a song about female sexual desire. It's about making the man in the story hers. The protagonist is not some cute, innocent, know-nothing girl.
Asai: "Mou chotto mashi na kao nara~ ♪" ("If only my face was a bit less objectionable~ ♪")
Yuzuki: But she's a good girl. It's a song about sexual desire; of this girl using one of her few weapons to the fullest in trying to get this guy! I think that's why it feels a bit too soon to be seeing all these younger girls singing this song.
Asai: With one exception…
Yuzuki: Odasaku! She really gets this song!
Asai: "Raishuu no onna yori tsuyoime de dakishimete" ("embrace me tighter than the woman you will next week") — Odasaku is the only one who really gets the feeling behind those lyrics…!
Yuzuki: I know! Even though she's still just a little girl! I'm not saying she gets it from experience — she's just really good at understanding lyrics intuitively.
Asai: But you get why Tsunku♂ wants to give her so many lines. It feels like she received a lot of the really great lines to sing. That album song she sings together with Sayashi, "Kirari to Hikaru Hoshi," has a line that goes "isogabamaware to dareka ga itta kedo mou saitan course de yuku koto ni shita wa" ("slow and steady wins the race is what they say, but I've already chosen to take the shortest course")… I think that resonates with the listener because it's her singing it. It's not just that she's a good singer… it's that Odasaku really understands.
Yuzuki: Also, the way she sings the "manpower wa monogottsui" bit in "THE Manpower!!!" like "monoGOttsui."
Asai: It's like she's roaring that syllable.
Yuzuki: Aside from "Otome Pasta" which we were just talking about… As a huge glutton myself, I'm very curious about all their food references. Like, in "Iroppoi Onna ~SEXY BABY~" when there's a lyric about buying a lunch box at the convenience store, I really want to know what lunch box it was. It's hard to imagine a girl who regularly buys convenience store lunch boxes having any success in catching the eye of the guy who has all these supposedly "sexy ladies" around him. Also, "1oku 3zenman Sou Diet Oukoku." "Tabeta ato wa hashittoko / Hashitta bun dake tabetoko / Ikiru imi ga shiritai" ("After eating, let's go running / Then let's eat the same amount / I want to know the meaning of life")… that whole thing.
Asai: It gets really philosophical all of a sudden.
Yuzuki: Japanese girls' way of thinking generally is: "I want to be well-liked, but I don't want people to think I'm a bitch." "I want to lose weight, but not to an extent that guys no longer appreciate." They have to think about things from so many different angles they don't know what to do. I really think that song is about that sort of feeling of stagnation. Lyrics about how the protagonist hates "swaying about on the train on her way to work" because she feels "bloated after eating at the buffet" the day before, then going on about how she feels she's going to "lose a kilogram" just from the amount of "cold sweats" she's experiencing… She's obviously not a thin girl. So then when she's going, "I want to know the meaning of life. Please, PLEASE!" — it's like she represents those feelings of anguish that all girls experience.
Asai: I see. It's interesting to hear a woman's viewpoint on this.
Yuzuki: Also, in "Kuchizuke no Sono Ato," the protagonist goes to the convenience store to buy some snacks that her father likes, and then goes home to have a "secret talk" with her mother… But what could be a snack her father likes that they also sell in convenience stores? Deep-fried rice cakes maybe?
Asai: Well, they do go well with beer…
Yuzuki: I could keep talking on and on about these lyrics forever, just on these tiny bits and pieces of information.
Asai: Another one is the "sappari sweets" in "Ijiwaru Shinaide Dakishimete yo." We're always talking about that. "Just what sort of refreshing sweets does Kanatomo want to have…?"
Yuzuki: At first I thought it might be warabimochi, but then the lyric continues "…can't I have just one more?" Warabimochi isn't something you really refer to as "ones" or "twos," so after thinking about it, I arrived at soy milk rare cheese cakes. Because, these two are staying at a hotel. The location is Odakyu Century Hall. They must be talking about the soy milk rare cheese cakes you can buy at the Lumine underground. She wants to have one more of those.
Asai: They're refreshing, and since it's soy milk your suggestion kind of works in the diet sense, too.
Yuzuki: Also, I really like Sonim's song "Kokuryo." In it, a girl who's been dumped arrives at Kokuryo Station for some reason…
Asai: The protagonists in H!P songs who have been dumped tend to do unexpected things. There was even that one girl who left for Susukino…
Yuzuki: In the lyrics, she says she went to a cafe in front of the station, and: "Ebi pilaf wo tabeta wa / Nokosazu zenbu tabeta wa / Sauce wo tsukete tabetakatta no yo" ("I ate the shrimp pilaf / Not leaving a drop / I would've wanted to eat it with sauce.") Hearing that, I felt like I had to try eating shrimp pilaf with sauce myself. But even though I did look, I didn't have much luck finding any cafes in the Tokyo are that served shrimp pilaf. So I bought some frozen shrimp pilaf, microwaved it, and poured sauce on it. Let's just say that the taste of sauce overpowered it completely. That shrimp pilaf died.
Asai: It… died…?
Yuzuki: However, since the protagonist finds it delicious, it must mean she's a strong girl.
Asai: It's lovely how he finds alternate ways of describing these girls' strength in the lyrics without resorting to literally saying "she's a strong girl." What about "terebi de mita niku ga tabetai you" ("I want to eat the meat I saw on TV") from "Otona ni Naritakunai Hayaku Otona ni Naritai"? That's another strong girl. What type of meat do you reckon she meant?
Yuzuki: I'm thinking some kind of hamburg steak she saw on "Ousama no Brunch."
Asai: That means she already feels happy enough to be watching some brunch reporter on TV who's overreacting as he eats something, while she's thinking to herself "that looks delicious." Tsunku♂ is like a novelist.
Yuzuki: There was also a song about bagels when they were already on their way out, and Fuku-chan released her Pancake DVD when the pancake boom had already ended… It's like they always release songs about things that were hugely popular among the general public a while ago. (laughs)
Asai: It's the same as when they had so much computer terminology in the lyrics around the year 2000. Like the word "install" in Morning Musume's "Go Girl ~Koi no Victory~" — even Wataya Risa got to that one faster than them.
Yuzuki: Yeah, I think it was about a year or two after she'd released her book. Same thing as with the pancakes.
Asai: It's great how they introduce all these trendy words after celebs have already overused them to death.
Yuzuki: A year from now, they'll be singing about… maybe donuts or granola or something?
Asai: I feel like there haven't been a lot of social media words popping up yet. I wonder if that's something that's going to change?
Yuzuki: It does feel like they'll soon have a lyric like, "do you want "likes" that bad?" (laughs)
Asai: I think it's because Tsunku♂ just writes what's in his heart, not minding all the marketing stuff, that he's able to have such a unique worldview in his lyrics.
Yuzuki: Right. It might sound like we're ripping on him, but we both love all this stuff about his lyrics. If I was to compare him to a writer, I'd call him someone like Kataoka Yoshio. The kind of New York he writes about exists only within him, and the Tokyo he writes about exists only within him, too. But I like him, and that's why I can believe in him.
Asai: "I like him, thus I believe in him." I like that.
Yuzuki: That kind of sounds like a Tsunku♂-ism…
Asai: Sometimes you'll be talking about everyday stuff and every once in a while you'll sort of go "wait, that kind of sounds like something Tsunku♂ might've said!" That was a good example.
Yuzuki: Like, "once I get my manuscript fee, I want to go have pancakes at Umegaoka."
Asai: Right, that's what you once said to me in an email. I was going, "huh, is that a Tsunku♂ lyric or something?"
Yuzuki: Yeah. What with it having a name of a location plus an item that's just a little bit out-of-fashion… (laughs)
Asai: Berryz Koubou's "Romance wo Katatte" starts with the lyrics: "hoshizora nagameteru…" ("looking up at the starry sky")…
Yuzuki: "Oishisou ni mietekuru" ("it starts to look delicious")… Like, "Huh?! Delicious?!" The very first thing you think is about how much of a glutton this protagonist is. (laughs) "Ahh, the stars look so delicious. They look like candy!"
Asai: She must be on a diet. She successfully held back on dinner that day, but on her way home from her part-time job, as she's walking home from the station, she looks up at the sky and her stomach makes a sound… "Ah, they look delicious…"
Yuzuki: "Romance katareba, kono machi ichiban…" ("When you talk about romance, this town is no. 1"). That means it must be a more rural town. "Ironna shousetsu yomimakutta onnanoko" ("A girl who read through all kinds of short novels")… I wonder whose short novels she reads?
Asai: I'd be curious to know, too. My guess would be Yamada Amy's Houkago no Onpu.
Yuzuki: No, I'm thinking something more along the lines of a Harlequin romance. The word "short novel" seems to come up a lot in their lyrics these days. ANGERME's "Otome no Gyakushuu" had the line "shousetsu mo nanni mo kuuki mo yondenai" ("I'm not reading any short novels, the air in the room, or anything at all.")
Asai: Sometimes I wonder if the characters in the lyrics have read any of my works… Though I feel like the girl who thinks the starry sky looks delicious most likely hasn't…
Yuzuki: She might have read mine. And I think she has to be working at a building near a station.
Asai: That lyric is a great example of the "Knock-The-Wind-Out-Of-You Words" I talked about earlier. You'll be listening to the song, liking it, and suddenly that pops up and you go "wait, what was that?!" Then you have to go back and listen to it again. That kind of lyric.
Yuzuki: There are lyrics that make you almost fall down from your chair. When Kumai sings "romance wo katareba~," you're thinking "ah, this is an idol song alright," but then it's immediately followed by that "kono machi ichiban~" and you're just going "…what?" (laughs) Though Tsunku♂ might not be doing that consciously. You're completely sucked into Tsunku♂'s worldview — and it's not a bad a feeling at all.
Asai: It's thrilling.
Yuzuki: I listen to non-H!P idols, too, but none of it seems to draw me in in quite the same way.
Asai: Yes. Even with Buono! that doesn't really happen. Their lyrics are easy to listen to, but they just don't grab you like that.
Yuzuki: Buono! are fantastic though.
Asai: Oh, in a sense their songs are 100% perfect. But songs that are 100% perfect just don't have that roughness about them.
Yuzuki: The lyrics are all… This group of kids, a mix of boys and girls, formed a band before their school festival… not doing anything indecent, just enjoying their fleeting, youthful crushes together… they're more than friends, but not quite lovers… kind of like… cider. Whenever they sing those songs live, I'll sometimes notice you just staring all vacantly at the stage. (laughs)
Asai: When we go to their concerts together, it's so easy for us both to notice when the other one isn't especially fond of the song they're performing. It's always this feeling of, "they got all these great singers together under Hello! Project, and yet, this is the song they're singing…" We both become pretty much expressionless at times like that. It's like, "enough already, let's leave the songs without any roughness to them to the groups that aren't H!P."
Yuzuki: That's why it's the more honest songs that tug at my heartstrings. On the other hand, I also really love songs like Berryz Koubou's "Otona na no yo!" When they're singing "kekkou funpatsu, suteki na French" ("I splurged on some wonderful French food"), I'm going "well that's nice — which French restaurant was it?" But then the protagonist shows her irritation in the line "donna kiss wo shita ka zenbu oshietara nattoku na no?" ("do I have to list for you all the different types of kisses I've had for you to understand?") I've actually made up this thing called the "Irritated Female College Student Series" of songs, and °C-ute's "I miss you" is the pinnacle of the whole series.
Asai: Amazing song! I would've wanted to be the guy in charge of moving all the tables out of their way in the music video.
Yuzuki: The two of us did some profiling on the heroine of this song. The conclusion we reached was that she's a student at Sophia University, her father writes dictionaries for Obunsha Publishing, and her mother does flower arrangement as a living. She's a rarity in Hello! Project — not many of them are girls living in the Tokyo area with high academic achievements.
Asai: She's on bad terms with her mother. Her mother is well-liked by the students in her flower arrangement classes, but her mother doesn't actually love flowers — she loves that she's loved by her students.
Yuzuki: She's a beautiful woman who has a husband and a daughter — her students come to her classes not for her ability with flower arrangement, but because they envy her lifestyle. To the protagonist, this makes her feel like she's become just a kind of an accessory for her mother.
Asai: She's starting to realize that her mother may be this very shallow person.
Yuzuki: And that's why the fights with her mother have gotten worse. It's taking precedence even over her job hunting.
Asai: And as she is a student at Sophia, that means she gets to meet lots of foreigners as well, which has shaped her value system.
Yuzuki: But her father looks over her quite warmly. He's rich, too.
Asai: That song really takes its time to get to the chorus… it spends the longest time with the protagonist just complaining.
Yuzuki: Right. I'll be listening to it thinking "What is this girl complaining about? Doesn't she get how blessed she is?" And then she starts desperately screaming "I miss you! I miss you! I miss you!" and I'm going "I'm so sorry! I didn't realize! You're so beautiful and so blessed, I just didn't realize at first!" … What am I, anyway — her mom?
Asai: All that tension on the surface; all that unhappiness she's kept locked inside finally explodes in that chorus.
Yuzuki: There have been more and more of these "Irritated Female College Student Series" songs. Girls in their early twenties who probably hope to go studying abroad…
Asai: It's like they feel irritated because they've started to realize their own limitations.
Yuzuki: Even though back in the "The☆Peace!" days the protagonists were all these countryside delinquent types… They started becoming more "intellectual" around "WHAT is LOVE?" or so. Though I like the delinquent songs, too.
Asai: I love the lyric about "hito ga asonderu uchi ni hataraku yuuki" ("the courage to work when other people are having fun"). I'm constantly listening to it when I'm writing my manuscripts on the weekends…
Yuzuki: A common theme running through Hello! Project lyrics is anger. I think that's why I like them so much. Anger is one of the fundamentals of our work, too.
Asai: I'm so damned angry at the guy the protagonists always fall for! Especially during the Platinum Era. I can't help but feel that from "Shabondama" to "Nanchatte Renai" it was always the same no-good guy she was in love with…
Yuzuki: The music video to "Shouganai Yume Oibito" had that female university student theme, right? They went for the drama thing which is quite unusual for them. The lyrics talk about ironing his boyfriend's shirt. I thought about why she has to do that even though she's only a university student, so I started profiling her and I came to the conclusion that her boyfriend must be an aspiring actor. The more you listen to the song, the more you find yourself just thinking about what a worthless guy he is. For a song like "Onna to Otoko no Lullaby," I almost wish they'd made it into a music video where they were all manipulated by the same one guy. (laughs) The role of the female idol is always to play this girl who'll accept and accommodate any guy, no matter how worthless they are. But the difference with the girls in Hello! Project is that they have a temper. Like, "watashi no kimochi wo shittete kudoitan desho?" ("you knew how I felt when you seduced me, didn't you?") ("Shabondama"). They're so pissed off. "Turn that off, dammit!"
Asai: They really do have a temper. I want them to make an H!P calendar where every day it'd have things scribbled on its pages, like "taramoregamonai" ("stop blubbering about") ("Ai wa Itsumo Kimi no Naka ni").
Yuzuki: I just don't feel that same level of anger in other idol songs.
Asai: That's because guys like to tell themselves that girls never get angry. That makes it easier for us.
Yuzuki: All girls get pissed off. I felt like "Kimagure Princess" really recognizes girls like that, and there's beauty in how it says in the lyrics that she's "unable to flirt." Even a song like "Mystery Night!" — which got a mixed reception — has the lyric "konya hitori wo eraberu kana" ("will I be able to choose being alone tonight?") You can sense the pride the protagonist has.
Asai: It's like no matter how many times she gets hurt, she keeps going back to him…
Yuzuki: None of the songs are about flirting. The protagonists are all fighters.
Asai: And fighters are always giving it their all, so at times society may laugh at them — even though that form of them doing their best is so cool! It's all about the people dancing rather the people watching!
Yuzuki: "Kayowaki otome wo nakashicha naranai" ("you must not make a frail girl cry") ("Brainstorming")… The protagonist couldn't be further from a "frail" person! (laughs) At times, the protagonist can be incredibly contradictory, too. Like, how she can angrily be going "Hug me! Be kind to me! Set my mind at ease!" ("Wakuteka Take a chance"). In that instance, that's just anger on her part. That's a song about women who can't help but feel pissed off about the fact how it's thought that not being too "rough" towards guys somehow makes you a good woman. It's real Gone Girl type stuff! (laughs) The message of the songs is never that it's fine for weak guys to be as they are if they haven't even done anything to earn the girl's affection. Tsunku♂ is strict like that.
Asai: He doesn't take the easy way out. I'm sure he could probably quite easily write hits if he played the role of a weak person and tried sucking up to people like that in his lyrics. But he just doesn't do that sort of marketing. I like that about him.
Yuzuki: Not feigning weakness is actually the best way to appeal to weak people. Even people who might appear to be living life to the fullest on the surface all have their weaknesses. Even completely normal-looking people have times when they are in pain. Not a lot of songwriters these days do it the way Tsunku♂ does.
Asai: That's just the trend nowadays. Pretend to be weak and you're sure to have some listeners on your side right away.
Yuzuki: I think one extreme of that is "Otome no Gyakushuu" — though it's not a Tsunku♂ song. The protagonist may be excessively weak, but she doesn't try to hide from the world. "Nail no kobushi ni kibou tsukamitai" ("My fingers with their manicured nails curled into a fist, I want to grab on to hope")… "Giratsuku hitomi ni namida nijinderu" ("Tears flowing out of my glittery eyes")… that bit makes me want to cry so bad! (tearful) A girl as negative as this shouldn't be exposed to the world, and yet that's what they're doing! With ANGERME right there under the spotlight!
Asai: For me, it all comes down to "odoru hito ni miteru hito, onaji hito nara odorou ze wai yai!" ("The people dancing and the people just watching — if we're all people just the same, then why don't we all just dance!") ("Koi no Dance Site"). The "wai yai" and all is a sign that it must be a pretty lame-looking dance, but who cares? It's like, "come on, let's just dance!" This has to be my favorite lyric.
Yuzuki: I'm often told that what I write is just this overly-syrupy stuff about female bonding, but it's actually not my intention in the least to write "syrupy" material. I simply think that it's important to be open-minded enough to recognize the full spectrum of human relationships. You love your friends despite the jealousy or any other negative feelings you might have towards them. Friendships are complicated; there are all sorts of feelings involved. In that sense, I hate when people oversimplify it and make it about just one specific thing. Just look at the lyrics to "Tomodachi wa Tomodachi nanda!"…
Asai: Or that one lyric from "I WISH." "Kudaranakute waraeru mail todoita / naze ka namida tomaranai" ("You sent me this silly, laughable e-mail / but for some reason I can't stop the tears from coming out.")
Yuzuki: Maybe it is true that female friends mostly talk about trivial, pointless stuff amongst themselves. But those kinds of conversations can really save you. Rather than your friend telling you how it's all going to be alright and how you're going to live; how she'll cry along with you… Sometimes it's far more helpful if you just have that one friend who'll instead call you to say something like "hey, turn on the TV — that one celeb is on!" (laughs) I think that right there is true friendship. Like when Goto Maki was crying and Ichii Sayaka did a Crayon Shin-chan impression, going "don't cry~"… I love those sorts of female connections, and Hello! Project shows us those connections in a very honest way. I'd think all their fans like that whole "girls' school" aspect of it. Tsunku♂ is the head teacher of the school — like, the old auntie watching over everyone. (laughs)
Asai: I love "Shining Butterfly." My book, "Budokan," that was born out of this song is going to be released in late April. It was exactly on March 11th, 2012 when I heard them perform this song at Budokan, and I remember thinking "these people are finally free." There they were: that group of idols who had been bound by so many things as idols before; now free. It was so beautiful, I found myself crying.
Yuzuki: The music video was rare in its drama-like setting. Nakazawa-san was like the mama-san of the club and Rika-chan was the girl who'd fallen for a no-good guy, with Yagucchan looking at her all worriedly. I think it might've been fun if they'd done a female gang thing for the music video. Like, they'd pull off a bank robbery together and then have a scene with all of them splitting the cash.
Asai: Yeah, that's the sense of freedom that song had. Those OG members who'd all been through so much, looking so beautiful as they danced, singing "kizutsuita ato wa nidoto to moto ni modoranai / dakedo jouzu ni toberu no" ("though the scars will never fade / I'll still be able to fly")… Just imagine the power this song would have if they had those same OG members sing it today…
Yuzuki: I'd love to see them perform the song now, especially with Yagucchan, Gocchan and Kago-chan in there.
Asai: I'd want them to sing "DANCE Suru no da!" today. "Mada nagai jinsei wo sukoshi kakedashita bakari" ("I've only just embarked on this long life I have ahead of me") — they had Tsuji-chan sing that when she was something like 12 years old. Now look at her: she's become this popular. She's become the perfect idol. Tsunku♂ made her sing that line when she was only just starting out. Thinking about stuff like that is really moving.
Yuzuki: People often think idols need to be young, right? But life doesn't end at youth. The girls that graduate, some of them go on to become housewives. Others go study abroad. Just reading about them enjoying their lives on their blogs is such a relief. It's a reminder about how life is a sum of all its parts.
Asai: There are some idol fans who just don't see it that way. They only care about how those girls do now… That's something that can feel really restricting towards the idols themselves. "Shining Butterfly" to me felt like a song about girls who had been set free from all of that.
Yuzuki: It's incredible to me how Tsunku♂ can think about it that deeply. Even his own children aren't all that old yet.
Asai: Could it be that he's actually like a thousand years old? Like, maybe he's just always been standing in place, like a tree observing over everything; all the wars and all the times of peace.
Yuzuki: I'm really curious about the way Tsunku♂ sees the world. I can't help but think about him and how he personally lives his life. Just what on earth is Tsunku♂…?
Asai: It's as big of a mystery to me as the origins of the universe…
Shop Manager (of the cafe where the interview was conducted): I'm sorry to interrupt, but we will be closing shortly…

— Ah, it's closing time already! I barely managed to get a word in on your conversation. (laughs) Please do finish this conversation at an event or something to that effect!

Henkka: The conversation between Asai and Yuzuki has, indeed, continued. Their discussion leads nicely into my next project: "Loitering Between the Lines of Hello! Project."
Interview & text: Takaoka Hiroshi
English translation: Henkka
Asai Ryo on the web: Twitter
Yuzuki Asako on the web: blog, Twitter