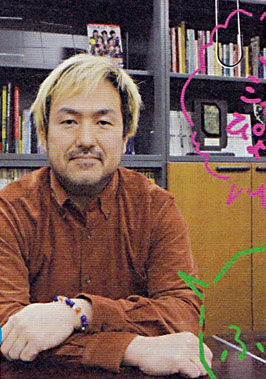 From the mature works of Tanpopo's "Last Kiss" and "Seinaru Kane ga Hibiku Yoru," to the children-oriented songs of Minimoni's "Minimoni Jankenpyon!," "Minimoni Telephone! Rin Rin Rin," Goto Maki's "Te wo Nigitte Arukitai" and Pucchimoni's "The★Pucchimobics (Medley Version)," all the way to the strangeness of 10nin Matsuri's "Dancing! Natsu Matsuri" — we sat down to talk with the man who is behind all these wide-ranging arrangements along with many more: Konishi Takao.
— Could you start by telling us about your beginnings in music?

Konishi: I think I first came to like music upon hearing all those TV anime songs as a child. You know, Mazinger Z and Ultraman and all the rest. The first record that someone bought for me was "Taiyou ni Hoero! no Theme." That's also when I became interested in stuff like Pink Lady and kayou kyoku. It was only in junior high school that I started listening to Western music: Billy Joel, Paul McCartney, the Eagles…
— Did you play any instruments?

Konishi: I played the piano up until junior high school, but I can't really play well or anything. I like to think that I have a black belt in arranging, but only something like a brown or a green belt in actual playing. (laughs) Then I got into fusion in high school, and so I started listening to stuff like Takanaka Masayoshi. I also started a band around the same time and we figured we should probably play something with vocals on it as well, so we'd do covers of artists like Kadomatsu Toshiki and Kubota Toshinobu.
— Were you the keyboard player in the band?

Konishi: Yes. And when you're the keyboard player, you have to think about the harmony of the band; how to build your sound musically. That's where I learned about music structure and it's when I first became interested in the "configuration" of music. I'd always loved the arrangement of Kubota Saki's "Ihoujin." Once I figured out that the song was arranged by someone else — Hagita Mitsuo —  that's when I started being more conscious of the arrangement of music. So, along with the lyrics and the singing, I started paying attention to sound and the configuration thanks to that.
— You've also worked many times with Nakanishi Keizo. How did you first come to meet him?

Konishi: A senior of mine from high school was a member of his band. They were looking for a keyboard player and I was waiting for a second pass at university entrance exams, so I agreed to help them out. Later on, Keizo went on to become a pro as a backing vocalist for Ikeda Satoshi, but eventually when he wanted to give a shot at writing his own material, he contacted me to help him out — which is also how I ended up joining a music production company.
— You then went on to work as a team with him to produce several works such as Wink's "Zeitaku na Kodoku," Nakayama Miho's "Vermilion Crime," as well as many songs by ZOO.

Konishi: The way it worked was, Keizo was the songwriter and I was more like the arranger. I remember talking to Tanabe Music Publishing's Kudo Fumito (current president of the company) and he asked me "what is it that you want to do?" I told him, "I want to do arranging." So he replied, "alright, well, let's have you do that then." That's how I started receiving more outside work.
— Why is arranging the main thing for you?

Konishi: Well, personality-wise, I don't think I've ever been someone who was all "me first, me first, let me, let me!" (laughs) I think the best way I can explain it is… One time this person from a record company approached me and suggested that I record an album of my own. Looking back, it was a great offer. But I turned it down. (laughs) In a word, I just don't deal well with that type of attention. I like to think that the songwriter is the athlete whereas the arranger is the cheerleader — I think of myself as the cheerleader type. With that said, though, recently I am also involved in making music as a creator in relation to Ultraman, and I have found a great deal of enjoyment in that, too. But I think the "modes" of the songwriter and the arranger are different. I can't arrange while I'm songwriting — I'm able to switch over to arrangement mode only once I'm done with the songwriting.
— How are those modes different?

Konishi: I think songwriting really is a job for the genius. From the viewpoint of the arranger, it doesn't matter what the melody is like: listen to any melody in small enough chunks and eventually everything will sound like something you've already heard before. But you have to remember that a song is a story — you need the ability to give it something the listener will find pleasant. You need the ability to give it some "waves." And that's not something you learn just like that. The ability to come up with musical phrases that can evoke something compelling or something meaningful in the listener's mind is a skill that is based purely on the composer's sense and talent. On the other hand, the arranger isn't that type of a natural genius. It makes sense for them to have some experience and know some rules of thumb. There'd be no point in the arranger throwing some chord no one's ever heard of on top of the melody just for the sake of it. It wouldn't serve a point — there are certain rules as to what sounds good and what doesn't, and it's only once you know those rules that you can think about what you can do to pull on the listener's heartstrings and so on. It's only then that you can add your own ideas on top and expand on what the songwriter is trying to convey with their song. That's the job of the arranger.
— Some of your work with Nakanishi, such as ZOO's "Careless Dance," reflects influences like Janet Jackson's "Rhythm Nation" and other black contemporary music of the time. Were you personally influenced by black music?

Konishi: That's the kind of taste we had going in that particular song, but as a whole, I think we were more about AOR than anything else. I really don't have a strong soul or funk inclination to be honest. It's just that people like Kubota and Toshiki debuted right in the middle of all that in the 80's when everyone seemed to be talking about how cool black music is. Kudo taught me about it in more detail: "there's all different types of black music — everything from funk to Motown to Philadelphia…" He's the one who told me all I know. For me, personally, one genre that really resonated with me especially was Northern soul. I was so excited about how much harmony it had — even compared to all other black music — and all the happy, joyous beats. In contrast, I never did care much for the super rough, Southern funk beats.
— Perhaps that's the reason for Berryz Koubou's "21ji Made no Cinderella" sounding so close to Northern soul. How did you, by the way, start arranging for Hello! Project in the first place?

Konishi: It originally began with me doing arrangements for Sharan Q. That led them to approaching me about Hello! Project. The first thing I worked on was Tanpopo's "Last Kiss."
— You started with Tanpopo.

Konishi: I worked on many of the sub-units. Tanpopo, Pucchimoni, Minimoni… I've actually worked on a much bigger number of sub-unit songs than songs for the main group. (laughs) This was when DANCE☆MAN was very popular in the mainstream and they wanted me to work on the groups he wasn't doing.
— Looking back in terms of releases, in chronological order, the first Morning Musume song you worked on was "Happy Night," the B-side of "Memory Seishun no Hikari." I believe that's the first Hello! Project song to include some disco leanings. Perhaps this song was the precursor to later disco-influenced songs such as Kono Shin's "Manatsu no Kousen" or DANCE☆MAN's "LOVE Machine."

Konishi: It also has a lot to do with the fact that all those dance classics were popular around then. What's more is that Tsunku♂ actually first became interested in my arrangements after hearing BLACK BISCUITS' "Timing." That's one influence that directly led to the arrangement of "Happy Night" turning out that way. I, too, was paying close attention to Morning Musume around the time "Summer Night Town" came out.
— What about them caught your interest?

Konishi: Well, more than it being about the group itself, it was that Tsunku♂'s songs were so interesting. There was something about his melodies that really grabbed me. He has those same, persistent melody lines similar to people like Tsutsumi Kyohei or Tokura Shunichi. All of his songs have a strong "core."
— So you're saying his melodies aren't too unexpected — in a good way.

Konishi: That's why singing them feels almost "cathartic" in a way. And the thing about catharsis in music is… Well, take something like enka for example. It's probably a genre that's pretty representative of Japanese music — I feel like it definitely has that "core" in it; a certain something that continues to exist within all Japanese people. But does that mean enka music is "cool" on all levels? Well, no. Tsunku♂'s melodies feature modern sounds, but they all have that same "core" within them.
— "Last Kiss" is a song that sounds very "1998." Are you conscious of trying to make your arrangements sound appropriate for the times?

Konishi: Broadly speaking, yes, I try to be aware of it. With that said, I'm also not the type to try and force myself to keep up with fads. What I do is more along the lines of trying to get the sound to match the emotion of the lyrics and the melody. If you make a song sound too modern, it's hard to feel anything at all from it. But if you make it so that the listener just feels left behind listening to the song, that's boring, too. Sometimes you just happen to hear something that's close to what you're currently into, and I think that's what gives the song its sense of timeliness. It often feels though that trying to make sense of older songs in the present day can let you see them in a new light, too. For instance, I feel like I now hear something that's close to New Romanticism in "Last Kiss."
— What with other songs such as "Tanpopo (Single Version)" and "Seinaru Kane ga Hibiku Yoru," I feel like the 1st generation of Tanpopo sounds very much like you.

Konishi: Back when I was doing the majority of my arrangement work, the arrangers mostly had freedom in how they wanted to approach their arrangements, and then afterwards we'd work with Tsunku♂ together in brushing them up. So, as long as we kept the tempo and the emotion of the song mostly in line, we could do as we pleased with the songs.
— The vocal stylings of 1st generation Tanpopo were very sensual — at times the members were almost whispering. Were you trying to make the arrangements similar in style?

Konishi: Yes. Compared to the merriness of Morning Musume, Tanpopo was supposed to be a bit more adult-like in their image. So to emphasize that, I would try to make the arrangements compliment the lyrics more, not making them as forceful. It was an opportunity to try things that were more experimental.
— Like with the acid jazz-like album song "ONE STEP."

Konishi: People seemed to like that one. An experiment like that would've been difficult to do with Morning Musume, but it was doable with Tanpopo. But you know, to me, what actually feels the most like "me" is stuff like Minimoni; stuff that's not really this or that genre at all — just pure fun. Another example of that might be "Morning Musume no Hyokkori Hyoutanjima."
— You mean the songs that are somewhat children-oriented; the "novelty" songs. Goto Maki's "Te wo Nigitte Arukitai" would fall into that category, too, right?

Konishi: Right. Songs that sound like you just emptied a big toy box on the floor and you can just imagine these children running around, laughing. I'm a complete child myself, so it's just fun for me personally to work on songs like that. (laughs) On the other hand, though, I also like the more sentimental songs; the songs that can move you to tears. I don't think I'm very good at arranging "cool" songs.
— But Akagumi 4's "Akai Nikkichou" is cool!

Konishi: Even that I think sounds like Sawada Kenji, especially that riff in the prelude — it's cool, but also lame. (laughs) Even with that one, I can't think of it as just purely a "cool" arrangement.
— You also arranged many of the songs on Minimoni's first album, beginning with "Minimoni Jankenpyon!" As a group they weren't quite what most pop/J-pop was like but, like I said, more children-oriented. Looking back on it today, it's pretty incredible to think that a group like that could do so well in the charts. What was your approach to arranging Minimoni?

Konishi: The group was formed around Yaguchi Mari and they told me that the concept was that the members would all be under 150cm tall. They also said they wanted the group to be aimed more directly at kids. With a concept like that, being overly focused on just the melody would not have led to those "cathartic" song progressions. So, what I did instead when making that first arrangement was to picture that group of kids running around having fun — my arrangement was like a mix of the sounds from the NES game Balloon Fight, the song "Omocha no Chachacha," and drum and bass.
— You tried to include various things that kids would like.

Konishi: Well, see, the things kids like are the same things I like. (laughs) I also wanted to take the opportunity to arrange the song "backwards." Meaning, instead of coming up with it on the piano, I based the arrangement around the riff. After "Minimoni Jankenpyon!," they wanted to keep parts of that image on all the subsequent songs, so I kept that same method when working on their arrangements. I was also mindful of not letting their songs get too long or sluggish.
— Personally, I also really liked songs such as Pucchimoni's "BABY! Koi ni KNOCK OUT!" and Morning Musume's "Say Yeah! -Motto Miracle Night-" and "Ikimasshoi!" — all the songs that were almost desperately, exceedingly hyper and up-tempo.

Konishi: (laughs) I like them, too. "Say Yeah -Motto Miracle Night-" and the part where that "zennin issho ni miracle miracle" bit repeats five times as the chord gets higher and higher, I still like to think I did a pretty good job with that.
— That modulation and the way it just rises until finally settling in at the chorus, that was the perfect example of "catharsis" in a song. And then when it actually just returns to the original key after that… that was pretty eccentric, too. (laughs)

Konishi: Minimoni's "Minimoni Bus Guide" is another song I did that had modulation. I actually arranged that song based on Sakamoto Kyu's "Ashita ga Aru." Even I personally found "Say Yeah -Motto Miracle Night-" particularly indecent, especially the riff melody and stuff. (laughs) When I had Tsunku♂ listen to my arrangement, I noticed even him grinning to himself — at the end of the day, he loves an annoyingly catchy riff just as much as me. (laughs)
— It felt like the actual choreography of the song was based on that riff. "BABY! Koi ni KNOCK OUT!" is another song with a strong riff. That whole sped-up "Soul Dracula" thing, for lack of a better thing to compare it to…

Konishi: Or Khachaturian…
— Melon Kinenbi's "Girls Power, Aisuru Power" is a good example of this: in around 2001 or 2002, Hello! Project started releasing these songs that were just full-on "information overload." Why was that?

Konishi: Just a coincidence of timing. Hello! Project was climbing the ladder to stardom, songs were being mass produced, and everyone was hooked on stimulus — the audience wanted songs that were more and more stimulating; more and more ridiculous. I think that really culminated with 10nin Matsuri's "Dancing! Natsu Matsuri."
— On variety shows like "Utaban," 10nin Matsuri were always treated as the odd ones out. With the song being what it is, there was definitely that weirdness to them.

Konishi: I really put everything I had into that arrangement. I truly feel pleased with how that song turned out. I'd taken part on an album of shamisen player Kineya Hiromitsu, and on that album we mixed the shamisen with dance music. They told me they wanted to try that within Hello! Project as well, and that led to 10nin Matsuri. But Tsunku♂'s melody wasn't quite "Japanese" enough, and my impression is that I tried to push it closer to that Japanese-ness with my arrangement. We had some remarkable instrumentalists playing for us in songs like this one and "ONE STEP," and so back when I was doing most of my arranging work for Hello! Project, we recorded most of the instruments live. That reminds me: we actually went all the way to China to record some strings for Tanpopo. I was in China for other work, and there was this fantastic string player — when he was playing something in forte, he was seriously going at it all "aaaaarrrgghh!!" I loved it, and so as I was telling that story to the recording director, he said "well, let's go and record in China then!" What a great period in time that was. (laughs)
— What is a Tsunku♂ work you did that has left a lasting impression on you?

Konishi: When I was arranging the melody on the Morning Musume album song "Aisha Loan de," I snuck in the riff from The Knack's "My Sharona." When I did, the song's title was changed to "Aisha Loan de," and the lyrics, too, changed to reflect that. I was glad to have that sort of back-and-forth with Tsunku♂.
— What's your personal favorite Hello! Project work?

Konishi: "Dancing! Natsu Matsuri" and Morning Musume's "Furusato." I like the intro and the emotion in "Furusato." I think it really worked to have Nacchi basically sing that song solo. They had that whole battle of the top of the charts with Suzuki Ami on "ASAYAN," and while a ballad might have given them a disadvantage at the time, I feel that it became a song that continues to be loved and listened to even today.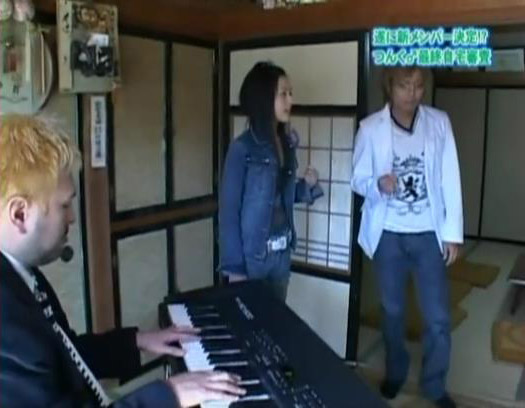 — It certainly is memorable.

Konishi: If so, I'm glad. Hirai Ken just covered "Timing" last year which made me happy, too. It goes to show that works like this don't just pass — they're permanent.
— Is there anything you try to always be mindful of when arranging Hello! Project songs?
Konishi: I always try to give it a kind of an "aura." The most difficult period for me personally was when Shibuya-kei was popular… I had a hard time figuring out where I belonged. My orchestrations are sweaty — it's a sound designed to get you in high spirits. I could never pull off the Shibuya-kei-styled arrangement where you're kind of just looking in from the outside. I don't want you to just observe: I want you to make the song bloom with me. Ultimately, I feel kayou kyoku really is just an "image"… Each and every work has its own worldview. The singers perform it and my job is to try and have them be able to shine through my arrangement. At the end of the day, I really feel a kind of utmost effort — a hunger — with Hello! Project. That's why I have to carefully try and give them arrangements with an aura about them. I've been given the heavy responsibility of arranging for these stars, and I feel that, even if I sometimes overdo it, I have to allow them to bloom.
Interview & text: Takagi "JET" Shinichiro
English translation: Henkka
Konishi Takao on the web: Twitter