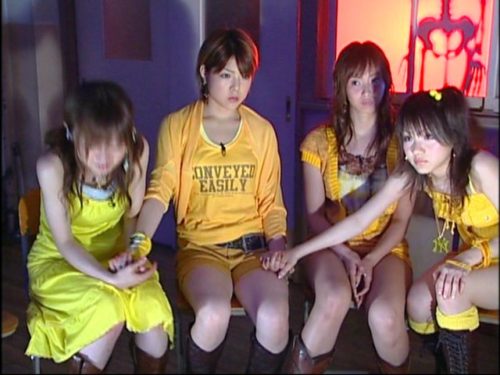 1: 名無し募集中。。。 2012/02/08(水) 00:42:20.28 0
I want to feel chills running through my body.
3: 名無し募集中。。。 2012/02/08(水) 00:44:52.87 0
Junjun and Linlin's mutual hate for each other is a classic.
6: 名無し募集中。。。 2009/08/03(月) 11:04:33.07 0
Junjun and Linlin lived in a shared housing situation at first. When Linlin would try to talk to Junjun, she refused to acknowledge her in any way.
79: 名無し募集中。。。 2012/02/08(水) 02:28:41.30 0
On their graduation memorial DVD, Junjun said "I used to hate Linlin. I was so two-faced, too. I don't hate you anymore, though!" Linlin, in response to that, went "Hey, that's my line! I used to hate you, too. You'd have such an attitude when it was just the two of us, but when we were around the Japanese members, you'd act all innocent and sweet all of a sudden. It really surprised me."
9: 名無し募集中。。。 2012/02/08(水) 00:59:34.44 O
Kanon and Mano-chan really hate each other.
12: 名無し募集中。。。 2012/02/08(水) 01:02:54.29 0
402: 名無し募集中。。。 2010/03/21(日) 15:59:46.86 i
Ayacho said she'd witnessed Mano-chan and Kanyon fighting. The two of them were going to sing a song together at Shinjin Kouen and Mano-chan was having trouble staying on beat when singing it. When Kanyon made a comment about it to Mano-chan, Mano-chan went "that's the sense of rhythm I was born with, so what do you want me to do about it?!"
15: 名無し募集中。。。 2012/02/08(水) 01:07:41.05 0
Fukuda — who has said multiple times that she loves idols — said on Nama-Sma something like "I've never once said that Mano-chan was my oshi."
165: 名無し募集中。。。 2012/02/08(水) 03:49:24.57 0
The other girls' attitudes towards Mano-chan must've really changed when her solo debut was announced. Scary…
22: 名無し募集中。。。 2012/02/08(水) 01:13:08.02 0
Mano-chan has left out Fukuda from her blog several times as revenge.
43: 舐めてんのか?(U´Д`)ワンワンぺろりんチョ ◆penisu8KA6 2012/02/08(水) 01:58:24.93 0
You can immediately sense Mano-chan and Kanyon's discord when you see these pictures.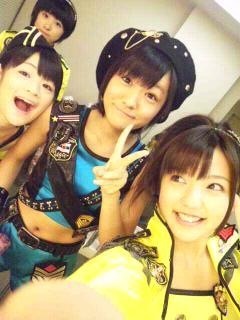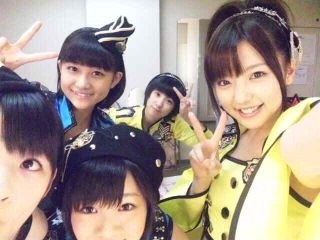 48: 名無し募集中。。。 2012/02/08(水) 02:02:16.62 0
Mano-chan looks happy. That's all that matters.
49: 名無し募集中。。。 2012/02/08(水) 02:02:24.79 0
If we're talking about Eggs, Fukumura and Ogawa/Fukuda aren't on good terms either.
53: 名無し募集中。。。 2012/02/08(水) 02:09:07.82 0
>>49
Yep. Ogawa's made Fukumura cry before.
18: 名無し募集中。。。 2012/02/08(水) 01:09:56.70 0
⑩ Question: Write one thing you like about each member, and one thing you want each of them to fix about themselves. (*´`*)

Airi→
Something I like about her: she's always in the same sort of high spirits as me.
Something I want her to fix about herself: she doesn't answer my mails when I want to consult her about something.

————————————–

http://gree.jp/c_ute/blog/entry/593333792

Anyway… (ー∀ー)
Don't you just hate people who are really slow in replying to your mails???? (laughs)
I get all "(-_-#)" when the discussion completely stops because of them!
Also, people who don't reply to your mails only when it's a certain type of subject. (laughs)
I (Chisato) for one really hate that. (laughs)
I'll start thinking like "Okay, fine. I'll just stop mailing you entirely then."
What about you guys???? (laughs)
23: 名無し募集中。。。 2012/02/08(水) 01:16:10.15 0
>>18
Yeah, this one's for real… (laughs)
101: 名無し募集中。。。 2012/02/08(水) 02:40:38.57 0
Airi and Okai only talk to each other about once a day.
According to Airi, it's because they're a "different genre" of people.
190: 名無し募集中。。。 2012/02/08(水) 04:16:42.49 0
574: 名無し募集中。。。 2012/02/05(日) 16:13:43.33 O
Noon performance report (cont.)

"Members of the group who've recently made things awkward for others…"

Yajima → Nakajima
Hagiwara → Nakajima
Nakajima → Hagiwara

Same thing they talked about at the event yesterday, the one about Nakajima and Hagiwara having had a little dispute during the Berikyuu tour… However, today Maimi revealed that she'd later actually witnessed Nacky crying. You could hear how people at the venue were a little put off by the revelation so Hagiwara got flustered. "Why are you making it sound like I'm some huge bully!?"

585: 名無し募集中。。。 2012/02/05(日) 16:20:26.70 0
Maimai starts discussion with Nacky
→ Nacky gives her a half-hearted reply
→ Maimai flies into a rage and starts ignoring Nacky
→ Maimi witnesses Nacky crying in the cafeteria
→ In the taxi on their way back, Maimai is acting like nothing ever happened
→ The two make peace.
24: 名無し募集中。。。 2012/02/08(水) 01:16:23.66 0
Shimizu had nothing to say to Momoko so she just sent her a New Year's card that was completely blank. She originally didn't have any intention of even giving her a card in the first place but did so unwillingly because the other members told her to. The cards she gave to the other members were of course filled with personal messages to them.
26: 名無し募集中。。。 2012/02/08(水) 01:40:26.14 0
>>24
Oh wow…
27: 名無し募集中。。。 2012/02/08(水) 01:41:00.70 0
>>24
Is this for real?
28: 名無し募集中。。。 2012/02/08(水) 01:44:22.46 0
As real as it gets. You should still be able to find the radio show in question.
64: 名無し募集中。。。 2012/02/08(水) 02:20:51.11 0
Guess this means that the legendary Captain/Momo duo seriously aren't on very good terms.
78: 名無し募集中。。。 2012/02/08(水) 02:28:35.06 0
>>64
Their relationship is normal. It's not that they're on really bad terms or anything, it's just that the cold treatment Captain gives Momo in front of the cameras makes everyone theorize about discord between them. In private they have discussions and meetings even with just the two of them. Besides, Shimizu is always talking about how reliable Momoko is, and Momoko calls Shimizu a trusted partner.
90: 名無し募集中。。。 2012/02/08(水) 02:34:58.95 0
>>78
Of course they wouldn't publicly announce they hate each other. Don't be stupid.
54: 名無し募集中。。。 2012/02/08(水) 02:09:34.65 0
Just some time ago threads like this one always had loads of episodes about Momoko and Tokunaga, like how they were butting heads at the Sports Festival or on the making-of of their debut song. Now they're just great business partners.
32: 名無し募集中。。。 2012/02/08(水) 01:48:00.87 0
Niigaki, Kamei and Michishige had an exchange diary by the three of them.
Tanaka didn't even know about it.
68: 名無し募集中。。。 2012/02/08(水) 02:24:00.43 0
Tanaka and Niigaki did apparently later reconcile though.
37: 名無し募集中。。。 2012/02/08(水) 01:53:17.72 0
They were doing a radio show when they got a question asking them each to say something they like about the other person. Ishida said "I like Sayashi's defined jaw line, and I like how her eyes are so round and cute" while faintly laughing. Sayashi, with her complex about her small eyes, said "I like Ishida's big mouth. What are you laughing about?", sounding annoyed.
Later, Ishida revealed that Sayashi acts completely different in front of the 9th and 10th gen members as she does with her seniors. Sayashi replied by saying that Ikuta is much worse when it comes to that. They started making more revelations about Ikuta until the radio MC warned them they were sounding too condescending.
Another time, Sayashi said to Ishida "you're pretty amazing for being able to call dancing one of your specialties. (laughs)" Ishida, in response, said "I don't understand what you mean by that."
39: 名無し募集中。。。 2012/02/08(水) 01:55:52.01 0
>>37
This is going to be a fun, strained relationship to look forward to.
81: 名無し募集中。。。 2012/02/08(水) 02:29:59.62 0
Anything about Yajima?
83: 名無し募集中。。。 2012/02/08(水) 02:31:01.87 0
Yajima has almost no contact with Natsuyaki.
97: 名無し募集中。。。 2012/02/08(水) 02:37:26.91 0
Ai-san…
121: 名無し募集中。。。 2012/02/08(水) 02:47:50.04 0
Abe-san and Iida-san.
Abe-san and Matsuura.
It seems like Abe's made peace with both of them now though. As for Goto, she may have looked like she was always alone but she actually had surprisingly few enemies.
174: 名無し募集中。。。 2012/02/08(水) 03:59:58.05 0
32: 名無し募集中。。。 2010/02/07(日) 22:06:03.17 0
Practicing their moves before Kouhaku
↓
Matsuura tells Abe to pay more attention to her steps, several times
↓
Abe gets increasingly pissed off, but endures it
↓
Matsuura keeps telling her off even more at a rehearsal, Abe finally snaps at her
↓
They perform at Kouhaku with the matter still remaining unresolved
↓
After the performance, Goto makes Matsuura go and apologize to Abe. The conflict ends for the time being.
↓
They finally make peace at the New Year's Hello! Concert.

That's pretty much how it happened. Apparently now it's something they can just look back on and laugh about.
126: 名無し募集中。。。 2012/02/08(水) 02:50:09.56 0
Yoshizawa: "I don't keep in contact with any of the members in private."
Yasuda: "No one knows what Yoshizawa does in private. It's a complete mystery."
170: 名無し募集中。。。 2012/02/08(水) 03:55:16.74 0
Satoda said everyone in Country Musume was on bad terms and that compared to them, Suzanne and Yukkiina are really good girls.
131: 名無し募集中。。。 2012/02/08(水) 02:51:02.18 O
Miuna used to really hate Ishikawa until Ishikawa gave her some Starbucks and they made peace.
151: 名無し募集中。。。 2012/02/08(水) 03:18:17.71 O
Miuna once clearly stated that she disliked Ishikawa.
155: 名無し募集中。。。 2012/02/08(水) 03:23:14.25 0
>>151
On radio, yeah. The week after that, they made her apologize for saying that.
156: 名無し募集中。。。 2012/02/08(水) 03:24:10.77 0
Ishikawa still scolds her juniors to this day.
157: 名無し募集中。。。 2012/02/08(水) 03:25:53.51 0
Nothing wrong with a scolding if it's earned, but Miyoshi and Okada were saying they once got a 5-hour preaching from her.
Henkka: Just to contribute this classic from the "much rumored but never verified" bunch…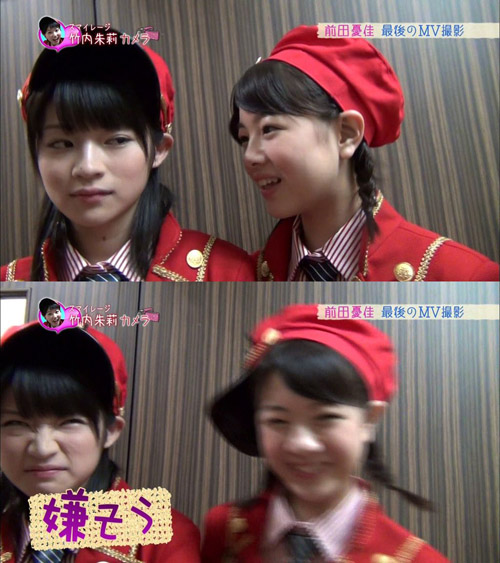 Source: http://www.iamyourenemy.co.uk/whg/2012/02/post_1717.html