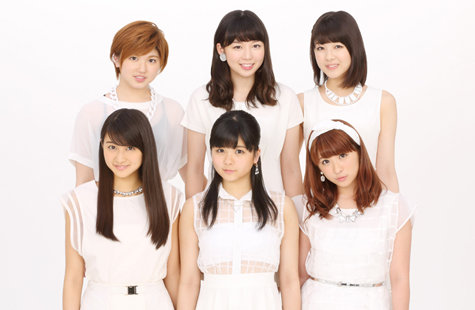 1: 名無し募集中。。。 2014/08/07(木) 20:45:26.06 0.net
≪Rules of the consultation event≫
※ The consultation event is a talk event where one member of S/mileage will listen to your worries and try her best to help you solve them.
※ Each member of S/mileage has a separate, private booth. Each six members will be doing their events simultaneously.
※ The approximate time limit for your consultation is one minute.
※ Previous to the event, you must write your worry on a paper that the staff will check beforehand. If there is no problem with the content, each guest will go to the members' booths in order. The members can not answer to worries that are too "heavy."
※ While each of the members will do their best to give you the best advice they possibly can, please understand that there is a possibility you may not be pleased with all of their advice. Please note that there is no money-back guarantee, nor a possibility of a re-do.
※ The member of S/mileage assigned to you will be as printed on the "consultation event ticket." It is not possible to change this to another member.
※ There is no handshake or any other physical contact with the members of S/mileage included at this event.
3: 名無し募集中。。。 2014/08/07(木) 20:46:52.06 0.net
http://s-mileage.jp/event/detail_00390/
13: 名無し募集中。。。 2014/08/07(木) 20:48:50.17 0.net
I thought it was a joke but it's for real! (laughs)
I didn't see this event coming…
8: 名無し募集中。。。 2014/08/07(木) 20:48:09.15 0.net
"Worries that are too heavy." (laughs)
15: 名無し募集中。。。 2014/08/07(木) 20:49:47.79 0.net
I want to trouble them by saying I'm worried about my thinning hair even though I'm already completely visibly bald beyond any help.
17: 名無し募集中。。。 2014/08/07(木) 20:50:24.07 0.net
"Zukki just won't lose weight… what can I do…?"
29: 名無し募集中。。。 2014/08/07(木) 20:53:06.99 0.net
>>17
Please refrain from sharing worries that are too heavy.
21: 名無し募集中。。。 2014/08/07(木) 20:52:13.60 0.net
What the…? This seems fun! (laughs)
22: 名無し募集中。。。 2014/08/07(木) 20:52:17.11 0.net
"My favorite idols suddenly announced they'd be going on a hiatus. What should I do?"
59: 名無し募集中。。。 2014/08/07(木) 20:57:29.34 0.net
"I just can't seem to forget about Maeda-san. What should I do?"
63: 名無し募集中。。。 2014/08/07(木) 20:58:19.22 0.net
>>59
Too heavy.
62: 名無し募集中。。。 2014/08/07(木) 20:57:52.54 0.net
They need to give some more detailed examples as to what sort of worries are OK and what aren't…
83: 名無し募集中。。。 2014/08/07(木) 21:01:07.97 0.net
>>62
If they did that, people would find the loopholes and try to force them to accept absurd questions for sure. They're not going to make it any clearer than that.
90: 名無し募集中。。。 2014/08/07(木) 21:02:09.74 0.net
>>83
But if they don't, it seems like every worry could be denied…
72: 名無し募集中。。。 2014/08/07(木) 20:59:25.05 0.net
This is obviously something to test the abilities of us wota, to see just how we can make them laugh. (laughs)
82: 名無し募集中。。。 2014/08/07(木) 21:00:58.72 0.net
I just can't picture the members of S/mileage giving serious consultation to anyone…
110: 名無し募集中。。。 2014/08/07(木) 21:03:51.90 0.net
"Maro-chan, you're just so adorable, I can't stand it. What should I do?"
114: 名無し募集中。。。 2014/08/07(木) 21:04:20.01 0.net
>>110
Probably half of all worries will be stuff like this. They're going to get bored of this kind of stuff fast. (laughs)
117: 名無し募集中。。。 2014/08/07(木) 21:04:26.64 0.net
I feel like Meimei will give needlessly heavy answers to everyone's worries.
135: 名無し募集中。。。 2014/08/07(木) 21:05:47.08 0.net
Tamura does seem like she'd suddenly start giving overly serious advice. You have to make your worry sound obviously funny so she gets that it's just a joke.
119: 名無し募集中。。。 2014/08/07(木) 21:04:26.77 0.net
This actually seems quite fun. (laughs)
157: 名無し募集中。。。 2014/08/07(木) 21:08:50.87 0.net
I'm jealous of the S/mileage wota. S/mileage always gets to do the fun stuff like this.
167: 名無し募集中。。。 2014/08/07(木) 21:09:44.38 0.net
"All the worries I write get constantly denied by the staff. What should I do?"
173: 名無し募集中。。。 2014/08/07(木) 21:10:36.40 0.net
>>167
This seems like it'd get denied, too. (laughs)
103: 名無し募集中。。。 2014/08/07(木) 21:03:24.96 0.net
Whether this succeeds or not, I do wish they keep trying all kinds of things aside from just handshake events.
102: 名無し募集中。。。 2014/08/07(木) 21:03:20.66 0.net
Kananan: "Oh dear, that sure is a hard one… What oh what should you do…?"
Staff: "Time is up."
Henkka: If they ever start doing these events with the other groups, I hope they do away with the "no heavy worries" rule and appoint Maa-chan as the one who gets the really tough ones. I need to consult her about a couple of financial household issues and important life decisions.

Source: http://helloprocanvas.ldblog.jp/archives/40237387.html