H: These are the highlights (as chosen by me) of Okai's Q&A event held on October 19th. Please note that her answers were actually, in all likelihood, much more verbose — think of her answers below as just quick, tweet-sized summaries.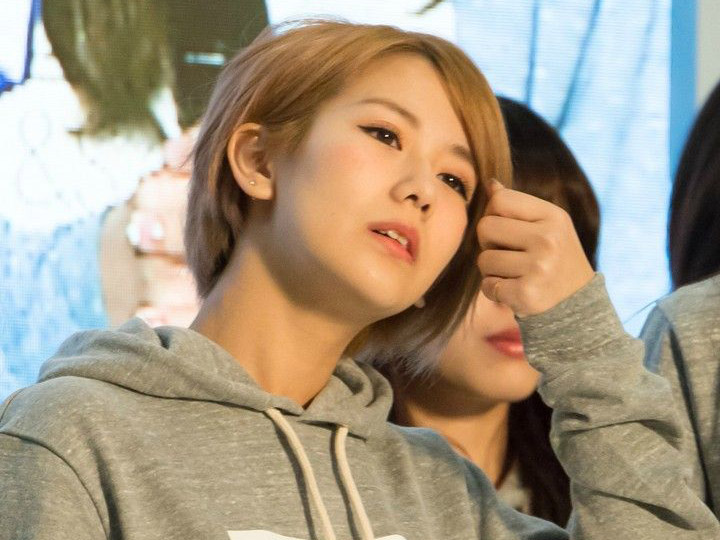 — Do you still want to form the unit with Airi that you've previously talked about?
It feels like that could lead to fights between the two of us so fast. We're both kinda stubborn, so it can get a bit heated even just deciding on setlists for our events. But yeah, after °C-ute breaks up, it would be nice to get together to do an event together by the two of us — every now and then.
— Have you been going to karaoke lately?
My doctor has been stopping me from doing so since my throat troubles. Before that, I used to go four times a week. But I like to drink when I go to karaoke, and that apparently makes it even worse for your throat.
— I love you so much, I probably won't even be able to sleep at night anymore. What should I do?
Yeah, I can see right through people like this. This person is in reality obviously an Airi fan.
— What are your pet dog's favorite treats?
She'll eat anything! She's such a fool.
Nishiguchi: "She kind of resembles her owner…"
Sakagami Shinobu told me the same thing! But unlike my dog, I can use the toilet just fine.
I heard how Nacky brought her pet dog along to this event, so I decided to bring mine as well. Here she is! Please welcome Pants! (Talking to her dog, Pants, who is visibly shaking) Don't worry! They aren't scary. These are the people who protect me.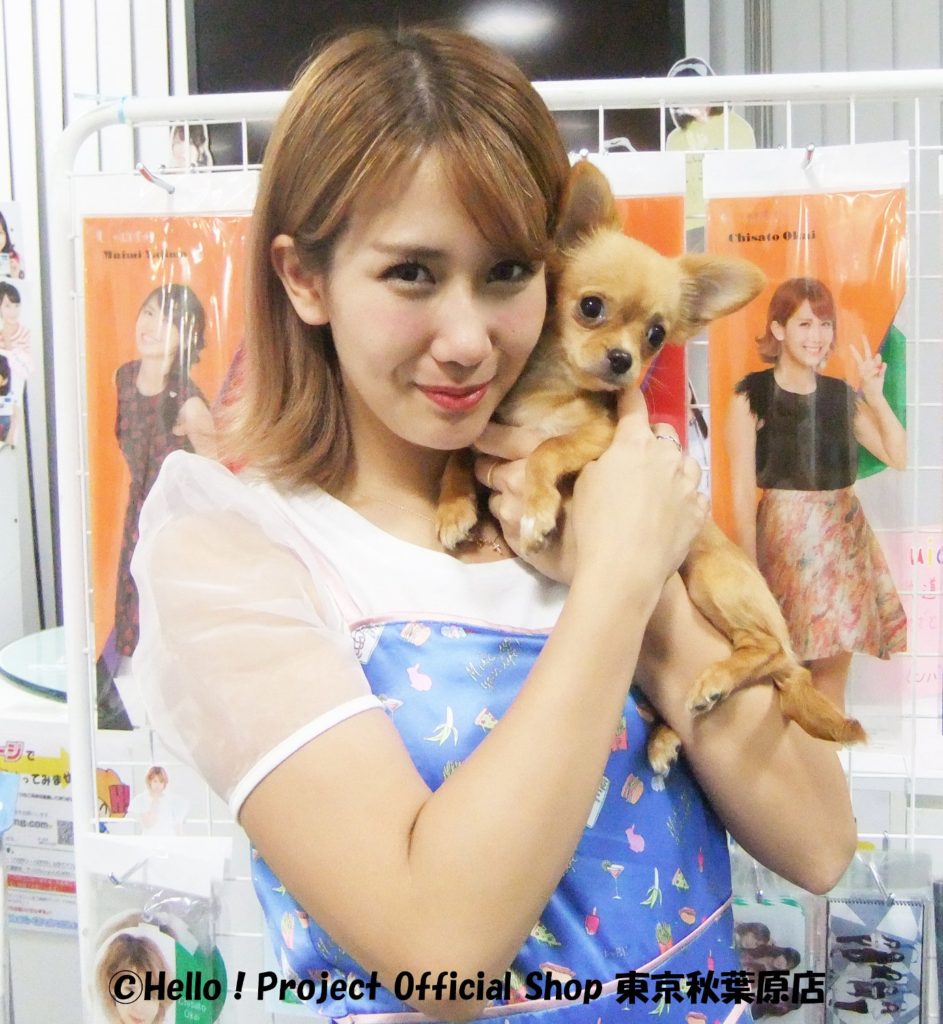 — If you were to reform Team Okai, who would you invite to join in?
Take-chan. She's cute and she'll talk to me often. At first I thought she was very boyish and not at all idol-like, but I now understand why people would fall for her. She has such a cute personality.
Many of the previous members were in the Kenshuusei, but their schedules never seemed to match mine. A lot of them are now in groups themselves. One person I'd like to have join is Kaga-chan.
— If you were to still be a singer after °C-ute, would you rather be a solo singer or a part of another unit?
Solo. The responsibility and decision-making would be all on me.
— If you were to turn one of the members into your little sister, who would it be? Sato Masaki? Hagiwara Mai? And which of the members seems like someone who would be tough to handle as a little sister?
One time I went out with Maa-chan, but she'd forgotten her wallet. When I asked her "hey, where's your wallet?," she just went "Oka-han, I'm sorry…"
Previously, she'd brought it along and asked if she could put it in my bag. So she put it in there and promptly forgot about it for the following four days. Maa-chan then came to me, explaining to me that she'd forgotten her wallet in my bag. I just realized then that I was still carrying her wallet, so I asked her how she'd been able to get by the previous four days. She just said, "I borrowed money from mom." Maa-chan is going to have an increasingly tough life ahead of her…
Nishiguchi: "Um, how about warning her about this directly…?"
— Are you still playing Pokemon as of late?
I changed phones and lost all the Pokemon I had, so that was that. Even though I'd actually spent a bit of money on it… I think I might've inherited that from my parents.
— If tomorrow morning you woke up as a YouTuber, what kind of videos would you make?
There used to be this famous YouTuber called "okailove" who took a bath in Coca-Cola. I felt pretty jealous of that.
— How does one learn the vibrato vocal technique?
It's not like I learned it consciously either. I think it'd be a good idea to just mess around and try to mimic all your favorite artists.
— What would you do if your own daughter wanted to join H!P?
I think I'd feel relieved to know she was going to be joining H!P/Up-Front and not some other company. Sometimes when I go for lunch and stuff with outside idols, we'll be talking about something and they'll say "wow, your company goes that far for you?," and I'll reply "well, yeah — isn't that the norm?"
Nishiguchi: "… It's important to remember that feeling of gratitude."

— Nakajima-san picked up scuba-diving thanks to Yajima-san's recommendation. How about you: have you taken up any new hobbies as of late?
Maimi-chan is so good at recommending new hobbies to people! They just went diving together yesterday. I love the sea so I want to go, too.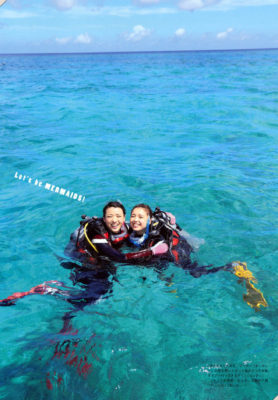 — So you're not going to go diving together with them?
I want to! Nacky looks like a fish.
— Are you not going to release another photobook?
Hey, you have like the no. 1 most important person of Up-Front present here. (Nishiguchi.) Ask him! Well, they actually asked me if I wanted to release another one when I was 20, but I said "no, that's okay — I don't want to." I just want to give them credit for that: they did ask me. But I didn't feel confident that I'd be able to lose enough weight before it was to be shot. Honestly, the way the fat just sticks to my belly is completely different now that I consume alcohol compared to when I didn't.
— What do you like about Kudo?
Well, whereas someone like Fujii-chan is so head-over-heels with Maimi-chan that she's like glued to her all the time, Kudo-chan is more the type who just stares at me from the side of the stage. At our last Hello! Con, I noticed her looking at me all shyly without saying a word to me, wearing my T-shirt. Oh, and she wrote letters to all the members of °C-ute.
— What's your favorite °C-ute song?
That's so hard! I like the lyrics of Kanashiki Heaven.
— Okai-san, I love you. What should I do?
I want you to stay that way. I'm scared, you know — I'm a nervous wreck during all the Hello! Con performances. "This person who always said they loved me more than anything… they betrayed me… They always looked so good in green… red doesn't suit them at all…"
— I love Suzuki Airi so much, I don't know what to do!
Well, how about you just… Ah! I almost just finished my sentence with "…die then!"
Nishiguchi: "Hey!"
— What are you going to have for dinner today?
My little brother's waiting at home right now. We're supposed to have dinner together — though I just messaged him and got no reply… So, I don't know what we're going to eat. I'm in a ramen kind of mood though.
— Did you bring your Pants along today? Show us your Pants!
I am showing you! Ah, man. I really shouldn't have named this girl "Pants." (Japanese-language note: as you may be aware, "パンツ," the name of Okai's dog, doesn't just mean "pants" but also panties or underwear.) But interestingly, she hates when you make her actually wear pants.
— What's something that has ticked you off lately?
Hmm, I wonder… Well, this girl right here (Pants) peed on the yoga mat my mom had just bought, and so she said I have to go out and buy her a new one!
— What should I do in order to become your pet dog? I don't eat pictures at least…
My dog really does eat so much of my stuff… like my goods and pictures…
(Upon the first part of the question, about this particular fan wanting to be Okai's dog, registering in her brain) Oh, ewww!
— What do you think is the saddest H!P song?
Matsuura Aya-san's "Omoi Afurete." Listening to it and hearing what real adults are like… if I listen to it when I'm on the way home, I get so sad I almost feel like collapsing right there on the sidewalk.
— Which H!P member would you like to invite to your home?
Kudo-chan and Iikubo-chan have visited my home previously. Honestly, I'd be happy to invite anyone who said they wanted to come. Anyone aside from Maa-chan.
— Tell us a secret.

I feel like I've been giving out secrets left and right… Well. I'm actually a very cleanly person. I've mentioned this before, but I'm actually easily the most cleanly person in °C-ute. Like, even when I get in a taxi, I never want my thighs to touch the passenger seat so I'll specifically wear pants before I get on.
— What's something that another member has done recently that's really put you off?
When me and Hagi-chan were somewhere outside of Tokyo — Fukuoka or somewhere, maybe? — I discovered that Hagi-chan likes to hit people in the face when she gets drunk. What's more is that she can't control her strength at all. And so I was going "hey, that really hurts!" She just replied, "no it doesn't, shut up!"
— Any advice for short girls?
Who cares? Tall girls are equally as self-conscious for being so tall. Anyway, when I eat the exact same lunch box as Maimi-chan, it's way more fattening for me than it is for her. I wish they'd sell lunch boxes based on your height.
— Have you ever said anything on TV you later regretted?
For the most part, all the really bad stuff is cut out before it's broadcast so there's nothing much like that. But I did once get flustered and i accidentally blurted out on VS Arashi that I'm specifically from Tokorozawa, and that information got spread out all over the place immediately.
— Sell yourself: what would make you a good wife for someone?
I'm very methodical. If we had kids, I would never, ever have them forget anything. My parents were really strict — if I ever forgot something at home, I'd have to go back and pick it up myself. Once when we were doing marathon training at school, I forgot to bring the thing that measures the temperature. So I had to run back home and get it, and so I ran the whole thing twice and I still came in first place.
— Who do you think should be the next president of America?
I'd rather it not be Mr. Trump…
Nishiguchi: "Surprisingly, it seems like you actually know something about this topic."
I think the things Mr. Trump says are just too extreme. And what with the recent scandals… You know, I've actually been invited to speak on political programs before, but they've never aired any of the things I've said. So now it's Mr. Trump and… Plankton…? Yeah, the other one, she's really doing her best as of late. Huh? Ton… Ton… Clinkton…? Linton…? Well, the female one anyway.
— Would you rather be born as a male or a female in the following life?
If I was born as a man, I'd be destined to work all my life. If I was born as a woman, I'd be destined to be a house mom all my life. I don't want to be reborn as a human.
— It feels to me like during concerts you only wave at the female fans in the audience…
Ah, I think you might be right.
Nishiguchi: "No, that's something you're supposed to deny!"
Female fans are still rarer than male fans. They have stronger reactions compared to the male fans! They're like screaming and going all "oh my god, my eyes just met with a celebrity!," whereas the men are more likely to just avert their eyes, you know? So yeah, if you put it like that, I tend to pay more attention to the females.
— Which H!P member do you look up to the most as a woman?
Well, reading Goto Maki-san's blog, she seems really good at cooking. And hearing stories about Matsuura-san, I understand she's being all lovey-dovey with her husband. I mean, think of Matsuura — she doesn't really strike you as that type of person, does she? I guess I just tend to like people with unexpected differences between their perceived and actual personalities. Oh, and I love Takahashi-san's fashion sense. She's like the same height as me, and yet she's that amazing…
Henkka: In regards to the above picture and the "recent events" surrounding Okai… Hello!Online user "-=o=-" perfectly summarized my feelings on the matter. To paraphrase: the real scandal here is how fucking amazing Okai Chisato looks in that dress.

Source: http://matomeldo.doorblog.jp/archives/49829744.html