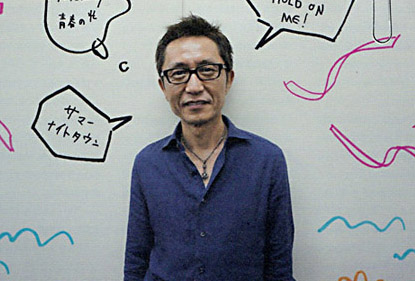 Immediately after "Ai no Tane" and "Morning Coffee" came the song that really changed Morning Musume's image: the brilliant "Summer Night Town." It was followed by a song that earned the group their first Kouhaku appearance, "Daite HOLD ON ME!," as well as the elegant "Memory Seishun no Hikari." One man who greatly contributed to the arrangements of this "cool style" of early Morning Musume was Maejima Yasuaki. Having been a member of bands like SPICK & SPAN and Orquesta de la Luz — as well as a long-serving band leader for Moritaka Chisato in the 90's — what kinds of things surprised this veteran of music in his work with Tsunku♂?
— Could you tell us about how you first came to be involved with Hello! Project?

Maejima: I was very much indebted to Seto Yukio, Moritaka Chisato's producer. Seto had previously arranged a song or two for Sharan Q, and that's how he'd gotten acquainted with Tsunku♂ and the rest of the band. Before long, the project for Morning Musume's debut was underway and Seto called me along.
— I still remember the first time I heard "Summer Night Town" — it was like the perfect night-time kayou kyoku song. Did it already sound that way on Tsunku♂'s original demo?

Maejima: If I remember correctly, I received a very basic, programmed demo of the song. It wasn't yet quite like how it eventually turned out, but the melody and overall harmonies were already there, meaning I didn't have to give it a huge makeover or anything. I just stayed faithful to the demo I'd received… I think. I don't really remember the specifics.
— Did it already have the bass line and rhythm and such?

Maejima: It did. When I was doing arrangements, the demos always came with those already on them. I personally never received a demo that was just the melody, or something like Tsunku♂ just singing the song while accompanying himself on the guitar or something.
— So basically you just kept the original harmonies as they were, only polishing them to an extent?

Maejima: Right. And I think the rhythm patterns were a bit simpler on the demo, too.
— Having spoken to arrangers who came in later than you, they've told me they often get demos that are a lot simpler than what you're describing…

Maejima: Well, I mean, the demos were always simple, yes, but never to the extent where it was just him singing the melody or something. I never received one demo in that form. To give you a rough idea: they'd always at least have a drum machine, the chords, maybe some strings or brass to give it some flavor, and the melody played on keyboards.
— "Summer Night Town" ended up becoming a huge hit. Did you feel that it was a song worth doing?

Maejima: You know, I had no idea. (laughs) This might not be limited to just Tsunku♂, but I've heard that producers are able to feel a certain energy — like, "this song is going to be a hit." They can sense it apparently. Me, I just think "okay, that was very musically fulfilling" or "that was powerful," stuff like that. I have no idea whether what I work on will be a hit or not. But, to give you a cliched answer: yes, I did feel a great sense of accomplishment in regards to the song as I worked on its arrangement. "Yeah, this sounds pretty cool."
— It was cool. The chorus that keeps on going higher — "Daikirai, daikirai, daikirai, daisuki" — listening to that feels so good.

Maejima: That was all Tsunku♂.
— Was it? That was so catchy.

Maejima: He really has a knack for knowing beforehand what about the song specifically is going to stick in the listener's head. I myself don't have that ability. Most of the time I just do my thing and afterwards it's like, "oh, so that was the catchy bit."
— I thought "Daite HOLD ON ME!" was a very Salsoul-ish song, but…

Maejima: Yeah, I'm often told that by people, but I'd actually never listened to them before. It was only until people pointed it out to me and I listened to them that I realized there are indeed similarities.
— What were your musical references with that song?

Maejima: I didn't really have any references sound-wise, but as far as the atmosphere of the song goes, I might have had in mind something that was popular around the time, like the Spice Girls or something. To be honest, I didn't really know much about Morning Musume — I didn't even know their ages. I think I remember thinking to myself how I just wanted to make it a song that sounded… "juicy."
— "Juicy" is exactly how one might describe it. (laughs)

Maejima: Well, if that's true, it's because I'd been working with Seto for a long time. Ever since I started working with Moritaka Chisato, he'd helped me with so much. I learned a lot from him.
— These two songs, as well as the follow-up, "Memory Seishun no Hikari," still sound cool today with their soulful, latin-influenced sounds. I'm curious to know: how much of it was contributed by you and how much of it was Tsunku♂'s ideas?

Maejima: It's not only just my work with Morning Musume — I'm always told that my work is latin-influenced, and the weird thing is that I'm not doing any of it consciously. I did, however, originally get started in a latin-influenced band, so maybe that's something that factors into it. I really couldn't tell you how much of it was contributed by me — I'd be a very poor judge of that. Honestly, it may just as well be that my overall contribution was to simply up the tone on the percussion or something.
— Did you feel that the compositions themselves were latin-inspired?

Maejima: The work that I did, especially on those three singles, I was allowed to put pretty much anything I wanted into the songs — though there was even more variety in some of the album songs, like "Tatoeba" (off Morning Musume's album Second Morning) for example. Anyway, the moment I heard that melody, I immediately had an image of how I wanted to make the arrangement.
— That one has the spirit of the Love Unlimited Orchestra, right? Do you often get asked to make your arrangements in a specific style?

Maejima: Depends on the song. Sometimes it's left completely up to me; other times one of the directors will specifically let me know what Tsunku♂ wants of the finished arrangement. But most of the time it's not necessary for anyone to explain it to me in words — it's all in the song already.
— How many performers did you have on those Morning Musume tracks back in the day?

Maejima: On those singles, I think it was pretty much just the guitarist. Oh, but "Memory Seishun no Hikari" was an exception — we went to record that one in New York. We got musicians over there to record that song. It was Will Lee on bass, Hiram Bullock on guitar, and Chris Parker on drums. I was deeply moved by their collective greatness.
— Could you share with us a memory to give us an idea of that greatness?

Maejima: We wanted to have a classical guitar solo in the song, but everyone had this image of Hiram Bullock being an electric guitar player. I told the coordinator to find us someone to play classical guitar on the song, but suddenly Hiram was going "I can do it! No problem!" (laughs) But I'd never even heard him play anything other than electric guitar, so I was worried. Well, we proceeded to record the basic tracks, and when it was time to do the solo, he went to the car and carried in this old, beat-up classical guitar and went "alright, let's give it a shot." He started playing, and it was absolutely spot-on. That's when I learned that the musicians over there tend to pick one thing that they sort of make their sales-point — for Hiram, it was his funky 16-beat cutting. But as it turned out, it was only the top of the iceberg of his talent — he had so much more to offer that people just didn't get to hear as often. I thought it was incredible. Also, Will Lee and Hiram were apparently good friends with each other, and so I was watching them going "Yeah, that song's big right now, right? Did it go something like this…?" and playing all the top 30 hits at the time right then and there, like it was nothing.
— Wow. And naturally all of them being songs they didn't even play on themselves, right?

Maejima: Right, and they played all those songs off the top of their heads. That's something I could never be able to do myself, so I was just amazed. I don't even know any of the current hit songs — I just look at what's on TV every now and then and give a dismissive "hmm…" (laughs) If I'm at a party or something and someone asks me to play a song, I might try playing a tiny bit of it — assuming I remember even the smallest thing about it. But these guys played everything in the top 30 at the time from memory, just like that. It was amazing.
— Had you had any previous experiences working with musicians from the "ground zero," so to speak?

Maejima: When I was about 20 or so, I was in this samba band called SPICK & SPAN, and we went to Los Angeles to record with Joyce, Ernie Watts, and Andy Narell. Also, one time when SPICK & SPAN was supposed to do a show at the Roppongi PIT INN, we received word that Pat Metheny was in Japan to do a duo concert with Yano Akiko. We'd always wanted to meet with him one day, so he just came over out of the blue and we played together. I remember thinking how amazing it was when Pat Metheny — who obviously only came over with just his guitar — plugged in to SPICK & SPAN's guitarist's amp, and suddenly I was hearing the sounds of Pat Metheny — whose sound I knew so well — coming from that same guitar amp… Man, we've gotten way off-topic here. (laughs)
— Well then, to force us back to the subject at hand… (laughs) After you received a demo from Tsunku♂, how did you present your arrangement of the song to him?

Maejima: I'd hand him my arrangement I'd programmed at home — it's something called a pre-production demo. He'd listen to it, let me know of any further requests of his, and that's how we'd gradually get closer to the finished song.
— To take "Daite HOLD ON ME!" as an example: that very recognizable chorus that repeats several times, was it originally that way on Tsunku♂'s initial demo?

Maejima: Ah, I see. Hmm… I'm actually not sure about that one. It feels like his original demo might not have been quite as complete in that sense… But on the other hand, I also don't recall ever having done something like repeating the chorus on my own accord as the arranger. I think it just turned out that way through communication.
— So it was more Tsunku♂'s idea?
Maejima: He was the one who wanted to have the refrain feel good and to leave an impression. I take a step back from the process when they go in to record the song, and I was only rarely in the studio when they were recording the vocals — which is when lots of ideas are added and subtracted. There have been lots of times when I've been surprised, going "ooh, so this is what happened to the song!" once I heard the song with vocals.
— What would be a good example of that?

Maejima: Well, with those first three singles I did… I was surprised to hear how the girls themselves had actually sung those rather difficult chorus vocals on the songs. Even if it'd been me to come up with the idea, I don't think it would've occurred to me to have those girls sing them. Not because it's Morning Musume, but just… in general. Even their usual melodies and harmonies are already pretty difficult, so it was a pretty bold move of him to have them sing the chorus vocals, too. He really doesn't want to cut them a break. (laughs) But people seemed to like the end result and those chorus vocals, so he definitely made the right call.
— The beginning of "Memory Seishun no Hikari," for example, really leaves an impression.

Maejima: I don't actually remember specifically how they were in each song, but I have a feeling the chorus vocals in "Memory Seishun no Hikari" and "Daite HOLD ON ME!" were especially complicated.
— The vocals are constantly chasing after each other or becoming entwined…
Maejima: Right. It's like, it's amazing that he had the energy needed to come up with those ideas.
— So you're saying they're ideas that might not occur to you as the arranger?

Maejima: See, if it was me, I'd probably just call up some master of that area and get them to weigh in on it, whereas I think Tsunku♂ just goes "why don't we give it a shot ourselves and see what we come up with!" — though I haven't actually talked to him about that sort of thing much, so I'm not sure what his method is. But seeing as he is the producer, I bet that's exactly what he does. He gives it a shot and judges it with his own ears first.
— It seems like the arrangers usually aren't there when they're recording vocals. Did you ever get to meet the members of Morning Musume in person?

Maejima: I did the soundtrack to their film Pinch Runner, and a few times the director of the movie asked me to join them when they were shooting it. Also, sometimes they'd start recording vocals in the same studio I was just finishing up my work in, so I'd say hi to them in the lobby on my way out. Little things like that.
— So you basically only got to see them sing the songs on TV?

Maejima: Yeah, that's when I'd be going "oh, so that's how that song turned out." That makes me sound like a total amateur. (laughs) But that's what tends to happen to you when you're just doing your thing, working at home — it's only the people like Tsunku♂ who are capable of having a clear idea of what an unfinished song will sound like when it's complete.
— That's something everyone seems to be unanimous about: Tsunku♂ has a lot of ideas.

Maejima: Yep. He apparently listens to heaps of different stuff for inspiration.
— Tsunku♂ himself tends to be first and foremost into rock music, but would you say that many of his songs also have those kayou kyoku or soulful elements from the beginning?

Maejima: Oh, absolutely. At least with the songs I've worked on, the arrangements I've done have all been born from elements that were already in the songs from the beginning.
— So even the "juiciness" of "Daite HOLD ON ME!" was originally in the song.

Maejima: I think so, yeah. It's amazing how you can't even really put that song squarely in any one category.
— How do you personally assess Tsunku♂ as a writer and a producer?

Maejima: You're asking the wrong person. (laughs) Well, it's like a lot of people have already said before: it's amazing to hear the variety of ideas he can come up with, and when you see and hear the finished product, it feels like that's what you were already hearing when you first listened to his original demo. I really admire that about him.
— Does he ever do things in his songs that you personally would never do?

Maejima: Oh no, not at all. (laughs) Though there are definitely things I might think of doing myself, but couldn't. That's why he's so great.
— You've arranged a ten-odd songs for Morning Musume, Pucchimoni's "Seishun Jidai 1.2.3!," Country Musume's "Futari no Hokkaido," and more recently, Berryz Koubou's "Mou, Kodomo ja nai Watashi na no ni…" (B-side of "Be Genki <Naseba Naru!>," among others — a great number of songs in total. Which of them have especially left an impression on you?

Maejima: It'd have to be the three singles: "Summer Night Town," "Daite! HOLD ON ME!," and "Memory Seishun no Hikari." Working on "Summer Night Town" in particular, I had no idea where the group was going to go from there. Plus, nowadays the way it works is, I program my demo at home and I bring it for them to listen to. But back then, we would carry the instruments into the studio, I would sit on the computer there and I'd say to Tsunku♂ "hey, what if I tried this?," and he'd go "good idea," and I'd then program it. It was just the two of us, plus the engineer and the assistant engineer in the studio. It was great fun.
— It sounds like you were all working very closely together.

Maejima: Yeah. It never took us very long time-wise, but that was the norm back then. Even with Sharan Q, whichever one of them had written the song would come to me, I'd program it, and they'd be there telling me how they wanted it to be — there was always a direct line of communication as we worked on the song together. Oh, and Pucchimoni's "Seishun Jidai 1.2.3!" was another fun one. Tsunku♂ wanted to make a song that had pretty much anything and everything in it. All through working on that song I was thinking to myself "there's no way this is all going to fall into order and become a complete song," but then when it was done… I was like "oh snap, it actually did!" (laughs)
Interview & text: Takaoka Hiroshi
English translation: Henkka