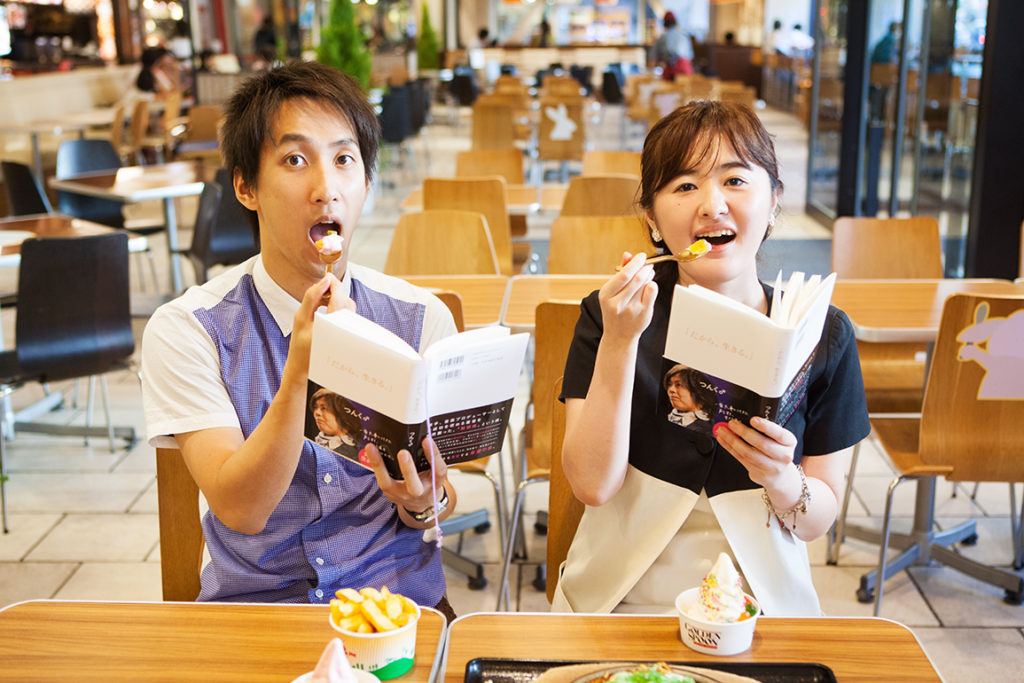 Part Two: "Maro's Old Food Court"
Writers Yuzuki Asako and Asai Ryo
profile the lyrics of Hello! Project songs!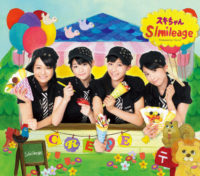 Song #1: S/mileage – "Suki-chan"
(Tsunku/Tsunku/Itagaki Yusuke)
Yuzuki: While I've always liked ANGERME and how "cultural" their songs are, I actually knew nothing about early S/mileage. I was caught by surprise listening to this song in preparation for this discussion.
Asai: They were a very orthodox idol group. They were pretty much the same height, they all wore miniskirts, and they had such a nice balance as a group. They weren't very H!P-like.
Yuzuki: They were perfect. The lyrics, too, are so cute.
Asai: I like to think that this song is set in Corona World.
Yuzuki: Corona World? What's that?
Asai: It's this entertainment complex in my hometown of Ogaki, Gifu. Karaoke, game center, movie theater, manga cafe, food court… it has all the things you need for a high school date.
Yuzuki: I've never heard of a food court date…
Asai: Hey, food courts are amazing. You can go in there hungry and you won't know what to get because there's so much to choose from.
Yuzuki: That reminds me of the first time I went to a service area. I was going like, "what the… this is literally Wonderland!"
Asai: Exactly! A food court is basically a service area for which you don't need a car to go to. Anyway, in the song they're singing about how they're cycling there "on a hilly road with our shoulders aligned," so it's definitely a regional town. They're either first or second grade high school students, with zero anxiety in regards to entrance exams. Neither of them seem like they're doing any club activities — usually they probably just go straight home when school's over.
Yuzuki: The boy isn't her senior, right?
Asai: No, they're the same age. The two of them are boldly going to a food court that's within biking distance, so that means they must be equally as bold in class — like they don't care who might see them together.
Yuzuki: (laughs) Ahh, it must be nice to get to go to school together with boys. I went to an all girls' school, and you'd get so much respect just for having been seen with a boy somewhere! Even if that boy was your big brother or something!
Asai: Let me tell you: to a high schooler from a rural area, nothing is better than a food court. It's paradise! There's desserts, takoyaki, McD's, ramen… you can choose to eat anything you like!
Yuzuki: We used to go to Starbucks just by us girls when a second one opened in Jiyuugaoka.
Asai: For me, it was all about the food court. Baskin-Robbins would have days when you could get triple scoops for the price of double. That news would quickly be circulated around school and we'd all run there at the end of the day.
Yuzuki: For us it was the Dairy Queen, which is completely different. That's why, to me, there's something so adorable about the sort of overly simple, local date described in the song.
Asai: "Kyou wa saikou" ("today is the best") — isn't that such a school student-like thing to say? How often do you think "today is the best" once you've become a grown-up? But when you're a student and you happen to have a day without any part-time work or any club activities and you get to go on a date instead, that alone is enough for you to deem it literally "the best day ever."
Yuzuki: See, we weren't even allowed to have part-time jobs in our school. So I really can't identify with that sentiment…
Asai: Well, take my word for it: there was just no greater happiness than that. They both have a day off from their part-time jobs, they have no homework, and while they don't have a set date plan or anything, for the time being they just head out to the food court on their way home. They have a bit of free time and money to spend, and there's a game center, a movie theater, karaoke… aaaahh!
Yuzuki: Young, active people.
Asai: Usually when you go on a date at a food court, you'd sit down at a table for two, facing each other. But they're sitting side-by-side in the song, so that means they're using a table for four people!
Yuzuki: Ah. you're right.
Asai: They're so blind to their surroundings, they don't even get that they're being a nuisance to other customers! Sitting down at a table for four, "tonari doushi suwari / ashi burabura sasete" ("sitting side-by-side / dangling our legs"), and they're even facing each other. You two are a nuisance! Someone's going to get angry at you if it gets crowded! But that's just how much they're into each other — that's how much that day is "the best" for those two.
Yuzuki: Later, they leave the food court and go to the pet shop to look at some dogs.
Asai: And then, out of the blue, we get one of those common themes in Tsunku♂'s works: they start thinking about their futures. "Hanashidashita ne / shourai wo." "Sono kazoku ni wa / watashi wa "nareru kanaa?"") ("We started talking about our futures.") ("Could I be able to have a family like that?")
Yuzuki: Girls like that are cute — at first. But as time goes on, that sort of talk may become too heavy for the guy. It could start to get off-putting for him… (laughs)
Asai: Right. Never mind wanting to talk about their future — sometimes the protagonist will even demand that the guy smile. "Nee waratte" ("smile for me") ("Daite HOLD ON ME!").
Yuzuki: Or "Resonant Blue." "Type to ka / kimochi da to ka / ima dake de nani ga wakaru? / Isshougai / mamoreru hodo / kakugo mo nai no ni / bakarashii." ("What would you know about "my type" or "my feelings" / when you don't even have the resolve to say you'll protect me forever?") That way of thinking is so typical of a passionate, delinquent girl. It's not really a "delinquent" type song, but still, it's from a woman's point of view. It makes so much sense to me.
Asai: I also like this bit: "Zuibun hi mo kurete / funiki detekiteru / nee, jitensha / speed dashisugi ja nai?" ("It's gotten dark / it's become nice and moody / hey, aren't we biking a little too fast?")
Yuzuki: Those kinds of passages feel so much like the common girl depicted by Tsunku♂. She's trying so hard — the atmosphere having gotten moody is something the guy should be noticing first.
Asai: In my mind's eye, just during this part in the song when they're singing "it's become nice and moody," I picture Odasaku as she's purposefully pedaling slowly, causing the guy to try and escape from the situation — hence him starting to pedal faster.
Yuzuki: Like he's scared of that certain approaching "mood"?
Asai: At the beginning when they mention cycling on a "hilly road," I definitely think they're going uphill. So then when they're going downhill on their way home and the girl goes "kyou mo kyou mo kaeranakya da ne / kanashii na" ("we have to get home for now / ah, how sad"). She's obviously in no hurry, but the guy is a fool so the only thing on his mind is how much fun it is to cycle downhill — even though Odasaku is behind him, going slowly on purpose…
Yuzuki: I like the "suki-chan, suki-chan, suki suki suki-chan" bit, too.
Asai: The "we have to get home for now" is cute as well. There's that feeling we were talking about earlier about them having spent the day to its fullest.
Yuzuki: I wish my own daughter turns out like this protagonist. Yes, she might have relations with boys, but when it was time to go home she would be a good girl and do just that. Girls like that don't end up becoming delinquents, nor do they become excessively reliant on men… something that can't be said for us, huh.
Asai: (laughs) Something that can't be said for you, you mean.
Yuzuki: Sakai Junko wrote in her book "Makeinu no Tooboe" about the "losers" attending a metropolitan, protestant all-girls school, and I fit perfectly the description of the girls in her book. So I'm genuinely jealous of the protagonist in this song. To me, she's just dazzling. It's not too late for me yet — I think I'm going to start going to food courts with my husband constantly from now on, while listening to "Suki-chan." I need to introduce into my DNA the vigor of being able to fully enjoy food courts before I give birth. (laughs)
Asai: It's pretty amazing how Tsunku♂ wrote this song after going to a food court for the first time himself — by which time he was already married.
Yuzuki: I was happy to read about all that in his book, "Dakara, Ikiru." It felt like he was saying it's okay even for someone like me — someone raised on Starbucks; graduate of an all-girls school — to go to a food court even after getting married. I was sure Tsunku♂ was someone who had a youth as described in "Suki-chan"… but instead, he wrote how about he'd always just been this overly ambitious man who didn't know which way to turn once he'd gotten married. I know that feeling so well, too.
Asai: But when you go there as an adult, you're much more aware of how crowded it is and how shaky the tables are — every food court table will always have one leg that's messed up. To be honest, food courts are noisy and tiring. And yet, Tsunku♂ went to a place like that for the first time and was immediately able to write lyrics like this… This man must have the ability to be instantly transported anywhere within his mind, on command.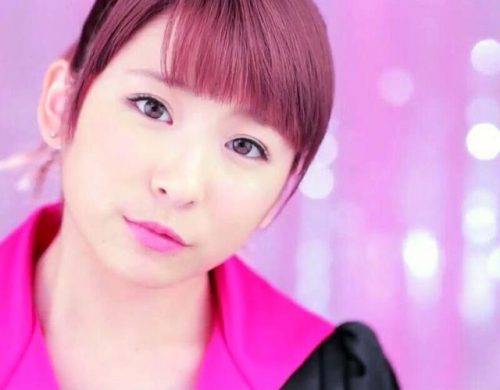 Yuzuki: I currently find myself thinking about a certain woman by the name of Maro. Why did she turn out the way she did?
Asai: Ultimately, I can't help but feel it was because of everyone around her constantly telling her that she had "something special"…
Yuzuki: She's someone who adults like to mess with — sort of like Shiori in "Kemutai Kouhai."
Asai: That's the single most pleasing thing for a teenager to hear: "there's something different about you."
Yuzuki: It's always the older men telling them that kind of thing. I made a bunch of tweets on this subject that someone compiled into a post. I thought it was quite funny so please do check it out.
Asai: On Hello! Station #138, she talks about an episode from when she was in elementary school. Tsunku♂ told her that she seemed almost alien to him because she was able to do everything that was asked of her — he thought it was boring. But when you're a child and you're told that you seem like an alien, that would make you feel ecstatic, right? And so then the other day she presented her debut work: a poem about fragrances…
Yuzuki: It was unexpectedly direct. You were so nervous when Maro announced that she'd become a lyricist. You sent me these lyrics you figured might be close to the type of thing she might write. It was the type of stuff that a 18-year-old girl who looks up to artists like Oomori Seiko or Shiina Ringo might write. It was this song you'd entitled "Watashi no Kakera" ("Fragments of Me"). It was a little too "goth." I replied: "it's fine to be influenced by subcultures, but remember that you're still writing for a major label artist…"
Asai: It was valuable advice. Not that it matters, seeing as neither of us are Maro…
Yuzuki: So we put our minds together and managed to come up with lyrics that I was very pleased with. And that's when the real Maro came out with her poem. "Minna no koto / minna no egao / watashi ni totte / itsumademo, itsumademo / kioku ni nokoru kaori" ("Everyone / everyone's smiles / will forever, forever / remain in my memory as fragrances"). I was like "huh?!" and I immediately messaged you, going all "what the hell kind of a profiler are you supposed to be!" As we were talking about how it would be a waste to throw away these Maro lyrics — having been written by the youngest ever recipient of the Naoki Prize and all — we got the idea of having Tsurugi Mikito compose music to the words and forming a band together. As for the band name, since people on the net call Maro an "abareru azarashi" ("raging seal"), we thought we'd just turn that into English: Wildly Sea Dog. We were surprised by how cool it actually sounded. (laughs)
Asai: It's my dream that we get to one day sing that song at Hello! Shop. The setting behind the band would be that the members are all Maro.
---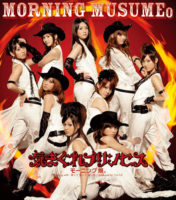 Song #2: Morning Musume – "Kimagure Princess"
(Tsunku/Tsunku/Ookubo Kaoru)
Yuzuki: In contrast to the dazzling "Suki-chan," "Kimapri" feels like a song that was made for thirtysomething females who are making a mess of their lives! Plus, it has a cool intro!
Asai: The surprising thing about this song is how Tsunku♂ wrote it upon observing his daughter who was in a bad mood. But while the lyrics in the beginning are from the point of view of a girl who's in a bad mood, the viewpoint changes when it reaches the chorus.
Yuzuki: A father's viewpoint.
Asai: No, the way I see it is… In the chorus, it's like she's taking pictures of herself. (laughs) Talking about her "alluring butt" and her "erotic smile" and "tears" and stuff… I actually think she's speaking as her own camerawoman.
Yuzuki: Who do you think she is — Morishita Yuri?! Stop it! This girl isn't Morishita! She's just an ordinary OL!
Asai: The more you keep reading into it, the more it starts to seem like the protagonist is a gravure idol…
Yuzuki: No. She might be taking pictures, but she'd never show them to anyone — being the ordinary OL that she is. I think she's quite cute, and guys do hit on her and she goes to mixer parties and stuff, but she just can't seem to meet anyone good enough. She cries at night. Some time previously, she was taken with an already married man, but her feelings weren't reciprocated. She's constantly annoyed, and she sits at home while "healing herself with sweet ice cream" ("amai ice de iyasare"). If she takes selfies, the only person to see them is herself. She buys sexy underwear online even though she has no one she could show them off to.
Asai: I think that's rum raisin ice cream she's eating — the kind with alcohol in it.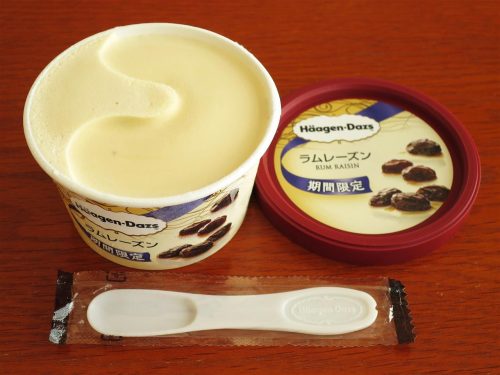 Yuzuki: The Häagen-Dazs one, right? Anyway: it's not like this protagonist has it bad or anything. Her family probably lives close-by so she has some peace of mind. She has a proper academic background, and she's cute and fashionable. It's just that she hasn't had a boyfriend for the longest time.
Asai: It also feels like she doesn't have a lot of female friends.
Yuzuki: And her Twitter is probably boring.
Asai: What do you suppose is the "sweet movie" mentioned in the lyrics?
Yuzuki: "Asu mo amai eiga de gomakashi" ("tomorrow she'll once again distract herself with a sweet movie") — I'm going to say "Love Actually."
Asai: (roaring with laughter) Anyway, ever since I came to think of the protagonist as a gravure idol, I figure that it doesn't really matter to her what day of the week it is and stuff. It's just that, she has people around her who still live their lives according to the classic week/weekend system who are always going on about how they wish it wasn't Monday tomorrow. The protagonist feels slightly envious of them.
Yuzuki: I'm telling you: she's definitely just an ordinary OL. But I can't entirely disprove your gravure idol theory either, considering how it seems she's not working on a regular basis. Maybe she does, like, on-location hot spring reports or something…
Asai: That job can apparently be really bad for your skin: some days you might have to visit like four different hot springs, one after the other, and it takes a toll on your skin because they're all differing types of hot springs.
Yuzuki: "Shiai no yotei nai shoubufuku" ("special underwear with no plans to put them to use") — isn't it pretty incredible how they made actual idols sing that?
Asai: Plus, she does her shopping online. It's all so heartbreaking…
Yuzuki: Is she a ZOZOTOWN user, perhaps? "Ii janai / choi ero namida" ("Isn't that nice / My slightly erotic tears"). Her usual fashion must be quite elegant, but she'll order underwear on the net and do a bit of cosplay at home…
Asai: While taking loads of selfies — ones where she's crying. Well, not really: she'll just put in some eye drops. "Hey, isn't that nice!"
Yuzuki: And then after doing that for a while, the loneliness of what she's doing hits her…
Asai: Even though she's still thinking "hey, isn't that nice" when looking through those selfies.
Yuzuki: She's thinking, "no man would be able to resist falling for me if they saw these pics." So cute. She's not stupid. And she can pull off sexy, too. So why is she not successful in meeting new people…?
Asai: She's reached the age where she's starting to realize that all those things she used to look down upon are actually important elements of life. She used to laugh at the girls who dedicated themselves to studying back in school, but now she sees those same girls all seemingly doing great in their work lives while also having lots of fun outside of work, too.
Yuzuki: She's actually a nice girl! She has the courage to describe herself as an "aggressive, sexy princess." If only she could break out of her shell, she could be like an Okamoto Natsuki type character…
Asai: That'd be breaking too far out of her shell. It'd be literally a "desugita kui wa utarenai" ("the nail that sticks out too much isn't hammered down") type situation.
Yuzuki: This girl is in danger. She could just end up getting married like everyone else. But then she could also turn out like the heroine in "Bagel ni Ham & Cheese."
Asai: Wouldn't that be a pretty decent outcome for her — considering how she's a grown woman who's healed by watching "Love Actually"?
Yuzuki: It's difficult to tell how this girl is going to end up.
Asai: "Cuteness." That's all she's had up until now; the only thing that's kind of protected her. But when she sees fun-loving people who have more than just "cuteness," it really brings her down.
Yuzuki: But: "kataomoi datte subete wa barairo" ("everything, even her one sided-love was rose-colored").
Asai: She calls that love interest of hers "Romeo," but I bet it's just that she's the kind of person who feels like Juliet simply because she's in love. I don't think this person is Romeo or anything — he's just some guy.
Yuzuki: I definitely think he's married. He's the family man type.
Asai: It seems like he could be a higher-up from work. He's the only person she'll put any effort into making coffee for.
Yuzuki: But he has no idea she feels that way about him. He thinks of the protagonist only as "that one pretty girl from the office." Even though she herself thinks she must look like the grand prize from the eyes of a married man.
Asai: She must be a confident person — this is, after all, someone who takes selfies and thinks of herself as the "sexy princess with an alluring chest" ("sono miryoku no munamoto sexy princess"). When you think about how it's her saying this to herself… it makes you cry.
Yuzuki: And yet, there was nothing between those two. That's typical men for you… Even if he had realized how she felt about him, I bet he would've just come to dislike her as a result.
Asai: How can our protagonist ever find happiness?
Yuzuki: The answer to that is in "Busu ni Naranai Tetsugaku!"
---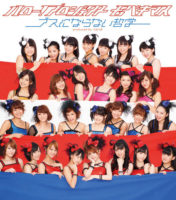 Song #3: Hello! Project Mobekimasu – "Busu ni Naranai Tetsugaku"
(Tsunku/Tsunku/Hirata Shoichiro)
Yuzuki: I love this song. I really feel like it has the answer to every question. It's always the same: a person works hard in order to achieve freedom, and before they even notice it, they have people working under them, and so they preach to those underlings about how everything was "so much more difficult back in my days" and how they should just "work harder." This song answers all of that sort of shitty advice from people not minding their own business with one word: "Maybe."
Asai: To me, this one song portrays the growth of a teenager into a hard-working, serious career woman. "Yoku nita ko ni mieru yo ja / jidai okure kamo ne" ("if you think I look the same as everyone else my age / perhaps you're just out-of-date"). You look at magazines for girls in their low teens and they'll have like eight different styles of doing your eye make-up. There's a style for meeting your boyfriend's mother, a style for when you're hanging out with your girlfriends… They're trying to do things so differently, and yet, some people will talk about how "young girls these days all look the same." That line is pure indignation towards that kind of thinking. "Imadoki no ko tte iu keredo / jouhou no ryou ga chigau" ("you go on about "girls these days" / but the amount of information we have is so different compared to what you had"). That's such a perfect way of putting it! "The amount of information." That's so great. It's exactly what a teenager might say.
Yuzuki: It sounds like something you might say!
Asai: Because isn't that exactly what the difference between life now versus then is: the amount of information necessary to live? It's to the point where now, if you don't acquire that knowledge and have a good look at it first, you'll be too scared to even leave the house.
Yuzuki: And then we get: "Renaibeta de sonshita koto mo nai keredo / zero ja nai no yo / ichi ichi iwanai dake da yo" ("It's not like the amount of losses I've incurred because I'm bad at love is zero / I just don't go around announcing it to everyone"). That's a common complaint about young writers when they're compared to writers from past generations. "Young people these days, they're so passive about love they never get to experience the real thrills of life. That's why their works all lack that punch!" But it's not zero!
Asai: "Unlike you, we just don't write about it!" … is what I'd want to say back to them.
Yuzuki: "That guy Asai obviously has no sexual desire." "Yuzuki only writes about female relationships. I guess she doesn't care much for men?"
Asai: We just don't make it a point of writing about it, dammit!!!!!
Yuzuki: The next time some higher-up tells me I need to "go out" and experience love "more fully," I'll just tell them: "Maybe." (laughs)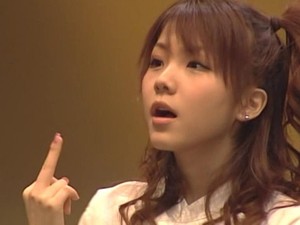 Asai: This sort of anger would apply to teenagers, too, wouldn't it? The word "girl" is used in the chorus so you get the feeling that it's about a younger girl, but then in the second verse it's "uwasa bakari kinishitecha kokoro ga tsukareru yo / toki ni jijitsu no hou ga maketari suru kedo" ("you'll become worn out if you pay too much mind to rumors / although sometimes, it's reality that hurts the most"). Compared to the first verse, it feels like five years have passed by for the protagonist. She's had some kind of an experience in-between. "Shite moraccha inai kara shite agerarenai nante / sore ja ai nante zettai umarenain ja nai" ("not doing something for someone's sake just because they haven't done something for you / how could love ever be born if you live like that?") That's a pearl of wisdom. Doesn't it feel like she's grown up a little?
Yuzuki: I so get that now that I'm married. That's very well said. That's one of my favorite words to live by.
Asai: "You cooked for me, so I'll do the dishes." That's not it. You have to find a better way of supporting one another than that. Otherwise, sooner or later, your relationship is going to come crashing down. This isn't something that a teenager could yet realize!
Yuzuki: It's not just about something between men and women either. Back when I'd first made my professional debut, the first three years or so were very tough for me. So later, when a younger writer confided in me to tell me how they were struggling, while I didn't tell specifically them how I'd had it "way worse when I'd first started out," I also wasn't as kind to them as I could've been. Now, as a 34-year-old quickly approaching her 40's, I wish that I'd been kinder to them. A lot of people feel the need to tell everyone just how hard it's been for them. But really, what change is that going to bring?
Asai: "Must be nice how you can just look up everything on the smartphone these days." Well, duh — of course I'm going to make use of something that's useful! It's like they're saying: "must be nice being able to walk on two legs — you should've seen how hard it was having to walk on four!"
Yuzuki: A lot of people who have gone through a bit of hardship themselves are prone to blame the younger generation for not working hard enough. But every generation has done their share of hard work — it's just that you don't get to see it all. Times like these, I like to remind myself of Kuroyanagi Tetsuko. She says that she never preaches to her juniors, no matter what. It's like with Hirano Remi — when they were making all that noise and teasing her about her silliness on the net, she was just going like "I'm happy if everyone is amused by me."
Asai: I really respect people of older generations when they venture into trying out new things. I want to learn from them in that respect. That's why I actually just made myself a LINE account last week. (laughs)
Yuzuki: If you don't like it, you can just stop using it. I think not swearing off new things is the key to staying young. People like Remi and Kuroyanagi work super hard, but you never see them getting angry at their juniors or boasting about themselves for that matter. Anyway: the next time someone suggests how I "just don't have enough life experience," I'm just going to answer them: "Maybe." (laughs)
Asai: "Sono tsuke wo watashira ga shiharau nante zettai mitomenai" ("we absolutely refuse to pay that bill"). It's you people who caused the publishing industry to start going downhill — and we're not going to pay your bill!
Yuzuki: That English phrase is so cool, too. "I don't accept." It's like: "there's not a chance in hell I'm going to pay!"
Asai: It's a song that's so unique to Tsunku♂. It's not pampering — it's threatening. That's why you could never really brazenly sing it in front of people, even at light-hearted events like year-end parties…
Yuzuki: It's an intimidating song. But we really should have the courage to be proactively singing it in karaoke, even when there aren't other H!P wota there. The other day I went to karaoke with girls from my company and sang "The Middle Management ~Josei Chuukan Kanrishoku~." (laughs) I was happy when I sang the "ki ga tsukeba nanka kono shokujikai omiaichikku de" line and they sang the "agaru agaru" bit!
Asai: I feel like you could get away with that partly because it was all women. I really don't think there would be any similar effect if I sang this in front of other guys… Even though it's a song written by a man who himself is rock'n'roll…
Yuzuki: If a guy was to sing this song in front of girls… Yeah, it'd probably be a major turn-off. (laughs)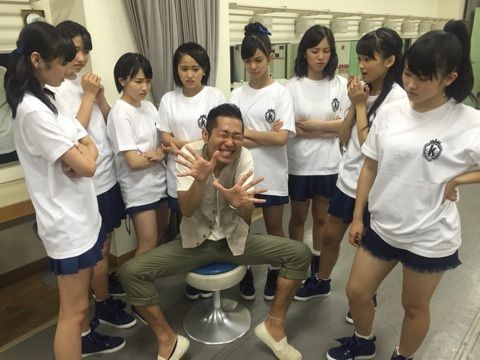 Asai: Yes, it would. But isn't it pretty amazing how he actually put the word "busu" ("ugly") in the title of the song? It's such a strong-sounding word… sort of like a word like "gokiburi" ("cockroach"). I think it might've gotten a different sort of reception from people had it been some other word and not "ugly."
Yuzuki: It is amazing. It's such a sad word.
Asai: Plus, it happened in the middle of this idol group boom. Mobekimasu is announced and you wonder what sort of a song it's going to be, and bam! The first word you see is "ugly." And then, "tetsugaku" ("philosophy").
Yuzuki: I like that about it, though. It's such a good song. I love this song so fully.
Asai: I mean, it's shortened "Busu Tetsu." Just how many times do they repeat the phrase "busu ni naru kara" ("you become ugly")?
Yuzuki: It's a warning about not becoming a miserable person on the inside.
Asai: Yes, but they had the courage to change that word into just "ugly!" Oh, and "tsuke" ("bill") is another word I don't think I've heard in a lot of J-pop songs either.
Yuzuki: Also, I like the phrase "jouhou kyouyuu shiteru kedo dareka ga homete kureru no matteru dake da yo" ("while I'm sharing my information with the world, I'm really just waiting for someone to praise me").
Asai: "Homemakutte yo paradise" ("shower me with praise, paradise") ("Sukatto My Heart") was a continuation of this theme.
Yuzuki: Some time ago, they had a feature on this magazine called oggi that's aimed at career-oriented, thirtysomething females. They had messages to the readers from 23 women actively working in all kinds of different fields. But while people like Setouchi Jakuchou and Nishi Kanako had these wonderfully deep things to say, Yanagihara Kanako instead said something along the lines of "I'm doing my best at work because I just want to be praised." I was happily thinking, "hey, that's an H!P-ism!" Everyone else's messages were along the lines of how they want to do things for the sake of others.
Asai: She wants to work hard to receive praise rather than to be helpful to others. But at the end of that documentary of his (NEXT Mirai no Tame ni "'Ikkaisei' Tsunku♂ Zetsubou kara no Saishuppatsu," aired in September), Tsunku♂ himself spoke about how he wants to do things for the sake of other people. Maybe that's just how all people end up thinking once they grow up?
Yuzuki: I bet that's also how you and me are going to think ten years into the future. For now, we're both still too self-important.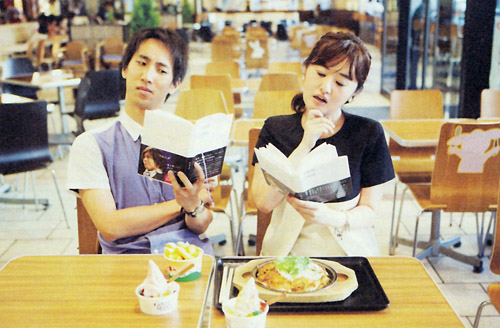 Interview & text: Takaoka Hiroshi
Photography: Katano Tomohiro
English translation: Henkka
Asai Ryo on the web: Twitter
Yuzuki Asako on the web: blog, Twitter