I've said it before and I'll say it again: the "official" subtitles on H!P songs are fucking atrocious.
Every time H!P puts out a new music video, the fans don't even flinch anymore, no matter what sort of stupid shit is thrown their way in the form of these awful subtitles. They're so inexcusably horrible, people can't even be bothered to make jokes about them at this point. (Well, most of the time…)
No one likes a strange and downright incomprehensible, awful translation. But to make matters worse, the H!P translations are also full of inaccuracies — that is to say, flat-out mistranslations.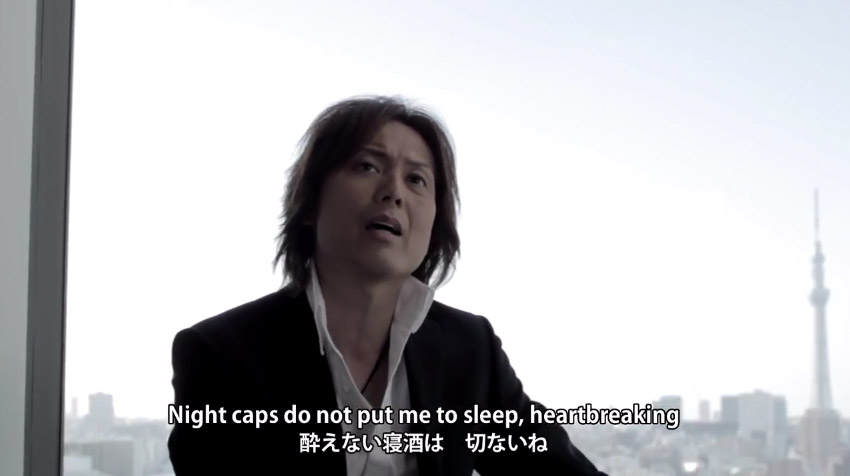 No. "酔えない寝酒は 切ないね" does not mean that nightcaps "don't put me to sleep" — boo-hoo, what a tragedy. What the protagonist is saying in this line is that even a nightcap doesn't get him drunk now — because that's how god damn sad and heartbroken he is! Do you see the difference?
The sad part is: I could give you a hundred more examples.
It's these little things. These pieces of nuance and subtlety that are repeatedly, constantly, lost or completely botched in these "official" translations. I'll go out on a limb here and say that, aside from not speaking native-level English, the person doing the subtitles does not enjoy translating very much. I'm also going to speculate that they didn't even ask for this job. While I have nothing against them personally, that's what really sucks about this: it's so obvious that whoever is doing these translations holds no special love for Hello! Project. For them, it's just unwanted extra work.
But, assume I'm wrong and that it is, indeed, a proper translator who knows what they're doing.
Well, in that case…
Mistakes happen, I get that. But on a professional project like this, those mistakes should not amount to anything more than a minor typo or two. A typo I can chuckle about. But when the translator for H!P makes a serious mistranslation? Now the meaning of the entire song may be completely changed, and the fans are the ones who are stuck with it. There is no correction forthcoming — because they don't use YouTube's captions feature — no translator's note in the description, no explanation, no nothing. Just a blaring mistake that will remain there. Forever.
… Wait, what's that?
Oh. Okay, never mind. Cancel this post. I just realized: they have their Get Out Of Jail Free Card.
"Please note: this is a literal translation, the translation may not be perfect."

---
Nothing is perfect. But if you can not guarantee the accuracy of your translation, why would you stick it permanently on top of videos watched by tens of thousands of people, with the hopes that they could be seen by millions? Next time I translate something, I might take a page out of the H!P translator's playbook and just shit on the floor, take a picture, and post it to you guys with a note: "the translation may not be perfect."
Words matter. If they didn't, what would be the point in translating anything?