A Ban On Chemicals
We finally held our wedding ceremony in August 2006 at the Nishi Hongan-ji Temple in Kyoto. It was an extremely hot day with perfectly clear skies — we felt like we were melting in our kimonos, but we were both very happy. We were grateful to have lots of relatives and people from work watching over us, making it feel like a proper ceremony.
But the fact of the matter is, my physical health was at its all-time worst.
Since around fall of the previous year, I'd been suffering from a case of hives of unknown origin. I was developing these red swollen spots all over my body. At first it was just on places like my buttocks or my cheeks or my thighs, only the softer places. But by the end of the year, it had spread everywhere. What's more, my body was constantly itchy no matter what I was doing, 24 hours a day.
It didn't matter how careful I tried to be about my health. No amount of vitamins or supplements helped. There was nothing I could do to make it better by myself, so I headed over to the hospital with the mindset of "please just do something to make this go away." I got both skin doctors and internists to take a look at me, and I had blood samples taken to determine any possible allergies. But regardless of my illness' severity, every single doctor I saw told me they could find nothing in specific wrong with me. They just wanted to prescribe me with anti-itch drugs and steroids and see where it would go from there.
I did as the doctors told me and started taking antihistamines and applying topical cream with steroids in it. And while it did cure me of the itchiness in no time, it didn't last for long. The effects would wear off in a couple of hours, and then I'd very itchy again. I'd have to endure it for a couple of hours and then take some more medicine. But since the medicine was so effective, it also made me very sleepy. Trying to get any work done after taking it was enormously challenging. Yet, having to endure the hives would've been even more difficult, so I had to rely on the medicine.
If I had to do television appearances or photoshoots, I'd take steroid tablets to hide the symptoms from my face. It worked well, but I could feel the fatigue just piling up, and as soon as the effects of the steroids wore off, the hives would be back with a vengeance.
We had our wedding in June 2006 and then held the ceremony in August. Looking at the pictures now, you can clearly see the rash on my face. I felt unbelievably itchy at my own wedding.
It'd been over half a year since the hives first appeared. I kept receiving medicine from the doctors, and the longer it went on, the stronger the medicine they would give me. I wondered just how strong the drugs had to be until they would finally cure me of my ailment. I naturally kept taking a mountain of supplements every day as well.
My wife tells me that "the amount of supplements and medicine you kept taking at the time — the stuff you said was for your health — was abnormal. It was so much, I thought you could probably feel full just from taking that stuff. If I was near enough, I could literally smell the vitamins on you." I was constantly thinking about how I could get out of that vicious circle.
That's when I came to a realization: maybe the cause of my mysterious case of the hives had actually been all the stuff I'd been putting into my body all this time. All the chemicals, all the drugs, all the supplements, maybe even all the chemical additives you get with instant food.
I could instinctively hear my body screaming for help. That's when I decided I would give a shot at eliminating all of those chemicals from my diet. Along with quitting all the supplements and drugs, I also decided to do a complete overhaul of my eating habits. All I could think about was getting better, so I turned to books and the internet and started researching alternative medicines from India and Europe, Chinese medicine, and natural foods. Even as I was busy with Sharan Q's revival and our wedding parties, all I could think about was how I would never be released from this hell if I didn't make some major life changes.
I asked my wife — who I'd only just gotten married to — to no longer use anything with chemical additives in it when making our food. She must've been surprised by my sudden request, but since I'd been practically flooding my system with drugs and supplements with no results until then, I'd simply decided that I had to try doing the exact opposite.
When you decide to eliminate all chemical additives from your diet, that means you can no longer eat things like instant miso soup or flavor enhancers. I started eating more things like Bonito flakes or dried sardines, and using kelp as seasoning. I tried making my own Ponzu sauce using citrus and soy sauce with no additives. Every day I took unpolished rice, polished it myself and cooked it with an earthen pot. With the exception of water, I no longer drank anything that came in plastic bottles.
By the time it got to the point where I started reading books on how to make my own miso, even my wife was getting a little worried. However, they'd apparently made some in her household before and she knew how delicious it was, so she offered to make it for me. In the end, we never went quite that far. In any case, I was prepared to do whatever it took to cure my hives.
I've since then gotten myself a bit of a reputation for being very fussy about food. That all first started with me and my wife searching for all different kinds of miso, soy sauce, salt, rice and everything else from all over Japan and doing taste tests. On days I was working at home, we would eat every meal at home, never eating out. But my wife never uttered a word of complaint, and she must've worked very hard to make me meals I wouldn't get sick of.
My wife is from Fukuoka whereas I'm from Osaka, and apparently the taste of soy sauce between the two cities is quite different. My wife must've went through a lot of trouble to get the taste just right. In the end, we settled on a brand made in the prefecture of Ishikawa that we still like very much. Still, for the record, it has to be said that the first fight I ever had with my wife was on the subject of soy sauce.
So let's recap. My hives was driving me crazy with how itchy it was. I tried medicine, but it was only a temporary help. I realized I had to find some other method to cure myself. I decided to do a complete overhaul of my eating habits and give myself a detox by cutting out any and all chemical additives from my diet. And then all I had to do was to actually keep at it. At home I ate meals prepared by my wife, and at work I ate nothing but things like rice balls, fried fish and cabbage. I no longer ever ate out and my wife must've had a hard time preparing my meals every day.
A year after I'd given up all the chemicals, I'd pretty much forgotten about ever even having had the hives. I sometimes wonder what I had done had I been alone. Would I have given up and taken even more medicine, more than ever before?
I'm not sure. But one thing is for certain: the only reason I managed to accomplish this feat was because of my wife being there.
---
Not Knowing How To Live Together

Starting my new life with my wife made me change quite a lot mentally, but time-wise, I was pretty much as busy as I'd always been when I was still single. Once we'd gotten married, we could go anywhere together and not have to hide it. That didn't mean I could suddenly start working less, however, and I kept being invited by friends and colleagues to celebrate my wedding. Once I was done with the day's recording or TV appearance, I'd immediately head out with friends, drinking until late in the night.
I'd finish working around midnight and drink until the early hours of the morning before finally going home. Even if some days recording would finish early, someone would want to go out to celebrate with me, or we'd play some mahjong… Things like that. I only went home to sleep, and the next morning I'd head straight back to work.
I did want to settle down into my new life with my wife as soon as possible, but I felt that I wanted to personally report my marriage to all the people I'd been indebted to throughout the years. I also didn't want anyone to think of me as "that Tsunku who totally forgot about his friends once he got married…" The truth is that at the time I just didn't know how to spend time with or how to live together with my wife. We could've held hands and walked around wherever we liked, but we never did. I didn't even know what the appropriate moment to link hands with someone was. I didn't know where we could go on a date, how to reserve a good restaurant, or even how to buy tickets to a see a movie. I didn't know what a "normal" date was.
I'd often invite other musicians and comedians to hang out at the house. Then I would spend time with her, but surrounded by other people. I wished they'd soften up the atmosphere in the room, and I kind of wanted to act big in front of them as their senior. In other words, I was pretending. I was just weak-hearted. Looking back, my wife who I'd just gotten married to must've felt so insignificant, all because of my stupid need to prove something. I'm sure she would've preferred to go on dates with just the two of us.
There was also a thought that had been with me ever since my amateur days. "It's only all the unpopular musicians who invite their girlfriends to their shows and even have them sit in the first row. Bands like that are never going to get big. Only being able to perform for the sake of your girlfriend? What a joke. Open your eyes! Everyone in there is there to see you perform!"
I'd always pretty much thought, "anyone who goes through the trouble of reserving a date spot for their girlfriend's sake has no right to talk about rock!" Even though I'd gotten married, I couldn't change my thinking to "the wife always comes first." Still, I do believe that hunger for success did play a part in Sharan Q making it, and so even now I can't bring myself to negate it completely. But it's also a fact that for my wife it was just another thing she had to endure.
It was obvious I felt different, but in the daily life of being together with a woman, there was a kind of nervousness and hesitation… I didn't know how to act around her. I could easily decide everything myself in my work life, but in my married life I really didn't know what to do. This troubled me. Since we didn't date long before getting married either, everything just felt so new. I was happy to be sharing in our new life together, but the feelings of shyness and timidness were getting the upper hand. Before ever getting married, I'd decided that "I want to experience my first proper visit to Disneyland with the person I'm getting married to, so I'm never taking any girls there until I marry!" But once I'd actually gotten married, it was just non-stop awkwardness instead.
On the days I was doing songwriting at home, I'd eat the breakfast prepared by my wife but hardly say a word to her before going into my office. The same thing would repeat itself for lunch and dinner. I was neglecting her so much, she's later told me she felt I must've hated her, wondering why I had even married her in the first place, not understanding why I wouldn't talk to her.
One spring day, the cherry trees were in full bloom and it was perfect hanami weather. I'd been planning on working on several songs that day. But after I'd finished what I needed to do in the morning, I walked out of my office and said to my wife, "Hey, it's such nice weather today. Want to go outside and look at the cherry trees together?" In that moment, my wife's face practically lit up with happiness, and she said "Yes! I'll go!! Can you wait just little while? I want to make us lunch boxes." She was visibly excited. She finished making our lunch boxes in no time and we hopped on our bicycles and rode them to a nearby park.
It was just your average park with lots of small children playing around us. But seeing how happy my wife looked, I was speechless. I was thinking to myself, "Ah, so this is what they call happiness. Just saying a couple of simple words to her is enough to make her look this cheerful. That's an expression I want to see again."
I remembered how when we'd just started dating, I asked her how she could speak so casually to me and whether she did the same even with her seniors at work. As we continued to date, she suddenly started speaking to me in honorific language, and that continued after we got married. Perhaps my wife, too, felt somewhat nervous living together with me.
For me, writing lyrics and composing music had always been a process of whose equation "time" was never a part of. I'd never think about what time I would be finished. So even after I'd gotten married, if my wife looked in my schedule book and saw a day marked as "recording," it would have the start time but no end time. It simply wasn't something I — or my manager — thought about. I just assumed that was the deal when one is making something creative.
But from my wife's perspective, having to be constantly waiting for me must have been tough. And yet she would always be awake, waiting for me no matter what time I came home. On days I was working at home, I could walk out of my office at any hour and go "I'm hungry," and my wife would always have everything prepared so she could make me something right away.
Looking back, I was truly so very selfish.
… What a small man I was.
---
The Road To Becoming A "Real Couple"
Some time after we'd gotten married, I found myself not remembering people's names and forgetting things I'd done just moments prior. It was getting so bad, I could no longer blame it on just my busy lifestyle. I was worried about my memory. I felt like it may have been mostly caused by the sleeping pills I'd taken for over ten years. But as it was so bad, I started thinking it could've been a serious memory impairment, or even early onset Alzheimer's. This thought made me very, very concerned.
I was scared, thinking about what on earth I would do if I was diagnosed with something so serious just after getting married. But then I got the results from the doctor: there was nothing wrong with me. After receiving the results, I went back home and my wife was at the door, greeting me with a smile like always.
"I'm sorry for neglecting you until now. I actually went to the hospital today to do some tests on my brain, but they found nothing wrong with me. I'm so glad you're always here waiting for me when I come home. I'm going to start taking better care of you from now on."
That's what I should have told her right then and there. I should have just expressed my gratitude to her, not keeping anything from her. But we'd only just gotten married and I still wanted to play the part of the husband who rules the household, and I stopped myself before I could say those words.
… What a small man I was indeed.
By now I was paying more attention to what I was eating, but since I'd stopped taking all the medicine, I found my hives getting even worse than before. I'd developed these bright red, ring-shaped hives of 5mm to 1cm in diameter all over my body. It was unbearably itchy, but I felt that if I was to give up and fall back to medicine I'd be right back to where I'd started, so I just had to somehow endure it.
My body was still in the process of purging the after-effects of all the drugs and chemicals, and perhaps it proved to be too big of a shock to my system as one day I was suddenly assaulted by a headache that literally felt like it would split my head open in half. It was so bad, I couldn't eat or sleep. Needless to say, getting any work done would've been completely impossible, so for about two days straight I just laid in bed.
It was so awful, I didn't even have the energy to speak. I could only lay in bed with my eyes closed as my wife caressed my back. I was nodding off to sleep in the middle of the night, and when I opened my eyes, I could feel a warm hand still caressing my back. When I realized she had kept caressing me the whole time even while I was asleep, I felt an emotion I'd never felt before. It was a sense of relief. It was almost like I could then see the long future we had ahead of us. No matter what would happen from thereafter, I knew we would experience it together. I wanted to experience it together.
I believe it was actually from this moment on that we started becoming more like a "real couple."
It was a rough two days. But curiously enough, my wife says she doesn't really even remember it. She's the oldest child in her family with three little brothers, so maybe having to take care of the people around her just comes naturally to her. But to me, those two days left a lasting impression.
Our marriage had been riddled by confusion in the beginning. But as time went on, we gradually started spending more time together. It's not that I got any more time off than before, but I'd look in my schedule book, find a spot where I'd reserved two days for songwriting, and I'd think "if I do my best, I can get it done in a day and a half and spend the remaining half a day to go shopping with my wife." Simple things like that. I just came up with ways to make room in my schedule book. Whereas previously I'd go to a horse race or the gym if I had free time, I now dedicated all that time to being with my wife.
A part of it is thanks to my wife who gradually became able to express wanting to spend more time with me, but the biggest reason I was able to do this was because I realized how much I personally enjoyed being with my wife. Even though we'd been living in a busy city, it had mostly been a life of isolation from the outside world up until that point, so even just going to the convenience store or riding the bullet train home together felt exhilarating.
I started actively looking for ways to make more time with her. If I was stuck with the writing process of a new song, I would no longer waste hours upon hours pointlessly thinking about it and getting nowhere. As I wrote previously, whereas in the past I'd thought of the songwriting and recording processes as things that simply took an unknowable amount of time to complete, I now found that if I really tried, that wasn't actually the case. If I decided I'd finish writing a song in five hours, I could do it. I'd decide in advance how far along I would get in the mixing process in just six hours. I'd set a schedule for everything to make the work more efficient. And when I did, I found that for the most part I could always finish whatever I'd set out to do in the time I'd allocated for it.
I now had the time to go on dates with my wife. I could go out with my kids. I'd changed my life around in a way that allowed me to do these things.
---
I Become A Father!

September 2007. Approximately a year had passed since we'd gotten married.
One day my wife called me on my mobile phone. She told me she was pregnant. I certainly wasn't getting any younger, and besides, by that point I was really eager to have kids myself, so I was truly very, very, very happy to hear the news. Ever since I was young, I'd vaguely always felt like I wanted to father a son at some point in my life, so when we got married, I was thinking to myself "Alright, son (I'd already decided). I'm ready whenever you are!" and when I received the news, I was going "Yes, finally! Well done, wife!"
We learned that my wife couldn't give birth at the obstetrician's she was going to at the time, and so about two days after we learned she was pregnant, she went to a different hospital where they did an ultrasound and found that she was pregnant with twins.
She called me at work. "I just went to the new hospital. It turns out it's going to be twins!" At first I was quite flustered, going "Huuuh!? How are we going to raise two babies at once?!" But at the same time, I was thinking we were actually quite lucky. "Even with something already as lucky as having babies, my life is doubly blessed. It's a miracle!" I just felt so carefree and happy.
Some time before we found out that my wife was pregnant, my health had gradually started improving. The only thing still bothering me a little was my throat. But just by getting a good night's sleep without any sleeping pills and having a good breakfast in the morning had allowed me to forget about my earlier trouble with the hives.
Meanwhile, however, my wife was starting to suffer from morning sickness, barely able to eat at all and always battling nausea. Back when it had been just us two, my stance had become "I enjoy being with my wife, so I have to make more time for her." But now I felt a sense of responsibility also towards our twins inside her stomach. I wanted somehow to help my wife who was going through such a hard time.
Thus, I began to reconsider the whole way I structured my daily schedule. It wasn't possible for me to do any less work of course, so what I would do is, since I had three days per week dedicated to songwriting back then, I would concentrate on it as hard as I could and get everything done ahead of schedule so I could be of help to my suffering wife. My motivation was so high that my power of concentration was off the charts. I was able to finish three days' worth of work in two days, and then I'd start writing in my schedule book: "two days for songwriting, one day off." To think that a day had come when I could actually write "day off" on my schedule book like that! This surprised not only the staff, but more so myself.
I'd started adjusting my schedule, and by the time we learned my wife was pregnant, I already felt like I was giving as much time to my family as I possibly could (well, it probably still wasn't much compared to the average father, but to me it was the maximum amount). And yet, my wife later told me she thought I really only changed only after she got pregnant. "It felt like I was dreaming when you'd come along to shop for clothes with me."
Being pregnant with twins is incredibly taxing on the body, and so my wife spent the final month and a half of her pregnancy at a hospital a 15-minute drive away from our house. We'd never been apart that long since we'd gotten married so I found myself feeling lonely. I could tell my wife had it way worse, however, so I was constantly doing my best to finish up with work early so I could make it to see her within the hospital's visiting hours.
One day, my wife sent me a message along the lines of: "I want to eat stir-fried shrimp in chili sauce, so please bring some when you come over."
It'd been nearly twenty years since I'd last walked into a supermarket all by myself. But I gathered up the courage, pulled my hat just above my eyes and headed to the supermarket. And there I was at the deli corner, cluelessly looking around for the stir-fried shrimp in chili sauce. "What brand does my wife like again…? I wonder how much she wants…? Am I supposed to put it in a plastic bag so any juice doesn't leak out…?" I didn't know anything.
I secretly caught glances at other people to see how they did it, found what I needed, put it in the basket, and lined up at the register. I was standing there, worrying over completely trivial things. "I wonder if this makes me look uncool? This isn't rock'n'roll at all…" Once I was done, I got in the car and delivered the food to my wife at the hospital. It was around six in the afternoon when I arrived — dinner time. The hospital staff was just carrying food to all the rooms at the time, too. "Here you go," I said to my wife, as I passed her the plastic bag from the supermarket.
"Huh?! You really got this for me?! You went to the supermarket? All by yourself? How did you manage at the register? Are you sure you didn't just have one of your staff buy this for you?" What with her having been on a hospital diet for a good while, she looked so surprised and pleased as she was opening up the bag, constantly repeating "thank you so much, I'm so happy!"
That day I ate my wife's hospital food as she happily munched on the deli food I'd bought her. As I was looking at her, I started pondering to myself, "if simple supermarket deli food can make her this happy… just how happy would she be if I brought her something even better?"
Something inside me just ignited. It could well be that had been my wife's intention all along…
From that day onwards, on the days I was working at home on lyrics or music, I'd only take very quick breaks between work so I could be done by around four in the afternoon. Then I'd run to the supermarket, come back, and make some quick side dishes as the main dish was boiling in the pot. It'd be done right around the time I had to leave the house, and by then I'd have put all the side dishes in Tupperware. I'd quickly put the main dish in one, too, put everything in a bigger bag, hop in the car, and hurry to the hospital. The commute there was 15 minutes — close by enough that the food would still be nice and steamy. I'd park my car in the hospital parking lot and hurry to the elevator that would soon be filled with the smell of fresh food. I'd walk in through the door and go "today it's (insert name of food)!" or "I hope you're ready for some (insert name of side dish)!", looking all pleased with myself, and then we'd eat together.
Man, that was a fun time. Every time I could see the excitement on my wife's face. She was hospitalized because there's always a risk of premature birth with twin pregnancy, and as she had to basically just try and rest all day, her highlight of the day was always dinner time. Each time you could see the genuine joy in her facial expression as she ate what I'd prepared for her.
That made me get even more into it. Once I was making one main dish in one pot while making sukiyaki in another, using high-quality beef. There was enough residual heat that it was still piping hot even 15 minutes later. I was thinking to myself, "just who aside from my wife gets to eat sukiyaki and freshly cooked rice in a hospital?! This is perfect!" Looking even more self-satisfied than usual, I walked into my wife's hospital room and went "it's sukiyaki day today!" As I was preparing the chopsticks and bowls, I suddenly realized "wait… I forgot to bring the raw eggs!" Moments before I had been patting myself on the back for being such a perfect husband, but suddenly I was just plain angry at myself for not doing a perfect job of it after all.
And yet, my wife was of course telling me that was the best sukiyaki she'd ever tasted, and that's all I had to hear.
Men really are simpleminded.
I'd ran an errand for the first time in ages, my wife praised me for it, and it ultimately escalated to a point where I was bringing her homemade sukiyaki. She really set me up, didn't she? But who cares! It allowed me to grow as a person, and besides, I had fun doing it. "Men really are simpleminded — but I'll use that to my advantage! That's it! That's how I'm going to live my life from now on!"
Me and my wife were hoping for a natural childbirth, and so although we had a due date, there was no way to know for sure when it was going to happen exactly. Still, I wanted to be present for the birth. We were told that having a natural childbirth with twins came at quite a risk, so we had a difficult time finding a hospital that would take us in if that's what we wanted to do. When we finally did find one, they made us sign a document that basically said "the hospital will not take any responsibility in case something goes wrong." There was of course nothing I could do to help the situation along just by being there, but I felt like I wanted to be a part of that moment regardless.
It was the morning of April 29th, 2008. My wife was saying "if it's today, they'll be born on Tsunku's Day!"¹ She was this close to going into labor when I had to leave for work that day. When I came to visit her again in the evening because I was worried, she told me she'd just had her show and it was probably going to be any minute now, probably that very evening. I had to go to a dinner meeting, so my wife told me to keep my phone close as she could be going into labor any moment.
And so I headed out, keeping my phone in front of me throughout the entire dinner. I was still using an old flip phone at the time, so I kept it opened the whole evening. I was excited, telling my dinner companions that my wife was giving birth very soon. I was ready to get there at a moment's notice. But time went by and there was no call forthcoming, and soon our meeting was over.
By this time it was nightfall, and thinking about how I would most likely be meeting my children for the first time very soon, I felt like I wanted to grab a quick drink before then. I got a work buddy to go with me, still never letting my phone out of my sight at the bar as I nervously waited for the call. We'd enjoyed a drink or three together and I was feeling great. At about 11 PM, I thought "well, there's still no sign of an incoming call, but perhaps I'd better get going soon."
The second I walked out the bar, I received notifications of several missed calls. "What?! How is that possible?!" That's when I realized… the place I was drinking at didn't have any signal! "Oh crap! What've I done?!" I immediately broke out in a cold sweat, and then I had another incoming call. "Just what are you doing?! Where are you?! I tried calling you! I'm already laying down on the delivery table!"
"What?! Already?!" Still, I'd heard stories of women giving birth anywhere from 15 to 48 hours. "Yeah, she just got into the room. No need to panic. I smell like tobacco thanks to the person who was smoking next to me at the bar, so maybe I'll go and grab a quick shower before heading into the sacred delivery room." Still, I decided to head to the hospital first, just to quickly check on my wife to see how she was doing.
The moment I did, a nurse who recognized me said "ah, right this way, dad" and hurriedly took me to the delivery room. My wife was already in the birthing posture, covered in sweat and breathing loudly. I said "I'm sorry I'm so late" as I grabbed her band. I turned to the midwife and asked "how's it look — another five or six hours maybe?"
"Oh, no, not a chance. The contractions are already coming every couple of minutes. It won't be more than an hour at this point." What! And here I was thinking about taking a shower! I hurried to get the camera ready to record a home video. It felt completely different from the similar scenes I'd seen on TV or in movies. I had no idea what I was supposed to do, so I just held my wife's hand while holding the video camera in the other. It was past 3 AM at this point. "Is my wife going to be okay? What if something bad happens…?" Suddenly all that talk about risks related to natural birth with twins came flooding back to me.
And then in the next moment, the midwife told us she could see the head. "Any moment now… What's going to happen?!" I squeezed my wife's hand even harder.
Suddenly there was a cry. The first one had been born, just like that. It was bright red and crying, and so tiny. A tiny little girl. Just so very tiny. A 2,200 gram baby, crying. "Ahhh… she's so cute. She is beautiful. Thank you, my wife."
I was taking pictures as the video camera kept recording. Me and my wife both let out a sigh of relief. I could see tears in my wife's eyes and she looked a bit sleepy, but the doctor and midwife were quick to remind her that it was too early to rest — she still had one more to go. Apparently it's embedded into the human DNA: once you've given birth to a human life, the body assumes that its job is done and tries to rest. That's why it's said that the most dangerous part of giving birth to twins is when the second one is coming — the reason why so many hospitals recommend the Caesarean section. Witnessing the moment myself, I could understand why.
The doctor and the midwife kept applying pressure on my wife's stomach. "Do your best! We can see the head already!" My wife, covered in sweat, was desperately working her hardest to bring our second child into the world.
It was around five minutes after the first one. This time it was a boy. "But wait. Why isn't he crying? What's wrong, son? Is this what they meant when they were talking about the dangers…?" I was getting flustered. I don't know how much time went by, if it was a minute, some tens of seconds, or only a second or two, but once the midwife gave the baby some stimulus, it immediately started crying loudly. "Oh, thank heavens…"
A 2,500 gram baby, and just so tiny. And so cute, crying, his face flushed red. I was again taking pictures as the video camera kept rolling.
They wiped the both of them clean before placing them on their mother's stomach. She held them, looking incredibly happy as her tears kept falling. She spoke to them: "thank you. Thank you. You both did your best." I thought about how those might be words only the mother is capable of saying — after all, they had been born mostly thanks to my wife doing her best.
Both of them were searching for their mother's breast, slowly attaching their mouths to one once they'd done so. An instinctive reaction. Watching them, I found myself thinking how it was unfair that only she got to care for them in that way. "I want to hold them to my breast, too!"
I watched over them as they drifted off to sleep on their mother's belly. A bright red baby boy and baby girl. I was reflecting on how happy I felt.
"Ah. Now I'm a father. Of both a boy and a girl! Just how rock'n'roll is my life?! Dammit, I'm cool!"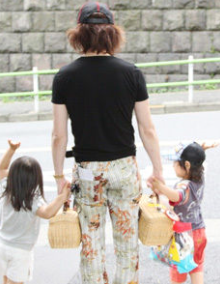 ---
They're Both Of Our Children!!
That, however, was the beginning of some unthinkably difficult times.
Everything was fine while my wife was still in the hospital, but having not one but two babies enter our lives at the same time, my wife became so busy she literally didn't have time to sleep. She'd be breastfeeding my daughter, and then shortly after my son would start crying because he's hungry, too. When she'd finally get my son to sleep, my daughter would suddenly start crying because she needs to have her diaper changed, and that in turn would wake up my now cranky son.
It was an endless cycle of crying. I could sometimes help out with the diaper changing and bathing, but in the beginning we had them only on genuine breast milk so there was nothing for me to do when it came to feeding them. I didn't even have a knack for getting the babies to stop crying when they'd wake up hungry in the middle of the night. I'd just get flustered due to my own inability.
Burdened with child-rearing, I could see my wife starting to lose weight. I felt like I had to do something to help her, but there was nothing I could do. Besides, up until then, if one of my staff had said to me something along the lines of "I was hoping I could leave early today — it's my girlfriend's birthday," that would've earned them a huge scolding from me. Thus, I can attest to the fact that I, too, personally never left work early. Not once.
But by the time my pregnant wife was suffering from daily morning sickness, that's when my thinking on the subject finally began to change. Seeing her constantly so busy with breastfeeding, changing diapers, changing their clothes, bathing them, I realized it was simply not possible for my wife to take care of both babies all by herself. That's when it hit me: "I'm not my grandfather. I'm not my old man. I can live my life the way I want to." My old man and his father before him were of a generation where it wasn't expected of men to take any part in raising children, but that isn't the case for me. I felt that I should live my life my way.
There wasn't much I could do, but I made sure to at least help with the bathing and diaper changing. But, perhaps in part because we had to take care of not one but two babies, in some ways I just wasn't as proactive as most fathers probably are.
After my wife and the kids were released from the hospital, the four of us initially all slept in the same room. But after about a month of being constantly waken up at night due to the kids crying, I was completely exhausted from work and having to look after them. My wife noticed this, so one night she said "there's no need for both of us to suffer like this. I'll watch over the kids, so you just sleep in a different room from now on." I accepted her kind words and finally had my first good sleep since the kids were born.
But one night, after about six months since their birth, the door to the room I was sleeping in suddenly opened. It was my wife who was holding both of the kids in her arms. "Why do you get to sleep all peacefully by yourself?! They're both of our children!!" She then left the room, slamming the door shut as she went.
"Wait. Wait. Huh? I'm… sorry…?"
I was dumbfounded. But thinking about my wife's words, what she'd said absolutely made sense. Starting the next day, we agreed that each of us would look after one child at night. At daytime, I mostly looked after whichever one had just been fed and was calm.
The mother really is like the sun of the household. When she feels down, the atmosphere in the whole house feels darker. It's the man's job to shut up and do whatever he can to make the sun keep shining brightly.
Around this time, the babies came to be no longer satisfied with just breast milk and they started drinking baby formula as well. I always prepared a pot, the baby formula, a baby bottle and some diapers at my bedside before going to sleep. Giving them baby formula twice or thrice a night would keep them asleep until morning. If they started to grumble a bit, I'd quickly fetch them some warm milk before they started crying for real. They'd drink it and be back to sleep in no time this way. If I took too long and they started crying, they'd be too agitated to drink anything. Any signs of grumbling and I'd be running for the milk. I did my best to never mess up the timing. Sleeping in the same room with the kids got them used to being around me and they began crying less at feeding attempts by people other than their mother.
I'd made a complete change. Typically the average husband who enjoys taking care of kids has an image of just "helping out" the mother here and there, but I decided that if I was going to do it, then I'd do it properly by deciding what our respective roles were. Naturally there are many things only the mother can do, but still, I wanted to do my part. This thought felt revolutionary to me. "A life revolution!"
The general rule had been that my wife took care of the house whereas my job was to go out and provide. But once the kids were born, having these stereotypical roles started to feel silly. Besides, I came to think that I actually wanted my wife to see for herself what I do. I wanted her to see me singing, see the works I produced, the live concerts I produced… I got her to listen to the CD's, watch the DVD's, and come down to the live venues with me. I got her to see my work.
Up until then, one of my mottoes had basically been "the woman takes care of the house," but now I was starting to feel differently. "I want us to be more like John and Yoko!" Gradually, my attitude towards work changed as well. I learned to think that it isn't lame for a musician to let his fans catch glimpses of his private life. It isn't lame to bring your wife and kids to the venue. I accepted myself for who I was.
In becoming more involved with raising our children, I started to plan my days around them. I became a morning person to the best of my ability. The recording sessions that used to start at 1 PM and continue well into the night now started in the morning hours and ended by 9 PM at latest. The meetings we'd have at the office after recording were now had the next morning at 9:30 instead.
I believe spending time with my family also influenced my lyrics. For example, a word like "food court" simply wasn't a part of my vocabulary in the past. The same probably holds true for words like "meal ticket," "sale" or "points." My thinking was that if I had the time to be thinking about things like sales, racking up points or cutting out coupons — "I'm not going to do something as lame as that!" — I'd use that time to work instead and just buy whatever it was I was buying at its original price.
But then I'd be at the food court eating ramen and going to buy things at the supermarket — amassing points as I did so — and I just realized that was actually pretty rock'n'roll, too! It was then that the word "food court" made an appearance in the lyrics of a song I was working on at the time.²
As a person who doesn't eat a lot of sweet things, something happened that surprised me when I was buying cakes with my wife.
"Which one do you want?," she asked.
"That one."
"…And?"
"Huh? You can choose your own cake," I said.
"I already did! I'll have this and this one. So which ones do you want? That one and what else?," she asked me.
"Wait, I didn't realize cakes are something people usually eat more than one of."
"Of course they do. You have one when you get back home, and then another one for dessert after dinner."
She said it like it was the most obvious thing in the world. "I see. So that's how girls think." I made a mental note of this. Later the accumulation of experiences like that would form into the lyric "samishii otomegokoro wo kyou mo amai aisu de iyasare" ("today she'll once again soothe her lonely maiden's heart with sweet ice cream"). By the way, I wrote the lyrics to that Morning Musume single, "Kimagure Princess," while thinking about my oldest daughter being in a bad mood.
Once you have your own family, the landscape as seen from paths often traveled can look completely different.
Until then, the majority of time I spent in cars had been in the backseat of one driven by my manager. I'd be working on some lyrics, updating my blog, or watching a recording of some TV drama — the curtains obviously always drawn. But with my wife's pregnancy, I began to drive more myself. I began to notice everything around the city more. "Ah, I didn't know there was a drugstore here." "That convenience store has a really usable parking lot." "Hey, they've opened a bakery here."
Once the kids had grown a little and started going to their hobbies, it became my job to drive them there in the morning. I'd drop them off a little before 9:30 and then drive to work. I'd be sitting at my desk by 10. Deciding the time by which I'd be at work gave my life rhythm. I started wanting to go to sleep as early as possible and I avoided eating out whenever I could. I no longer went out golfing or drinking. People ask me if I'm not bored due to my lack of hobbies, but I've never felt that way. There's simply too little time in a day. It's impossible to keep up with how fast my children are growing.
"Huh? These shoes don't fit you anymore!?"
"Huh? They're already coming out with the next Doraemon movie!?"
"Huh? It's Hello Kitty's nth birthday!? We have to go to Puroland!"
"What!? Sports Day!? Parents Observation Day!?"
"This is no time to be even thinking about golf. I need to get a new video camera — someone tell me which model to buy!"
This is what my daily life became like.
We attended countless Hello! Project concerts and CD release events together with the whole family. Although it was my place of work, it was a privilege to have them be there. For example, let's say we were at a Hello! Project or Morning Musume concert. If the concert ever got the slightest bit boring, my kids would notice it before I did. They'd get bored instantly if the concert wasn't interesting. This was even more obvious during the MC segments between songs. If the members got too long-winded on a boring topic, my kids would without fail start grumbling in no time. I could tell how each day's concert had been just by observing the expressions on my kids' faces. They made my job as a producer exciting.
Around the time the twins were about to turn three, my wife discovered she was carrying our third child. We could finally handle the twins and things were just about to calm down a little bit, but here we were, at yet another turning point. This time it was to be just one baby, and as such, we decided to change hospitals. "The father can of course be there, and your children are welcome to join in for the birth, too! We don't have to use a delivery room — we can allow you to give birth naturally on a hospital bed in a normal hospital room!" It was a hospital with very naturally-inclined views.
The due date was April 1st, the last day of the school year. Pretty soon it was March, the final month of pregnancy, and my wife started preparing to give birth. One day, our office building in Minato Ward began to shake violently.
"Ah! Earthquake!"
Yes. Who could forget? March 11th, 2011. The day of the Great East Japan earthquake.
It was shaking so intensely, the monitor speakers in the room went collapsing against the wall. In the spur of the moment, I grabbed the big TV that looked like it was going down next. In the next moment the vibrations ceased and we thought it was over, but soon it started shaking once more.
"Oh no. What about my house?! What about the kids?! And my wife…?!"
Once the second wave of tremors had passed, I tried calling the land line at our house as well as my wife's cellphone, but of course I couldn't get through. I immediately returned to the house, but no one was there. "Maybe they were just out shopping?" I went to the supermarket our family regularly frequents, but it was completely deserted. Everyone must've been in a hurry to get home as soon as possible.
"What if something happens in the midst of all this?" "What if they're all pinned under something somewhere?" "What if one of the kids gets lost?" Unpleasant thoughts soon filled my mind. Already there were traffic jams everywhere, and I wasn't having any luck reaching my wife on the phone. Grasping at straws, I tried sending a direct message to my wife on Twitter. After a while, I got a reply back from her. "Where are you? Are you okay!? We're back home now." My wife, the baby inside her, and our twins were all fine. Finally I could breathe a sigh of relief.
However, what with the ongoing nuclear incident, the lack of food and water, and the fact that we had two small children with a third one about to arrive any day now, I wasn't sure we were safe in Tokyo. Thus, while the twins had never spent a night apart from their mother since the day they were born, we decided we'd send them to stay with my wife's parents in Fukuoka.
But as we were busy making these arrangements, my wife suddenly went into labor on March 14th, over two weeks before her due date. Perhaps even the baby had felt the earthquake and decided it was time to get out — fast.
We immediately contacted the hospital we'd planned on using and made our way there in the middle of the night. We'd hoped that the twins could be there for the birth, but since there was no way of knowing how long it would take and because they wouldn't be able to sleep there — and since they couldn't be too tired if we wanted to have them take the trip to Fukuoka — we got their grandma and grandpa from Fukuoka to come over and watch them at our house while we were at the hospital. I didn't want to make any mistakes this time around.
Time kept passing, and suddenly it was past midnight on the 16th. I thought it'd go as smoothly as it had last time, but the contractions just weren't quite there yet. Pretty soon it was past 3 AM and it was nearing dawn. Finally, at around 5 AM, my wife went fully into labor and we hurriedly let the midwife know. "Oh, yes, it looks like it's going to be born any time now. Alright, let's start taking slow, deep breaths." My wife got into a birthing position on the bed.
I found myself thinking about how natural it was to see her get ready to give birth on a bed like that — as opposed to a delivery table — and realizing that is how all people used to give birth in the past. "Do your best," I thought, as I squeezed her hand while she was trying to find the most comfortable position for her. "I appreciate how natural this all is, but it's my wife who has to actually give birth. I'm only an outside spectator." Once I caught myself in that silly thought, I commanded myself to look for some way I could be of some small help to my wife as I waited for the arrival of our new baby. I called my in-laws. "She's about to give birth. Please bring the twins here!" Checking the time, it was 7 AM. It was bright outside.
And then, finally, I heard the adorable cries of my newborn child. "So cute…" Much like the previous time, the baby was wiped clean and placed upon her mother's stomach where she held her. I got my first chance to hold it moments later. She was just shy of 2,000 grams — a tiny bundle of joy indeed. I felt grateful to my wife from the bottom of my heart for doing such a great job giving birth to her. "My wife! Thank you for yet another beautiful child!"
We let the family know, and soon the twins along with their grandparents arrived at the hospital and they immediately asked "where's the baby? Ohhh! It's so cute!" They were very curious about their little sister who they were just meeting and eagerly touching for the first time. The baby might've been a bit surprised by how lively everything around her was in this new world she'd just entered.
This time around I'd planned on taking a one-month paternity leave, but what with the early childbirth and my work schedule that was very much in flux in the aftermath of the big earthquake, I ended up not getting to take quite that much time off. Still, I did manage to get a couple of weeks. "Yeah. This is pretty rock'n'roll, too. If John was still alive today, he would agree. If it was Yoko Ono asking, I'm sure he'd be running off to buy some diapers at the drop of a hat!" I was thinking this to myself as I got immersed in taking care of the newly-arrived baby.
After spending a brief while with their new little sister, the twins were soon off to Fukuoka with their grandparents. I sent them off on their way, telling them "your dad will come by to check on you soon, so in the mean time, get your grandpa to buy you some candy, okay?" It was not my intention to lie to them, but it turned out that I only got to go see them around two weeks later. I hoped they would forgive me for it. People were in uproar after they'd found radioactive materials in the tap water in Tokyo, the supermarkets were empty of products, and everyone was scared. We decided it would've been too difficult to live together by all of us with a new baby in the house.
Two weeks later, we took our baby who'd grown a little bit bigger and got into a bullet train by the three of us. The pressure inside airplanes can be bad to a baby's ears, so we opted for the bullet train instead. Still, even that is very taxing to a newborn baby, so we made a stop at Osaka, spent a night there, and then caught another bullet train to Fukuoka the next day.
I still vividly remember that day when our twins came to meet us and their little sister at the station. They spotted us from afar, and they started running towards us with such carefree smiles on their faces it was almost shocking. They looked more excited to see us then than I'd ever seen them before. "Ah. I'm so happy. My children, my wife… Thank you!"
I got through the ticket gates, hugged those two with all my might, and gave them some of the highest air tosses in recorded human history.
Since I couldn't become one of those "cool young dads," our marriage began with me acting as the stereotypical Showa era hardhead who pretended like he was the head of the family. "You just be quiet, always walk three steps behind me, say "yes sir" and do as you're told! I'm the master of this house! I'll take care of everything!"
The era of me acting as the king of the household lasted but a year. But if I was now asked if I take any issue with that, I could honestly answer that I do not. Not the least bit. Now my wife speaks her mind to me. My children, too, regularly bump heads with me. That's just the way our family is. I feel like my wife and children give meaning to my life. There's a sense of fulfillment and I don't have much in the way of hobbies or pastimes. Why? Because I already have all I need.
None of us truly know how John and Yoko Ono lived their lives together. But from what we know through John's creations that were inspired by his family, I, too, can say that my current work is the way it is because I have my wife and my children by my side. They are the meaning of my existence. Does it get any better than that?
That's what I mean when I talk about the "law of John and Yoko."
I find myself thinking about how it's now been ten years since I first saw that picture of my wife on that website. Actually, in 2011, the five of us headed to Hawaii where we redid our wedding ceremony. We did it because we wanted to do something for our sake — by us and for us, and no one else. We didn't need anyone else to pay attention to us. We simply wanted to have that ceremony for ourselves. The twins were nearly four years old and had by that point developed something of a self-awareness. They still talk about that wedding ceremony to this day. I guess it left an impression.
It left an impression on me, too. Let me say this: arranging a wedding ceremony that we could celebrate along with all of our three children was beyond lovely. The significance was not lost on me. The vows spoken aloud by the pastor permeated into my heart. Goodness, was I moved.
I was inept and awkward when I first met my wife. I made her cry so many times. And yet, she married me. We had children. Suddenly so much time has passed. So much has happened. But even now, I still can't take my eyes off my wife, the same woman who I first saw in that picture. I'm always thinking about her. I enjoy making her laugh, and when I make her so angry it feels like she's baring her teeth to me, it still makes me feel so lonely and worried — even now, after ten years have passed. Even now I'm always thinking about how I want to go home soon so I can see my wife. Or, rather, it could be that my urge to be with her is stronger now than it ever was. That is the extent to which I'm attracted to my wife. I'm sure that ten years from now, on our 20th anniversary, that feeling of needing to see her will be even stronger. I do not know what the best way to view your partner in marriage is. But for me, to this day, my wife is the kind of person that makes me want to always be by her side — she's still that girl.
And reading through that last paragraph makes me so embarrassed I almost feel like deleting it.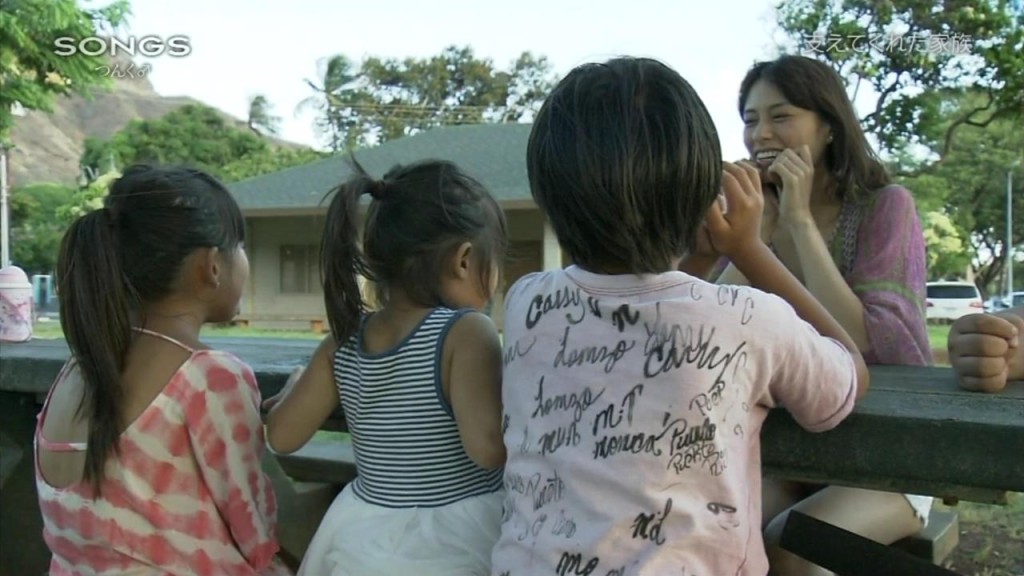 ¹ A way of reading 29 in Japanese: "tsu" (2) + "ku" (9)


² "Suki-chan" by S/mileage