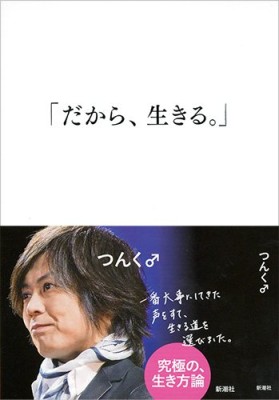 Paperback Edition Afterword
Three and a half years have passed since I lost my vocal cords.
Would I say that I am unhappy today? No, not at all.
You often hear people talking about "the happiness found through illness," and it's true that it's important to keep a positive mental attitude like that. But, of course, it goes without saying that nothing is better than not getting sick in the first place. The stress your illness inflicts not only upon you but also the people around you is enormous. Ultimately, health is the most important thing of all.
"It must be so inconvenient having lost your voice. It must be so difficult." People will often say things like that to me. And sure, it's difficult. But despite that difficulty, I try to have fun and stay positive — after all, it's no use spending all your life just feeling down.
For example, being able to witness my children grow up makes me happier than anything. They're constantly fighting with each other, but their smiles never fail to make me feel better. I treasure every moment I spend with them, trying not to let a single moment of their development fly past me.
And then there's the person who has taken on a very thankless role: my wife. Being scolded and told off by her for the things I least want to be told off for, I may find it annoying in that moment. But then I'll think about it and I'll realize, "she does have a point…" It must be even more difficult for the person doing the scolding, and I'm sure she does it all for the sake of my health.
Prior to my illness, I left every single thing regarding the kids and the house to my wife. Then, once I got sick, she suddenly had to start taking care of me as well. That would make anyone want to air their complaints. I'm sure everyone who has experienced being sick, as well as the people related to someone like that, are all nodding in agreement: if the sick person doesn't have someone there to stop them, it's so easy to lose to temptation. In no time at all you'll find that you're going to get what was coming to you.
I'm inconvenienced every single day. But thanks to my wife and my kids, I'm by no means unhappy. If life before my illness was like an amusement park, then right now my life is like an empty beach. Sure, there may not be any roller coasters, but there's still lots of fun things to do at the beach.
Maybe my analogy leaves something to be desired…?
That's why — for the sake of my family, too — I want to be smiling every day. That might seem like too simple of an objective at first, but it's actually quite difficult. The reason for that is because I have to constantly remain mindful about staying healthy. For instance, exercising a proper amount every day. Not eating too many carbohydrates, not eating sugar, taking your vegetables and proteins in a smart way. Sleeping enough. Avoiding stress. Roughly speaking, I would think that if you can do these four things, then leading a healthy life is a simple matter.
But life also happens to be full of temptations.
The most delicious things tend to be sweet or salty. It's hard to feel full without many carbohydrates, it takes a huge amount of time to eat enough vegetables, and sometimes you just want to eat enough meat to your heart's content. Some nights you just want to stay up late watching TV. Some days you just unconsciously find yourself thinking it might be okay to skip the exercise. And just then, you'll suddenly feel those pangs of stress in your stomach when you realize, "Oh no! The deadline's coming up! I have to get this done…!"
I wish I could live my life in a healthy way as if it was second nature to me, but the truth is that it's a constant struggle with temptation and stimuli.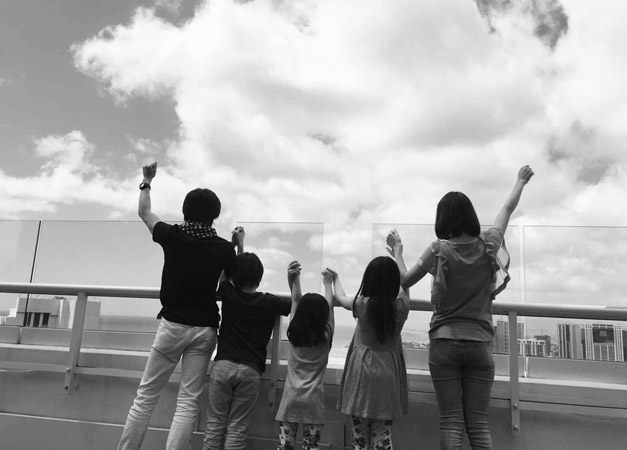 ---
My Fellow Cancer Survivors
In my case, I couldn't speak at all once I lost my vocal cords.
At first, I would use a PC or a smartphone to type and converse that way. I don't have a "typing allergy" so that was rather painless for me, but usually it's the elderly who have to have their vocal cords removed, commonly due to laryngeal or esophageal cancer. I would imagine it being very difficult to convey what you want to say if you're not technologically proficient and you can only use your handwriting.
Being in a hurry, having trouble finding a pen and paper, your handwriting barely legible… You just feel hopeless. I admit, I would get annoyed at times like that. But my wife and children would be even more annoyed than me, and seeing them like that would make me feel bad for them. "I'm sorry, guys…" That would then make me feel even more down.
In regards to my kids, with my second daughter who couldn't yet read, I would use the text-to-speech functionality on my smartphone to talk to her. I came up with lots of little tricks like that. Eventually, the kids became able to understand what I was trying to say just by observing my gestures and the movements of my mouth. Of course, if I was trying to tell them to do their homework or something equally as disagreeable, they would pretend not to understand.
In my daily struggles, my fellow cancer survivors also became a big source of support for me. It's the same no matter if I'm walking in Tokyo or out shopping in Hawaii — lots of people all over town will come up and talk to me. "Hey Tsunku♂, I had cancer, too. I had two operations. Let's both do our best!" "My husband is going to have an operation once we get home from this trip. We came here to make some memories before that." People have given me lots of encouraging words like that.
People would come up to me and tell me about their past illnesses that I'm sure they usually wouldn't want others knowing about. This one woman cheerfully approached me and said, "I don't have my boobs anymore. But I'm doing just fine!" Through announcing my illness, I feel like I've been able to connect with all these people who had previously been strangers to me.
That's another thing I've gained from my illness.
---
The Novelty of Being Taught

Some months after my operation, before my announcement that I'd had my vocal cords removed, I began taking lessons at a certain Minato Ward association for esophageal speech.
Even prior to that, I had been researching esophageal speech online. I'd tried saying a simple "ah" at home, but I could produce no sound at all. I doubted that I would ever be able to speak again. I simply thought it to be impossible.
But strangely enough, the day I went in for my first lesson, I was able to produce a tiny "ah" sound. When I'd been practicing by myself, I couldn't make a sound no matter how hard I tried. I was very surprised to notice that I now could. Part of it may be that the instructors there had undergone laryngectomy operations themselves so they could teach me based on their own experiences, thus making their teachings very easy to understand and implement.
It was almost comical how much I could suddenly understand, considering how I'd failed to understand any of it with books and the internet no matter how much I read.
I myself had always been in a position where I was teaching singers, so going to these meetings and being taught by others felt so novel to me. Like, "so this is the effect it has on you when you're praised by someone!" As I continued taking lessons, I kept being taken aback by these feelings of the person who is being taught something.
Three and a half years later, I'm now able to communicate with my family and the staff using esophageal speech. However, it's at a low volume and it's a peculiar sound, so it's weak against other noise. I'm able to have a decent conversation if it's somewhere quiet, but noises like that of the car running or the sound of air conditioning… They must be on a similar wavelength because they can drown out my voice completely. Times like that, I still have no option but to resort to using a smartphone application to write what I want to say.
I've continued working after my illness, but I believe something that has changed greatly is my actual stance towards work. Up until now, I had always felt a strong urge to do something that only I could ever do. But now, the most important thing to me is the feeling of gratitude towards the people who commission me for work, and the people who look forward to my works.
That's not to say I wasn't already grateful before my illness, but it has become even more so the motivating force behind my work. Now, the most important thing to me when I'm creating something for my audience is to take each and every project head-on, forthrightly.
---
Life Goes On

Here is something that all cancer survivors will experience.
Once you have developed cancer, you know you will be battling it for the rest of your life. It'd be really great if I could live to the age of 80 or 90, but it's impossible for me to completely erase the fear that my cancer could recur or metastasize somewhere else at any given time.
Having talked to many cancer survivors and their families, I've come to know that everyone dreads the cancer screenings, and that even after recovery they continue to be concerned with their eating habits and lifestyle. As I have detailed in this book, I personally went through several biopsies and examinations prior to testing "positive" for cancer. Each time I did, I was told it was a "negative."
That's why even now I'm suspicious when I'm told that my cancer hasn't recurred. "Are these results really accurate…?" (Although one could also make the argument that my nervousness about it works nicely as a deterrence against me eating or drinking too much.)
But then it's only been three and a half years. That's why I'm so worried. After five or ten years, I bet the anxiety will gradually have lessened. But no matter how many years might pass, when I happen to see a TV drama with the theme of illness, or when I remember that I have a regular check-up coming up soon, I'm sure that every time it will once again make me feel down.
However, I can't live my life constantly worrying about the possibility of recurrence.
I know: it was everything that happened in my past that brought on my illness. That means I have to devote myself to that not happening again. But looking around me, I see people who smoke cigarettes and drink alcohol, having fun until the morning hours, and they live to be 90. But then I also see people who are on a vegan diet, going to bed early and waking up early, even doing yoga, and they die young. There are so many different kinds of lives.
Let's say it was announced that there was going to be a massive earthquake exceeding level 6 on the shindo scale within the next 30 years. If you spent every single day worrying to yourself, "Will it be today? Or tomorrow?," you would break yourself mentally well before the earthquake.
Still, I believe that I need to be prepared. "It could happen at any time." Every day, I have to resign myself to that reality. On that note, if I was to give one piece of advice to the readers, I would say: you might do well to take out an insurance policy. If you never get sick, then yes, it was a wasted expense. But when it happens, it does so unexpectedly. Everyone I know who has experienced illness will tell you the same thing. As such, even if you, the reader, happen to be healthy at this very moment, I do hope that you don't think this to be something of no concern to you.
Long or short, it's your life. So let's make it an enjoyable one! That's what it all comes down to. Because if life isn't enjoyable, then what's the point? I truly feel that way. My illness was the worst thing that ever happened to me, but it was what made me notice and learn so many things, too. Therefore, what I want to do now is to look ahead and keep walking forward every day, step by step.
Right then.
Let's make it another enjoyable day!
February 2018
Tsunku♂