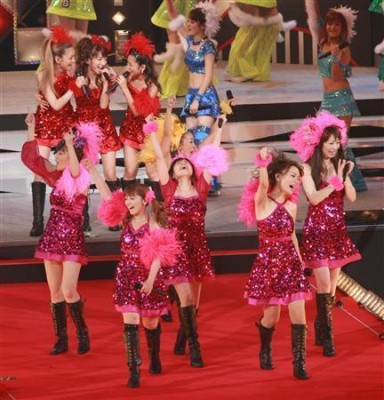 1: 名無し募集中。。。 2012/10/28(日) 20:58:34.17 0
The fact that they made them all graduate at once means they must have thought at the time that there was some merit to them doing so, right? I mean, obviously there's no company out there who'd purposefully do something that would hurt them.
But because of the mass OG graduation, several members completely stopped getting any work, the members that were left behind are now performing concerts in smaller venues, and there are increasingly many fans who just don't come to the concerts at all because the OG aren't there anymore. What's more, when you have all your famous members graduate, you also lessen the amount of publicity you get, right?
No matter which way I look at it, I just can't see there being any merit to having had them all graduate. What were they trying to do back then?
2: 忍法帖【Lv=40,xxxPT】(1+0:8) 2012/10/28(日) 20:59:52.52 0
Guess it was just to split up the fan club into two and get double the profits.
11: 名無し募集中。。。 2012/10/28(日) 21:05:24.68 0
Oh, but there are companies that will purposefully do things that will hurt them.
4: 名無し募集中。。。 2012/10/28(日) 21:00:45.60 0
The H!P roster got so big, there was no longer enough staff to manage all their talent.
5: 名無し募集中。。。 2012/10/28(日) 21:01:38.91 0
>>4
But none of them actually left Up-Front back then.
8: 名無し募集中。。。 2012/10/28(日) 21:04:37.28 0
They have so many DD fans, it feels to me like they just thought they'd make some money in the short-term by splitting up the fan club.
9: 名無し募集中。。。 2012/10/28(日) 21:04:42.69 0
I don't get the people who don't understand that having both the past and current members under the same fan club was the whole point of H!P.
57: 名無し 2012/10/28(日) 21:27:59.13 O
>>9
The Johnny wota probably wouldn't understand why they didn't make separate fan clubs for every single group to begin with. Over in Johnny's, if your group doesn't have its own fan club yet, you're just thought of as a trainee.
16: 名無し募集中。。。 2012/10/28(日) 21:08:21.90 0
Didn't the OG's actually want to continue singing, too? Even after graduating from H!P, most of them have done solo concerts. Who actually benefited from this whole thing?
12: 名無し募集中。。。 2012/10/28(日) 21:06:10.22 0
If only they hadn't graduated from H!P, Matsuura, Satoda and Abe wouldn't have disappeared the way they did…
18: 名無し募集中。。。 2012/10/28(日) 21:08:48.42 0
It was just a really tiny blurb on the newspapers back when the OG's were banished. Like, "Nacchi, Ayaya graduate from H!P."
19: 名無し募集中。。。 2012/10/28(日) 21:08:56.15 0
I've no idea why they wanted to kick all the older members out of H!P either. But the one thought I do have is that they just wanted to make Takahashi the leader of H!P really bad, and obviously as long as there were older members in the group, she could've never become one. It looked to me like the office just wanted that much for Takahashi to have that credit… even if us fans were calling it the "Takahasystem."
23: 名無し募集中。。。 2012/10/28(日) 21:10:29.58 0
>>19
I think that's pretty much it, too. Besides, by having the OG's graduate, they wouldn't have to sing anymore so they could concentrate their resources better. It was just cost reduction.
22: 忍法帖【Lv=40,xxxPT】(1+0:8) 2012/10/28(日) 21:09:49.07 0
Splitting up the fan club was so obviously a mistake. (laughs)
24: 名無し募集中。。。 2012/10/28(日) 21:10:42.21 0
They just wanted to split up the fan club and make two or three times the money. Who knows how well they succeeded in that though.
30: 名無し募集中。。。 2012/10/28(日) 21:14:10.72 0
>>24
This. What they ended up doing was just weakening both sides.
25: 名無し募集中。。。 2012/10/28(日) 21:11:22.63 0
SMAP, Arashi, KAT-TUN are all popular because they're Johnny's. If they moved to some other agency, they'd all break up before long.
103: 名無し募集中。。。 2012/10/29(月) 10:30:20.12 0
It's silly to compare Johnny's and H!P in this respect. Johnny's is a real company.
34: 名無し募集中。。。 2012/10/28(日) 21:18:50.89 0
Looking back at all that was happening back then, it must've been to take OG's out of the whole "idol" box and thus put distance between the Wonderful Hearts members and the Elder Club's scandals.
40: 名無し募集中。。。 2012/10/28(日) 21:21:26.09 0
>>34
Sounds about right.
46: 名無し募集中。。。 2012/10/28(日) 21:23:47.95 0
I don't understand why they must now graduate from H!P entirely once they graduate from Momusu. But the thing I don't understand even more is why Mitsui still remains a member of H!P.
91: 名無し募集中。。。 2012/10/29(月) 04:27:33.44 0
There are lots of people complaining now seeing what a mess the splitting of the fan club was, but I seem to remember that back then there weren't that many people who were opposed to it.
36: 名無し募集中。。。 2012/10/28(日) 21:20:08.35 0
It was one of the great things about H!P, but the office just had to go and ruin it.
101: 名無し募集中。。。 2012/10/29(月) 10:22:32.68 0
I liked that whole harem feel of H!P concerts back then…
Henkka: You know, thinking back, I don't remember ever seeing anyone actually praise Up-Front for the Elder Club graduation and saying it was a positive thing. (Except for the people whose opinions I will conveniently ignore so I can make the statement in my previous sentence.)

Source: http://blog.livedoor.jp/sg12dream/archives/19716435.html