— We were introduced to you by Komuro Tetsuya, and so I wanted to begin by asking: how do you view him yourself?
Tsunku♂: His band TM NETWORK is very good at showing us listeners new things. It's like they picked up right where YMO left off with techno pop, but there's also a feeling that they're creating something that's completely original — it's like they're half a step ahead of everyone else with their music. When they first came out I remember thinking "wow, now that's an amazing band."
I couldn't have ever imagined that he'd later go on to becoming the producer that he is today. Shinohara Ryoko's "Itoshisa to Setsunasa to Kokoro Tsuyosa to" — how many copies did that sell again? Something like 2.2 million? When I saw that I was going "oh man, Komuro's really made it big time now." Before long, he'd become one of the greatest producers out there.
— Do you have any memorable Komuro episodes you could share?
Tsunku♂: We were both appearing on this TV show one time. Back then, we didn't really pay much attention to the music charts and things like that. Komuro, though, was very particular about the charts. He was producing Kahala Tomomi, and she was very disappointed that she didn't manage to hit no. 1 on the charts with her release at the time. I said to her, "So what even if you didn't make it to no. 1? You still sold an insane amount of copies!" That's when Komuro said to me: "You don't get it, Tsunku♂. Girls want something that is easy to understand — something like being no. 1." I thought, "Huh. I see. That may actually be true." He had a point: I mean, what could be easier to understand than being no. 1? Ever since I heard him say that, I personally started paying more attention to the number of "1."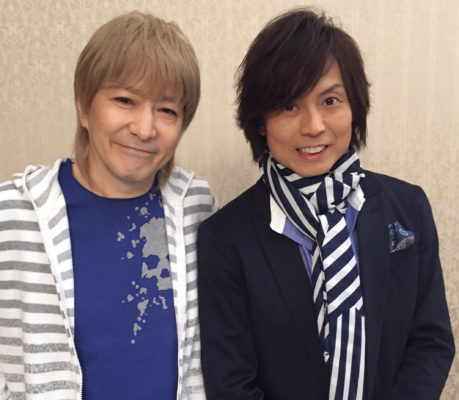 — I see. That fixation may be one of his strengths. But I'd now like to start talking specifically about you. You're originally from Osaka — Higashi Osaka to be exact — and I believe your parents ran a dried foods store. Do you have any siblings?
Tsunku♂: Two brothers. I'm the eldest son.
— What kind of a household did you grow up in?
Tsunku♂: While we never had to go without dinner, we weren't really a family that went to eat out either. My parents only had one day off a week — a weekday — and they spent the rest of the time working, so we almost never went out with the family on weekends. Mom and dad were both always busy with work.
Starting around my third year of elementary school I was taking Electone or piano lessons almost every day, but I got bored of most things before long. And that's pretty much it. It's not like we were wealthy, but I never had to go hungry either. Considering how Japan was at the time, I feel like I was pretty fortunate.
— So you were a normal, cheerful young boy.
Tsunku♂: Yes. I think I was quite active. I recently found an old 8mm movie from those days, and I was constantly moving about. It made me realize that it's no wonder how my own kids are now constantly fidgeting about. (laughs) I took them to preschool this morning, and even in the car they couldn't stop moving around.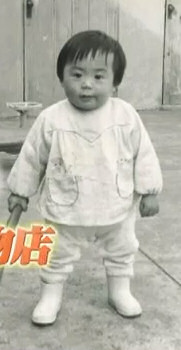 — Was your childhood rich in music? Was it then when you actually first discovered your passion for music?

Tsunku♂: My grandfather on my mother's side was a very mechanically-oriented man. He'd do things like build his own radios, and he'd listen to records on his stereo while enjoying some whiskey. I remember watching him do so and thinking "wow, that's so cool." He influenced me to become somewhat interested in mechanical things. But I think I only really got into music around my second year of junior high school or so. We had a classical guitar with some broken strings at home, and I think it was in junior high school that I got some new strings for it and started playing.
Oh, and I was a big fan of the radio since around my third year of elementary school. I was doing airchecks, bringing a radio to school and listening to it with everyone, and I'd have them play it during midday broadcasts.
— So you were already a bit of a producer when you were choosing which songs to play for everyone.
Tsunku♂: Maybe. I did think that I wanted to be one of the people in charge of doing the broadcasts.
— You were unable to do so?

Tsunku♂: By the time I reached the age when I was eligible, my thinking was "what's the point of playing songs like this to a bunch of elementary schoolers?" — I suppose I was being a bit rebellious. And if they were already playing the songs I wanted them to play anyway, I guess I no longer saw the need for it to be me doing it.
— Was it around this time that you first started playing in bands?

Tsunku♂: Yes. The initial motive was the school festival in our third year of junior high school. Well, they didn't actually allow bands at our junior high; they only accepted "folk music." My thinking was that once my club activities and the school festival had ended, I would concentrate on my high school entrance exams. So I practiced my playing every day for about two months, and then I sang and played guitar before an audience for the first time. I remember singing two songs: Murashita Kouzou's "Hatsukoi" and Matsuyama Chiharu's "Nagai Yoru."
— You were then accepted into high school.
Tsunku♂: It was a private high school so I was notified of my acceptance rather early. Leading up to it, I was working part-time daily. I'd be going to Den-Den Town every day — that's like the Akihabara of Osaka.
— You were doing so for your part-time job, you mean?

Tsunku♂: No no. I was there collecting stereo brochures. I promised my dad I wouldn't beg him to buy me a motorcycle or anything like that if he just bought me a stereo instead. Well, eventually I did get him to buy me the motorcycle too — and of course I ended up injuring myself on it. (laughs)
— (laughs)
Tsunku♂: Back then they'd just started coming out with full stereo systems that you could get for as little as around two hundred thousand yen, but that wasn't good enough for me. I wanted to buy the amp, speakers, player, deck — separate everything. For starters I wanted to listen to the radio, so I first bought only the radio, player, pre-main amp, speakers, and a timer. I got dad to buy me those things, and I decided I'd buy the rest as I went along. All in all, I think it ended up costing me around four hundred thousand at the time.
— It sounds like you were a bit of an audiophile.

Tsunku♂: Yes. I still use that equipment to this day. It may have been expensive, but it sure didn't go to waste.
---
— In high school, were you already thinking about the possibility of one day becoming a professional musician?
Tsunku♂: I wanted to play in a band, but I also wanted to become a talent. I wasn't sure what exactly I was supposed to be doing. I didn't have any relatives who were in the world of entertainment, and I'd never even met anyone who could write songs. I felt like writing songs was something meant only for people who had graduated from some great university. But one day I was talking to this guy who I was in a band with who played the sax, and he just happened to make this off-hand comment. "Writing songs is actually pretty easy, right?" This was coming from a guy who didn't even play the guitar. He'd only just recently learned how to play a little bit of sax, and here he was, saying he was already capable of writing songs. I thought, "well, if this guy can do it, then so can I." So I went out and bought a multitrack recorder and stuff, and started writing songs in secret. I think this was in my second year of high school or so.
I was playing in several bands in my high school days while also taking part in talent auditions every now and then. But when it was time to start studying for my university entrance exams, I once again started focusing on that. It was a university affiliated with my high school so I got the tentative acceptance around October or so, which is also when I got my driver's license and started searching for band members once more.
— Did the members of Sharan Q all go to the same university?
Tsunku♂: Most of us went to high school together — Taisei was the only one who came to our university from a different high school. Meanwhile, Makoto couldn't even take the university entrance exams because his grades were so terrible. (laughs)
— (laughs) Even though it was your affiliated university?
Tsunku♂: Right. They wouldn't even let him take the exams. It was all ones on his report card — he shouldn't have even been able to graduate. There were two big idiots in our class: Makoto and this other guy. Our homeroom teacher told the other guy: "You, just drop out. Dropping out will serve you better in life." But to Makoto, he said: "You, you will not drop out. If you drop out, you're just going to become a failure in life. So graduate. Bring your grades up." And somehow he managed to graduate.
— (laughs) Did your teacher end up being correct in his assessment of him?
Tsunku♂: You know, I wonder about that. (laughs) It's hard to tell.
— By the way, when did people first start calling you Tsunku♂?
Tsunku♂: When I was in university, my hair was short and all pointy ("tsun tsun"). So that became my nickname: Tsun Tsun. I was thinking of making my stage debut with the name Tsun-kun, but then I thought about how I didn't want some random junior high schoolers or whatever being overly familiar with me by calling me that, so I dropped the "n" at the end. I was thinking I'd change it after half a year or so, but it seemed to stick. It just felt like a bit of an unusual, funny name.
— So that's how it happened. I'd always wondered how you got the name. You then remained dedicated to music throughout your university years.
Tsunku♂: Yes. We were doing a band called RAM in high school, but it didn't seem to be going anywhere, so we gathered members from three bands — Shutters, RAM and QP¹ — and combined the names into Sharan Q. This was near the end of my second year in university. RAM had been kind of lacking a direction up until then, so I'd just be constantly going to discos. My first year of university I was just busy working part-time, whereas in my second year I was constantly going to discos and mixer parties. Dancing at the disco, doing mixers every Thursday, working part-time jobs on the weekends… That was my life for the first couple of years of university.
— When did you get more serious about the band?
Tsunku♂: That was in my third year. I was trying to figure out what to do in regards to job hunting, but I just felt like if I didn't give the band a proper shot right then and there, my heart wouldn't be in it even if I did start job hunting — I felt like my heart wouldn't be in living life if I didn't give the band a shot. So I convinced the other members: we'd give it a proper shot, just for one year. That's the discussion we had in our third year. And so we tried seriously to get ourselves some fans. We were constantly handing out fliers and stuff.
We did end up getting some fans so we could now play at clubs and stuff, and the feeling was that sooner or later someone would scout us. But with it being Osaka, there were never many scouts around. So then when we started our fourth year, it was once again time to think about job hunting. Our bass player Shuu was saying he was too anxious and that he'd have to start job hunting now, whereas Hatake — whose family was managing a company — said he would succeed his family business if the band didn't work out. My thoughts were basically that I wasn't interested in succeeding my family business, so I began job hunting, too.
— In all honesty: you weren't all that serious about job hunting though, were you? (laughs)
Tsunku♂: Well, these were the bubble economy years: even with minimal effort I'd managed to receive tentative job offers from two or three companies. I feel bad for the students of today just for saying that…
— One of those offers was from a financial institution in your hometown, right?
Tsunku♂: Yes. That was a credit union. Aside from that, I thought it might've been nice if I could've worked at my university, but there just weren't that many opportunities available. In my third year I started studying towards a teacher's license, but after having done it for a year I was supposed to start hands-on training for it in my fourth year. This was at a time when I was doing the band, going to the disco, job hunting… and suddenly I was being told I had to start training to become a teacher. It simply wasn't doable for me. You have to understand: I also had my part-time jobs, and of course I absolutely had to go to the mixer parties… (laughs)
— Sounds like a packed schedule. (laughs)
Tsunku♂: In my fourth year, there was a time when I was job hunting while still being serious about the band. But ultimately, my decision was to quit job hunting and persuade dad to let me keep doing the band for two more years. And so I declined the tentative job offers.
— Did your mother approve?

Tsunku♂: Mom was crying. Of course she was. I can't even imagine what I would say if my son came up and said something like that to me. (laughs)
— (laughs)

Tsunku♂: Despite us not being particularly wealthy, they'd paid for me to go to a private high school and university. So of course they were very angry with me. But it was a simpler time back then, and so eventually they did forgive me.
---
— You then went on to win several band contests.
Tsunku♂: That's right. We decided we wouldn't take part in any contests until we'd actually achieved some popularity. It's not like we were that good, so we figured the only way we would be taken seriously if we had some fans before the contest and we could just bluff the judges. If there's a bunch of people at the venue who are all screaming when you come on, even the judges have to look up at the band and go "who are these guys?" We took part in Yamaha's Band Explosion as well as NHK-BS's Young Battle, and winning there was a taste of success for us.
— Your approach was already very producer-like.
Tsunku♂: Yes. I just wanted to get us some TV exposure. The Band Explosion contest, too, was only broadcast on the NHK-BS channel which I don't think was that widely available back then. But I just figured that as long as we could get on TV, we'd get some kind of a response. Our thinking was that we could probably get through the Osaka/Kinki region rounds just because we'd have some fans in the audience, and then we'd be in the nationwide finals. And who cares what happens there — at least they'll show us on TV! We were never aiming to actually win the whole thing. And yet, there were still a couple dozen fans to see us at the nationwide finals — people who'd come to see us all the way from Osaka — meaning you could hear a couple of our fans screaming for us all the way in Tokyo. I really think it worked in bluffing the judges, in a good sense of the word.
— When were you finally approached by a major record label?
Tsunku♂: Just as we were about to enter another contest we bought some magazine — I think it was "Musicman" actually — and we mailed out tapes along with information about us everywhere. We got replies back from a couple of production firms and we started keeping in touch with people like that, but we told them that we'd be taking part in a contest and that we couldn't sign any contracts before it was done. So we kindly asked them to wait, and we managed to do pretty well in the contest. Then we began negotiating: we spoke with For Life, BMG, Sony, and I think two production firms. We gave them some conditions: we wanted separate apartments for each of us, and we wanted a new equipment van. Oh, and we told them that we'd just graduated from university and that we wanted at least something comparable to an average company's starting salary. We were pretty firm in our stance about that.
— You gave them conditions? You sure didn't hold back!
Tsunku♂: We did end up getting something close to a starting salary — even if only before taxes.
— Ultimately, you ended up signing with BMG Victor. What made you choose them?
Tsunku♂: A couple of the labels we talked to would have accepted our conditions, but BMG were the label that introduced us to Up-Front. That's what made us go with them: artists on their roster like KAN and Moritaka Chisato were both popular at the time, and besides, I was a big fan of ALICE whose former office had close ties to Young Japan Group (predecessor to Up-Front). We just thought, "there's something nice and Kansai about them — why don't we go with them?"
— So you got your major label deal and you all moved to Tokyo. Was it smooth sailing from the get-go?
Tsunku♂: No. We had absolutely no success in the beginning. We weren't doing anything. We'd been busy doing all kinds of things up until that point, but suddenly we were now told we had to just sit and wait at home because they might call us to come in for an interview — obviously there weren't any cellphones yet back then. We were all just so bored.
— This was your toughest period as a band. But you say it was an important thing to experience.
Tsunku♂: Yes. It was a complete… what would you call the opposite of a success story? A failure story? (laughs) But it brought the band together. I just hated watching TV at the time: whenever we heard a song become the theme song of a TV drama, what it meant was that that particular band was going places that we weren't.
— You didn't like watching TV because you hated seeing other people succeed?
Tsunku♂: You know how they always play the theme song on those TV drama shows? Back then, it was mostly band songs. I hated it… I was pretty much a social drop-out at that point in my life. I didn't even listen to the radio. That went on for about two years. But something that changed with me in that time was the way I listened to music. Up until then I'd been listening to music as an audiophile. But from that point on, I began listening to it from a creator's standpoint. Even though I'd been playing in bands myself, I'd never listened to the music coming from my speakers in that way before. I wouldn't have become a producer if my way of listening to music had not changed then.
— You said the following in your book Ichiban ni Naru Hito. "I had a lot of time to spare, and that's why I became good at analyzing things." I really do think your ability of analyzing all manner of things is one of your greatest assets.
Tsunku♂: I would go back and listen to the music I used to listen to in my childhood. "Ah, this song must've become a hit back then because…" Or, I'd listen to cool idols versus idols who were cute but whose music was worthless, and I'd compare the differences. Or, I'd listen to the first two singles from Sharan Q and compare them to Mr. Children's first two and try to figure out what made us different from them. Or, I'd try to figure out what was so special about the lyrics of Spitz that made everyone constantly talk about them. I'd study the songs of our contemporaries as well as all the music I heard on the radio.
Even our manager back then used to tell me how I was a jack of all trades but master of none. I felt like he was right. I should've put my all into learning to play the piano and stuff. I had all kinds of regrets in regards to my personal life. But, through experiencing all those things, the dots connected into lines which led to the birth of songs like Morning Musume's "LOVE Machine."
— I was wondering what sort of a person would be able to write a book like Ichiban ni Naru Hito ("The People Who Become Number Ones") that's based solely on your personal experiences. It made me feel that you really are a very intelligent person. Not only is it a great book on the philosophy of success, but I was also surprised by just how great it works as a business book.
Tsunku♂: Even when it comes to just play — something like darts for instance — I can't help but take everything very seriously. For example, I don't really know much about the philosophy of recording engineers. I never received an education about that kind of thing. So what I did was to just start learning by watching others; randomly messing with stuff on the mixing console and such. There's something otaku-like about how most recording engineers work, so I thought, "if I try to touch stuff on this mixing console with a more mainstream mindset, I bet it'd result in music that sounds a bit different!"
— Your ability to grasp the essence of something just from those couple of points and being able to give it a shape — I think that's exactly what makes you a genius.

Tsunku♂: Oh, I don't know about that. I really think it's more just an issue of me feeling like it'd be too much of a waste of time to get too deeply invested in any one thing.
---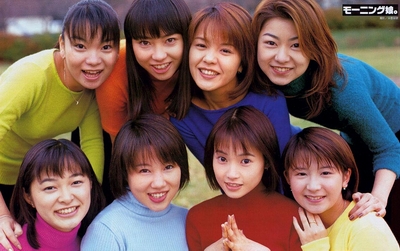 — I remember watching ASAYAN when you'd just first started producing the group. It began as just another one of the show's many projects, and as a viewer, it didn't appear like you were even all that serious about it all in the beginning.
Tsunku♂: Well, it was a variety show, you see. That's the reason we even agreed to do it in the first place. A show about making music for real? "That'd be risky", they said. They told us they were afraid it might make Sharan Q look like a failure. "It's just a variety show — why don't we just get on and have a bit of fun on these girls' expense?" Looking back on it now, that was a pretty awful way for us to think about it. But people seemed to like it, and we fit the role.
However, when we agreed to do it, our intention was never to create something that was fake. Our thinking was always that as long as we create something real, the true music fans will want to listen to the albums. It's the same thing as with the music we made ourselves: we figured that there had to have been some real music fans out there who were listening to it properly. We felt that if those same people listened to what we made with the girls and they liked it, it'd be all right. That was how I saw it when I began producing them.
— This was something you felt because you'd already had prior success in making Sharan Q a hit.
Tsunku♂: Right. And I'm glad for the hardship we got to experience, too. If Sharan Q had become a success without any struggle — just like that — I wouldn't be where I am today. I would've never thought to mess with that mixing console. I would never have even acquired the know-how of mass-producing songs like I do now. So I really am sincerely thankful for how it all happened.
— I think I've once read you saying something like this: "if your success is absolutely guaranteed, you should try and succeed as late in life as possible."
Tsunku♂: Yes. In all honesty, I think the period of time that most people feel is the most enjoyable for them is when they're just amateurs. It's no different when it comes to music: even once you've become a pro, it's the times when you aren't selling that matter. You're struggling just to get by… but every day is just so much fun. You're thinking about all the stuff you're going to do once you succeed. "I'm gonna buy a BMW! A Rolex watch! I'm gonna fly out to record in LA!" You get to dream big about these things every day. No matter how much you think about that stuff, no one is going to get angry at you because you're just some nobody. And the longer this period lasts, the more fun it is! Then, when you finally do make it, all that remains is hardship. Along with achieving your goal of making it, you suddenly have all sorts of things you must do each day. You have a to-do list that keeps growing and growing; deadlines you must meet. Suddenly you have the sense of pride of someone who's made it, and now you can't allow the standard of your living to get any worse. In that sense, you really ought to succeed only once you've reached the age of 68 or something.
— (laughs)

Tsunku♂: But everyone always feels like there's a voice from above telling them that if they don't make it right now, then their time will simply never come. I happened to "make it" relatively early on, and ever since then for the past 16 years or so I've gotten to know the hardship of constantly creating. People tell me I must be glad that I managed to achieve success. And it's true: I am. But it's a completely different thing from those days of pure fun.
— Have you ever thought about retiring?
Tsunku♂: I can't say that I never have. I've thought about how it might be just as nice to spend my time on some faraway island doing nothing at all. But at the same time, whenever I elicit a small reaction of some kind… when I put out a new album or something and I get a reaction, I think "man, that makes me glad." That's why I won't be able to stop.
---
— There's this teacher-like element to your personality: I feel like you have a talent for nurturing young people. Would you say you have an interest like that?
Tsunku♂: I do. To me, that's pretty much what producing work is. I do teach them about the music of course, but I also talk to them about life. I was quite strict with the early members especially. And as I also fill my lyrics with something resembling life lessons, my hope is that they might be actually reading them when they sing my songs.
As a matter of fact, one thing I feel bitter about is how Japanese music is so rarely ever appreciated overseas. A big part of it is of course due to the language barrier. But Japanese-made technology stands above all others all over the world. There are the tiny details we are known for; not only when it comes to industrial goods, but even our hotel workers and cabin attendants are highly-rated all over the world for their consideration. But even though Japan is supposed to have lots of wonderful music, people overseas feel like it just doesn't cut it. When I try thinking about why that is, the conclusion I've reached is that Japanese people simply don't understand rhythm anywhere near well enough. It's just this feeling I have. I believe that as long as you truly understand rhythm, you'll be able to write any kind of song. And then it won't be just an imitation — it'll be the real thing. I feel like most of the music that Japanese people make sounds reminiscent of something else, and I don't think even the musicians playing it really get why. Of course we have some really great musicians too, but I feel like even they are unable to make the most out of what they have.
That's why I feel like it's crucial to try and instill a good sense of rhythm in children under the age of 10, and that's why I approached Nintendo with a proposal to make game software for children to learn rhythm with.
— You approached them about this idea?
Tsunku♂: Yes. Their company president saw my proposal, and he got his staff on-board. We spent about two years making it, and finally the following year we came out with "Rhythm Tengoku." And just like I thought: the first ones to get hooked on it were the elementary schoolers. Adults were playing it too of course, but when I saw how much the elementary school kids loved it, that's when I knew we had something real.
— "Rhythm Tengoku" sold in the millions, didn't it?
Tsunku♂: The Gameboy Advance version sold about 200,000 copies. Then we spent a further year and a half working on the DS version, "Rhythm Tengoku Gold," and I think that one sold something like 1.7 million copies. Taking overseas sales into account, it was something like 2.5 million copies.
— I had no idea it was supposed to be an educational software. (laughs)
Tsunku♂: That was my thought behind it. My kids are two years old at the moment which is just the age when they're starting to sing and dance, so I've been looking for some kind of a rhythm school for them… but if there's no such thing out there, I guess I'll just have to teach them myself.
— You wanted to create a rhythm school for children.
Tsunku♂: Right. Or, I suppose it's more of a rhythm cram school.
— I do feel like even Japanese people now have an improved sense of rhythm.
Tsunku♂: Well, Japanese people didn't have a bad sense of rhythm to begin with. Just look at something like awa odori or danjiri: they both have very intricate rhythms. I think it was the arrival of classical music that skewed our sense of rhythm. Japanese people study classical music simply by reading the score — we only look at it on the surface. While it may now be called "classical music," all it really was then was just the popular music of its time. I don't believe it was as "sacred" back then as people now like to think. And if you're only looking at the score, you just don't feel it as much. I'm sure that in actuality, classical was originally something much more fun; a type of music you were supposed to feel with your whole body.
I always say that the piano and the guitar are merely percussive instruments. They're not something you perform with; they're something you play. You don't take a guitar in hand and gently strum across from the first to the sixth string; you play them all at once, like BANG! You don't play it like "tararara~n" — you play it like "DUN!!" If you told any of those visual-kei bands today to play the guitar like that, they simply wouldn't be able to. They'd tell you how that's not how you play it; that's "not how the part goes according to the score." The difference between playing the guitar in either one of those two ways, speaking strictly time-wise, is really only something like 0.1 seconds. Or zero-point-whatever seconds. But I'm saying you need to see the difference. But they wouldn't get it. That's why rhythm is so important. Really: once you've mastered rhythm, you're pretty much set.
— You feel like there simply aren't many musicians out there who understand rhythm?
Tsunku♂: The genuinely talented people can feel rhythm. Even now, there just aren't many Japanese people around who truly get it. On the flip-side, just look at black people for instance. I had the opportunity of working with a certain black guitarist before, and even though he couldn't read music, he was incredibly talented when it came to playing scales. The reason he could play like that was because the rhythm came from his body. But the thing is, he didn't understand theory; he couldn't have explained it to anyone else. If you asked him, he'd probably think: "Why can't you play this? Can't you see that this is the only way one even could play this?"
— I'm surprised by the depth of your knowledge. I wasn't expecting to have such a thorough discussion about rhythm theory. (laughs)
Tsunku♂: I really do feel like Japanese people ought to understand rhythm better.
---
— Where do you see yourself headed in the future?
Tsunku♂: Let me think… Well, as I'm sure your readers are aware, the music industry is facing difficult times at the moment. Even though I'm personally someone who is in the business of selling CD's, when I listen to music I'll quite often do so through YouTube. So it's a strange state of affairs. I have a feeling that most record labels are going to disappear until there are maybe just a couple of the biggest ones left. It's no wonder there are so many digital distributors around right now.
However, the other day I attended Takashima Chisako's "Buggy Concert." This is a concert she's been doing where it's okay for people to bring their small children along. I think it was something like 200 adults in there. They did a one-hour concert, three times a day over the course of several days, and even though the tickets were priced at 5,000 yen they were sold out immediately. It made me think about just how important live performances are right now. But then again, that's how it's always been with classical music throughout its history: rather than writing new songs, hasn't it been more about performing the same songs from hundreds of years ago, over and over again? Maybe that's also what's going to happen to kayou kyoku: rather than creating something new, maybe there will soon come a time when people will just sing the old songs instead. These are my thoughts on the matter.
— Overseas artists such as Prince and Madonna, as well as Japanese artists like Yazawa Eikichi, have ended their contracts with major record labels and have instead made box office takings their main source of income. Have you ever entertained such thoughts yourself?
Tsunku♂: I wonder…? I reckon doing something like that would be a bit insincere of me, considering how I run a record company myself.
— Nevertheless it does seem like a major transitional period.

Tsunku♂: I think that's something I'll just have to endure. I'll simply be focusing my attention on making music to the best of my ability.
— As an entertainment producer, do you have any plans of expanding further into movies or games or the like?
Tsunku♂: I do feel excited about the prospect of movies and 3D. But in any case: up until now, artists always had pretty much an unlimited audience. Or rather, up until now, music had been an industry where people were trying to market someone's song so far and wide that they'd be recognized by everybody, such as in the case of someone like Misora Hibari. But maybe the future now lies in something like what I saw at the "Buggy Concert." Maybe it'll be about how you can respond to the demands of just 200 people. Maybe it'll be more like some kids' parents going, "we'll pay you ten million yen if you come and perform for our kids." Maybe that's the model that the industry is moving towards.
— Like in the days of Mozart?
Tsunku♂: Exactly. If it's not tailor-made for a single person, maybe it'll be like an artist performing for just five people. Or ten people. I feel like you can't rule out that sort of a business model either.
— Thank you for taking time out of your busy schedule for us today. I wish you all the success with your future work.
Speaking with Tsunku♂ was such a pleasure. The tempo of our conversation was so perfect, and though we kept talking for such a long time it was an interview full of laughs. But while he is a master of conversation, he also has a brilliant way of perceiving things and I was constantly blown away by his philosophy on life.

When we were talking on the subject of raising children, he said the following. "When a child grows up in an environment where someone is constantly getting angry at them before even reaching the age of three, they'll become someone who is able only to turn a 1 into a 10. But for every child who is not like that? They'll be able to turn a 0 into a 100."

For me, after speaking with him today, there is no doubt that Tsunku♂ is indeed someone who is able of turning a 0 into a 100.
Text: Musicman-NET
English translation: Henkka
Tsunku♂ on the web: website, blog, Twitter, Facebook
¹ If you're curious as to who came from which band to form Sharan Q: