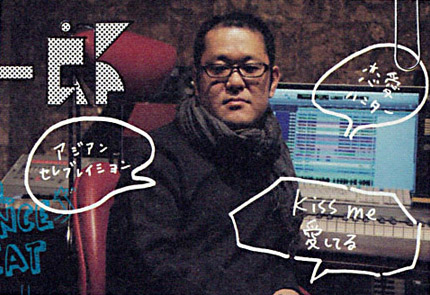 Hirata Shoichiro — in the past ten years, this man has been one of the constant mainstays of Hello! Project music. Morning Musume's "Kono Chikyuu no Heiwa wo Honki de Negatterun da yo!" and "Renai Hunter," °C-ute's "Kiss me Aishiteru," "Crazy Kanzen na Otona" and "Aitai Aitai Aitai na," Berryz Koubou's "Asian Celebration," "Aa, Yo ga Akeru" and "WANT!," ZYX's "Shiroi TOKYO," DEF.DIVA's "Suki Sugite Baka Mitai"… He has been involved with over 100 Hello! Project works. Considering how much his exquisite arrangements of edgy dance music and kayou-influenced pop seem to be loved by fans, one doesn't know what to expect him to be like. But in this interview, his words proved him to be nothing if not a man full of humility!
— Jumping right into it: I want to start by asking what you found a difficult song to work on?

Hirata: Most of the time I just get to do what I like with my arrangements, but I'd say "Piriri to Yukou!" (Berryz Koubou) was a tough one just because they specifically wanted the song to feature sanshin. I had to think about the beat I wanted to give it, so I'd listen to lots of ska for inspiration. Well, truth be told, since this was just around the time when I was first starting out, it'd be more accurate to say every song felt difficult to do at the time. I enjoyed doing the remixes though — something like Gomattou's "SHALL WE LOVE? (Cool groove mix)" was just great fun for me, making that 2-step remix.
— Meanwhile, a song like Morning Musume's "Pyoko Pyoko Ultra!" was actually quite heavy on the dance music influences.

Hirata: I got word from the office that they would appreciate it if it did, yes. You know how these days people love songs with high BPM's, right? Songs that it's easy for fans to shout "oi, oi!" to. And I mean really high BPM's — up there in the 170's and 180's. Even the average Hello! Project song around the time was pushing 150, so this was actually a period of serious struggle for me — I felt like I was starting to run all out of ideas. (laughs)
— That's the reason that a song like Morning Musume's "Kono Chikyuu no Heiwa wo Honki de Negatterun da yo!" worked so well. It surprised people. The tempo wasn't fast and its disco sound was loaded with nostalgia.
Hirata: I'm sure they actually wanted DANCE☆MAN to handle that one, not me. (laughs) Jokes aside: yeah, I got an order for that type of (disco-influenced) song, so I made the arrangement while reminiscing about those sounds from way back when — you know, thinking "man, DANCE☆MAN sure is cool!" (laughs) I felt that I needed to digest that sound myself, too. I thought I'd be no good if I wasn't able to pull off a sound like that. I'm a big fan of black music myself, and I do feel like I was able to take those things in my mind and develop them into something good with that song.
— The tempo becomes faster at certain parts during the song, right?
Hirata: Yeah, it changes a bit during the chorus. I first tried making the arrangement with a consistent tempo throughout, but they suggested we raise it during the chorus just a little bit. Looking back on it now, those sorts of requests were very frequent back when I first started working with Hello! Project.
— Take Berryz Koubou and S/mileage as an example: when you're working on an arrangement for a song of theirs, do you change your touch according to which group is going to receive the song? Because to me it feels like there is a difference.

Hirata: If you do hear a difference, it must be thanks to the recording director's guidance — when I first receive the demo, I don't have any clue as to who's going to be singing it.
— S/mileage's songs tend to be exceedingly cheerful…

Hirata: I'd think that's really all thanks to Tsunku♂'s original compositions. S/mileage's songs tend to have very direct, in-your-face melodies, so I just adjust my arranging style accordingly. Berryz Koubou's melodies, on the other hand, are often a bit more refined. Out of all the songs I've arranged, "Watashi no Mirai no Danna-sama" is one of my personal favorites, but it's because the melody was the way it was that my arrangement turned out like that. Like, "yeah, this is the way Berryz Koubou ought to be."
— I feel like portamento and glissando are some of your defining characteristics — I love how much of those techniques you employ in your arrangements.

Hirata: I don't know — maybe I use them so much because I want to create a kind of… denseness? Like, just something to eliminate all the silence. I fire up the old sequencer and I just try to make the song glitter all the way through. I don't think anyone but me uses downward glissando on a synth bass these days. (laughs) The last time that was popular was in the 90's. That whole, "durun~" thing.
— It really is very unique.

Hirata: When you use synths, everything you do tends to sound the same-ish. So you have to ask yourself: "how am I going to differentiate between songs?" And that's when I realized: it's all in the phrasing. I thought about the intro to "Pyoko Ultra" and about how I might approach it if it was an old kayou kyoku song — you didn't have a lot of instruments back then, and yet the hook or the intro would always stand out. It's only recently that I realized: what's important is not the number of tones, it's the phrasing.
— Where do you begin when you start working on a new arrangement?

Hirata: The beat. I make the drum beats first, based on what I'm told they want as far as the tempo. Next up is the melody, so first I have to think about the harmony while making the bass line. Then I think about how the melody is going to go with the bass line. After that, the secondary melodies.
— So it all starts with the rhythm.

Hirata: At the end of the day I'm a dance music lover, so I'm very conscious about whether the beat can make your body move or not. The sounds I choose to use on the arrangement are all based on that. If I have a good rhythm to work with, it becomes easier for me to visualize the song. Tsunku♂ has told me that he, too, always wants the rhythm to be strong.
— Do you try to be conscious of anything in particular when working on an idol song?

Hirata: I try to be pretty neutral, so I'd say no. That said, I work on everything from EXILE to the Gospellers, and there are definitely certain trends with each group. Idol songs tend to have cute melodies. Also, since they actually dance to the songs, I try to employ certain gimmicks or otherwise use interesting rhythms during interludes to make it more fun for them. Stuff like that. And, though I haven't been doing much of this recently, I think about what I can do to betray those expectations.
— One example of that kind of thing might be Morning Musume's "Renai Hunter," which had a dubstep/brostep-influenced sound. Where did that idea come from? Did you have any difficulties with that memorable bass line or when building the rhythm?

Hirata: In short, it was nothing more than me thinking, "isn't it about time we try a bit of dubstep already?" The AKB groups were doing very traditional idol sort of arrangements whereas groups like TOKYO GIRLS' STYLE were doing this super stylish material, so I figured I'd just try some dubstep. At least it'd have impact. Something that was difficult for me was creating a musical phrase for that introduction that wasn't particularly melodious but had the power needed to drive the song along.
— Juice=Juice's "Watashi ga Iu Mae ni Dakishimenakya ne" was a little different the first time it was performed in concert compared to when it was released on CD — there was a bit added before the last part of the song.

Hirata: Yes, I edited it. They hunted down the multitrack data and I remember them asking me to add something there — something fun. It might be that I made it a little too simple the first time around and they wanted something a bit more. Similarly, °C-ute's "Kono Machi" didn't have any guitars on it at first, but it did by the time it was released on CD. I remember seeing people on Twitter talking about the pros and cons of that. But I think that was really more having to do with my arrangement of it being quite "light" in the first place.
— Does that kind of thing happen often?

Hirata: No, not all the time really. But, being told they want "something just a little bit more" in the arrangement as we're working on it is completely normal.
— I felt that the editing on the brass parts in "Watashi ga Iu Mae ni Dakishimenakya ne" was very new and different.

Hirata: That was quite a bit of cutting-and-pasting with those sax parts. Compared to the approaches most Hello! Project songs have taken so far, I thought that was indeed quite different, yes. While there have been lots of club music-inspired attempts before, I think there was a slight kayou kyoku-flavor that remained with my approach. It's a bit of a quirky arrangement.
— Do you still check out new dance music?

Hirata: I don't go out of my way to do so, but yeah, I do listen to all the recommendations at places like Tower Records. It's just that I have such a hard time trying to remember any of the artists or song titles. (laughs) Sometimes I even forget buying a CD and I'll end up buying it twice. I think I have like three copies of the same David Guetta CD. (laughs)
— What did you think about David Guetta when you first heard his material?

Hirata: He's cool. Another artist that was recommended to me by a junior of mine is this youngster from France called Madeon. His stuff is very melodious. And I like ZEDD, too. I'm still consciously of trying to include some influences of new music in my material — to the best of my old man's abilities. (laughs)
— Do you sense a kind of freshness in their music?

Hirata: Hmm. I wonder about that. There's something about it all that also sounds very familiar. I don't know — maybe there's someone out there who's more representative of this current scene. But even so, you can still get a sense of the techniques they must be using, and to me they don't differ that much. It's more to do with the way they configure their musical phrases. In short, it's a matter of style. Also, in genres like that, their style of editing says a lot. It's easy to hear how much love they put into it. In that sense, someone like BT was just a demon when it came to editing. I'm sorry, I know I'm not answering your question.
— Do you try to include things like that in your own work?

Hirata: To put it in a nice way… yeah, I try to. To put it in a not-as-nice way? I'm damned near ripping them off! (laughs)
— (laughs) Of the recent °C-ute singles, you've worked on "Aitai Aitai Aitai na," "Kono Machi" and "Crazy Kanzen na Otona." Apart from "Kono Machi," it feels like most of their recent releases have been minor key dance numbers.

Hirata: Yeah, it does feel like I've been getting a lot of the uptempo, sorrowful dance tunes. (laughs) It feels like a lot of the orders I get these days are for songs with that sort of BPM. Tell me, is that the case with the singles from all the other groups as well? I'm asking because I don't listen to everything that comes out…
— Berryz Koubou and S/mileage get a lot of that type of material, too.

Hirata: Yeah. I guess that kind of tempo is just easy to program. (laughs) Even the more rock-influenced songs are faster nowadays.
— So even with that strong, uptempo °C-ute sound, it's not like they specifically tell you to make it exactly like this or that, right?

Hirata: No. Often times the direction we want to take only becomes clearer once we actually begin working on it. They'll just say something along the lines of, "we think it's a minor key, uptempo number." And that's all I have to work with.
— And yet, what you're doing is actually shaping the current trends within Hello! Project.

Hirata: Honestly, I don't think any of us working on the songs are thinking deeply about things like where the group is headed, not to that extent. We're too busy thinking about the arrangement that's in front of us right then and there. (laughs)
— But that is, in effect, "updating" the music of Hello! Project. That's pretty amazing to me.

Hirata: Well, if my work can have that kind of an end result, then that makes me glad.
— How was it working on °C-ute's "Kono Machi," which is obviously a ballad?

Hirata: Oh, it was a ridiculous amount of work. (laughs) I was like, "oh god, how many years has it been since I last had to arrange a ballad?" And that one especially, because it was a cover of a great original. I didn't want to ruin the image of the original song, but I also had to make it fitting for °C-ute. And just on the technical side of things, with ballads I don't have the amount of techniques that I do with dance music. So yeah, it was quite challenging.
— You had to lower the tempo.

Hirata: Yeah. It came so out-of-the-blue. I'd heard from them earlier that we were going to do the song so I was expecting us to make it uptempo like the rest of the recent songs, but suddenly they went "nope, we want to make it a ballad." And I was going, "huuuuh?!"
— What about it in specific did you have trouble with?

Hirata: Well, it's not that the original was super fast or anything, but it was still definitely a dance beat of its time, right? So, just taking that and making it a bit quieter, I sort of figured it'd create more dead space within the song so I had to think about how I would go about filling it. I thought about whether I should make it a piano-based arrangement, a guitar-based arrangement, or go more in a synth direction… but in the end, I came to the conclusion that having more organic sounds suited the song better.
— And that's why you added the guitars.

Hirata: Yes. The original had that synth brass part, and I thought I'd push that in my arrangement, too, with a piano and some other sparkly sounds, but later I realized it was a bit lacking in power. I think adding the guitar bits gave it a more earthy feel — in a good way.
— You've also worked on more disco-influenced songs, such as Berryz Koubou's "WANT!" and "Asian Celebration." The latter especially has that Morning Musume-like aggressiveness to it along with those later-era disco influences, and I thought it just sounded very "Berryz Koubou."

Hirata: I think I remember them asking for an electro disco arrangement with that one — like, a modern interpretation of disco. Not having it be just cool, but also throwing in something a little bit funny — I suppose that's kind of what Berryz Koubou themselves are about. If Morning Musume is kind of like the Red Ranger, then Berryz Koubou is more like the Yellow Ranger… but they also have a bit of Blue Ranger about them, too.
— That's a brilliant allegory. I asked you this the last time we talked (TL note: the SINGLE BOOK interview was conducted on two separate occasions), but just to make sure: when you're arranging a song, you don't yet know which group is going to end up receiving it, right?

Hirata: No, lately that's actually not the case. Recently I've been getting demos from Tsunku♂ with notes like "I'm thinking of giving this to Berryz Koubou," so I think about that a little and it's kind of like a hint as to the direction I should take my arrangement. I liked "Asian Celebration" myself. That song actually didn't have the "papapa paripari" thing in the intro originally, but I figured it'd increase the "disco-ness" of the song so I added it when making the chorus arrangement.
— Ah, so there are times when you'll arrange the chorus vocals as well. Did you sense that the song would become cooler with that addition?

Hirata: At first, I thought that part worked well enough with just the instrumental. But as I kept working on the arrangement, I suddenly felt like adding those vocals. There hadn't actually been many previous arrangements I'd done for Hello! Project where I'd included chorus vocals in the intro. I gave it a shot with this one.
— Meanwhile, S/mileage's "Otona no Tochuu" and "Nee Senpai" sound more European. Many uptempo songs seem to have this kind of sound. How do you get them to sound different?

Hirata: Much of it has to do with how I approach the intro phrases. So basically, the opening, and also the backing during the chorus. It's only obvious that you have to be able to do that with every song. Anyway, in my case, I work on things in a certain order: verse, pre-chorus, chorus. But first I do the rhythm, decide on a beat, and once I've done that, I move on to the actual song through trial and error. Once I've finished doing all that, I bang out the intro.
— That's what gets you the most fired-up.

Hirata: Right. I don't think it's an exaggeration to say that the intro means everything.
— Why do you say that?

Hirata: You have to get the song off to a strong start. You need a memorable intro if you want people to actually remember the song. Sure, the melody is important as well, but the first thing you have to think about is creating that initial stir in the listener's mind. Those intro phrases tend to take me a very long time as of late, especially now that we've moved into this dance music direction.
— You have a point. The first couple seconds of a song are crucial.

Hirata: Yes. You listen to someone like Ookubo Kaoru's intros… they're just so cool. I have to give him recognition for "Help me!!"
— This discussion about the intros was very interesting. One song that I think is really fun is Morning Musume's "What's Up? Ai wa Dou na no yo~."

Hirata: It's a bit of an anthem. We talked about how we wanted to make it sound like a cheering song.
— It has those unexpected rap bits, and it's just built in an unusual way. Was the original demo of it more orthodox-sounding?

Hirata: Yeah, I don't think it sounded all that strange at the demo stage, though I do think Tsunku♂ already had ideas as to what he wanted to do with it. Once I heard the song with the vocals on it, I was as surprised as you. (laughs)
— You couldn't picture how it would sound with the vocals as you were working on it?

Hirata: With that song, no — most of his other songs come to me with proper demo vocals. While not exactly the same, Morning Musume's "Kimi Sae Ireba Nani mo Iranai" surprised me, too. It has those slightly odd verses, right? That song already had the chord progression and melody at the demo stage, and so as I started working on it, I was just listening to it and going "oh man, this is going to be another difficult one."
— That's another amazing song. All of Morning Musume's songs are a bit unusual.

Hirata: Okite Porsche tweeted that it was "insane." (laughs) Well, I have to agree: it kind of is insane. (laughs)
— They're probably the "edgiest" among the groups — and it's fun that that's the group enjoying so much success right now.

Hirata: I think that's healthy for the scene. That's the way I want it to be.
— What did you think about a song like that one as you were working on its arrangement?

Hirata: It's fun. I knew my job was to make the verses sound cool, and though the chord progression was already set, it was very challenging thinking about all the extra stuff I could put in the background. I knew they wanted those bits to be hook the listener, too, so I really tried my best with that stuff.
— What's the most enjoyable part of the arranging process for you?

Hirata: In general? When I'm thinking about the intro. (laughs)
— It all comes back to the intro, huh. (laughs)

Hirata: The rhythm along with the intro are fun to do. And lately, since a lot of it is dance music, gimmicks and all, I really think of it as just me working on an instrumental track. I saw someone on Twitter going "hey, even the instrumental of this song is cool to listen to!" That made me happy to hear. Though I do of course know I'm working on songs that will feature vocals, so I realize it's not good of me to think that way. (laughs) But just speaking for me personally, it made me glad.
---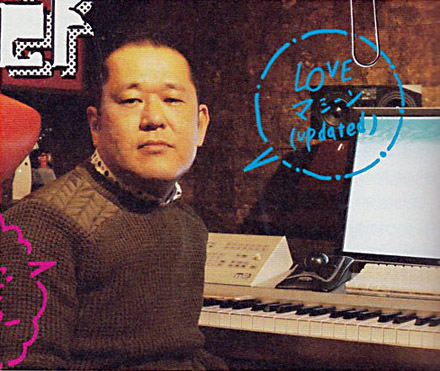 — On average, how long does the process of arranging one song take you?
Hirata: I make two drafts after I receive a demo, with about a week's break between. I'd say on average, the process takes about a month. They'll tell me to wait as they go in to record the vocals, and once that's done, I do a bit of fixing on the arrangement if necessary. Sometimes, if the process goes smoothly, it'll take around two weeks. Though in the past there have been times when I've been told: "we'll be going in to record the vocals in three days — please finish the arrangement by then."
— The song can go through some big changes even while you're working on it, right?

Hirata: I don't think that's ever happened after the vocals were already finished, but there have been plenty of past cases where they've wanted a change in direction as I was working on the arrangement. Especially so with the singles. They'll ask me for a rock arrangement, only to then tell me they want to make it into a dance song instead. That kind of thing. It used to happen even more in the past though — lately they seem to have a pretty firm direction.
— Hello! Project songs these days — and not just the ones arranged by you — tend to have a very high number of sounds. Have you made this same observation?

Hirata: Yes. Recently that's become like the default in my mind, so when I'm working on a song for another artist, I'll sometimes stop and realize, "I've put in way too many sounds in this thing…" (laughs) Most of my work these days is programmed, but the other day when I was working on a song that was then performed on real instruments, I was a bit sad when they had to drop a lot of the sounds I had on my programmed arrangement… (laughs)
— And why do you suppose there are so many sounds in Hello! Project music?

Hirata: Basically, they'll often ask me to make my arrangements more flashy. Even the times when I feel I've tried to make the intro or the background sounds in the chorus especially dynamic, they'll go "could you make it a little more single-like?" or "could you make it a little more flashy?" So when I try to answer to that request, what I usually do is either put in more sounds, or try to change the existing ones.
— DANCE☆MAN does disco, Kono Shin does soul/funk, Ookubo Kaoru does EDM — certain arrangers tend to be associated with certain genres. Would you call dance beats your specialty?

Hirata: Well, I do like dance music, but my knowledge of it is very lacking in many areas. So what I do is take the little bits and pieces I do know of its different genres and apply it to my work.
— (laughs) You're being very modest.

Hirata: No no, I'm being serious. Take a genre that's currently popular, like EDM. If I was to try and make an EDM arrangement, it'd sound like something out of a bad compilation album where all the tracks sound like the equivalent of the taste you'd get out of a teabag that's being used for a second or third time. That's me. (laughs) I'm definitely not the pioneer type.
— But the sound on a song like Morning Musume's "Renai Hunter" is what has in a way now become the standard for the group.

Hirata: Well, I'll concede on the point that that kind of approach started to become the norm in Hello! Project since around then. The verses on that one are quite strange, so I decided it was best to just go all-in with it. I think the basic idea was already there in my first draft. It was a pretty aggressive sound in my mind, and I'm glad it took shape like that.
— You then went even more aggressive with Morning Musume's "Kimi Sae Ireba Nani mo Iranai."

Hirata: I felt that I really tried my best with that song. But listening to it now, it's not really dubstep and it's not really EDM either. That's always what happens with me, like I was just telling you. (laughs) I mean, I, too, would like to try doing things like having a verse with just the kick drum and bass or something, but most of the songs already have chord progressions by the time they reach me… Someone like Ookubo Kaoru can pull off a successful verse with just one chord throughout the whole thing. I really admire him for that. (laughs) I do lately think about how I could decrease the amount of sounds I use.
— So you're already thinking about that sort of thing when you receive the song.

Hirata: I feel like I don't get the types of songs Ookubo does. The songs I'm given are more… "kayou kyoku-esque" might not be exactly the word I'm looking for, but it's like they're the songs that are more suited for a pop interpretation.
— How was it arranging the new "LOVE Machine" on The Best! ~Updated Morning Musume~? The amazing original is one of the representative songs of Hello! Project, so you must've felt quite pressured.

Hirata: Oh, you bet I did. It was tough trying to think of ways to make it sound updated, while also paying respect to the original synth riffs, bass lines and everything else that made it great. Working on it, I rediscovered once again how amazing the original is and it made me feel very anxious. In the end, I think it ended up becoming something that fits the current times. As I was working on my arrangement, I got the chance to listen to the vocal track of the original and I ended up being stuck listening to it over and over again because of how cool it was. (laughs)
— You also did "Sou da! We're ALIVE" on that album.

Hirata: This one made me nervous, too. The hardest part for me was the backing for that signature bit: "Doryoku! Mirai! …" I first started working on the arrangement with a "remix" approach, but I ended up taking it in a direction where it was more of an accompaniment to the singing. I personally like this one, too! Just like "LOVE Machine," the originals of these songs had such power, trying to do another take on them and not losing to the originals was very difficult. But it did give me the chance as the arranger to really give it my all.
— Could I ask a bit about your musical background? What was it that originally got you interested in music in the first place?

Hirata: I have to give credit for that to YMO. It's the music of my generation after all. I also listened to EPO. We had a piano as well as an Electone at home, and the Electone also had an arpeggiator and a rhythm box so I could look for sounds similar to those artists and do these lousy covers by ear. But at some point the Electone just wasn't enough, and so in junior high school when I had this friend who had all kinds of music equipment, I borrowed from him a TR909 and I'd use my Electone to play along with it, using two cassette tape decks to record things…
— When did you first start writing original songs?

Hirata: That would've been in university when I got into a band that played their own originals. That's also what the president of my company (Matsubara Ken) did. It was probably in my second or third year of university when I started thinking it might be more fun to make music of my own.
— You then did game music at Konami before becoming involved with Hello! Project in 2001, first using the alias "SHO-1."

Hirata: The president was telling me to "hurry and quit the company." (laughs) But, being an excessively cautious person, I told him to wait and wait before I finally had the courage to do so.
— You were still using the alias of SHO-1 on the B-side of ZYX'z first single in 2003 (a cover of Taiyou to Ciscomoon's "Gatamekira"), but by their second single, "Shiroi TOKYO," you'd started using your real name.

Hirata: "Shiroi TOKYO" was very memorable for me. I think that was probably the first single I arranged. ZYX's first single, "Iku ZYX! FLY HIGH" was arranged by Kono Shin, so I was under a lot of pressure. As it was my first single, I remember thinking about everything to an excess: the tone, the configuration, each and every note, each and every detail…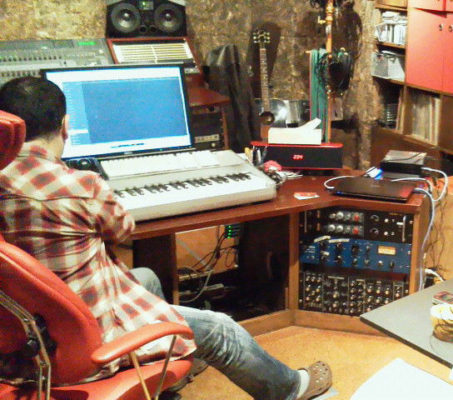 — What are some songs you've had trouble with?

Hirata: I had a lot of trouble with the sax phrases in the intro of Juice=Juice's "Watashi ga Iu Mae ni Dakishimenakya ne." I knew there was no way of making it cool using a programmed synth, so I had to line up a bunch of samples. The most time-consuming part was trying to find the samples with the right sort of nuance — I wanted it to be a phrase that was catchy and fitting for a dance tune after all. And on the topic of Juice=Juice, "Black Butterfly" and "Kaze ni Fukarete" were difficult as well. We'd done some tango-ish songs before so we had to be careful with "Black Butterfly" to not just copy them.
— By the way, what are the demos like when you first receive them?

Hirata: They're very simple. It's pretty much just the programmed drums, chords and melody. In the past, they used to come with songs they wanted me to use as reference. I mean, the songs themselves were completely different from what they wanted me to do — it was more like, "this 3-second bit in this song, we want you to use that kind of silly synth bass in the arrangement!" (laughs) They were there more just to give me an idea as to the "feel" they wanted the song to have; something to help along my image of how it should sound.
— It can't be easy to try and pick out those specific elements and convey them in your arrangement.

Hirata: Oh, I spent so much time trying to think about how I could make my arrangement sound more "silly." (laughs) Even so, I remember feeling disappointed not having been able to make it quite as silly as they'd asked of me. That's why I really admire the other arrangers. I have a tendency of over-simplifying things…
— I think that's one of your positive characteristics though. I like so many of your songs!

Hirata: Well, even if it is negligible, I'm happy if I've been of some use to Hello! Project.
— Do you ever get curious about the other arrangers' work?

Hirata: I do. To give you just one example from the same company as me: Tanaka Nao does some really cool stuff. I can't do the things the others do as well as them, so instead I focus on doing better in areas they aren't covering.
— What are some of your favorite arrangements by others?

Hirata: I like Kono Shin's "Iku ZYX! FLY HIGH." I'm nearly moved to tears whenever I hear the strings on that one. Also, "Dokki Doki! LOVE Mail," "Tropica~l Koishite~ru," "LOVE Namidairo"… all those early Matsuura Aya songs that were arranged by people like Takahashi Yuichi and Watanabe Cher. And I'm not saying this just because we work for the same company, but the arrangement Tanaka Nao did for Goto Maki's "SOME BOYS! TOUCH" — that works great even as a dance track. "GET UP! Rapper" — that was Suzuki Daichi Hideyuki, right? I really like that one. And I like all the work Ookubo Kaoru has done since "Help me!!" Oh, and I love the track arranged by our company president (Matsubara), "THE Manpower!!!" I can't believe they released that as a single. (laughs) I think that one worked exactly because it's Hello! Project.
Interview & text: Namba Kazumi (SINGLE BOOK), Takaoka Hiroshi (ALBUM BOOK)
English translation: Henkka
Hirata Shoichiro on the web: Twitter