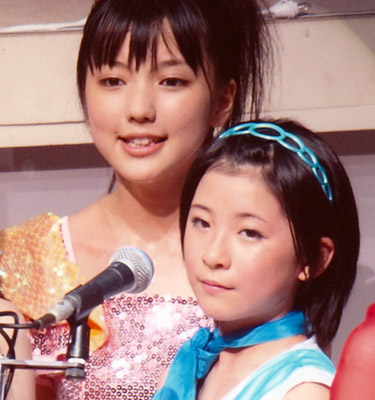 1: 名無し募集中。。。 2016/01/16(土) 19:29:18.02 0.net
These two just had a friendly H!P-related conversation on Twitter — though one with the both of them coming off slightly condescending towards each other.
Maro
The reason I'm able to wake up so early in the morning is because I've changed around the alarm labels on my phone. "What?! A phone call from Berryz Koubou?!" "Huh?! A phone call from the Edo period?!" That's how I wake up every morning. ?

Mano Erina
I just started listening to Be Genki after seeing your tweet.

Maro
Be Genki in the morning is the best… Just listening to it, opening up the windows and breathing in the clear morning air makes me feel happy… (laughs)

Mano Erina
I just decided I'm listening to nothing but Berryz Koubou for the entire day.

Maro
H!P love forever!

Mano Erina
My love for H!P has only gotten stronger since I graduated. I'm back to being an H!P wota!

Maro
I think I, too, get the feeling of returning to being an H!P wota after having been a member.

Mano Erina
It's a privilege only a select few like us get to enjoy.
17: 名無し募集中。。。 2016/01/16(土) 19:35:28.73 0.net
I don't know why, but reading their conversation made me pissed off for some reason. (laughs)
5: 名無し募集中。。。 2016/01/16(土) 19:31:11.84 0.net
Mano-chan saying "us" like it's nothing… (laughs)
10: 名無し募集中。。。 2016/01/16(土) 19:33:01.02 0.net
Mano-chan to release a new song.
Lyrics: Maro.
12: 名無し募集中。。。 2016/01/16(土) 19:33:55.38 0.net
Mano-chan → actress.
Fukuda Maro → self-professed lyricist, ex-back dancer for Mano.
14: 名無し募集中。。。 2016/01/16(土) 19:34:10.24 0.net
The thrilling relationship between these two women… (laughs)
15: 名無し募集中。。。 2016/01/16(土) 19:34:06.03 0.net
Mano-chan calls her just "Kanon" without a honorific?
She's way above her in seniority.
22: 名無し募集中。。。 2016/01/16(土) 19:38:20.12 0.net
>>15
Mano-chan was the first to make her major debut…
19: 名無し募集中。。。 2016/01/16(土) 19:36:46.18 0.net
Mano-chan went to Maro's graduation concert, yet she didn't say a word about it on her blog.
43: 名無し募集中。。。 2016/01/16(土) 19:55:30.17 0.net
>>19
And what's more is, Fukuda didn't even go to Mano's graduation concert — even though the other S/mileage members were all there.
21: 名無し募集中。。。 2016/01/16(土) 19:37:53.36 0.net
@erina_mano
Now listening to "Be Genki."

@erina_mano
And now "Rival." I just unconsciously felt like doing the hand movements of the choreography, but I'm on the train right now so I'm trying my hardest not to. (laughs)
26: 名無し募集中。。。 2016/01/16(土) 19:41:00.05 0.net
When did things first get sour between these two?
58: 名無し募集中。。。 2016/01/16(土) 20:05:14.70 0.net
One of them made the other cry behind-the-scenes of Hello Kitty and stuff.
27: 名無し募集中。。。 2016/01/16(土) 19:41:18.91 0.net
Mano-chan was bullied by the first generation of Eggs. (laughs)
28: 名無し募集中。。。 2016/01/16(土) 19:42:00.48 0.net
Apparently they were bullying her, going "why does someone like you get to have a solo debut?"
29: 名無し募集中。。。 2016/01/16(土) 19:44:55.15 0.net
Honestly, there were girls who could both sing and dance better than Mano-chan, so many of them must've been thinking "why her?"
32: 名無し募集中。。。 2016/01/16(土) 19:47:50.35 0.net
I like how it's Berryz Koubou that ended the cold war between them.
40: 名無し募集中。。。 2016/01/16(土) 19:52:52.75 0.net
Do they follow each other on Twitter?
30: 名無し募集中。。。 2016/01/16(土) 19:45:22.34 0.net
真野恵里菜(Mano Erina) @erina_mano
I have an emotional attachment to S/mileage. They were my back dancers when I first debuted and they helped a lot in getting everyone excited at events. They were a source of support for me. There were mixed feelings about everything back then and it was complicated so we didn't speak much, but today I feel grateful to them. They have my support.
31: 名無し募集中。。。 2016/01/16(土) 19:47:18.03 0.net
What a pain in the ass.
33: 名無し募集中。。。 2016/01/16(土) 19:47:56.82 0.net
46: 名無し募集中。。。 2016/01/16(土) 19:57:42.44 0.net
Mano Erina
I just randomly decided to look at some pictures of Kanon. She sure is cute.

Maro
At one point they were calling me a "child prodigy."

Mano Erina
Well, you did start your activities at such a young age. It can't be easy for a loli character to grow up… (laughs)

Maro
Yeah. I was in the Eggs for such a long time. Though funnily enough, other people who debuted earlier than me also disappeared way earlier than me… (laughs)

Mano Erina
It can't have been easy seeing your juniors reach the goal before you did… (laughs)

Maro
Yeah, like a certain crappy solo singer and stuff… (laughs) There's not a chance in hell I'm not the better singer… (laughs)

Mano Erina
Well said, back dancer… (laughs)

Maro
To be fair, most of the people in the audiences were there just to see the back dancers… (laughs)
Come on, I want to see a discussion like that.
64: 名無し募集中。。。 2016/01/16(土) 20:24:09.99 0.net
Man, I never knew how sour things were between Mano and Fukuda. I wonder if back then they just tried their best to avoid any contact with each other as much as possible.
47: 名無し募集中。。。 2016/01/16(土) 19:58:11.62 0.net
No wonder these two would get along considering how ill-natured they both are.
62: 名無し募集中。。。 2016/01/16(土) 20:19:56.12 0.net
They do have a shared disgust for each other.
74: 名無し募集中。。。 2016/01/16(土) 20:40:54.90 0.net
How about you two get together, have some drinks, and just talk it out like proper adults?
Source: http://colorhello.blog.jp/archives/1050067088.html