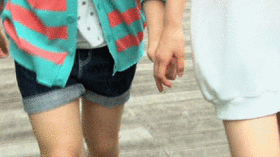 1: 名無し募集中。。。 2016/02/02(火) 00:21:53.77 0.net
My current girlfriend is a huge H!P fan (Airi wota)… I checked out some of their videos and I thought Momochi was really cool in Buono! My girlfriend is constantly asking me to attend a concert together, but I don't know… It seems scary…
2: 名無し募集中。。。 2016/02/02(火) 00:22:45.10 0.net
No one will be looking at you or your girlfriend.
6: 名無し募集中。。。 2016/02/02(火) 00:23:42.68 0.net
There's lots of couples in attendance these days.
8: 名無し募集中。。。 2016/02/02(火) 00:25:01.00 0.net
There are quite many.
Looking at them makes me pissed off though.
11: 名無し募集中。。。 2016/02/02(火) 00:26:16.33 0.net
When it's a couple, I always feel bad for the guy because he doesn't look like he's cheering for his oshi at 100%.
9: 名無し募集中。。。 2016/02/02(火) 00:25:28.46 0.net
>>1
There are some. Once every five concerts I'll have a couple sitting next to or in front of me.
13: 名無し募集中。。。 2016/02/02(火) 00:27:42.46 0.net
Your sort of case always leads to the guy in the relationship getting 10 times more hooked on H!P compared to the girlfriend. I've seen it happen tens of times before.
19: 名無し募集中。。。 2016/02/02(火) 00:32:48.59 0.net
Can't be helped if you fell for Buono Momochi.
She was so cute back then it was just unfair.
23: 名無し募集中。。。 2016/02/02(火) 00:35:55.94 0.net
Well, how about going once just to see how it is?
…Although I personally prefer just watching Blu-Rays at home.
27: 名無し募集中。。。 2016/02/02(火) 00:38:31.41 0.net
It's the perfect date plan.
28: 名無し募集中。。。 2016/02/02(火) 00:39:29.46 0.net
This board is no place for people who are in a happy relationship.
Go back to where you came from.
26: 名無し募集中。。。 2016/02/02(火) 00:38:22.51 0.net
I used to go with my ex-boyfriend and I go with my current boyfriend as well. My ex could find my oshi even from a 2nd floor seat and he'd praise her for her good singing — he even bought some goods! But my current boyfriend always looks really bored when we go together. I feel like I want to break up with him soon.
29: 名無し募集中。。。 2016/02/02(火) 00:40:42.45 0.net
>>26
I get what you're saying, but it's not good to force your hobbies on your boyfriend like that. We all have our likes and dislikes.
37: 名無し募集中。。。 2016/02/02(火) 00:46:07.62 0.net
>>29
I told him I'd be going to a concert on Saturday by myself, so I just casually asked him if he wanted to come along and he said he did. But then he just pouted throughout the concert. I told him we could leave if he wasn't feeling well, but he just insisted that we stay. It's not like I forced him to come along or anything, so the least he could've done is at least pretend to be a little bit interested. Sorry for the rant.
44: 名無し募集中。。。 2016/02/02(火) 00:49:09.36 0.net
>>37
Well, try imagining the opposite. Would you be able to genuinely have fun if you went to a baseball match with him and you didn't even know the rules of the game?
63: 名無し募集中。。。 2016/02/02(火) 00:58:17.95 0.net
>>44
Sounds like he came along of his own free will. It's not fair to be an ass about it if he actually said he wanted to go.
35: 名無し募集中。。。 2016/02/02(火) 00:45:47.62 0.net
I attend concerts with my husband, but he always gets all pouty as well. He always tries to pick fights with the wota sitting next to him, saying stuff like "your elbow bumped into me" or "you're too loud." He completely spoils the mood.
39: 名無し募集中。。。 2016/02/02(火) 00:46:57.47 0.net
>>35
Ah, I so get that. Let's just find people to go with on Twitter or something and leave our guys at home. Or let's just you and me go together.
41: 名無し募集中。。。 2016/02/02(火) 00:47:43.08 0.net
There's lots of guy/girl groups who are pretty much 50/50 guys and girls, but they're speaking in honorific language to each other so they might not actually be couples. Still: there's lots of people that come together in guy/girl groups.
46: 名無し募集中。。。 2016/02/02(火) 00:50:06.95 0.net
If they're speaking in honorific language to each other, they're just wota friends.
At the end of the day, coming alone really is the most comfortable.
51: 名無し募集中。。。 2016/02/02(火) 00:52:34.60 0.net
I already broke up with her, but my ex-girlfriend used to be more hooked on H!P than me even. I hear she occasionally still goes to their concerts.
57: 名無し募集中。。。 2016/02/02(火) 00:55:41.28 0.net
If you really want to have fun, it's best to go by yourself. Otherwise you'll be too busy to focus on the stage because you'll be preoccupied with worrying about whether or not the people you brought along are enjoying themselves or not.
65: 名無し募集中。。。 2016/02/02(火) 01:00:28.46 0.net
>>57
If you bring along light fans who aren't wota or anything, they never get that fired-up. Then you'll be worried about how they might find you gross if you yell out the name of your oshi or something.
71: 名無し募集中。。。 2016/02/02(火) 01:05:25.28 0.net
That's what happened when I brought along a light wota friend of mine to '14's Budokan concert. It was his first H!P concert in 10 years or so and he didn't know most of the songs. He was just staring at the stage looking all puzzled throughout the concert. It felt weird being super into doing the furicopy stuff with him just standing still next to me.
85: 名無し募集中。。。 2016/02/02(火) 01:18:35.76 0.net
When we're on this board and you put the question like you did in your thread title, you'll get people telling you this and that, and it might make you feel unnecessarily nervous. But the truth is, there's so many young people of all walks of life at their concerts nowadays. It's just a normal idol concert.
86: 名無し募集中。。。 2016/02/02(火) 01:19:49.09 0.net
This. There's a bunch of young people so don't worry about it and just give it a shot.
87: 名無し募集中。。。 2016/02/02(火) 01:20:25.67 0.net
You won't stand out at all. There have been lots of couples coming to concerts for the past few years.
89: 名無し募集中。。。 2016/02/02(火) 01:24:00.21 0.net
Girls will instantly fall for H!P if you introduce it to them. I don't know why, but it's just that first step that's hard for them to take. H!P just has that something that makes girls fall for them.
96: 名無し募集中。。。 2016/02/02(火) 01:28:12.24 0.net
>>89
They're kind of like Takarazuka in that sense. There's lots of girls who don't care about idols in general but are fans of H!P.
88: 名無し募集中。。。 2016/02/02(火) 01:20:49.99 0.net
Having seen some couples at concerts, it seems like it's usually the girlfriends who are the way more passionate fans.
90: 名無し募集中。。。 2016/02/02(火) 01:24:57.78 0.net
Well, it'd only result in fighting if the girlfriend felt that her boyfriend was more into idols than he was into her. Going to concerts would be out of the question in that case. It's only obvious the girlfriends would be more into it.
103: 名無し募集中。。。 2016/02/02(火) 01:37:29.32 0.net
>>1
25% of the people coming to H!P concerts these days are women. No one will bat an eye at a couple.
114: 名無し募集中。。。 2016/02/02(火) 09:29:50.16 0.net
>>1
°C-ute's concerts tend to have a fair number of couples. Sure, there's more girls coming in groups, but couples don't stand out at all either.
82: 名無し募集中。。。 2016/02/02(火) 01:15:18.94 0.net
I'm not sure what OP thinks is so scary. Just go for a family seat, relax, and watch the concert.
Source: http://helloprocanvas.ldblog.jp/archives/47698454.html