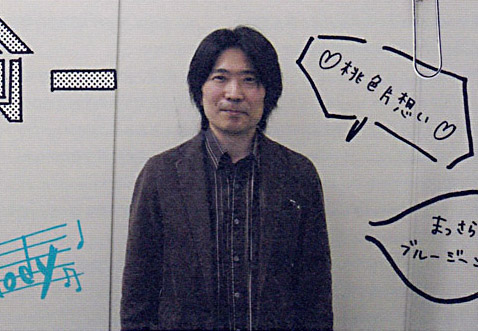 One of the supporting pillars of early Hello! Project: Takahashi Yuichi. He has worked on a great number of noteworthy songs, including Matsuura Aya's "Momoiro Kataomoi." What does he find important when it comes to the craft of music arrangement…?
— You began your career by releasing two solo albums, and then you also composed and arranged songs for other artists, right?

Takahashi: To be accurate: at the time, the arranging I was doing for other artists only extended to the songs I'd already given to Moritaka Chisato — the composition and arrangement went hand in hand. For artists other than her, I only contributed the melodies.
— What are your thoughts regarding your own solo career?

Takahashi: Well, I love singing, but it's not that I have much technique in regards to it, and I was like, "I'll just try to make my singing sound really atmospheric." I couldn't do anything special with my voice. So even back then, working as a singer-songwriter, I felt unsure of my singing and I thought I might be better suited for creating sounds and arrangements. That's when I started becoming interested in that aspect of music.
— So for you, it was almost inevitable that you'd end up doing arranging.

Takahashi: Looking back on it now, I think so, yes. I barely owned any equipment when I first began collaborating with Moritaka, but as I kept working with her, I learned about there being these things called "sequencers." In short, it's a piece of equipment used for music programming. I started buying more and more equipment and began to learn by trying it out by myself… and suddenly I realized I was having so much fun doing it. "Wow, I can do stuff like this, too!" I noticed I was becoming much more interested in creating sounds rather singing myself.
— Did you work on any other idol music previously to Hello! Project?

Takahashi: Not really — I was mostly working with Moritaka. I had a mountain of work that related to her so I just didn't really have the time to work with anyone else.
— How did you become involved with Hello! Project?

Takahashi: I believe I first helped out with "Morning Coffee." I played acoustic guitar on that.
— So you were an instrumentalist first; arranger later?

Takahashi: Well, I was just strumming on the guitar then — calling me an "instrumentalist" would be an exaggeration. (laughs) After "Morning Coffee" I arranged a couple of songs on their first album.
— I believe your signature songs would have to include Matsuura Aya's "Momoiro Kataomoi" and "Yeah! Meccha Holiday." I felt the arrangement of "Momoiro Kataomoi" in particular was very out there — it was impossible to predict what loomed even a couple of seconds ahead. Listening to it even now, I think it's just amazing.

Takahashi: Ah, I see. Personally, listening to it today, I feel like it was a little bit too much. But at the time, it felt like I had to take it that far — I stuffed as many ideas into it as I could, feeling that I had to create a sound that was different from everyone else out there.
— Why did you feel it was important to put so many ideas into that song in particular?

Takahashi: I wonder… At the time, it felt to me like if you wanted to actually stand out in the world back then, you had to have something that really left an impact — otherwise people wouldn't feel like listening to it.
— Was there anything difficult in regards to arranging this song?
Takahashi: You talked about how you felt like you couldn't predict what was going to happen in the arrangement even a couple of seconds forward. That is, indeed, how I was trying to make my arrangements back then — and not solely for that song. It was like, "Okay, I have two measures for the intro. Let's see… how many ideas can I possible put into these two measures?" And then I'd repeat that for the following four measures and so on.
— So basically you progressed from measure to measure.

Takahashi: And that's when tones become very important, too. It was always like assembling this huge jigsaw puzzle. By the time I'd finished the first chorus, I was completely beat. (laughs) Each arrangement would take me days to complete back then. There were so many ideas I put in that I knew no one would hear — no one but me would ever even notice their existence.
— Yeah. Like, the intro and the first bars of the actual song wouldn't even be connected anymore!

Takahashi: Oh yes, there were songs like that. Like, "why would you make this the intro?" But I just felt like if I didn't do that, it wouldn't be as much fun. That's why my works from that period were so challenging to do.
— Did you feel pleased with them yourself?

Takahashi: I felt like I'd managed to create something fun, yes. To my ears, songs like "Momoiro Kataomoi" sound like my own personal home recordings. Like, stuff I made at home actually took form. I mean, I played all the instruments on it, too. The mixing was of course done by the engineer, but still. That's what it sounds like to me.
— You have an image of being a guitarist first and foremost, but °C-ute's "Massara Blue Jeans" is definitely a bass song, isn't it?

Takahashi: Absolutely. That's how Tsunku♂ wanted it — he wanted that slap bass. It was originally programmed on my demo, but it was replaced with the real thing in recording.
— So it wasn't quite like that when it was still a demo?

Takahashi: It was a little bit milder in the beginning.
— This may be a silly question, but are the instrumentalists chosen by the arranger of the song?

Takahashi: If you have someone in mind who you want to play the part, you can put in a request. But often times I'll just as well ask the staff if they have someone they could recommend, and they introduce us to each other.
— How about Sasamoto Yasushi, the person who played bass on "Massara Blue Jeans"?

Takahashi: He was introduced to me by the staff as someone who has great slap bass technique.
— Berryz Koubou's "Semi" (from their album 1st Chou Berryz) is a very Beatles-inspired song. There are even some reversed tape loops in there, aren't there?

Takahashi: Those were my idea, but Tsunku♂ was a big fan of them, too. He then specifically asked me to use them during certain points of the song, and that back-and-forth process with him became a great deal of fun. I'm not a 100% certain if the order for the song as I originally received it was for it to have that Beatles taste, but to me it seemed fun to do it that way. Like, making something that was both programmed and Beatles-like. I personally love Ringo Starr's drum fills, so I tried to make the drums sound like that.
— W's "Robo Kiss" is another strange song. The programming is very unique and not at all techno-sounding, and that gives it some serious originality.

Takahashi: That's just because I didn't follow the rules of techno. (laughs) That was my own interpretation of the genre, so I guess from the viewpoint of someone who listens to a lot of mainstream techno, the song might strike them as sounding all wrong. But I just did my own thing with that arrangement.
— That's very characteristic of you. I think this could be said of most idol music today, but I feel like so much of it is created to just get the listener pumped-up, and as a result, a lot of it ends up sounding very similar. Most programmed idol music today sounds like that, so it's good that there's someone like you out there making something that sounds a bit different.

Takahashi: Getting listeners fired-up is indeed important — I understand why they have to put so much emphasis into the rhythm. But at the end of the day, I'm always more interested in the melody. To me, songs like "Robo Kiss" and "Momoiro Kataomoi" have a very 60's, Phil Spector-like image. I personally really liked that kind of sound, and I'm always looking for ways to include echoes of old pop music like that in my arrangements. But the beats don't sound the same today as they did back then, so I have to take that into consideration as well when I do so.
— THE Possible's "Young DAYS!!" is a song that still gets the audience excited even now. It's a good example of a song of yours with a perfect balance of rhythm and melody.

Takahashi: For me, my personal favorite songs naturally have good melodies, but I also appreciate when the arrangements have really cool counter melodies and stuff… In other words, I like songs that are very multi-layered. Those are the kinds of songs that I've always liked; the songs I've always listened to. So ideas like that are something I try to put into what I make as well. I may sometimes even change the original chords around a bit to bring out the melody more — I'm always thinking about how to get the melody across in the best form possible.
— How did an idea like the skipping needle thing in Bekimasu's "Makeru na Wasshoi!" come about?

Takahashi: That was Tsunku♂'s idea. One would have a hard time coming up with an idea like that if they were making the song on a sequencer. We recorded the instrumental as normal, and then we just made it repeat on the exact right measure.
— It sounds like the effect you used to be able to achieve with tape editing.

Takahashi: Right. Editing on the computer these days is so easy, so when he first asked me if I could do it, I tried, but I just wasn't having much luck making it sound like the needle was skipping. I tried over and over again but I just couldn't get it to sound like that. Simply giving one part an irregular time signature doesn't achieve the intended effect. You just have to do it based on your feeling.
— And ignore the sequencer.

Takahashi: Yes. You have to ignore it completely and cold-cut-and-paste it to really give it that effect.
— The songs you arranged for Mano Erina's More Friends Over are almost like the opposite of "Makeru na Wasshoi!" in how organic they sound. Was that the order for those songs as you first received them?

Takahashi: Yes. They wanted a ska beat, so I just used the standard band sound with a little bit of added brass. I like the good old band sound as well as the programmed sounds, and it feels like I really get to do both.
— Is there anything you do differently depending on the group you're working on?

Takahashi: I always have an order as to the type of arrangement that's wanted of me, so rather than me being conscious of the group, it's more Tsunku♂, with his original idea who has to think about his order to me in accordance to the group he's going to give the song to.
— Is there anything that's different when you're working on a Hello! Project song versus a song for another artist?
Takahashi: Well, things like the "needle skipping" and "inverse tape loops" — it's fun to work with a producer who's capable of presenting ideas like that. I hardly ever receive ideas as daring as those working with other artists. It gives me more stimulus as an arranger. Also, with Hello! Project, at the demo stage I'll often times be thinking "wait, are you really okay with something this simple?" But in the end when I hear the song with the singing and lyrics, I'm always surprised by how fun the song becomes. I mean, obviously the producer will picture the demo along with the lyrics in his mind when he's listening to it, but I can't yet hear it like Tsunku♂ does when I'm working on it. So often times I'm actually very surprised when I hear the song in its finished form. (laughs)
— Are there any songs that have particularly left an impression on you?

Takahashi: "Momoiro Kataomoi" left an impression. I still remember when I was making that. I felt like I was doing my best to make something like the Beach Boys. I'm pretty sure the way it happened was, I first made "Chu! Natsu Party" and then after that I was told to "just make another arrangement in the style of that one."
— So, while not a direct evolution, "Momoiro Kataomoi" was like a sequel to "Chu! Natsu Party."

Takahashi: That's right. I think it felt to me like an extension of that song's sound. There was this oldies nuance, so I thought to just make it sound a bit more Beach Boys-like. I remember just trying to include as many sounds like that on it as possible.
Interview & text: Namba Kazumi
English translation: Henkka