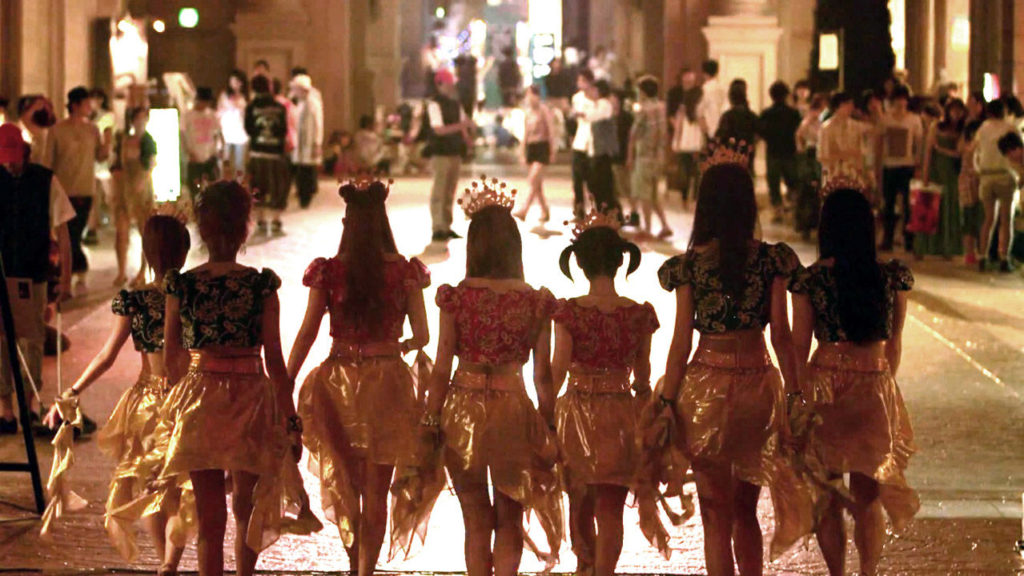 1: 名無し募集中。。。 2016/01/02(土) 23:39:08.35 0.net
It's been over nine months and I still can't get over it. I'm now a °C and Musume DD, but every time I go to a Hello!Con it's like "ah… Berryz isn't here…"
4: 名無し募集中。。。 2016/01/03(日) 00:00:34.80 0.net
I still haven't been able to watch the Blu-Ray of their final concert.
7: 名無し募集中。。。 2016/01/03(日) 00:08:41.86 0.net
Chinami Loss.
8: 名無し募集中。。。 2016/01/03(日) 00:10:56.51 0.net
I felt like I'd gotten over it. I even found a new non-Berryz member to care about and everything. I felt like I was fine, so I started watching the Budokan concert but I just couldn't and I turned it off right away. I can tell that even though I'm fine for the most part, I still have them hidden deep in my heart and it'll take years before I can truly get over them.
9: 名無し募集中。。。 2016/01/03(日) 00:13:08.52 0.net
I've had a hole in my heart ever since the day I graduated from being a wota.
11: 名無し募集中。。。 2016/01/03(日) 00:16:43.31 0.net
For the guys who were exclusively Berryz wota with no interest in H!P as a whole, Miyabi Factory is our only spiritual support.
15: 名無し募集中。。。 2016/01/03(日) 00:23:46.67 0.net
>>11
Yeah. Country Girls don't quite cut it, do they? Momochi's there, but they're nothing like Berryz. If anything, it's Buono who's closer.
17: 名無し募集中。。。 2016/01/03(日) 00:26:42.75 0.net
>>15
Yeah. I thought I'd root for Country Girls since Momochi's there, but I just can't seem to get that into them.
14: 名無し募集中。。。 2016/01/03(日) 00:20:36.43 0.net
I was solely dedicated to Berryz. I just had this emptiness in my heart, but I went to a nearby event just to see if any of my acquaintances were there and I ended up finding a member I liked. I do have fun supporting her now, but every now and then I still just feel so lonely.
18: 名無し募集中。。。 2016/01/03(日) 00:28:46.12 0.net
I'd lost interest in everyone else so I was dedicated to Berryz, but now after some months have passed I've settled down and am casually going to see other groups, too. I'm having fun, but it just feels so light for some reason. I might not ever fall for another group quite as hard as I did for them.
27: 名無し募集中。。。 2016/01/03(日) 00:43:24.48 0.net
It continues to be so bad for me I don't even have the will to live.
29: 名無し募集中。。。 2016/01/03(日) 00:44:10.75 0.net
There's no other group with as big of a presence as them.
They're dearly missed.
36: 名無し募集中。。。 2016/01/03(日) 00:48:50.12 0.net
I seriously wonder what all the Risako wota and stuff are up to?
I'm a Miya wota so I'm still doing relatively alright.
33: 名無し募集中。。。 2016/01/03(日) 00:46:40.85 0.net
That whole thing about someone else inheriting Berryz' "soul" is just crazy talk. It's not about "soul" or anything like that — it was just them messing about.
37: 名無し募集中。。。 2016/01/03(日) 00:49:08.19 0.net
Yeah. No one can imitate that recklessness. I remember seeing Chinami eating ice cream on stage in concert — it's times like that when I felt glad to be a Berryz wota.
48: 名無し募集中。。。 2016/01/03(日) 00:55:12.90 0.net
It hasn't been a full year yet, and yet it feels like it's been several years since I last saw them. Well, that could also be because H!P as a whole has changed so much within the past year.
61: 名無し募集中。。。 2016/01/03(日) 00:59:48.12 0.net
I'm glad to see Buono! restarting their activities as of late. They're filling the hole left by Berryz Loss.
65: 名無し募集中。。。 2016/01/03(日) 01:00:42.58 0.net
Even Buono! isn't good enough for me.
Only Berryz could heal my Berryz Loss.
71: 名無し募集中。。。 2016/01/03(日) 01:02:31.73 0.net
Buono! is a bit different from Berryz. I'm glad I still get to see Momo and Miya sing, but Buono! doesn't have the same kind of feeling of euphoria as Berryz.
82: 名無し募集中。。。 2016/01/03(日) 01:06:11.11 0.net
I wish they'd at least perform one concert a year on Tanabata. Just that one day a year — I'm not asking the impossible here.
93: 名無し募集中。。。 2016/01/03(日) 01:09:54.76 0.net
I understand the feeling of Berryz Loss, but I don't like how everyone's always going on about how they need to make a comeback. To me it feels like it'd negate what Chinami is doing with her studies abroad, or the paths Maasa and Kumai-chan have taken, or the new thing Miya is trying to do.
113: 名無し募集中。。。 2016/01/03(日) 01:16:26.14 0.net
>>93
I want them to make a comeback, but I also want them to succeed on their new paths as well. At the end of the day, if the members of Berryz are happy and having fun, that makes me happy as a wota.
215: 名無し募集中。。。 2016/01/03(日) 01:57:18.50 0.net
Kumai-chan has gone in a completely new direction. It'll be fun to see just how far she can make it. I'm surprised by how she already has a bunch of things lined up for her.
218: 名無し募集中。。。 2016/01/03(日) 01:58:22.34 0.net
I sincerely hope they all make it big.
223: 名無し募集中。。。 2016/01/03(日) 02:01:05.41 0.net
But the thing is, even if they do succeed at other things, it'll only make me go "yay, good for them." That's it. Nothing more. What I most loved — what I had the most fun following as a fan — was Berryz Koubou. I just really, really loved Berryz Koubou. Seriously.
111: 名無し募集中。。。 2016/01/03(日) 01:15:25.43 0.net
I never thought those cute little girls would end up becoming that funny — and I mean that in the positive sense of the word of course.
224: 名無し募集中。。。 2016/01/03(日) 02:01:17.74 0.net
I never thought I'd see an H!P without Berryz, without Michishige, without even Tsunku.
237: 名無し募集中。。。 2016/01/03(日) 02:07:53.31 0.net
It was only after they halted their activities that I realized: I'd been a fan of Berryz the group all along.
244: 名無し募集中。。。 2016/01/03(日) 02:10:06.74 0.net
>>237
Back when Berryz were still around, I was constantly looking at only my favorite member of the group. But now I understand that I liked my favorite member because she was in Berryz.
1. カラフル名無しさん 2016年01月03日 19:28 ID:ZYGhW.kh0
I get this so much… But I'm glad Berryz could end with all-Tsunku songs. I feel a bit sad seeing how °C-ute is now. As there are going to be more and more non-Tsunku songs in the future, the songs everyone get are going to feel more and more different from each other. I feel like Berryz dodged a bullet with that one. Well, maybe I'm exaggerating.
3. カラフル名無しさん 2016年01月03日 19:46 ID:MtmdlUDf0
I get what you mean. I'm glad our Berryz could graduate while H!P still barely felt like H!P (if you get what I mean). H!P still sings live, and there's still Ayacho and the members of  °C-ute and stuff, but nowadays there's nothing that sets H!P apart from any other idols out there.
2. カラフル名無しさん 2016年01月03日 19:42 ID:X.lNWyhB0
Berryz wota/Momochi oshi here. I'm glad Momochi stayed behind, but even now I'm just re-watching old Berryz Koubou clips. I loved all the other members individually, too, of course, but at the end of the day, I liked it the most when those members were all doing stuff together.
4. カラフル名無しさん 2016年01月03日 20:05 ID:utS4Xg3p0
Cuteness, coolness, and fun. Berryz Koubou combined all three things and they were the best idol group ever. There can never be a replacement to Berryz!
5. カラフル名無しさん 2016年01月03日 20:19 ID:X.lNWyhB0
I feel really sad when I think about how Berryz is just going to become one of those great groups like Melon Kinenbi who most future H!P wota — or even H!P members themselves — won't know about.
6. カラフル名無しさん 2016年01月03日 21:27 ID:d4GsUIga0
I really think Risako was the key. You can easily find out what all the other members are up to lately, but there's nothing on Risako. Still, my Berryz Loss isn't too bad because of the huge number of DVD's they left behind.
230: 名無し募集中。。。 2016/01/03(日) 02:04:28.80 0.net
I don't have much to do as of late, so I'm just going around and revisiting concert halls around the Kanto area that they performed at, trying to relive the memories.
8. カラフル名無しさん 2016年01月03日 22:00 ID:2WOSHV4i0
Weirdly enough, I now have much less of an appetite. Up until now I'd always be happily eating a lot, thinking to myself "man, Japanese rice is the best in the world." But nowadays, I don't even eat half a bowl. Maybe like 50g of rice or so. Everyone should try to enjoy their favorite group while they still can.
9. カラフル名無しさん 2016年01月03日 23:15 ID:Q0a9Oiwh0
※8
Serious reply: be careful about your health. And to everyone else as well who just vacantly spends their days doing nothing nowadays: I do hope you take care of yourselves.
13. カラフル名無しさん 2016年01月05日 01:01 ID:Nu5.Z6yj0
I'm relieved to know I'm not the only one still going through Berryz Loss.
14. カラフル名無しさん 2016年01月07日 01:41 ID:I7l7Wl1k0
Berryz Loss is not easy to describe in words. The first big thing is what >>1 mentioned: there's the Tsunku Loss, too. Those early Berryz songs… you could look all over the world and pretty much the only person out there who could've written those songs is Tsunku. Is it the euphoria? Sadness? Sentimentality? I'm not sure. But there was something about Tsunku's Berryz songs that just made your chest tighten.
And then you of course had the relationships between Berryz' members to go with those songs. It's like… just watching them making curry or playing cards on DVD magazines made you realize, "wow, it's pretty amazing that I'm able to watch these girls just grow up together."
And that, I think, was all that Tsunku really wanted to express.
It's true that the quality of current H!P songs is still amazing. But I no longer feel that I have to follow H!P — if I did, it'd feel like I was making light of how much those times meant to me.
Mmm. I can't really put it into words very well.
I guess what I'm saying is: Berryz Koubou was one amazing group.
Source: http://colorhello.blog.jp/archives/1049049157.html