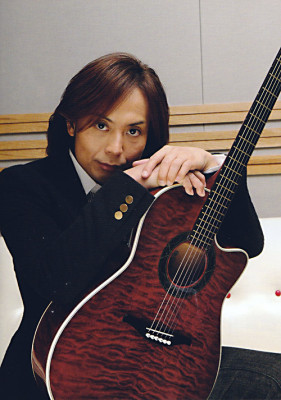 — You've just announced the second volume of your 4-disc compilation album Tsunku♂ Best Sakuhinshuu "Sharan Q ~ Morning Musume" commemorating your 15 years in the entertainment industry. How was it looking back on your work of the past 15 years?
Tsunku♂: Well, there were over 1000 songs I had to choose from — even I found myself thinking "wow, I really wrote a lot." But I have to say, having had the good luck of scoring many hits as well, compiling the hits among them made me feel the power of those songs rather than any nostalgia. At the end of the day, the hit songs are often the ones that sound the most complete.
— How has your songwriting style changed over the years?
Tsunku♂: Taking that image I have in my head and turning it into a song is something I was much slower at doing when I was younger. I'd have trouble writing the chorus or I'd struggle with coming up with the right riffs or phrases. But as the years went by with me working as a professional, I got better and more efficient at it. Now there are times I'll start by writing the chorus. That's one concrete thing that's changed about the way I work.
— So could you walk us through your average songwriting process? How do you do it?
Tsunku♂: Well, first I pick up a guitar and my portable recorder and record the idea I have so as to not forget it. Then I do a simple demo recording of the song by myself. Once I've nailed it down to my satisfaction, I give it to the staff and we do a basic arrangement of it. Then, once the song has taken shape, that's when I hand it to the arranger.
— How do you convey your ideas for the song to the arranger?
Tsunku♂: I'll pass them materials — sometimes I'll have them listen to some CD's for reference. "This is the guitar riff I want to have, and this is how I want the backing track to sound." "Give the bass drum a deep-ish sound, and use tones like this." I give them notes like that. Once they come back with an arrangement, we put it into Pro Tools, and if there's anything I want to change about its configuration, I do that. When the song is near its final form, I record my demo vocals, pass it onto the artist, record their vocals, and then I'll edit it to my liking. Those are the main steps to the whole process.
— Considering how insanely busy you are and the amount of songs you've written, how do you manage to come up with ideas for new songs?

Tsunku♂: I'm of course constantly searching for ideas. When I'm walking outside, watching the TV, when I'm eating out and there's a song playing on the radio — whenever I hear a song that catches my interest, I immediately look it up. But a lot of the time I just say "alright, time to get to work!" and I pick up my guitar and get to writing a song. I dedicate two or three days per week entirely to songwriting. The rest of the week, I just try to become inspired any way I can.
— Have you always composed on the guitar?

Tsunku♂: Yes, that's something that never changes. I never write songs starting with the rhythm track. I did feel like trying it once, but when you start with the rhythm track, it just takes such a long time to finish a song — though I realize that that is really the most fun method of writing songs. (laughs) But when I start having too much fun my productivity goes way down, and that's why I've decided that mixing is the only part of the process where I get to really "have fun." The Nintendo game "Rhythm Tengoku" has a lot of songs I wrote based on rhythm tracks I really liked though.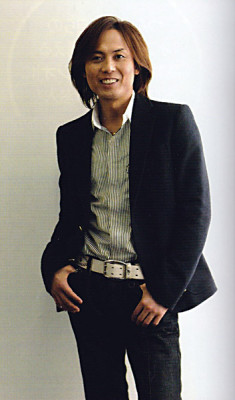 — When someone writes as many songs as you do, it must be very important to make sure of the effectiveness of your methods.

Tsunku♂: Right. Rather than spending too much time on the basic work, it's best to just have the idea take shape as soon as possible. That's when I start perfecting it. That's my style anyway. Of course, in my amateur years I'd record songs on an 8-track cassette tape recorder, with me playing the guitar or piano through lots of overdubs. But using that method of working, finishing a song would take me the entire day. And if you suddenly wanted to change the configuration of the song, you couldn't do it like you can with digital audio workstations these days. That was a huge source of stress for me.
— Was that stress something that was still an issue for you after becoming a professional?

Tsunku♂: When I started producing Morning Musume, their singing would usually be in the key of C or C#, whereas mine was 6 or 7 steps lower. So when it was time for me to record my demo vocals, I'd have to lower the pitch of the instrumental to have it match my key. Once I was done, I'd have to bring it back up. This is something we used to do with MTR's. It's a piece of cake to do these days with Pro Tools, but back then we'd have to lower the rotational speed on the MTR like crazy and I'd still have to sing the song in falsetto. Recording demo vocals could easily take me half a day. In that sense, the introduction of Pro Tools changed my method of working in a very big way.
— When did you first start using Pro Tools?
Tsunku♂: In the Morning Musume timeline of things, we started using it at the time of the second single, "Summer Night Town." There weren't a lot of recording engineers who knew how to use Pro Tools those days, and so we started trying to figure it out ourselves through trial and error. As we got to messing around with it, even its developers were surprised, saying "oh, so you can use it in that way, too!" (laughs) I mean, even if some engineers could use it, no one had really mastered it yet. So I just went "screw it, I'll just learn to use it myself then!" and I'd be doing the editing myself. (laughs)
— How did you use Pro Tools those days?
Tsunku♂: The sound quality of Pro Tools wasn't very good yet, so we'd be using multi-recorders like Studers or Sony's PCM-3348. We'd try to fit everything in around 48 tracks and then we'd use Pro Tools just to record the vocals. Since we'd sometimes be recording ten or more people in Morning Musume, it'd take up a lot of tracks — if each person was allowed three takes, that'd still require at least 30 tracks. So when we first acquired Pro Tools, we did so pretty much for the sole reason that it'd allow us more tracks. To improve the sound, we'd take what we'd recorded on Pro Tools and transfer it onto analog tape to give it some width and depth, and then we'd bring it back to Pro Tools once more.
— What mics do you use to record vocals?

Tsunku♂: When we were recording with the PCM-3348, we were using tube mics called Sony C-800G. It worked well with the PCM-3348 and could pick up the tiniest of sounds — it's a bit too sensitive to record lots of female vocals. The sound of Pro Tools was really mechanical and flat, so after we got it, we started using mics like the Neumann U-47.
— Since the recording method gave a really clear sound, you switched to a more analog-sounding mic to make up for it.

Tsunku♂: Yes. I think for any amateurs doing vocal recordings at home, it's really important to have a good mic and compressor. Even if you can't afford professional-grade equipment, at least get some type of analog compressor. It makes a world of difference. By the way, I personally use an Urei 1176 a lot. Also, again, even if you can't have a professional mic, at least use some kind of a condenser mic properly seated in a mic stand and use a pop filter — you'll be able to capture quite a lot of nuance.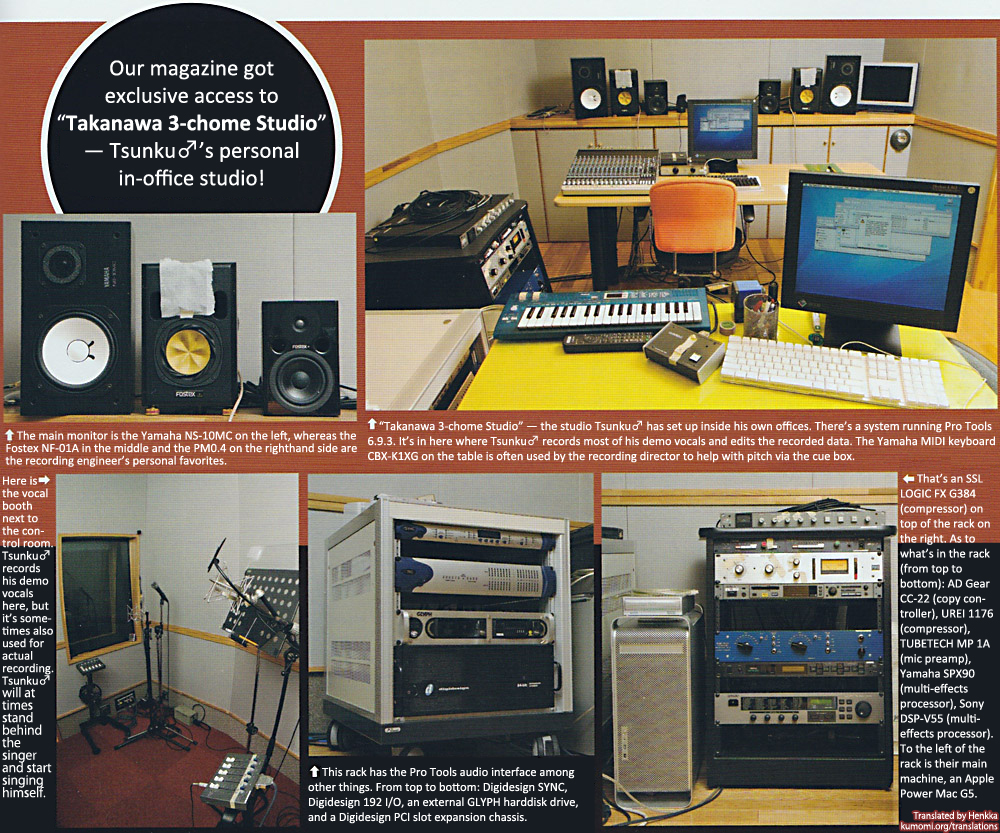 — By the way, when you're recording the singers, what kind of things are you mindful of as the producer?
Tsunku♂: When it's a good vocalist who's been singing for about five years, I just try to create an atmosphere that's comfortable for them to sing in. However, when I'm recording beginners in their early teens, I'll go "okay, why don't we start by doing some practice first!" — but I'll actually be already recording. It's best not to have children like that think too much in order to achieve a fresher-sounding end result. Also, if we're recording eight people for example, that means it's going to take us about eight hours to record everyone. If the recording goes on for too long, the girls won't be able to concentrate anymore. Since it's my objective to make the songs as good as they can be, I try my best to just get a good take out of them as fast as possible. I imagine that for people recording themselves at home, it must be difficult to have to act as their own producer.
— Yes. These days since people can do everything at home, it's easy to get so lost in it that they find themselves working through the entire night. It can be endless.
Tsunku♂: That's why with vocal recording especially, rather than working at it until the break of dawn, I think it's important to just aim to get that perfect take in two or three tries, tops. Nothing is more difficult than trying to be a fair judge of your own singing. While this is a relic of the tape era, even now if I'm recording a unit with more than three people, I set three good takes per person as the upper limit. No more than that. Two good takes, maybe a third just to be safe. If I decide to record any more than that, I delete one of the existing three takes. I never keep more than three — if I did, it'd make the editing and listening job later on a lot more difficult.
— Are you personally there to choose the best takes?

Tsunku♂: I'm constantly editing the song in my head as the singer is recording, like "we'll use this part but use another take for that part." I'm very detailed, down to the last bar or sometimes even the tiniest of sounds — like, I might say "let's use just the "o" sound of this take." I'll listen to the recording through the monitors and carefully write down notes as to the changes I want to make, like "raise pitch by 20 cents here" or "slow down timing by 30ms here." The stuff I can easily explain to the engineers I'll leave to them, but if it's something very nuanced, I'll do the editing for that myself.
— Is that technique of working something you started doing consciously?
Tsunku♂: No, it's something I just started doing naturally as I'm always thinking about the best ways to make everything more efficient. I think this is a new way of doing things — it's certainly not how The Candies' or Pink Lady's songs were made.
— Your works have featured a great number of different arrangers, such as Earthshaker's Nishida Masafumi, Morio Takashi, and Takahashi Yuichi. How do you choose which arrangers to work with?
Tsunku♂: Just like how I'm always looking for song ideas, I'm always keeping my ears open when I'm watching TV or listening to the radio with that in mind. If there's a song that catches my interest, I'll look up the person who made it, and if I'm curious about the arranger, I just contact them and ask to work with them. Marcy (Nishida) for example, since I'd always been a big fan of Earthshaker, I asked him to arrange GAM's song "Thanks!" and it came out every bit as well as I'd hoped. He's a rocker, and yet, he also has that certain wa in his heart. He made the melody on that song just wail.
— Since you yourself first started out as a band man, could it be that that sound strikes a chord with you the most?
Tsunku♂: Definitely. As long as the arranger really understands the concept of a 4/4 rhythm achieved with the drums, bass, guitar and piano, and they know the basics of rock and pop, it doesn't matter what sort of arrangement I ask of them — they'll always be able to pull it off. And they do it fast. But it feels like we might be the last of our generation… Many of the new arrangers simply don't seem to understand those things. If you ask people like that for arrangements, they all tend to have the same taste.
— What do you mean by that exactly?

Tsunku♂: Well, for example, say I ask them to make a rockabilly-like arrangement for a song. Sure, it might sound like rockabilly on the surface, but it will lack the essence of it — the soul of rockabilly. How should I put this… It's like, say you ordered a full course of Japanese cuisine, but then suddenly at the halfway point they'd bring you some pasta and then finish off with pizza or something — it's like family restaurant music. It's such a waste, too, because they already have the skills they'd need to make good tracks.
— Do you feel this way about bands in general these days?
Tsunku♂: For the people playing in bands these days, I think it's more important than ever for them to understand the foundations of rock and pop music. As long as you understand that, it doesn't matter if you use some programmed sounds or not — it'll still sound like rock, as it should. For example, say you're putting in a programmed horn section part with baritone and alto sax. If it was played by real people, the thing about low tone instruments is that their sound takes a while to build up — it's not immediate. But if you're just playing them on a synthesizer, both those saxes ring out right away, at exactly the same time. It sounds unnatural and just unpleasant. But the real question is: will you recognize if it sounds unpleasant or not?
— I see.

Tsunku♂: Same thing with the guitar. If you use a POD or some other amp simulator, you can easily achieve a Marshall distortion. And yet, a lot of the guitar sounds you hear on CD's nowadays is just fluff. But if you know the sound of the amp, you'll be able to recreate that sound with a POD if you want to.
— So it's important to know the sound of the real thing.

Tsunku♂: Like, with a band like Deep Purple for example, when you listened to them back in the day, you thought the distortion was just completely off the wall crazy. But if you listen to it now, it's not really all that insane. (laughs) In that sense, amp simulators sound clearer, and yes, they sound distorted on the surface. But the thing about Purple's sound is that the whole air around their songs just feels super sluggish. That is their appeal. To fully understand the sound you need to make good, solid rock, you have to understand funkiness. Without it, I don't think you'll be able to make proper guitar sounds. So the first thing anyone should do is try to imitate the sounds of their favorite artists.
— Should they try to use the same equipment as well?

Tsunku♂: No, it's not necessary to use the same equipment as the pros. It doesn't matter how you get there — just use what you have at your disposal, trust your ears, and try to make sounds. All that matters is the sound — though, of course, in that case it's guaranteed you're going to lose to the original artist. (laughs) But that failure is going to lead to your originality. In all likelihood, even guitar distortion was invented when someone was using the guitar in a way they weren't supposed to. The sound broke, but someone thought that sounded cool and it ended up on the record. People heard the record and went "how on earth did they make that sound?" and they studied it and it all took off from there.
— So it's important to not be afraid of failure.
Tsunku♂: Similarly with home recordings, you often hear something that just makes you go "how did they manage to create a sound like that at home?!" You really have to constantly have your ears open when you're watching TV or just walking outside and you hear a song. You have to always be asking yourself "how did they record this?" That's the most important thing.
(This interview was published in the January 2008 edition of SOUND DESIGNER magazine.)
Interview & text: Fuse Yuichiro
Photography: Noda Masayuki
English translation: Henkka
Tsunku♂ on the web: website, blog, Twitter, Facebook