One of the key personnel behind Morning Musume's EDM style ever since "One Two Three" — Ookubo Kaoru. It would be fair to call him one of the driving forces of Hello! Project today. But how exactly does he come up with those arrangements of his that are full of daring, deeply rich ideas? In this interview, we dig deep into the secrets of this talented craftsman! The first part of this interview was conducted for CD Journal magazine (2012 April issue) at the beginning of 2012, with a follow-up interview done in August 2013.
— How did you initially come to be working with Hello! Project?

Ookubo: It all started with my manager receiving a message along the lines of "do you have anyone working for you who knows how to do arrangements?" I think the first song I worked on was Morning Musume's "Mushoku Toumei na Mama de" (from Rainbow 7, their 7th album, released in 2006).
Manager: You forgot about the song you did in 2002 for Shinsaku Doyou Pops 1 before I became your manager (the arrangement on "Asa Hiru Yoru no Uta").
Ookubo: Oh, that's right. "Mushoku Toumei na Mama de" came after that. That song just had percussion, piano, acoustic guitar and the Chinese erhu… They told me they wanted it to sound like ethnic music. Right away I was challenged to do something I'd never even tried before…

— That must've been difficult. (laughs)
Ookubo: Making a song sound grandiose with those instruments was really hard. That was my first impression, working with Hello! Project — "man, this is difficult."
— I can't even imagine the sort of challenge that must've been.
Ookubo: Yes. But then again, even now it continues to be a challenge every time. Tsunku♂ keeps looking for something new; grooves no other group out there is exploring. He's someone who feels really strongly about whatever it is that he wants to be doing at any given moment, and I believe he doesn't worry about whether an idea is actually going to work or not — he just wants to have a go at it. And if a miracle happens and it does click? Well, then we might just have one pretty incredible song on our hands. A lot of the time when I begin working on a new song for him, the process starts with me thinking "…am I really going to be able to do this?"
— Could you give an example of one such song? A song that initially made you go "what on earth are you asking me to do?!", which ended up becoming a great song after all?
Ookubo: Something like Morning Musume's "Kimagure Princess" for example. There's Indian music and classical music and — well, that's already pretty messed up as it is. (laughs) And he wanted a groovy bassline, too. That was his order, to somehow have me merge those three things… And I was all, "Huh? You want me to mix those three?" But I just got to work on it, trying carefully to keep the balance between those things, while adding some live strings and all sorts of things… some electronic sounds along with live instruments… The entire genre of the song changed midway. I had no idea how it would turn out when we were starting, but once I heard it when it was done, I was like, "Ah, I see. Okay, that's cool."
— I feel like S/mileage's "Please Miniskirt Postwoman!" is another very unique yet moving song. The harpsichord in the intro really leaves an impression. Listening to the many songs you've worked on, I feel like this song actually has ties to a lot of them.

Ookubo: Could be. It's another song with a lot of different elements. It's like it has a verse and a chorus, followed by another chorus — it's like there are two separate choruses. That was a difficult thing to pull off well. When I made the initial demo, the first chorus flowed right into the second one with the same tone and all, but I was told I should be able to do something more with it.
— To make it stand out more?
Ookubo: Right. So then I had to try things through trial and error. Also, that harpsichord bit in the intro, that was actually very rock-like in the beginning. Maybe not quite Queen-level, but still, it was like "Dondonban! Dondonban! Dueeeen!" That's how the song was originally supposed to begin. Then it'd go straight into that girly thing until the rock-type thing would repeat once more at the end. It was supposed to be like two completely different genres fused together. That's the arrangement as I was originally making it. But then the lyrics and vocal melody were finished, and it was only then that I decided to go for the harpsichord thing instead.
— To make it more girly.
Ookubo: That's right. Tsunku♂, too, told me he preferred that idea. It was only at the very end when we decided to change the arrangement.
— What with songs like S/mileage's "Uchouten LOVE" and Mano Erina's "21seikiteki Renai Jijou," I get the impression that a lot of your arrangements are very rhythmical in a way.
Ookubo: Yes. Of course, the trend in music in general as of late has been that the tempos are faster. There's a lot more fast songs coming out. Ten years ago, songs that were 120 or 130 BPM were considered fast songs, and 140 was pretty much thought of as trance music. Nowadays, anything less than 150 or 160 doesn't feel adequate to listeners anymore. Listening to music from ten years ago, a lot of it tends to sounds slow. In Tsunku♂'s recent work, too, it feels like most of the single-oriented songs are the uptempo, energetic ones. Most of them are, actually.
— Would you personally like to do more slower songs?

Ookubo: I used to. Nowadays, though, I mostly feel that I want to respond to the listeners' demands. It's just fun making this type of music today. I like seeing just how much stuff it's humanly possible to put in one song. (laughs)
— Berryz Koubou's and °C-ute's "fusion" song "Chou HAPPY SONG" was just tremendous. Was there anything difficult in the arrangement of that song?

Ookubo: That was quite difficult indeed. When I was arranging the two songs separately, I had to have a guide melody during the bits that didn't have melodies in place. But even though I did, I'd find that there'd still be some clashing with the other song. Once I'd successfully managed my way around that, though, there was the problem of getting both songs to stand on their own even when separated. I was constantly merging and separating the two songs to see how they sounded as I arranged them. It was quite a straightforward, methodical process, actually.
— I thought "One Two Three" had a very cutting-edge, "cool music" sound. Were you trying to make it sound like Western music or K-pop in particular?

Ookubo: I wasn't specifically trying to make it sound like K-pop, no. But I listen to quite a lot of American poppy R&B, stuff like Chris Brown, Pitbull and Far East Movement. I feel like a lot of K-pop itself is trying to sound similar to that kind of American R&B stuff. As for the arrangement of that song, I built everything around the rippling synth chords and bass. Sidechaining was the key — so many of the sounds have sidechaining which gives the song that groove.
— Was there anything you were conscious about when arranging Berryz Koubou's "cha cha SING," cover of the Thai hit? I feel like it's more danceable and ethnic-sounding than the original.
Ookubo: I tried to make the beat stronger than in the original, which meant that it had to have more ethnic instruments, too, if we wanted it to have that "Thainess" about it. See, the original song didn't actually have that many ethnic instruments on it — it was the original singer, Thongchai's vocals that gave it its perfect ethnic mood. So when you have Japanese people singing the song in Japanese instead, I had to think about the right instruments to give it that balance as I was working on the arrangement.
— What is some of your favorite work you've done outside of Hello! Project?

Ookubo: The first thing that pops to mind is ELISA. I've done a lot of songs for her that in my mind really merge the uptempo feel with orchestral elements well. I'd be glad if you'd listen to some of those songs.
— You just have to have both elements, don't you?

Ookubo: I do. Right now I'm just not suited to limiting the sounds to as small a number as possible — quite the opposite, I'm more into cramming the songs as full of them as possible. (laughs) Like, right now I'm in a mode where, while I of course want to make the arrangements so that they really get the listener fired-up and all that, but I also want to use stuff like the talkbox. I guess I  just like using things that are a mismatch with each other.
— You want to have something in there that feels out of place.

Ookubo: I want to put things in and see if I'm told it's no good. Just like what I was talking about with my initial demo for "Please Miniskirt Postwoman" — I presented a demo and they wanted a complete opposite of that. Like, if I have someone who wants me to do a song with real drums and piano and strings and that kind of stuff, I'll bring them an arrangement that is all programmed sounds…
— The exact opposite of what they're looking for. (laughs)
Ookubo: If there's something I really want to try, I tend to send them my first draft of the arrangement. If I don't do that, then I'd be worried when doing my second draft. And, I mean, I'd be screwed if they hated my second draft. So first I just give them what I have and see if it sticks or not.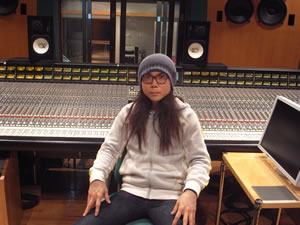 — To sort of test the waters; see what you can get away with?

Ookubo: Yes. Like, "hmm, maybe this is what they actually want?" First I just take it to an absolute extreme, and then when they tell me I've gone too far and they want me to turn it down a notch, I can better get where they're coming from.
— You work through gradual adjustments like that.

Ookubo: Sometimes I get it perfectly right on the first try, too. Anyway, it's something I do to understand the vision of the composer. I throw them a curve ball rather than trying to slowly get closer to what they want from me. Then if they tell me "sorry, but this is completely different from what I wanted," that really helps me in pinpointing what it is they're hoping to achieve. By this, I don't mean that I give them a rock arrangement for a dance tune or anything, but more subtle things, like the tone and stuff like that.
— Judging by what you're telling me, I'm guessing that's why your arrangements fit the songs so well.
Ookubo: Sometimes when I put in something that seems really out-of-place, I'll instead get them telling me they really like the idea. But if I didn't try any of that stuff, we'd be none the wiser. We would've never tried any of it in the first place. Also, I think it has to do with the times we're living in today. Nothing is forbidden anymore. At the end of the day, as long as the song reaches the intended result — if it sounds like an "energetic uptempo song" or a "sad song" or whatever — then it doesn't matter what kind of developments there are within the song. At some point I just started putting whatever I wanted in the songs. I mean, ten years ago I would've never even dreamed of using a talkbox for example. I would've been dismissed immediately. But now it's okay to have it in there. Sometimes the song is even cooler with it.
— So although you've worked as a professional arranger so far, now it feels like you've become able to express yourself more like an artist.
Ookubo: Right. We've now arrived at an era when I can put what I personally like into the music. It does feel that way.
— I'd describe "One Two Three" as a song defined by how it takes its time to arrive at the chorus, its strong synth tone, the bass line that doesn't match the vocal melody, and its relatively slow tempo — which are all things that don't really fit the current wave of idol music. Yet, it received much praise upon release. I wonder if seeing the positive reception gave you ideas as to how you should proceed with arranging the group? I was surprised hearing "Wakuteka Take a chance" and how you'd taken everything from "One Two Three" and taken it a step further.

Ookubo: To be completely honest, I wasn't entirely convinced about "One Two Three" after I'd finished its arrangement. I thought it was cool, but I felt like it was quite slow in tempo compared to the other 4/4 songs we'd done before. It was really only upon seeing the music video that I felt its true "coolness." Looking back now, the dancing really upped the song's wholeness for me. But in comparison, I felt very pleased with "Wakuteka Take a chance" from the start. The various changes in the instrumental before you get to the chorus and stuff, I felt like I did a pretty good job with everything in that song. I realized how songs that take their time to get to the chorus are pretty cool, too. It was a fun process, making that song.
— Compared to the average verse > pre-chorus > chorus song configuration, this song has a lot of parts which probably means you had to have an equivalent amount of ideas for all those parts. Was it difficult to think about so many different parts and making them into a complete song?

Ookubo: Beginning with "Wakuteka Take a chance" and songs that came later, it actually hasn't been that difficult. I felt like with that song I managed to break through my inhibitions. I felt like it didn't matter even if every part had completely different rhythms and tones — on the whole, it still sounded very complete. That made it a lot easier for me, and since then, I've become more willing to try out new ideas. "Let's just try this on for size." Although it can be difficult later on to make those ideas not clash with each other.
— How about those very low-pitch background vocals, or the chorus vocals with lots of voices layered on top of each other? Whose ideas were those?

Ookubo: For the most part, the basic ideas for the chorus parts come from me. I like to stack five or six voices together a lot. There's something about how well the chorus vocals can bring out the chord progression, and I'm quite obsessed about having the chorus vocals doing different melodies in the first half versus the second half of the song. However, I believe the low-pitched chorus vocals in that song were Tsunku♂'s idea. And me, I just like to pile on loads and loads of background vocals, so it's his call as to how much of them he wants to leave in the finished song.
— On "Help me!!" the tone and reverb on the drums change during the parts when Oda Sakura is singing. It's a huge change in the sound landscape. Was it your intention to basically have Oda stand out as much as possible during those parts?

Ookubo: When I'm arranging the songs I don't yet know who is going to sing which part, so naturally I didn't know Oda was going to be singing that part. It was, however, my intention to have those parts sound very different from the rest of the song, yes.
— When it comes to the voices during the intro and interlude in that song for example, are those usually your ideas? Listening to the song, they kind of sound scary in a way, and yet, so fresh, too.

Ookubo: When it comes to that type of thing, sometimes it'll be me offering ideas and other times it'll be Tsunku♂ in charge of the editing. It's case-by-case. Personally I just try to keep an open mind and suggest whatever ideas I may come up with.
— Compared to the three previous singles, "Brainstorming" was a lot more rocking with a faster tempo. It felt like a grand total of the three preceding singles, and yet, like a new step for the group as well.
Ookubo: Right. This song was supposed to have a more rock-like beat from the get-go. The previous three singles were for the most part in 4/4 time, so we wanted to really change it up. Anyway, since it was the fourth song in this style I figured it might be the last in the series, and so I put a lot of ideas in the song. As it turned out, though, the trend did continue with the next song.
— "Wagamama Kinomama Ai no Joke" — the song that followed "Brainstorming" and the one you figured would mark the end of the style — turned out to be anything but the end. Listening to it, it sounds like the kind of song that'd really get the listeners all worked up, even more so than past singles. How do you feel about this song now?

Ookubo: As to why you might think that about this song, it could be thanks to the driving bass drum on every beat and the fast BPM. Also, the groove brought on by the simple melody could be another big contributing factor. Sure, there are some more detailed notes in the verse and chorus alike, but none of them come at the expense of that 4/4 bass drum.
— Those strategically placed tom-toms leave quite an impression.

Ookubo: Those came about from Tsunku♂'s request to have just a little bit of an ethnic approach to the song. So then I asked myself, "hmm, what sounds ethnic?" As a result, I put in those toms in key parts of the songs, as well as those chorus phrases in the dubstep section of the intro.
— Meanwhile, "Ai no Gundan" is a real earworm with its voice and brass parts. The brass arrangement in particular is reminiscent of Juice=Juice's works. Did you receive advice as to how you should arrange this song?

Ookubo: I presented the idea of those voices with my own voice spliced with another sample voice in the original demo. In the actual song they were replaced by the members' blended voices. The brass, however, was a request from Tsunku♂ who wanted to make that the main feature of the song. I redid my demo of it several times to achieve the kind of thing Tsunku♂ hoped to have. It took an especially long time to get them to sound just the right kind of "edited."
— I think it's fair to say that you have a very characteristic way of employing strings in your arrangements, and I believe that in songs like "Ai no Gundan" or S/mileage's "Yattaruchan" you've managed to mix the songs with electronic music elements in truly a great way. Is there anything you try to be especially mindful of when using string instruments?

Ookubo: To tell you the truth, I've never been that conscious about anything in particular regarding the use of strings. That said, I feel like strings and those electronic elements bring out the best of both worlds. Like, the strings kind of feel out of place — in a good way. It makes for an interesting end result.
Interview & text: Namba Kazumi
English translation: Henkka
Ookubo Kaoru on the web: website