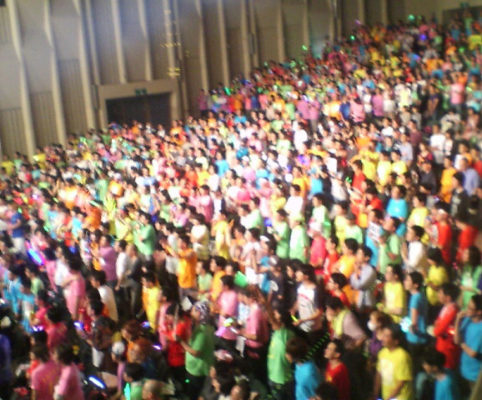 1: 名無し募集中。。。 2015/08/21(金) 10:53:27.32 0.net
Please do tell if I actually have anything to gain by doing so.
2: 名無し募集中。。。 2015/08/21(金) 10:56:09.75 0.net
It increases loyalty.
3: 名無し募集中。。。 2015/08/21(金) 10:57:42.53 0.net
Serious reply: it's just comfortable. Plus, when you wear one, you get into that wota mode as if by magic.
171: 名無し募集中。。。 2015/08/21(金) 13:46:53.27 0.net
>>3
That's true about the wota mode. It's sort of like what uniforms do for athletes.
185: 名無し募集中。。。 2015/08/21(金) 14:38:49.02 0.net
>>3
This, I think. Also, you feel glad if you see someone else besides you wearing a shirt of that less-popular member you both like.
6: 名無し募集中。。。 2015/08/21(金) 10:59:59.68 0.net
You get into the mood and it allows you to go nuts.
68: 名無し募集中。。。 2015/08/21(金) 11:38:01.90 0.net
I get to wear something pink, which is something I usually can't do.
9: 名無し募集中。。。 2015/08/21(金) 11:00:58.91 0.net
It's like those tour shirts a lot of bands have. You've come all the way to the venue — why not feel a sense of unity with everyone else?
22: 名無し募集中。。。 2015/08/21(金) 11:10:22.60 0.net
The members are happy if they see you wearing their T-shirt.
15: 名無し募集中。。。 2015/08/21(金) 11:07:43.22 0.net
But if you wear solo T's, won't other members of the group act cold towards you?
25: 名無し募集中。。。 2015/08/21(金) 11:12:23.19 0.net
>>15
Pretty much the only reaction I get from any of the other members is Kananan going "Marotesque this, Marotesque that."
108: 名無し募集中。。。 2015/08/21(金) 12:16:50.38 O.net
When in Rome…
41: 名無し募集中。。。 2015/08/21(金) 11:25:31.68 0.net
Do you ever get other wota talking to you because you're wearing the same T-shirt?
45: 名無し募集中。。。 2015/08/21(金) 11:27:23.65 0.net
>>41
One time, it was just me and this other guy using the toilets right before the performance was about to start. We were wearing exactly the same T-shirt so the guy laughed "hey, we're wearing the same shirt!" (laughs)
36: 名無し募集中。。。 2015/08/21(金) 11:20:12.39 0.net
There's a sense of security in knowing you're not alone.
49: 名無し募集中。。。 2015/08/21(金) 11:28:38.82 0.net
Something you guys need remember though is that people wearing the same T-shirt as you aren't your friends. They're your rivals in love.
50: 名無し募集中。。。 2015/08/21(金) 11:29:01.15 0.net
>>49
Gross.
114: 名無し募集中。。。 2015/08/21(金) 12:22:53.25 0.net
I wear mine around the house. As you buy more and more wota T's you get less and less chances to wear all of them. It'd be a waste not to use all of them. They're actually pretty durable, too.
118: 名無し募集中。。。 2015/08/21(金) 12:26:58.46 0.net
I wore my oshi's T-shirt to a company BBQ and the reaction was very positive. Everyone was all accepting of it, like "ah, so this is that thing we've been hearing so much about! (laughs)"
124: 名無し募集中。。。 2015/08/21(金) 12:33:11.74 0.net
I wore my Yurunyan gym uniform to New Fes, and at the end-of-performance handshake event, Yamaki-san and Inaba-san were both like "waahh, it's an Otomomochi!" Even Momochi herself was more hospitable towards me than usual.
142: 名無し募集中。。。 2015/08/21(金) 13:12:28.59 0.net
I once saw a guy wearing a Momoko T-shirt on the train, and for some reason I actually felt embarrassed.
116: 名無し募集中。。。 2015/08/21(金) 12:24:46.81 O.net
Just how amazing are the people who can wear their wota shirts of your shared oshi with pride and with nothing to hide, even in public streets or train stations? They show bravery — a kind of courage where even the helpful words of "just bring a change of clothes" lose their meaning. And they have a point: there is nothing to be ashamed about. Why? Because it's a combat uniform.
Seeing them walk with spring in their step, brimming with confidence, they appear to me as shining rays of sunlight; like superheroes.
Thus, I made a vow to myself.

One day I shall become one of these disgusting gentlemen.
Source: http://helloprocanvas.ldblog.jp/archives/45999423.html