Iida Kaori
August 8, 1981 — Hokkaido
1997/09/14 ~ 2005/01/30

Iida: You know, the "nee, waratte" in "Daite HOLD ON ME!"… That expression on my face was just me doing my best. I'm someone who is usually making no progress despite really trying my best…
— But you doing was something that became another hot topic for followers of the group.

Iida: Wada, our manager at the time, was coming up with all sorts of strategies to boost Morning Musume's popularity. He would always tell us to talk more so they would show us on TV for longer. So when we were appearing on music programs, that's what I would always be focused on — talking more. But it wasn't working… the cameras weren't pointed at me, so I felt like I was danger. "Oh no! They're not going to give me any airtime all!" And that's why I went too far. That's why I was established as being the "weird one."
— This time around, though, you giving it your all did produce results.
Iida: It came as a total surprise to me, too. That's why I decided to throw away my "orthodox idol" image and choose the screen time instead. (laughs) Tsunku♂ apparently felt that I didn't have to play the role of the comedian if I didn't want to, but it wasn't something I was really doing consciously.
16-Year-Old
Idol-In-Training
— I've heard that they had been considering making you the lead vocalist of the group's major debut single, "Morning Coffee."
Iida: The recordings for that song lasted two days. I recorded my vocals on the first day, and the next day I had to be back in my hometown of Hokkaido for school exams. But once I was done with my exams and I came back to Tokyo, suddenly Nacchi had become the main singer instead of me…
— That must have been source of shock and frustration for you.

Iida: No one ever told me, "if you go and take your exams, you won't become the main singer of this song." I managed to record a good take on the first day and so they sent me off with a "go and ace your exams!" So once I came back, it was just like this… "why?" I was going to school in Sapporo so obviously I had to go and take my exams, so then coming back and finding out I was no longer the main singer, and what with the cameras constantly rolling and everything… I didn't know what was going on. It just didn't make sense to me. I was so confused.
— You had been put in a situation that was so different from your life experiences up until then — it's no wonder a 16-year-old girl would feel confused under those circumstances.
Iida: I didn't know what was right and what was wrong so I couldn't even oppose to them doing that to me. Our debut had finally been decided upon, but everything was just constantly changing… It felt like I was on an endless rollercoaster ride.
— Did you not feel like quitting right there on the spot when they told you you wouldn't be the main singer after all?

Iida: It was a huge shock, yes. But on the other hand, I was still happy that we were going to have our major debut. So it was like I was half crying, half laughing — this mixture of sadness and happiness. It was a strange feeling. Still, I did want to debut, so I had to get over it and decide that I was just going to do my best as a backing singer.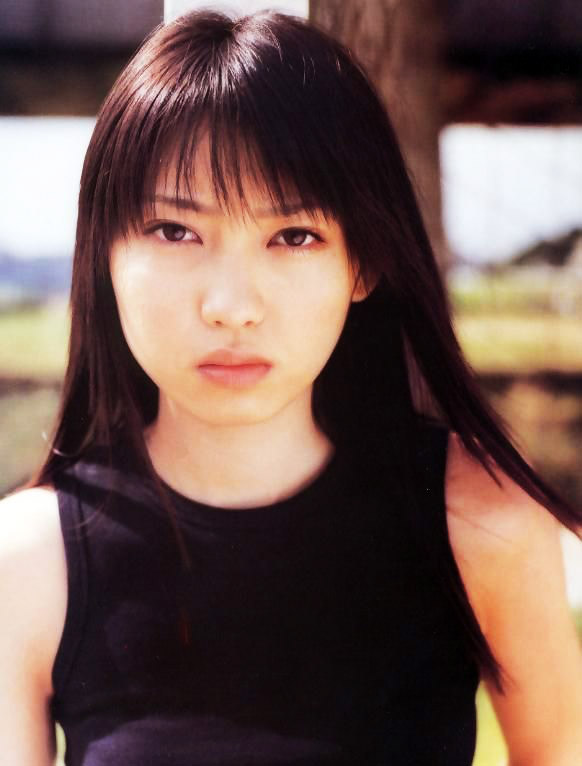 — You had originally taken part in a rock vocalist audition — I'm sure you were very eager to have a solo debut.

Iida: My mindset is very "peace-oriented." If someone tells me to do something, I just go "yep!" I accept everything right away. When I took part in the audition, they said it was an audition for a solo vocalist. "You want to be a solo vocalist, right?" "Yep!" But then they changed it. "Now we're going to have you debut as an idol instead." "Yep!" It was like that. (laughs) And then it was like, "now we're going to have you debut in a 5-member group — you're Morning Musume." And I was like… "Sure! Yaaay!"
— That's too submissive! (laughs)

Iida: That's why even when we'd get our new outfits and the other members would be looking at them all "… huuuh?," I would just go… "What's wrong with these outfits? They're cute! And we'll still get to sing the song all the same!" My way of thinking was perhaps a little different compared to the others. (laughs) When we were told we'd be releasing a photobook and the other girls were all saying "I hope we don't have to wear swimsuits…," all I could think was "… but we get to go to Saipan!"
— Seeing as you had a personality that allowed you to go along with everything so easily, did you still feel a sense of rivalry towards the other four?

Iida: No, I didn't. But the thing is that back then the ASAYAN staff would be following us around constantly, and they'd be saying stuff to try to stir things up. "Aren't you frustrated? You were supposed to be singing all by yourself, but now you can't!" Being told something like that, I'd start to think if maybe I should have been frustrated. But the truth is I was happy I got to sing with the other members. After all, the five of us had decided together that we were going to do it.
— You then received your major debut. Things were going great for you.

Iida: It was difficult. Though looking back now, that was only to be expected — I had come to Tokyo to work. But I was a 16-year-old who had moved to Tokyo from the countryside, and I was so busy that I had no days off. Or even if I did get a day off, it's not like I had any friends anyway, nor did I know where I might even go. Me and Nacchi were living in the same apartment at the time and we'd be commuting to work by train. I remember listening in on schoolgirls who were our age. They'd be talking about how they'd found someone they liked, or how they were going to Disneyland soon… It made me jealous when I heard them talking about things like that.
— Were you also homesick?

Iida: I didn't get to eat my mother's warm meals, and the apartment would be pitch black when I got back from work. It's supposed to be much colder in Hokkaido climate-wise… yet it felt like it was colder in Tokyo. I felt lonely.
— It was something you had yearned to become, but you discovered that this new life of yours wasn't all sunshine and roses.

Iida: Right. I had wanted to be an idol since the age of three. I loved Wink, and I just thought that if I became an idol I'd be able to wear pretty dresses all day, every day. But obviously I would take off the costume when I got off the stage, and I would still sleep in my pajamas. (laughs) I quickly found out that the time you got to spend in the limelight was much less than I had thought — the amount of time I'd spend doing lessons was many more times that. Back when the group had just been formed, we also had to do lots and lots of courtesy calls to all kinds of places. Wada and the five of us would be walking the distance between three train stations because he didn't want us to "waste money on train fares," and we'd be visiting closed-circuit radio stations to try and have them play our songs. I found out that being an idol was a lot more down-to-earth than I had imagined. But I actually didn't mind doing that sort of thing. It made me more determined.
— How were you able to overcome the troubles of this idol training that had turned out to be much tougher than what you had been expecting?

Iida: I could overcome it because even at that time we already had goals. Our first goal had been to get our major debut, and our next goals were things like getting our first Oricon number one and getting to appear on the NHK Kouhaku Uta Gassen. We managed to achieve those goals, one-by-one, and at some point we had no more left. So then we had to set even more goals — like getting our first million-seller. We continued to jump over those hurdles we set for ourselves and we just kept pushing forward. We didn't have time to stop.
— You were able to grow thanks to the group always setting these goals for yourselves.

Iida: Wada would be constantly presenting us with new assignments. We had no choice but to fulfill them. Me especially, being just some high schooler from the countryside, I felt that I had to do exactly as the grownups around me told me to — otherwise, we weren't going to be a success. I had complete faith in Wada, so I could accept his opinions right away. And even at times when we did fail, my thinking was just… "we'll do better next time."
— That submissiviness of yours must have been one of the keys to your success.

Iida: Some of it came just from me being so young. That's also why I had a hard time understanding Tsunku♂'s songs at the time. "Anata no ude ni tobikomenakute / sunetari naitarari shite" ("sulking and crying because I can't dive into your arms")… When I read lyrics like that, they'd just make me go… "Why not?! Why can't you just tell him how you feel about him?!" And with "Morning Coffee," I'd be thinking to myself, "why would these two meet specifically in the morning to drink coffee together?" I was trying my best to decipher the lyrics but as I had no experience with such things, there was no way for me to even imagine those situations. I had such a hard time trying to make sense of them, it'd make me panic. (laughs) It was only after I became an adult that I was able to understand what Tsunku♂ was trying to convey; to finally know the true depth of those songs.
— Was Tsunku♂ difficult to approach?
Iida: He made me nervous at first — he was someone I knew from seeing him on TV and he just had this amazing aura. But when I actually started talking to him, I realized: "This person is our ally. He's going to protect us." This industry is a constant battlefield, and yet there are still some people like him who will support you and try to help you grow. That's what made me feel so secure being around him. Once I realized that about him, he no longer made me nervous. To me, feelings of being afraid or being nervous are signs that I'm losing, and since he was doing so much to help me develop I wanted to try and eliminate feelings like that within me. I wanted to change the way I approached Tsunku♂. I wanted to think, "well, he got angry at me… but I'm still glad," or "I'm just happy we could see each and we're both doing well."
Just the other day, I rediscovered an old message from Tsunku♂ that he had sent me right around this time. It said: "You girls are all new to being idols and I'm sure there are lots of things you will find difficult. But I'm also new to being a producer and I, too, have so many things I have to learn from scratch. So let's do our best together, alright?" Rereading that message moved me so much. I feel that it was such a valuable experience for us to get to walk that road together.
— It sounds like you had a wonderful relationship. You both felt so positive about the future.

Iida: My motto in life is "love & peace." Oh, and by the way? Yuu-chan's motto is "eat or be eaten." (laughs) Isn't it funny how different the two of us are?! We both still feel the same way. Even now, Yuu-chan is always so aggressive towards her work. "Don't you forget: it's eat or be eaten!" She's always trying to push forward. But I can't help but be the fun-seeking type. Me and her can never reach an agreement when we're talking about these things, but we know each other so it's okay. We can be talking about the most minor thing and it'll always turn into an argument about this. It's almost become like a running joke between us.
— You're definitely not the type of person who would ever kick anyone out of their position or anything along those lines — it does feel like you picked a profession that you're not really suited for.

Iida: I know! What with my lack of a sense of rivalry and all… I mean, I can see how it's necessary to have that and feel that way even towards your juniors and all. But when it comes to myself, I just don't like it. The whole atmosphere when you're around angry people just tires me out. I think we had a nice balance — if everyone had been all "eat or be eaten" then the group couldn't have kept going, and if everyone had been like me then it would've instead made for a completely lukewarm group. We all respected each other. I think it was the perfect five members.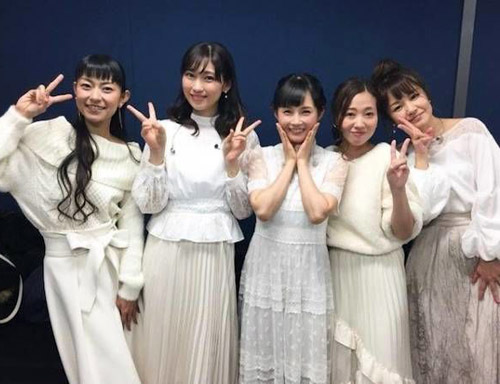 Everyone Plays a Role
— Other members seemed to not have liked it when you became an 8-member group upon the 2nd generation joining you. How did you feel about it?

Iida: I was just shocked by new members suddenly being added to the group. It was a first for us. Once they were in though, we'd be having fun because we were close in age… but our manager would then tell me off for doing so. "You're their senior, so act like one! You need to be a role model for them and teach them properly!" So that's something I would try to be mindful of.
I remember this one time when I was sharing a hotel room with Kei-chan and we got into a fight. "You can't hesitate just because you're the new member. You have to put yourself out there more." And so she screamed, "you don't understand how I feel!" Kei-chan is usually a peaceful and gentle person like me, yet things suddenly became heated between us just because of me casually saying what I said. That's something I felt sorry about.
— You tend to bump heads especially with the people you're closest to — you also had a strange relationship with Abe Natsumi, didn't you?
Iida: We're the same age, from the same city, and we were born around the same time at the same hospital, so there's a strange connection between me and her. That's why me and Nacchi were always together ever since the auditions. When we had to commute from Hokkaido, we'd always be on the same flight. There was a lot for us to talk about back then. Then, once we moved to Tokyo, we experienced pretty much all of our "firsts" together.
— You were the best of friends. That is, until…
Iida: There was a period of time when we were estranged. Looking back on it now, it's easy to see that it was over just the tiniest difference in perspective.
As an original member of the group, I was trying to look after my juniors and maintain a pleasant atmosphere within the group. Meanwhile, Nacchi had a sense of responsibility as she was trying to lead the group as its center. We didn't understand each others' feelings; the difficulties of me as someone who was trying to support the group from the sidelines, and the pressure that Nacchi felt having to carry the burden of being the center.
For example, I'd say "let's have a meeting — you can finish doing your make-up later." But Nacchi would think: "no, it's me who has to stand there in front of the cameras as the center — I'll do my make-up first and the meeting can come later." Neither of us was in the wrong; it was just two different viewpoints. But at the time, neither of us would concede to the other.
— Seeing Abe like that, did you not have an urge to be standing in the center position yourself?

Iida: For me, feelings of wanting to be in the center or wanting to be a solo artist are only a minus. But yes, of course I felt that way — in the beginning. But it wasn't so much that I wanted to be standing in that center position; I wanted to sing lots of songs that I liked. But ever since the day they took me out of the main singer role in "Morning Coffee," those feelings went away. After all, when it's a group you're talking about, it's not like everyone can be the center. A group becomes a group only when it has the back row and the members on the sides, too. I didn't have a problem with expressing myself from a position like that, and overall I really just wasn't very obsessed with the idea of "center."
— You didn't mind being in the role of the unsung hero.

Iida: Nacchi is someone who could turn the center position into a plus for herself. When she was in that position, she would shine even brighter. In my case, it's the opposite. It would've caused so many little cuts in my heart, I wouldn't have been able to bear it. If I was the center, I think I would be so worried with what everyone thought about me that it would just become too painful. I knew this about myself, so I realized I needed to get rid of my feelings of wanting to be in the center. So I did. And because I did, I was able to bring so many different sides of myself into the group. In that sense, I don't regret it at all.
— You and Ishiguro Aya seem to have similar ways of thinking about things — she actually referred to you as her "best friend."

Iida: I'm grateful to hear that. (laughs) Ayappe is older than me, yet she'd always be saying how she thinks of me as her "big sister." And I would always be telling her off. It's not like she wanted me to take care of everything for her… but she would depend on me a little. "I'm going to enjoy our work! Seeing as I'm in Morning Musume, I need to do my best!" That's what she was like, and maybe that's why we got along so well. But it's not just her — the original members all feel like family to me.
— But no matter how calm and composed you were, I'm sure you must have felt shocked when you learned about Fukuda Asuka's graduation.

Iida: We'd won the Best Newcomer Award at the Japan Record Awards and we even got to appear on Kouhaku, so I was thinking, "now we have to do our best and work together even harder!" When I thought about how she was standing there on stage together with me, even though I personally was feeling that way… it did make me a little sad. Still, it's Asuka's life so it wasn't like I was going to try and stop her. But I did have a strong feeling of, "if you're going to quit at such an important time for the group, then you better make sure you achieve your goals!"
Asuka was essential to Morning Musume, and in some sense, it was like she was throwing it all away. Still, it was the path she had chosen for herself so I hoped she would follow it through. Besides, I knew she wasn't the kind of girl who would've changed her mind even if I had tried to stop her. It was a conclusion she had reached herself, so I wanted to show her my support.
— Still though, she had made a decision that would have an impact on your life as well.
Iida: It's not like I didn't understand what Asuka was feeling. She was only 14 years old. It must've been so difficult being in the group and attending school at the same time, being unable even to see her friends. I, too, shared that feeling of just wanting to go back to being a student and enjoying my youth. The only difference between me and her was that, for me, the feeling of wanting to make Morning Musume into a success was even stronger. For Asuka, it wasn't.
Being One's Own Kind of Leader
— You made it through those times, however, and you reached stardom with "LOVE Machine."

Iida: I'd wanted us to become successful for so long, and yet, when it finally happened it didn't really feel like we were famous. We were constantly going back and forth between our homes, TV stations, and concert venues — we had no idea what status we held in society. Pretty much the only glimpses of it that we'd get would be when we were sitting in the car commuting somewhere. We'd peek through the curtains, notice a huge Morning Musume billboard outside, and we'd think "wow." Nowadays, I'm told by current idols how they used to collect our trading cards or how they'd buy our stationaries… but back then, we didn't even know we had merchandise like that.
— But you must have felt your popularity rising with the increase in the number of people coming to see your shows.

Iida: This really was so reckless of us, but we actually held the debut event for "Morning Coffee" at Yokohama Arena of all places. And just as you might expect, it was completely empty. Ever since then, it had been our goal to one day perform at a sold-out Yokohama Arena. So then when we announced three Yokohama Arena shows and they were all instantly sold-out… that's when it finally hit me. "We're popular. We have people who support us."
— With the increase in popularity, I would assume you also became equally as busy.

Iida: It was crazy. Even just doing three concerts a day would be tough, but then we'd spend all our breaks going through scripts for upcoming TV shows, or learning the dances to new songs… Our schedules were so packed with everything, it made my head spin.
— You had zero time to relax.

Iida: We also had our own TV show, and all the units, and Hello! Con… And whenever new members came in, we'd have to change formations… It was just constant memorization. Also, at the time we had this rule for some reason that whenever new members were joining the group, we had to learn the choreographies with them from scratch — choreographies that the rest of us had already danced hundreds of times before. That was tough.
— You did receive a rather nice part for "LOVE Machine" though, right?

Iida: The "DIAAAAA!"
— You were in the spotlight again, just like you had been with "nee, waratte."

Iida: That also wasn't a performance or anything of the sort — it was completely spontaneous. I was so desperate that it was visible on my face. I was just going at it so hard that I closed my eyes. The more I tried to look cute, the more my expression would look like that.
— The harder you tried, the more you would stand out in a bad way. (laughs)

Iida: It seems that right around this time Tsunku♂ realized: "if I try to have Iida challenge something new, it always results in something funny." To think that I'd thought of myself as an "orthodox" person up until then… Still, I'm very thankful to have received a spot to stand out in that great song.
— Not long after, Nakazawa graduated and you became the group's second leader. You must have felt pressured being the "second" while also having to keep up with training all the new members.

Iida: Right. I'd have to give them words of warning increasingly often. "Be sure to practice." "Make sure to greet everyone properly." But as I did, the members would be annoyed with me — they wouldn't say it, but I could see it on their faces. I was saying those things for their sake; for the sake of the group, and yet… It was like, "what even is my role in the group?" That was when I could finally understand the hardship that Yuu-chan had felt.
— Did Nakazawa give you any advice as to how to be a leader?

Iida: No, not in the least. (laughs) The day of her graduation, she just went "I leave it to you." That was it. That was so like Yuu-chan.
— Did you not receive any instructions even from the management as to how you should act as the leader, or as to what kinds of rules you needed to follow?

Iida: "Just be your own kind of leader." That's what they said. But being told something like that made me all the more worried. "My own kind of leader? What does that even mean?" The conclusion I reached was, if Yuu-chan had been a strict leader who would make new members shrink in fear, then I would be something different. By that point, Morning Musume's image had changed quite a bit. There were more young members and we were appearing on lots of variety TV shows, so I felt like I wanted to make it a fun kind of Morning Musume.
— You specifically decided not to follow Nakazawa's lead.

Iida: I never had Yuu-chan's leadership skills to begin with. I decided to try something else.
— And once you did, did you find that you were able to carry the role of the leader without much hardship?

Iida: It was difficult at first. Yuu-chan was an adult who everyone could depend on, whereas I was close in age to the rest of them and I was always so spaced-out anyway. I would be trying too hard because I was worried the members felt anxious about having a leader like me. But then one day, the members told me I didn't have to be so overly serious all the time. That allowed me to change my methods. I realized I didn't have to carry that weight all by myself; I could rely on the other members and assign them their own roles to fulfill. And once I did, I noticed how much better that system was. Everyone became more conscious of everything that was going on, and my juniors would actually be happy to notice how they were now being relied upon. They would be doing the things that were asked of them with enthusiasm.
— With everyone working together like that, it must have made the atmosphere within the group that much brighter.

Iida: It felt like everyone was constantly laughing. Our songs had become more cheerful as well, and when we were filming the music videos they'd often just tell us, "okay, now have some fun." That was the only direction we'd get. So it felt like it was in-sync with that aspect of the group, too.
— But when things in the group become that friendly, doesn't that make the atmosphere conversely too lukewarm and difficult for you to point out each others' faults?

Iida: It's not like I compromised on everything — of course I'd still teach them everything that was necessary for them to know. Especially when Tsuji and Kago joined, they were just such complete children… It was like, "Really? Is this, too, a part of the leader's job description?" They were such a handful.
— I've heard from your juniors, though, that the echoes of you properly disciplining them at the time is something that still lives on in the group even today.

Iida: I'm so happy to hear that. The 5th and 6th generation were such children, too. Me simply saying "you can't do that — come on, behave yourselves" would get them to call me "scary." I mean, geez! I wish I could've shown them how it was back when Yuu-chan was the leader! (laughs) But those same children would go on to get older and become the seniors who were leading group.
I remember once seeing Michishige giving a word of warning to one of her juniors. "Did you watch the rehearsal footage properly?" And I was just thinking, "those are the exact same words I once said to you!" It really touched me.
— Do you remember the specific situation when you said that to Michishige?

Iida: It was when she'd received a solo part for a concert performance. She herself felt that she was doing everything perfectly already, but her singing — among other things — was not up to scratch. So then when we were in rehearsal for that concert, she was singing terribly off-key and still looking all confident about herself. So I asked her, "did you check the footage from that last rehearsal?" She said, "no, I can already do it flawlessly." So I said, "well, just go check it anyway." Once she came back, I again asked her if she'd checked the footage. Her answer? "Yes. My hair looked perfect!" (laughs) That was such a "Michishige-esque" thing for her to say.
— I can imagine how exhausting it must have been trying to train someone like that.
Iida: And to think how that same Michishige would later go on to become the leader and ask her juniors, "did you check the footage?" It made me so happy seeing how those words of mine had been imprinted somewhere in the depths of her mind.
— There are answers one can only discover after they've kept going at something for an extended period of time. That's one of the great things about a long-lasting group such as Morning Musume.

Iida: I was myself an example of that. It's not like you can produce immediate results. First you work in complete obscurity, you worry, you keep growing… and finally you come to realize something. That's not to say, though, that even now — years later — I've ever once been told anything like "this was all thanks to you, Iida-san." (laughs) But that's okay. I'm satisfied if I've been able to leave even a tiny fragment of my thoughts behind for my juniors.
Morning Musume Is Always One
— When you graduated, did it feel like you were entrusting the group to your juniors?

Iida: I was the last member of the 1st generation to graduate, and even the staff around us had continued to change throughout the years… I was the last person left who really know the beginnings of the group. I felt a strong sense of responsibility about having to pass on that legacy to our juniors, so for the last six months before my graduation especially, I gave my all in teaching my juniors everything I knew. I tried especially hard to pass on everything I knew to the next leader, Yaguchi, but… well, things happened. (laughs)
Thankfully, Yossie had been paying attention to all of that as well. So I was able to pass the baton on to my juniors quite seamlessly. Morever, Yossie is the same type of person as me. We both do things at our own pace, and we both dislike conflict. Yossie really stepped up and did her best so I was able to graduate without any regrets. Sure, I was still worried and I wanted to offer my helping hand to my juniors. But I decided instead to watch over them as they grew.
— How do you feel about the current leader?

Iida: I've felt that Fuku-chan has just been working too hard, so the other day I sent her an email.
I told her that she could ask her seniors for advice; that it was okay to rely on us as much as she wanted. I told her that we're all comrades; a part of the same team. I told her that she doesn't have to worry about being somehow "better" than us — we're all just one Morning Musume. I don't wish for them to think of us as a hurdle they have to get over, because we're all eager to help them in any way we can, and the only thing we want is for Morning Musume to go on for as long as possible. Let's not compete amongst ourselves — we need to aim for something higher. The 41 of us are all connected, after all.
— That sounds like the very essence of "love & peace" — a theme that overlaps heavily with Morning Musume's 20th anniversary. Finally, I'd like to ask: what is Morning Musume to you?
Iida: It's youth itself. I gave seven and a half years of my life to it and I regret nothing — that's how valuable it is to me. Everything the group allowed me to experience; all the people I got to meet through it… To me, it's all priceless. I hope that's the kind of existence the group is for everyone else, too.
My Song
"Do it! Now"


Iida: It's a love song, and yet it has this unexpected lyric: "yume wa kanau yo / zettai kanau kara / yukou" ("your dream will come true / it will definitely come true / so let's go"). It just really resonates with me. At the time I could identify with that lyric so easily, and even now I really love this song.