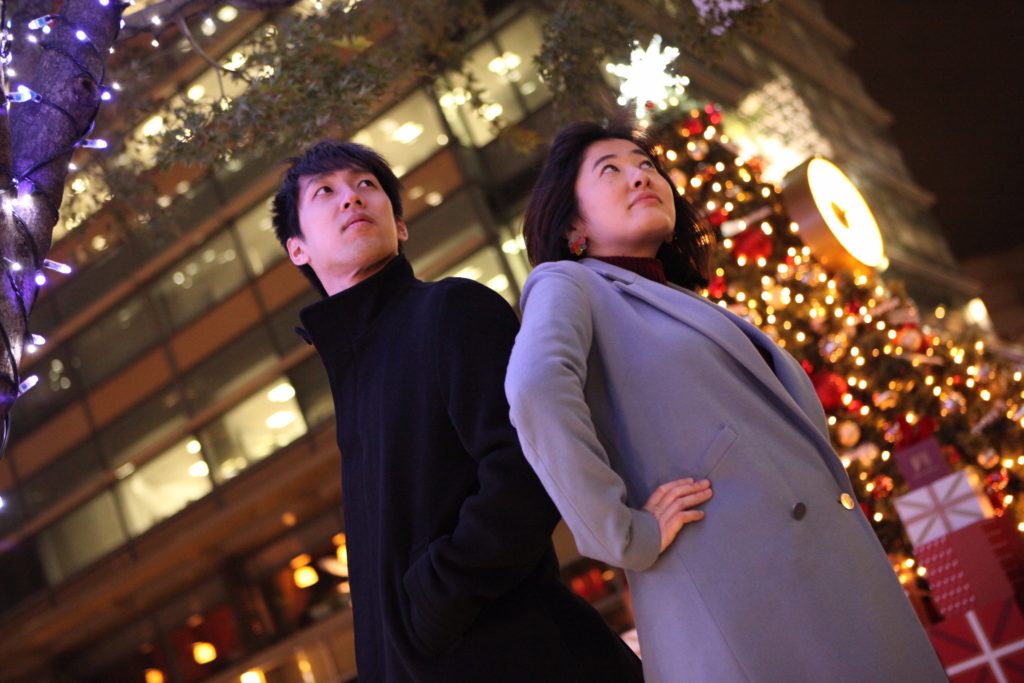 Part Nine: "I Want to Have a Shameless X'mas!"
Writers Yuzuki Asako and Asai Ryo
profile the lyrics of Hello! Project songs!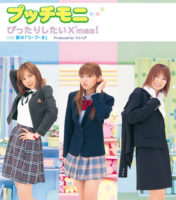 Song #1: Pucchimoni – "Pittari Shitai X'mas!"
(Tsunku/Tsunku/Maejima Yasuaki)
Yuzuki: Shibasaki Tomoka, the Akutagawa Prize winning author, said that she was hit by the sheer destructiveness of the line "atama no naka hotondo kareshi" ("my mind is filled mostly with thoughts of my boyfriend").
Asai: Right. That was the first time she'd heard the song.
Yuzuki: And remember: although the protagonist uses the word "boyfriend," she's talking about a person she's never even met yet!
Asai: Yes. "Rairaishuu ni wa kareshi wo kimetai" ("I want to find a boyfriend by the week after the next"). She's busy thinking about the mental representation of the boyfriend she has yet to meet.

Yuzuki: I don't think this girl is going to be able to find a boyfriend in just two weeks… Still though, her energy is amazing.
Asai: When you read the lyrics carefully, you'll see that the girl isn't even working part-time yet. She has all the time in the world. That said, I also don't think she's just your average high schooler either. I think she might be living alone, and that in itself already makes me feel bad for her. Because… "denwa tomarisou" ("my phone might be cut off"). Things are pretty bad if you can't even afford to pay your phone bill.
Yuzuki: Maybe she has a bunch of money to spend but she's just been wasting it all on things!
Asai: Well… I do have a feeling that she's a stupid girl.
Yuzuki: "A~n, jiman shitai mirai no kareshi kareshi~ kareshi" ("Ahhh, I want to brag about my future boyfriend boyfriend~ boyfriend")… (laughs)
Asai: I really love that punchline at the end. She becomes unable to say anything but that one word — "boyfriend." It's like something out of a horror movie. I'm pretty sure if this girl became a zombie, she'd be going "BOYFRIENNNNDDDD… BOYFRRRRIIIEEEENNDDD…"
Yuzuki: I'm a fan songs that aren't all "I'm so happy in love" but more like "I want a boyfriend." This protagonist specifically, you can just feel her sexual desire bubbling to the surface.
Asai: Is it really sexual desire though? I feel like this girl's desires are something a bit more… pressing.
Yuzuki: She goes wherever her desires take her. "Tomodachi no kare wa nazeka taishita otoko wo tsuretekonai… A~n, tsumannai!" ("My friend never brings any nice guys over… ahh, how boring!") I think it's great that she's so open about what she's looking for. I feel like so many of the people who are doing the whole marriage matchmaking thing are being sort of forced into it — if you were to ask them if they actually wanted to get married, I bet many of them would answer no. But not this girl — this girl really wants to find herself a boyfriend. (laughs) I really think people shouldn't even bother going to mixers or matchmaking dates unless they feel about it as strongly as this girl.
Asai: You do sometimes see people taking part in these group dates and you can just tell from their faces how they're asking themselves, "what am I even doing here…?" It feels like this girl isn't someone who would be having those thoughts.
Yuzuki: That's because people like that are forced to attend, having been engulfed by this male-dominated society. Not this girl though — no one is forcing her to go.
Asai: In any case… I really just love how she falls into that zombie-like mode at the end. "Kareshi kareshi… kareshi…!" ("Boyfriend, boyfriend… boyfriend…!")
Yuzuki: Also, the line "pansuto hakanakya angai hieru" ("I've got to wear pantyhose / it can get surprisingly cold without them"). That means the protagonist isn't a high schooler anymore at least — high schoolers don't wear pantyhose.
Asai: That part is sung by Kei-chan, right? She has that type of voice with a very audible "p" sound — that must be why she got the "pantyhose" line.
Yuzuki: "L O V E LOVELY Yasuda"… The other two get called by their surnames too, right? It's not just Kei-chan, right? Right?
Asai: Stop trying to find things that would make it seem like Kei-chan's being left out! Although, to be fair, often times Gocchin and Yossie would perform wearing shorts while Kei-chan was always wearing jeans or something…
Yuzuki: Idols often sing these cute songs where they're pretty much in love with the concept of "love" itself, but this girl… She doesn't even have a boyfriend, and yet! This intensity! This sheer madness!
Asai: Right. To the point where it's actually a little off-putting to us guys.
---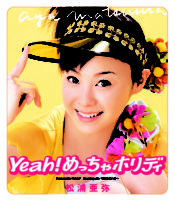 Song #2: Matsuura Aya – "Yeah! Meccha Holiday"
(Tsunku/Tsunku/Takahashi Yuichi)
Yuzuki: This song is saying the exact same thing as "Pittari Shitai X'mas!"
Asai: "Sungee mizugi" — what sort of an "incredible" swimsuit is that exactly? Like, something that one might expect Morishita Yuuri to wear?
Yuzuki: It's obvious though that this girl isn't going to find herself that boyfriend. "Joshitachi minna ga shoubu toki rival nanka nya makenaize" ("when girls decide to battle it out, none of us are about to lose to our rivals"). She's probably going to the beach with her female friends just to have fun comparing their swimsuits and stuff. I feel like romance isn't going to be finding her any time soon… but she seems like she's having so much fun anyway, so who cares? It still sounds like it's going to be a great summer for her.
Asai: This is the type of girl who will yell out things like "DOT DOT SLASH!" — I'm sure she's well-liked by everyone.
Yuzuki: Something about that energy of hers is similar to the madness I was just talking about.
Asai: Even just the impact of the title "Yeah! Meccha Holiday" alone… I'm convinced that she's wearing a straw hat, sunglasses, that "incredible" swimsuit of hers, and she's walking around holding everything beach-themed you could imagine, from a life ring to a butterfly net to an insect cage to a snorkel to a pair of flippers.
Yuzuki: That seems fun. Even when you find yourself thinking, "blah, there's just nothing good about the summer," once you see someone like that — carrying all these summer items with both hands — there's something about that sight that just makes you happy.
Asai: Same goes for "Pittari Shitai X'mas!," right?
Yuzuki: "Bleh, I have to work on Christmas…" But then you happen to see someone who's just going "boyfriend, boyfriend… BOYFRIIIIEEEENNNDDDD!!!," and it reminds you of how great a season it is. The awesome thing about people like that is how it's that passion that springs up from within them that causes them to take action. And in my opinion, you get that kind of thing with H!P the most. But the thing is that their passions are always so silly… It would be better if it was something more along the lines of, like… "I want to build a tunnel!," or like "I want to contribute to society!" (laughs)
Asai: "I want to finish building this tunnel by the end of the week!"
Yuzuki: "And have it opened to traffic by the week after that!" It's the passion.
Asai: Right. Whether someone has passion or not makes a world of difference.
Yuzuki: Exactly.
---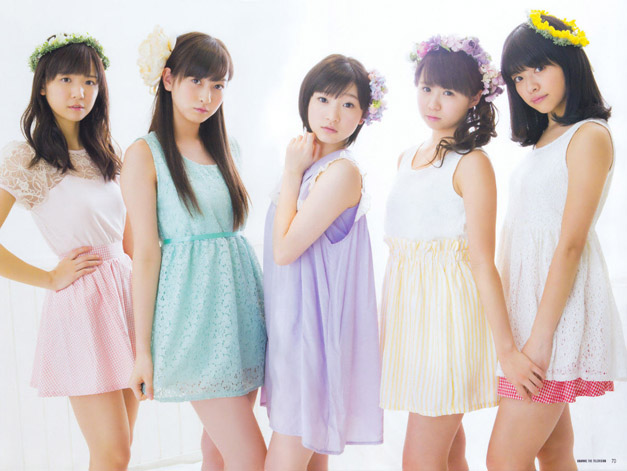 Juice=Juice and the Gratitude Society of Japan
Yuzuki: "Ai Ai Gasa" is a great song, but ultimately I just keep finding myself constantly humming "KEEP ON Joshou Shikou!!"
Asai: Juice=Juice's Budokan concert was amazing. They came across as artists; like they were betting everything on their singing ability. Oh, and the members were all sooooo grateful to the fans, too…
Yuzuki: Don't even start with that… (laughs)
Asai: Recently, just seeing them showing that type of "thorough" and "thoughtful" gratitude, it actually just feels more like they're doing it because they have to; like they're pressured into it. I mean, it's always the same thing you get at the end! "To everyone who gathered here today, to everyone at the live viewings, to everyone watching in front of their TV's, or on BS SkyPerfect, to everyone who wanted to come but couldn't make it today… And to all the staff who helped make this concert happen… And to everyone out there who supports us, you have our utmost gratitude!" It's like they have to thank every single person out there, like they're trying to prevent anyone out there possibly thinking, "What? No thank you for me? Even though I support them, too…?"
Yuzuki: You really do see a lot of that sort of thing these days. It happens even with us writers. "To all the bookstore people, to my editor, to everyone at my publisher, to all my readers…"
Asai: "To everyone reading this book at the library…"
Yuzuki: "To everyone who didn't like my writing but still took the time to read at least one of my books…"
Asai: "To all my readers who I might one day meet for the first time…"
Yuzuki: "To everyone who never read any of my books but still watched a video related to one on Nico Nico Douga…"
Asai: If you say thank you to one person, it's like suddenly you're obligated to say thank you every single Japanese person out there — all 130 million of us.
Yuzuki: I wonder what caused this current state of affairs? One of my friends told me about something incredible she happened to witness at a bookstore. There was an older guy there complaining to this female employee about how "your selection is lacking!" So then this busy-looking female employee actually stopped what she was doing, trying her best to somehow accommodate to this guy. Had this happened in France or somewhere else, the employee would've just told him off by saying "it's not my job" and that would've been the end of it. Japan is so service-oriented. Especially with things like book and music, it's like their popularity is all dependent on people's kindness. So it's like, if people such as that female employee were to just say, "Would you leave me alone, mister? I'm trying to do inventory here," she'd be met with a response that was something along the lines of, "You goddamn idiot! It's thanks to people like me devoting their sincerity and time that keeps your dying industry afloat!" So the employee simply has to stay grateful — as do we writers. It's like we're expected to be constantly bowing our heads in gratitude.
Asai: It's a competition to see who can bow their heads down the furthest.
Yuzuki: Those who can push their heads beyond even the lowest depths, win.
Asai: Seriously, all of the members were talking about how grateful they were. They looked wonderful while doing so of course, but really, it's just the members wasting time, using different words to say the same exact thing. I'm sure they had more to say; something only they could've said because of where they stood right then. That's what I want to hear! Maybe it's just my own selfishness speaking, but that's how it made me feel.
Yuzuki: How do we fix this? This… "gratitude hell."
Asai: Aarii was the only one who seemed like she wasn't quite as into it as the rest. It made me think, "Go for it, Aarii! That's the spirit!"
Yuzuki: Couldn't they all just act normal towards the fans? And by that I don't mean them acting arrogant or anything like that.
Asai: I want members who generally come across as being the most humble, appreciative, and considerate to sing "Pittari Shitai X'mas!"
Yuzuki: Those members singing "boyfriend, boyfriend… ahhh, I want to brag about a wonderful boyfriend!"… (laughs)
Asai: That'd be preferable to this, right?
Yuzuki: Sort of like with "Gatamekira." (laughs) I wish I could spread some of that shamelessness to like mothers who feel ashamed about taking space with their baby strollers or something.
Asai: Be it the moms in trains with their baby strollers, or the dads who feel pressured to not take any parental leave from work, it's okay for everyone to just be more shameless. Same goes for Juice=Juice — really, they should feel confident in thinking "we're standing here on the stage of Budokan because our performance abilities are just that amazing!" Because that's really how amazing they were.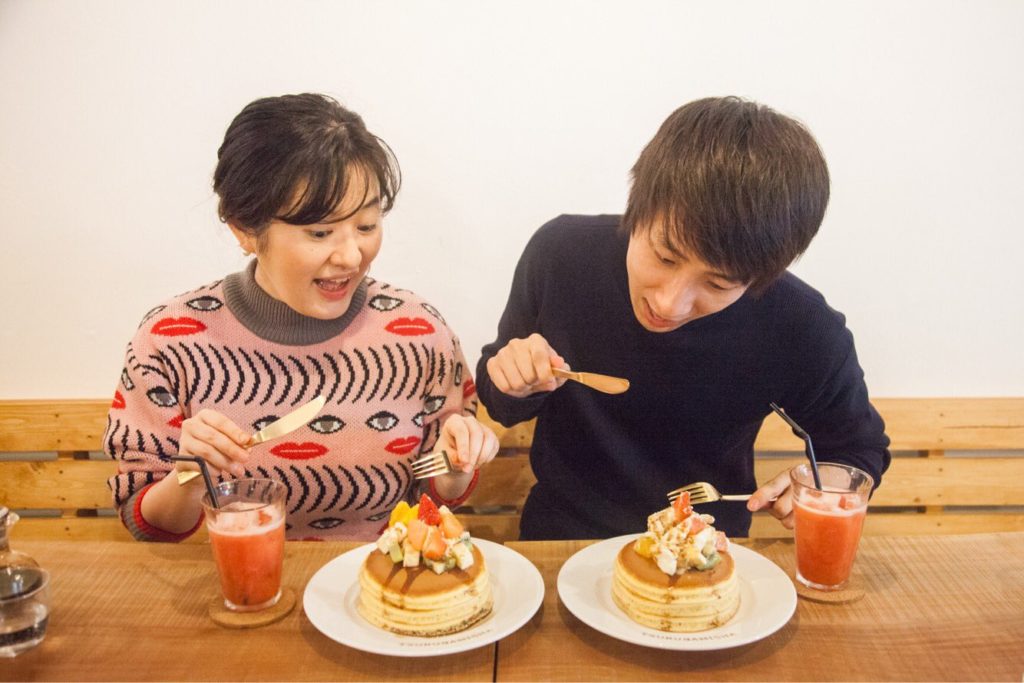 Yuzuki: A while ago I did this web interview with these two very young, stylish girls. I kept asking them all sorts of questions because they were so fun to talk to, and they started talking to me about this overseas idol group they were hooked on. Even the pictures from their Instagram accounts were all cool. You know how Japanese idols all have pictures of like pancakes and stuff on their Instagram accounts? Well, apparently, these girls would instead post pictures of like really artistic landscapes, followed by pictures of their hot boyfriends and stuff. In other words, what those girls sell to their fans is their art — while they're on-stage they sparkle, but off-stage, that's their private time. Meanwhile, Japanese female entertainers are targeted by the paparazzi so much that apparently they're even told to wear clothes that are kind of lame in their free time — if what they're wearing was too flashy, it might be a "turn-off" to the male fans.
Asai: Honestly, H!P is now at a level where they could just do their concerts completely MC-free — Amuro Namie style.
Yuzuki: Zuckerberg was talking about something like this. As it is an era where everyone ends up finding out about everything anyway, maybe living your life openly actually makes you look more trustworthy? Maybe that's how young people feel nowadays.
Asai: As long as your performances are great, nothing else matters.
Yuzuki: E-girls are like that, right?
Asai: True. I can't see there being any outrage even if they were found to have boyfriends.
Yuzuki: Ryuchel and Peko, too…
Asai: Come on, that's a bit different!
Yuzuki: To put it bluntly: living an honest and truthful life is going to earn you more support from the younger generations. I don't know — am I just spouting exaggerated nonsense here?
Asai: Well, this column is where we get to say whatever we please! It's not like we're saying how this or that is the "right" way of doing things — we're just saying how we think about things. So it's fine.
---
Song #3: Morning Musume '16 – "Sexy Cat no Enzetsu"
(Tsunku/Tsunku/Ookubo Kaoru)
Yuzuki: The title of the song is awesome. It's Hillary Clinton-ish — her concession speech was so H!P-like. "I know we have still not shattered that highest and hardest glass ceiling, but someday someone will and hopefully sooner than we might think right now." For some reason, these girls attending a seminar held at my alma mater apparently wrote a parody of HKT48 Nakomiku & Merumio's "Einstein Yori Dianna Agron" that was supposed to be like an antithesis to the original. The gist of it was like, "it's not okay to have nothing between your ears — so let's do our best." So then the H!P wota who saw that were like, "isn't this just an H!P song?" That's why I liked her speech — she saw that no matter how hard she was going to do her best, she was still going to lose to Trump. (laughs) So… I don't know the point I'm trying to make. Does that mean that I can tell that we're going to lose, too…?
Asai: I like Tsunku♂'s liner notes for this song. "A protagonist who makes a lot of excuses. There are things related to her future that she should be doing, but she does not. She thinks to herself, "ahh, if only I could turn into a sexy cat, I could make so much more of myself""…
Yuzuki: … What?! (laughs)
Asai: ""If only I could become someone I'm not, I could change myself." She's running away from herself. It's a story about her growing up and eventually realizing that she's ultimately going to have to change all on her own." What — are you going to sit there and tell me you've never wished you could turn into a sexy cat?!
Yuzuki: No! That's like the "iroppoi onna ni naritai" ("I want to become a sexy woman") thing from "Iroppoi Onna ~SEXY BABY~." But is this protagonist really not popular though? I just don't see it. Don't you think she's saying rather that she wants to become like Catwoman portrayed by Michelle Pfeiffer in Batman Returns? I think it's not so much "sexy" that she's after — she wants to be invincible. "Ayashii yoru no nioi" ("the scent of a dangerous night") — that's Gotham City!
Asai: Well, it certainly doesn't sound like any Tokyo that I know…
Yuzuki: The intro is so cool, right?
Asai: Odasaku in the music video looks like a cat of about a million cats concentrated in one. Just try watching her when she tells you "honki de idomeba kateru no yo" ("I can win if I truly give it my all") with her arms crossed.
Yuzuki: It makes you feel like you really will win if you give it your all. That's again a very Hillary-like thought… which is to say, in other words, that you're going to lose. (laughs) No, but really, I gained a lot from her concession speech. What is one to do? I think the lesson here is, if you're going to end up losing anyway, you might as well try to live your life beautifully before you do.
Asai: I'm often reminded of the words of Jean Cocteau as of late. "Life is not about whether you live it correctly or not — it's about whether you live it beautifully or not."
Yuzuki: I read Yamazaki Nao-cola's "Utsukushii Kyori" which is a wonderful book about how a longer life doesn't necessarily mean a better life. This song, dealing with the theme of victory and defeat, is similarly beautiful. It's both about the same passion.
Asai: I suppose if it's between "correctness" or "beauty," the passion would be with the latter.
Yuzuki: I want to choose beauty.
Asai: I want the strength to be able to choose beauty.
Yuzuki: "Yada yada to ittereba yononaka ga kawaru nara hitoban sakebu wa" ("if complaining about things could change the world, I'd be shouting my complaints all night long") — this line reminded me of Lady Gaga with that sign of hers saying "love trumps hate." (laughs)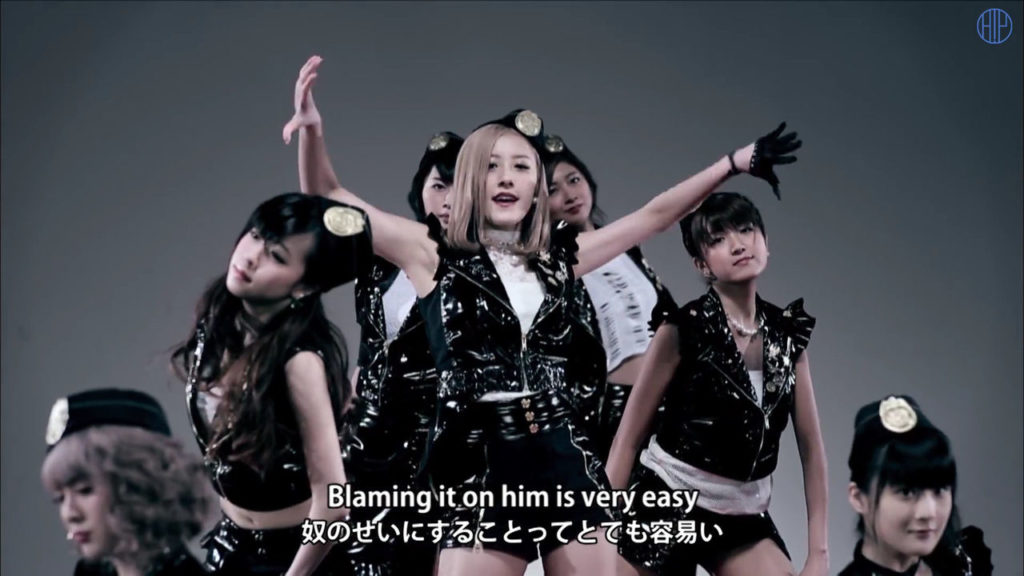 Asai: Aren't those lines in their stylishness a bit unusual for Tsunku♂? I know that's rude of me to say, but… Anyway, these two lines in the first and second choruses: "asa kara narabu wa" ("I'd line up first thing in the morning") and "hitoban sakebu wa" ("I'd be shouting all night long"). It reminds me of "The☆Peace!" and how in the first chorus it goes "senkyo no hi tte uchi ja naze ka touhyou itte gaishoku surun da" ("on election day, for some reason, we always eat out after voting"), and then in the second chorus it's "tasuuketsu ja kimerannai no wa renai no etosetora" ("one thing you can't decide by a majority vote is matters of love"). First introducing the word "election," and then later talking about how you can't use something like the "majority vote" when it comes to the subtlety of human emotions… That was so great to me. These are the kinds of lines that make me stand proud and think "look at what our Tsunku♂ is capable of!" In any case, the message of the song is: it's not all about the end result. It's about carving out your own future with your own strength, and enjoying life in the process. I think it's a really, really, really good lyric.
Yuzuki: It's not about whether you win or not — what's beautiful is trying to get there.
Asai: Marrying a rich guy and becoming a housewife is not happiness. What's important is you yourself creating your path in life. If, however, through doing that you discover that being a housewife is your path, then it's alright.
Yuzuki: This girl isn't going to marry a rich guy — she wants to become a sexy cat! (laughs)
Asai: It also reminds me of "Kimagure Princess." That song is a story of the girl who only cared about the end result, and she got exactly what she wanted. She married her "prince" ("ouji"), and now she consoles her "lonely heart" ("samishii otomegokoro") by "distracting herself with sweet movies" ("amai eiga de gomakashi"). My theory is that that girl has the sexy cat as her pet.
Yuzuki: Yeah, this song is like the antithesis to "Kimagure Princess." The song of the stray cat. There's three members in the music video dressed as cats, right? Even the fans who were initially excited about the whole "Sexy Cat" in the title must've went like "…huh?" when they actually saw it. Because there's nothing moe about these cats.
Asai: It couldn't be further from the members just wearing some cute cat ears or whatever. You get that combative feeling even from the choreography alone.
Yuzuki: The choreography reminds me of old Destiny's Child.
Asai: I liked Paipai Dekami's opinion of the music video. "That city doesn't look like it has very good public order."
Yuzuki: Honestly, even the title alone makes me happy. How often do you see the word "enzetsu" ("speech") in an idol song title? (laughs)
Asai: And it really is a speech.
Yuzuki: "Kouritsu waruku isogashii dake, kekka mo dasezu ganbatta ki de mirai no yume dake kataru wa ii keredo" ("busy doing nothing, pretending like you're doing your best while producing no results, talking only about your dreams of the future — I guess that's fine, but…") I know a few people who I'd like to sing those lines to. (laughs) It's pretty much what Tonegawa in the film Kaiji: Jinsei Gyakuten Game says. "You people are here because you are authentic, grade-A pieces of trash who have continued taking the world for granted over and over again; losing and losing your entire lives. And trash by its nature has no rights whatsoever — whether it's here on this boat, or outside of it…"
Asai: Doesn't it feel like Tsunku♂ has been writing lots of lyrics along those lines as of late? I'm thinking of "Tokyo to Iu Katasumi" and the line "uragirareta toka kekkyoku iiwake de suki ga attan da ne" ("saying you were betrayed is ultimately just an excuse — you left yourself open to it").
Yuzuki: Thinking about it like that, it might be that we can swallow a lot of what is in the lyrics only because it's Tsunku♂ who's saying it. Even with the Kaiji thing — because it's Kagawa Teruyuki reciting those lines, we can go "okay, I see what he's saying…" But if it was Trump saying it…? (laughs)
Asai: The great thing about H!P is that it doesn't feel like they're being made to say any of these things. It actually feels like they all stand behind the message of the lyrics.
Yuzuki: It's actually amazing, the level of the things they have them sing and how it still doesn't feel like they're being forced in any way.
Asai: They're like athletes, through and through.
Yuzuki: I think it also depends on the person though. (laughs) Some time ago there was that minor uproar in regards to a certain idol's SHOWROOM broadcast… But, first of all, they can't do anything to protect those girls if something was to happen on-air. Secondly, it also eats into their private time. If other members are doing it and there's a demand, it's not like they can just say "no." I'm sure that, rather than doing a broadcast, some members would prefer to use that time on sleeping or practicing or reading a book or something. This sort of goes back to the thing we were talking about earlier: if everything becomes a customer service competition, that's going to eat into the fans' time, too. In the 80's they did this "Star Trek" skit on "Saturday Night Live" where Captain Kirk (William Shatner) preaches to this group of Trekkies. "Get a life, will you people? I mean, for crying out loud, it's just a TV show! You've turned an enjoyable little job that I did as a lark for a few years into a colossal waste of time!" That's pretty much what Mano-chan also said to her Mano Friends. (laughs)
Asai: Ayaya, too, said something similar during a concert MC.
Yuzuki: "Don't chase after me too much." "When I get married in the future, you better not get angry at me and be all "this traitor, becoming all happy by herself…!" It's your job to make sure that you, too, are happy when that time comes." That's what she said.
Asai: Ayaya is such a kind person. On first glance some people might take those words to be hurtful towards them, but really: her saying that is actually the highest form of kindness someone in her position could ever show to her fans.
Yuzuki: Mano-chan, too, said something similar as Captain Kirk. "You're often telling me how I've gotten older. But just so you know: you've all gotten older, too!" Anyway, it really is a problem when you're chasing after someone to the extent that you end up spending all of your time and money on them.
Asai: A problem for both you and them.
Yuzuki: Now there's so much content that it doesn't matter how much time or money one has — you can never have never enough. That's when it becomes difficult to forgive even the slightest of mishaps. If you were in their position, you would understand what they were going through perfectly. On this point, the girls we're cheering on thankfully don't have that many media appearances. We'll go to their concerts and we'll look forward to watching "Hello! Station" once a week… and that's it. This gives a proper balance and rhythm to the time we spend on them, and it allows us to not have to be so dead serious when we're thinking about them. For me, H!P and kabuki is enough in terms of hobbies.
Asai: Now that you mention it, there's something that's similar about kabuki and H!P. Like, the camera slowly fading in on Odasaku as she's holding up her microphone…
Yuzuki: Another similarity is the capacity of Nakano Sunplaza and Shin Kabukiza Theater. Maybe they're just the right size. I also think it might've been a good thing that the internet wasn't yet as prevalent during the Golden Era… Back then it was all about just watching "Hello! Morning" on Sunday mornings pretty much, right?
Asai: Ah, "Hello! Morning" — the show with the skits that weren't actually all that funny…
Yuzuki: Hey, they made me laugh quite a bit!
Asai: They'd always make Kei-chan play the grandma character.
Yuzuki: I remember watching her and thinking to myself: "You people just watch. Watch this perfect diva. After they've all graduated, this girl will end up becoming the most successful singer of them all!" (laughs)
Asai: Not this again…!
Interview & text: Takaoka Hiroshi
Photography: Katano Tomohiro
English translation: Henkka
Asai Ryo on the web: Twitter
Yuzuki Asako on the web: blog, Twitter