The Dark Age of Idols —
A Time of Individual Refinement…
And Their Destination of Arrival

— It feels like a lot of the Platinum Era songs were tragic love stories. Was that your image of the members at the time?

Tsunku♂: No. That was just as per the office's orders to me.
— "SEXY BOY ~Soyokaze ni Yorisotte~" was the first song in a while where you actually changed the choreography as you had done previously with "LOVE Machine." The whole "ai~n" thing… (laughs)

Tsunku♂: It didn't look quite like that when I first came up with it, but when the members themselves did it, that's what it became. (laughs) Well, it's still good as it is.
— The members all looked to be having so much fun in that music video, too. It feels like a lot of the songs from that era were dominated by Fujimoto's voice.

Tsunku♂: That could be. Fujimoto's voice was the closest to all the idols from the 70's and the 80's, or the good era of J-pop kayou kyoku. She was a strange girl in that when we were in recording, once every ten takes she'd give us a miracle. "Ooh! Great job on that verse! Could we get another take like that one, please?" And then when she'd sing it again, we'd be getting something completely different instead. (laughs) "Huh? What's wrong?" But the one miraculous take she'd give us would always be something we could use. She was actually very bad with rhythm, and yet, sometimes she'd be spot-on. It really was strange recording with her.
— Fujimoto had the image of being a flawless singer though.

Tsunku♂: That's the miracle of recording technology for you. (laughs) Still, Fujimoto really did have a great voice, and moreover her singing was expressive. You can really hear it. And that's great. In contrast, Matsuura had a flawless sense of rhythm, but her singing could at times sound dispassionate. But she, too, was a great talent and she was pleasant to listen to. I used to think how nice it'd be if I could find someone who was right in the middle of those two in terms of their abilities. But then it was also because they were so contrasting that they got along so well, and it could be why the unit they did together was so fun.
— Before the Platinum Era, there was a period of stagnation for the group, which included a number of scandals for its members. Having to witness several members withdrawing from the group, how did you feel about the future of Morning Musume at this time?

Tsunku♂: Looking back, it feels like a very chaotic time indeed. I don't even know how many times I heard the words "Morning Musume is done for" being uttered. But the concerts kept going, and there were fans who were still coming to watch. That made it difficult for me to know how popular or unpopular the group truly was. That must be the reason we could keep going. Soon after, however, AKB48 would get ahead and leave us in the dust. (laughs) But I also feel that AKB48's emergence made it easier for everyone else to be engaged in the idol business.
— While Morning Musume is now acknowledged as being one of the most well-established idol groups, were you feeling any sort of irritation at society for turning their attention to all these new groups who'd suddenly come out of nowhere?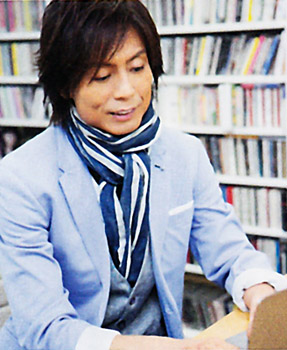 Tsunku♂: The first thing that I just found bewildering were the multiple versions of the CD's. I could accept having a first-press limited edition and a regular edition, but suddenly you'd have five, six different versions. By the time it reached something like ten different versions, I was thinking "okay, that's a little disgraceful." And yet, fans of those groups from other offices would be buying tens of copies of the same CD as if it was the norm, moving that group up in the Oricon rankings. And we couldn't just stand idly by with our fingers in our mouths. We'd found ourselves in a bit of a dilemma. Especially as an artist with some self-respect, I was wondering if this was something we should really be engaged in. But looking at it more from a producer's viewpoint, or from a more managerial, bird's-eye viewpoint, I could recognize that we'd entered an era where it was necessary to make those sorts of decisions in order to actually have the members as well as the staff make a living out of this. Idols in the 1980's, too, had done handshake events for fans who had bought their records… but now, in this era, that had become the main thing.
— You obviously want people to listen to your songs. It must make you sad how CD's have suddenly become like a substitute for handshake tickets.

Tsunku♂: Well, refusing that sort of thing would just be letting my ego as an artist get in the way. It'd be pointless. Handshake tickets or no, it's the people who stand out in each era who are the winners. If that sort of thing is what society and the fans want, then it's the entertainment industry's job to respond to that demand.
But I also felt that it was important for someone to write the hits that would go on to represent that era — it's necessary for people to remember each era. Dwindling CD sales is something that's happening all over the world, and yet, you'll always have stars like Taylor Swift popping up. You'll watch a music video from someone like that, and of course it's going to look cool — even if they didn't spend millions on it like on Michael Jackson's "Thriller," it'll still be well-made. And that's because there's an idea in there somewhere. If you want to get people to listen to your song, you need to have an idea. In that sense, I don't think this new method of selling CD's was a mistake.
— So you felt constrained by your pre-existing way of doing things?

Tsunku♂: Rather than feeling "constrained," I was impatient because it felt that if we didn't pick up the slack soon, the gap between amateurs and professionals was going to disappear completely. Especially so because the professionals have all kinds of personnel and production costs — it's not cheap. (laughs) That's also why, even if we looked at how the K-pop groups were doing things, or how other offices were able to lower costs with their idols, there were various reasons why we couldn't try those same things.
— How did you get through that three, four year period?

Tsunku♂: I just kept believing that as long as I kept on creating something good, the effort would eventually pay off. I kept telling that to both myself and the members.
— Did you make changes also to the group's concert structure?

Tsunku♂: I was trying to be mindful not to make the concerts themselves unnecessarily long. The longer the members spend on tour, the more there will be fans who are coming to see multiple shows on the tour. As that happens, the members become afraid of making those fans feel bored, and so they start incorporating more "fan service" and inside stories in their MC's, as well as continuations of discussions they'd been having at previous concerts.
When they do that, the concerts become longer. And while the fans who choose to follow them around on tour are important as well, if there are any new fans in the audience for the first time, they'll be feeling left behind going "Huh? Why did everyone laugh at that MC?" That's the thing I wanted to avoid the most. Thus, I thought I'd rather just show more of the group's performances instead. "Morning Musume is at its coolest when they're singing" — that's what I wanted to show everyone. Ultimately, that ended up becoming what was later called the "Platinum Era."
— Marking the end of the Platinum Era was the graduation of Kamei Eri, Junjun, and Linlin. Then, after the first auditions in quite a while, the 9th generation joined the group.

Tsunku♂: I would've wanted to keep doing auditions every year. After all, I always felt that having just a single great vocalist in the group could transform the entire era.
---
New Musume:
The Arrival of a New Era

— When the 9th generation joined, the general impression was "They're so young! So fresh!"
Tsunku♂: It ended up being four people extremely full of character. (laughs)
— This was also the first time in Morning Musume's history where someone from the Kenshuusei was made into a member.

Tsunku♂: Fukumura was ready enough. I felt that it was an opportunity I should not allow to slip by. However, at the time, the staff was not all that interested in the Eggs… (laughs) They hadn't even entertained the idea of taking in a member from the Kenshuusei. So it actually took a bit of preparation for them to become familiar with the idea. I'd start warming them up to it in advance. "Hey, there's this great member in the Kenshuusei." "I actually think this might be a good idea." Through those negotiations, they slowly came to think, "this might actually work." It was also an opportunity for us to help establish the Kenshuusei by properly showing that you could be promoted to a member of Morning Musume if you were in the Kenshuusei.
Ikuta was a very high energy, self-aware girl, and that kind of a character was as new as it was necessary to the group. Her singing and dancing was merely average, but she had a strong mind. Later on she would develop her "KY character," and that's really what she was. It could be that it was because Ikuta was so KY — unable to read the air — that the 9th generation could come to be. It was something essential. Meanwhile, Suzuki was good with the MC's. She could talk about so many things in her own words, and yet, she was so bad at talking about herself. She was such a pure girl.
— Was it a feeling that you'd seen someone truly special when you first saw Sayashi?

Tsunku♂: It was. It really was. She had a kind of glamour about her that Goto hadn't had. It truly felt like she was in a class of her own. She had this restlessness, but it wasn't quite like what Tsuji and Kago had had either… She was properly oriented. And you could get so much out of her.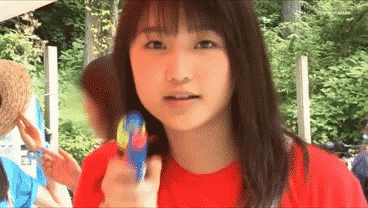 — Her dancing was just outstanding, despite her being only an elementary schooler.

Tsunku♂: She came across as someone with not a single care in the world… to the point that I almost felt like asking her, "Do you really want to enter into a world (the entertainment industry) that's so dazzling? Is this even fun for you? Did someone force you to apply for these auditions?" But when she started dancing, her whole expression would change. And her singing and sense of rhythm were on point. She could reach up to around a high C note, which was good enough.
When I thought about how Takahashi would eventually be graduating as well, suddenly not picking Sayashi wasn't even an option for me. She was full of the kind of color that Morning Musume was lacking at the time.
— Was Sayashi joining the group something that gave you the feeling of wanting to try out something new?
Tsunku♂: The feeling wasn't so much about wanting to change Morning Musume because Sayashi had joined, but rather about how I could best make use of her. That's something I thought about a lot at the time. As more and more seniors would graduate, a part of me wanted to answer to the wishes of the existing members and just let them do the kind of thing they wanted to be doing. But then it would've just ended up being too plain…
— It seemed like a big stimulus to you as the group's creator — with "it" being but a single vocalist, as you put it earlier.

Tsunku♂: If you were to make a comparison to the card game Sevens, it was like I was first stuck with no eight of diamonds or six of spades coming my way, and then it felt like I was suddenly lifted from that situation. With 9th generation's debut song "Maji Desu ka Ska!," I purposefully made it this song that didn't draw attention to the differences between the members — I tried to create a very "even" song, to make everything level. Sort of like pulling a field rake or a roller over uneven ground after a baseball match in the rain.
— "Only you" and "Kono Chikyuu no Heiwa wo Honki de Negatterun da yo!" were already a bit different from past compositions in addition to being higher in tempo. The 10th generation then joined the group with "Pyoko Pyoko Ultra."

Tsunku♂: The 10th generation auditions were so fun — it felt like the group was on an upward trajectory. Another member who could dance found her way into the group: Ishida, the Sendai native. Great dancers had been nowhere to be seen even though I'd been searching for them for years, and suddenly they just started popping up all out of the blue. Kudo was another addition from the Kenshuusei, and it was around this time that the Kenshuusei system would change. By this time, Morning Musume already had such an extensive history that putting complete amateurs into the group would be too difficult on them. That just goes to show how strong the 10th generation members were.
Iikubo couldn't sing and dance to save her life, but it was like she could dance with her facial expressions to make up for it. She has willpower. She's really became someone trustworthy. And while Sato has finally calmed down a little bit as of late… well… she really was a handful. (laughs) But I always felt very hopeful about her future. I'm looking forward to seeing how she develops from here. How will she support her juniors? That's something I'd like to see.
— In the span of that year, the group had suddenly become full of members with personalities that were very different compared to what had come before.

Tsunku♂: "Pyoko Pyoko Ultra" was an experiment in creating a proper group using the huge bunch of new members in the 9th and 10th generations, as well as their seniors. The seniors weren't quite chicks anymore, but a step closer to fully-matured birds. I also liked how even though I knew Sayashi could dance really well, the choreography didn't really allow for it.
The next song, "Renai Hunter," was a bit of an attempt at a musical evolution. I was trying to see how society would rate, perceive, and react to the song. "Okay. I see. So this amount of evolution isn't enough to surprise people." Niigaki was already a grown-up at that point, and that helped me in seeing things from many perspectives.
— There was suddenly the same kind of feeling of fun and hope as there had been leading up to the peak of "LOVE Machine."

Tsunku♂: The lead-up to "LOVE Machine" had been painful though. (laughs) I'd always been honest with myself in regards to the music — it was only that that was being reflected in the songs, too.
— Then, on the other hand, Takahashi graduated from the group before "Pyoko Pyoko Ultra." She had been one of the absolute aces supporting the Platinum Era. Did you not feel a sense of danger as well?

Tsunku♂: No. It was the same as all the other times in the past. I've never once felt worried about any member's graduation from the group. The fact that they're graduating, that just means that they're strong enough to be able to do so. It's also a positive to the group: when a girl who has been a main member of the group graduates, it's a chance for the other girls to improve as well.
— So you're very much of the "turning crisis into opportunity" mindset. In another half a year, Niigaki and Mitsui graduated from the group as well. It had now become a strange line-up for the group, consisting only of two veterans along with eight newcomers.

Tsunku♂: Yes. But that in turn made me feel that I could change the group in a major way. The time was now right for "One Two Three"!
— "One Two Three," became a representative song for the group, rivalling "LOVE Machine." Were you mindful of the fact that it was the group's 50th single when you were choosing this song for them? Like, "I need to give it my all!"
Tsunku♂: The fact that it was the 50th single was nothing but an afterthought. I didn't have the time to be thinking about things like that — the only thing I was thinking of was that I wanted to make something good. That's how I felt. There were no more voices in the group like Niigaki, Kamei, or — going further back — Fujimoto. Voices with that kind of "stickiness" and power. Pretty much the only good singer in the group was Tanaka. But Tanaka wasn't that good of a dancer, plus her voice was very delicate, so I had to think about how to approach this song.
Recording my demo vocals for the song took exceptionally long as I was trying to figure out which member was going to sing which parts as I sung. I especially thought about whether or not I would have Sayashi sing the "wow wow" in the opening or if I should instead use my demo vocals for that part, because Sayashi was pushing the limit in terms of how high she could sing. Ultimately we were able to get a good take out of her in recording, so I moved right into meetings about the choreography. The only thing is, I couldn't make time to discuss the outfits — that's why they don't fit the song. But, well, I suppose that out-of-placeness also felt real in a way. The outfits became symbolic of the song. Although… I have to say that it made me laugh when I saw that huge ribbon on Tanaka's head as she was singing a song like that.
In the choreography, I made good use of the members who could dance, and as far as the singing went — seeing as Sayashi and the rest of the 9th and 10th generations were still very much just beginners — the song ended up becoming almost like the exact opposite of Platinum Era. By which I mean, something that wouldn't reveal the performers' shortcomings too much.
Thinking about it now, the reason the Platinum Era members were able to sing all those sorrowful rock songs was because there were members like Takahashi, Fujimoto, and all the others, who could sing those intonations and the somewhat heavy lyrics. When the 9th and 10th generations joined the group, I couldn't even picture them singing songs like that. That's why I think "One Two Three" and the songs that followed were the best thing for that line-up to be singing.
— It fit them very well.

Tsunku♂: The arrangement of "One Two Three" was only an afterthought as well. The most important thing about that song was that the melody went pretty much nowhere. My intention was to write a melody that you could sing even if you weren't a great singer — all you needed was a sense of rhythm.
— It's amazing that you had the courage to be able to try something completely different for the group's 50th single.

Tsunku♂: I bet if you were to listen to the demo tape, you'd be going "what the hell is this?" It really doesn't have a melody… I mean, note-wise, it just doesn't go anywhere. A composer's first instinct is always to make the melody as elegant as it can be, so this song ended up becoming a real exercise in holding back for me.
— I believe the formation dancing and other expressive changes of the group happened thanks to the new members being there. Were Sayashi and Ishida important in making that happen?

Tsunku♂: Yes. Sayashi and Ishida were important. But it was also important to make even the girls who couldn't dance look like they could. On average, the Platinum Era members were really good dancers. But girls like Suzuki or Iikubo, they were just hopeless. Another important member was Ikuta — she just strongly believed without any hesitation that she was a good dancer as well.
Kudo had something resembling her own set of aesthetics as well, so she was reliable in that sense. She was very much a product of her Kenshuusei background. (By the way, I feel that it took a while for Sato to really discover herself. Also, I think it's a waste if IIkubo's feeling of moe isn't properly utilized. Iikubo can still grow so much.)
Anyway, the members all had their specific roles and they all gave it their best.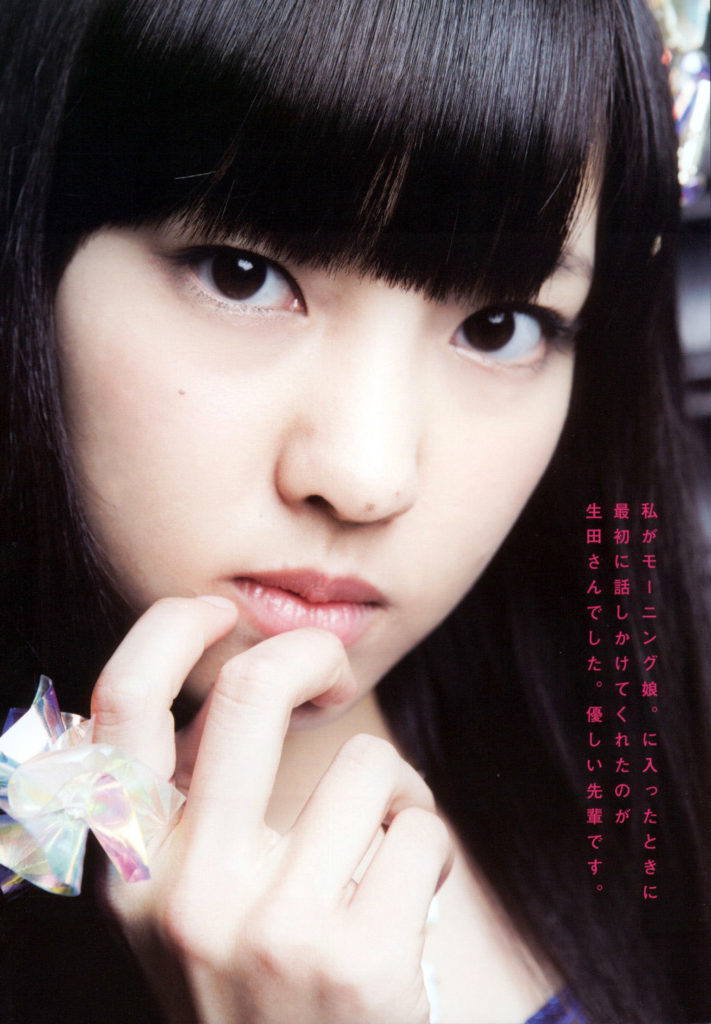 — People started calling "One Two Three" the second breakthrough of the group, and they began praising their performances once more. Did it feel like another wave of success?

Tsunku♂: Seeing as I had been there for the "Golden Era," it didn't quite feel like a new "wave" yet. Still, I could see the increasing number of fans at handshake events, the increasing numbers of views on the YouTube videos… All kinds of numbers were going up fast.
— It felt like you once again decided to pursue this style of music for three songs.

Tsunku♂: Yes. Of course.
— "Wakuteka Take a chance" and "Help me!!" were the kinds of songs that the group hadn't ever had before or since. Tanaka then graduated, and it was clear that Sayashi had become the main member of the group.

Tsunku♂: After Oda joined the group, though, I'd have her sing a lot of the verses. She wasn't quite a Fujimoto, but she could really bring out that kayou taste, so that was another added layer for the group. This is a bit strange, but there were things that Sayashi and Ishida wouldn't have been able to do by themselves that they could do because Oda was there. Furthermore, Oda being there would also motivate Fukumura. Also, while this might be something that Fukumura doesn't realize herself, ever since the 9th generation joined Fukumura has been like the "stabilizer" of the group.
— Is there a sort of harmony between Oda and Fukumura's voices?

Tsunku♂: It's often fitting to have Fukumura singing right after Oda's lines. Doing so adds depth to the whole thing. Oda has stood out ever since the S/mileage auditions and she's become a voice that Morning Musume simply needs. If only she didn't slack off with the rhythm, she could become even better yet.
---
Tsunku♂ Steps Down as Producer

— Whereas in the beginning Morning Musume used to be this group of varied personalities, I feel like it was around this point in time that the group changed into something more unified in a sense. The same could be said even for their looks: especially after Tanaka's graduation, there was no one in the group that really stood out in terms of their looks. Was this sudden change also your decision?

Tsunku♂: You know, Tanaka actually had more of a complex in regards to her looks than people realize. She's definitely cute enough, and yet she always wants to wear ribbons that are larger than her head or whatever. (laughs) I think Tsuji was like that, too. To me, that kind of thing is just funny — it reminds me of something like the outfits of Ima Ikuyo Kuruyo. But to the girls doing it, it's serious business.
I suppose it's my fault for not warning them about it when they were younger but, well, I just felt like letting them do their own thing. "Don't wear that. It doesn't fit the rest of what you're wearing!" I could've told them that, but I'm sure they would've worn the offending item again immediately after going back in to the dressing room. They weren't types of girls to have listened. (laughs) And Tanaka was very much her own person; a person with conviction. So after she'd graduated, everyone sort of went back to square one for a while, and I instructed them to not try to stand out with the help of mere decorations but rather with their personalities. That was, in fact, also my way of shining the spotlight on the normally so plain-looking Sayashi — because that girl already has a natural glow in her core.
— It feels like girls these days are all going for the same thing when it comes to their hair and make-up. They're not aiming for any sort of originality.

Tsunku♂: The individual complexes will start popping up fast especially when it comes to groups. Seeing as they didn't get to the positions they are in through sheer talent, idols in general will always have lots of complexes like that. Sure, if they were talents on the level of people like Amuro Namie who can stand there wearing jeans and a T-shirt and still just shine, that'd be great. But because they're not like that, they will try to manufacture themselves to the point where you can't even tell what they're really made of. That's why you can't see what's inside, as sad as it is.
With all that said, I still think the members of Morning Musume should all be doing their best to show off their individual personalities at the moment. The hairdos, outfits, personal clothes, MC's… I think right now is a time when they should be trying to differentiate themselves from the other members and from other idols in all possible areas.
— As you're on the outside looking in at this group of girls who can't help but be troubled by their complexes, is there anything you can do to put them in a good mood to get them moving?

Tsunku♂: See, I think if I even tried to curry favor with them like that in any way, that'd be the end of it. What I would do is, I'd have these certain rules by which I would judge them on a continual basis. I'd praise them, warn them, give them advice, chat with them… That's how I'd try to keep their hearts in balance.
— You'd give equal treatment to all of them.

Tsunku♂: While there might've been members who were thinking things like "he's favoring that girl" or "I wish I could talk with him more," in my mind I treated them all equally.
— While there are times when you're sure that they're wrong and you're right — as you know more than they do — girls around that age have a tendency of being stubborn. When that happened, would you just tell them something along the lines of "fine, have it your way then"?

Tsunku♂: No, I wouldn't tell them that. I'd tell them, "if possible, you should do it like this." "Doing it this way would better show your appeal." Their singing, outfits, hairdos, MC's… I'd offer them advice in all areas. The rest is up to them — some girls would make use of what I'd told them right away, whereas for other girls it would take some time for them to accept my advice. Tanaka just would not listen to my advice in regards to her hair! In my mind, I'd think about what a waste it was… but then again, that hair of hers also became a part of her character. My opinion was that it would be better if she could be persuasive not in terms of her looks but rather her singing.
— And before long — as if by magic — Morning Musume had become the idol group that other idols looked up to.

Tsunku♂: Members of AKB48 — who had by then become national idols — would be saying how they decided to get into this field because they looked up to Morning Musume. Even if some of them may not have truly meant it, I do think it was all thanks to the group for having been around for so long.
— That was also a part of the newly found apprecation for Morning Musume. Were you thinking of the next thing you might try with the group?

Tsunku♂: It felt satisfying to work on the group, and my thinking was that I'd just keep working hard on the songs as I always had. The other thing that was on my mind was, I wanted to focus more on the Kenshuusei system — I wanted to make it so that it would be a steady source of new members for Morning Musume once they were ready to join.
— You were hoping to strengthen the Kenshuusei.

Tsunku♂: There are so many songs at this point… It's no easy feat for a complete newbie to master all the singles from the past 20 years. I mean, there's songs in there that were written before some members were even born. That's why it's important to give them enough time to practice, to have them properly understand the meaning of the lyrics, and to have them make the songs their own. Some random cute girl scouted out on the street, thinking she's suddenly in her own Cinderella story and how it's now her time to be a star — that's not how it works in this day and age.
Sayashi and Ishida could answer to our demands — they already had talent, the both of them having been practicing since they were small children. Fukumura and Kudo, too, had learned a lot during their time in the Kenshuusei. But no matter how cute one may be, I don't think it's ever going to be easy to get used to being in this group just like that.
It's become an era where you can't survive on sheer cuteness alone.
— Considering the group's on-going history, it's actually getting harder and harder for someone to join Morning Musume, isn't it?

Tsunku♂: Girls these days are clever. I'm sure many of them have figured out that rather than joining Morning Musume and having to go through all that hardship once they start at the very bottom, they could just join a different group altogether — even if it is an unknown one — where they can stand in the center. "I could just be an underground idol!" Thinking about it realistically, even if you could get into the group, it would be so difficult for one to learn even just the post-9th generation songs alone. And when talking about songs like that, ones where the performances play a huge part as well, you would find yourself taking way more lessons than you could even imagine.
— What has been your standard in selecting all these members in past auditions?

Tsunku♂: Hmm… There's no definite "standard." It's different every time. It's sort of like with a baseball draft. Of course you want to get the player that all the other teams are after, too, but aside from that you have to take a look at your team and figure out what it is in need of. If the coach feels that they need a catcher or a first baseman, then that's who they're going to be looking for.
— How can you tell how much promise any one member has?
Tsunku♂: Intuition. Of course you can get the gist of it by just listening to their singing and predicting how far they could get with their voice, or checking their sense of rhythm to see what they might be capable of. But the interview at the auditions is a big part of it as well. People who have an air about them have a solid footing — girls like Michishige Sayumi.
— Everything from auditions to producing, there was this certain sense of security in knowing that you were always there to oversee everything.

Tsunku♂: Up until that point I had been the judge of all those things. It's sort of like as if the school regulations were being changed up — I can imagine how that might lead to feelings of confusion. After all, it means that there's a possibility that something which you always believed to be "correct" is going to change.
— While I believe it was partly due to the state of your health, when it was decided that you would no longer be the overall producer, did that cause you any feelings of loneliness or anything of that sort?

Tsunku♂: My health did not have much to do with it at all. It was more an issue of a difference in values. The office had their image of what Hello! Project should be, and I as the producer had my image of what Hello! Project was. As a result, I felt that I was left with no other option but to step down. It was a mere coincidence that I was also sick at the time.
I still had plans in regards to things I wanted to try with Hello! Project at the time, so it was not easy to accept the fact that I had to give up on those plans midway. But it was also thanks to all this happening that I was able to begin my life in Hawaii, as well as create so many non-Hello! Project works. You can never predict what life is going to throw at you.
With all that said, I do constantly worry about the mental well-being of the members.
— It must have felt to you like you were leaving your children behind. What did you feel in regards to the members at the time?

Tsunku♂: I always want the members of Morning Musume to be proud of the fact that they're singers. That's all. While they may have been amateurs before, I hope for them to fully understand the history that has been established by their seniors — the singers that came before them.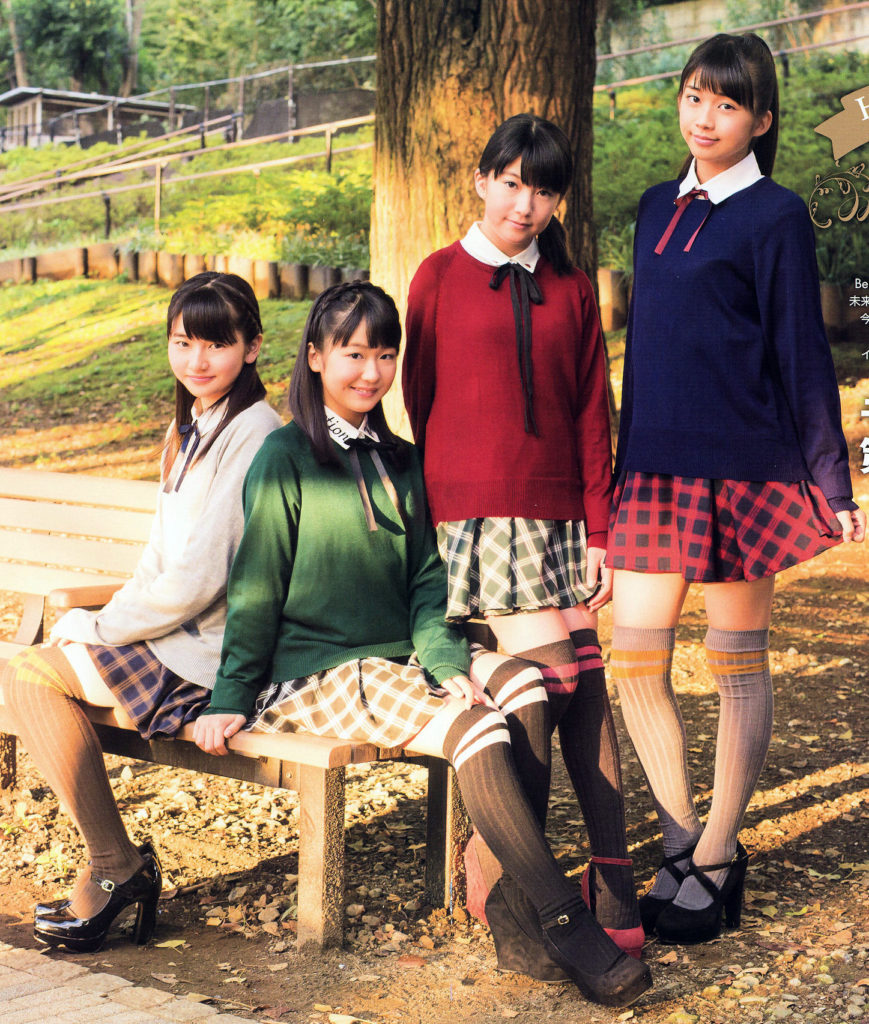 — The group is now regularly doing "updated" versions of their old songs. As the person who created those songs, would you prefer it if they just kept performing them in their old form, seeing as you had been so particular in making them sound the way they do in the first place?

Tsunku♂: No. They should be free to do with them as they like. They should do whatever they think is best at any given time. As long as they're mindful of the meaning of the lyrics, and the melody still works, I'm fine with them doing with them as they please.
— What are your thoughts in regards to Morning Musume now that have you stepped down as the overall producer and you can view them in a more detached way?

Tsunku♂: Now, I wish they'd strive to be more and more individualistic in regards to their hairdos and fashion. It's your life, after all — there's no need to hold back. Also, as I don't know their current personalities as well, I'm no longer able to write lyrics that are a perfect fit for them. That's one thing that makes me feel a bit lonely.
— You're no longer in constant communication with them — there's no way for you to know about the minor changes in their personality.

Tsunku♂: We'd always be spending a lot of time in recording with the early members. Up to around the 4th generation, the members would all be present when we were in the studio, so I would be constantly hearing them idly chatting about this and that. But as they got busier, I would instead be asking them via email: "so what's new?"
After the 10th generation joined, I told the members that they were free to message me about anything at all, even if it was just to tell me what they'd had for lunch that day. Some of them really would tell me just that every single day, and every now and then some of them might even send me longer messages of some sort. Other girls, I couldn't ever get them to message me about anything.
But even just getting emails like that from the members helped me get a sense of their personalities. Even some of the current members will message me via email or LINE and give me the scoop on the group — in a good sense of the word. That kind of thing is very useful in the world of entertainment so I'm grateful for that. It makes me cheer them on even more.
— Speaking of you writing songs specifically for them, I wanted to ask: is there any sort of an overarching message in the music of Morning Musume? I realize that there are obviously different themes present in the vast amount of songs you've written for the group… but is there something like a grand theme for Morning Musume?

Tsunku♂: While I didn't ever set such a theme… The protagonists in the lyrics I write have always been able to fall in love, ever since "Morning Coffee." The protagonists were never satisfied with just… "I'll happily do my best!" "I choose work over love!" "I'm not giving up until I make my dreams come true!" Because I just don't find that kind of thing believable. The majority of all girls in the world will always rate "having a boyfriend" over "food" or "sweets" in their list of priorities.
The protagonists in my songs will at times experience these very pure kinds of love — which might be a little unsettling to the fans. However, not all of the love they experience is pretty either. Sometimes they'll find someone they like even though they already have a boyfriend. Sometimes they're better than others; sometimes they're worse than others. Sometimes they're deceived. Sometimes they cry.
Also, another theme it feels like I've always been exploring in my lyrics is friendship. It's like I'm always trying to teach the members something about life with my songs. Sometimes that'll lead to these songs about youth as well, like "Namidacchi."
— "Namidacchi" has become one of the group's standard graduation songs.

Tsunku♂: I never imagined it becoming that kind of a song when I was writing it. The one time of year I've failed to write about is Valentine's Day… I don't have a song about that. Oh, and Halloween as well. I always wanted to write a song about those two events. I just never seemed to find the right time to do so.
— Recently there's been a rapid increase in the number of female fans of the group. Is that something you need to be mindful of as well?

Tsunku♂: I'm always mindful of the fans. But while it's nice that the group now has more female fans, at the same time you also need to recognize the danger that that represents — after all, the fact that there are suddenly all these female fans means that there's now some kind of a chink in the group's armor; something that has made them more easily approachable. And ultimately, if a group ever loses its wildly enthusiastic male fans, that's like a death sentence for the group. That's not to say that I was always producing the group only for them… but those guys are very sensitive.
If you're a guy who's at least reasonably popular with girls, you'll have no trouble finding average, normal girls of flesh and blood to spend time with in one way or another. But for the otaku, what they're constantly seeking for in idols is more and more cuteness, purity, kindness, and fun. And they'll keep watching them forever. Guys with that sort of a pointed, almost rock'n'roll intuition will pay very close attention to both the songs and the artists. That's why you can't disregard their point of view. It's not just Japan either. America, Asia, Europe… There are lots of people all over the world constantly watching with a discerning eye. And they're all important fans.
— So just because there are more female fans, you shouldn't start trying to cater to them more?

Tsunku♂: Absolutely not. I'd think if you were to do that, you would end up drifting very, very far from what the market actually demands. Girls are even more discerning, and thus more sensitive, than guys. Their likes and dislikes can change at the snap of a finger, so if you start making music only for them, or you start doing other things just for them, you'll soon discover that you're suddenly standing on very shaky ground.
I think the members need only to be proud of what it is that they do. That's all. Also, I believe that simply making the venue and the atmosphere at the venue clean and inviting to women and families with children is very important.
---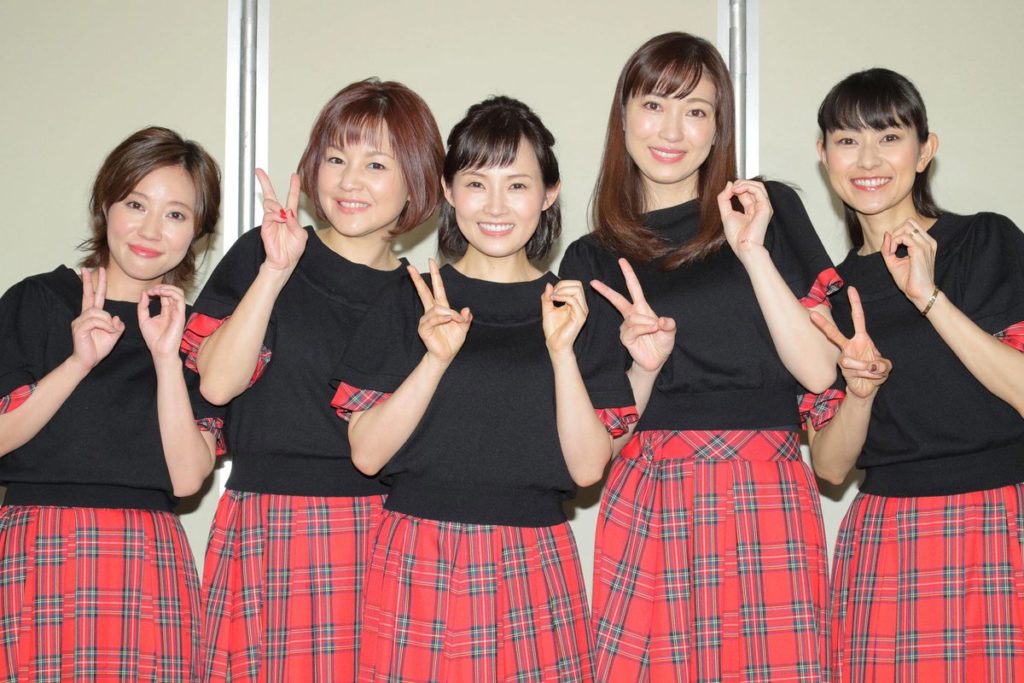 A 20-Year History
Connected by 41 People

— What were your thoughts in regards to Sayashi's sudden graduation?
Tsunku♂: At the time, Sayashi had become unsure of what she was supposed to be doing. My position was different than it had been previously, and so I believe I gave her the most advice out of any past member. The one thing I always tell every member is, "don't try to take responsibility for Morning Musume." I wouldn't ever want any member to think it's somehow not okay for them to graduate. They should be free to graduate if they want, and most importantly, they should be living life for their own sakes, first and foremost.
— I know how important Morning Musume is to you, so I'm surprised how you're able to state that with such confidence. What were you personally aiming to do with Morning Musume?

Tsunku♂: I want them to be characters in show entertainment. From the very moment they debut, I want them to always be conscious of the fact that they are professionals. Sure, it might be their job as those characters to have to wear miniskirts or reveal their belly buttons or whatever, but that does not mean that they're trying to curry favor with the audience. But if they ever get to a point where deep down they feel that their job has become tiresome, that's when they become unable to go any higher, in terms of both skill and popularity. And that's when I will give them a nudge on the back. "It's time for you to graduate."
— What do you suppose are the reasons that Morning Musume has managed to exist for 20 years?

Tsunku♂: Even now when the group sings songs from 20 years ago, it still works. When it's a group where the seniors can properly lead their juniors, that's what allows a group to keep going. But it's not just the seniors who are admirable for creating that history; it's also the juniors who keep shouldering that history. I feel that the group has continued to exist for 20 years because there's that feeling of mutual respect between the seniors and the juniors.
— It's also thanks to Morning Musume having gone on for so long that there are so many other idol groups around now. In that sense, I think Morning Musume is also a great unifier of the idol world as a whole.

Tsunku♂: You might be overthinking it. It's always just been a group of members who stood out in a way fitting for the era, singing songs. I was only doing what seemed best at each moment — I wasn't thinking about keeping it going for 20 years "for the sake of the idol world" or such. If anything, if I had been doing that, I don't think the group would have went on for so long.
— How do you see Morning Musume developing in the future?

Tsunku♂: I think it all depends on how earnest they are about music and their singing.
— I'd like for you to always be involved with the group.

Tsunku♂: (laughs) Morning Musume started out as this thing for me to express things I couldn't express in Sharan Q. "Summer Night Town" and "One Two Three" were two songs that really allowed me to release these frustrations that had been building up inside me. I'm glad I got to do that. No matter whose songs I might be working on in the future, I would like to always be doing so with the utmost care.
And as far as Morning Musume goes, I want to see a group that can train diligently, a group that will put in the time to complete whatever it is that they're working on, and a group that can develop and be strong as they compete as professionals.
— Morning Musume has had 41 members throughout its history. Do you feel that you have anything in common with any member in specific?

Tsunku♂: Something I have in common with one of them… Oh, I'm sure there's something. (laughs) But while they're my disciples, I can still find something in all of them that I can respect. None of the members would ever turn against me for my judgements — I feel very fortunate in that sense.
— Are Morning Musume just ordinary girls? Or are they special?

Tsunku♂: I think they're very lucky — they're the chosen girls, after all.
— Seeing as they're all girls who had something that felt right about them to you, I suppose that in itself makes them all special.

Tsunku♂: When the girls come into the auditions, the first thing I check is to see if they can properly look you in the eye when they're speaking. If you can't even tell who it is they're speaking to, I would never accept a girl like that.
— Is there anything you would like to convey to all of the members?

Tsunku♂: I want you to feel proud and confident when you think about the group's long history. There are but 41 of you, so I hope that you can feel the connections and the bonds that exist between you. Please try to love Morning Morning — the thing to which you devoted your youth, the most sensitive time of your lives. Please be proud of it. I'm grateful to you all. Thank you.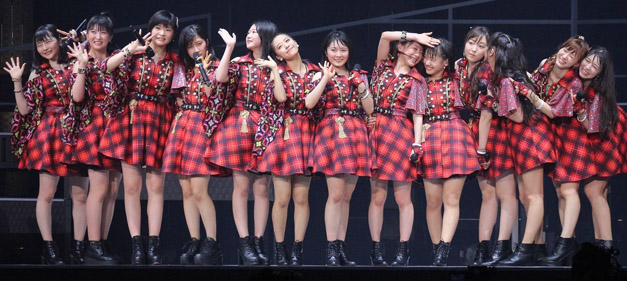 — By the way, are you able to choose a favorite out of all the songs that you've written for Morning Musume?

Tsunku♂: There are so many flashy songs that sound fitting to be singles, and the lyrics, too, have scenes and settings from all those various eras of the past. I think the compositions are important, but then so are the lyrics…
— I would think that there are some songs where, as soon as you complete them, you think "okay, this is a good song." But then I would think there are other songs where it takes time before they make you think "ah, this really was a good one, too."

Tsunku♂: Still, I think the songs that give me that immediate feeling of having written something great are the ones that really leave a lasting impression.
— You probably couldn't pick just one song, could you?

Tsunku♂: You know, having written all these songs, there's just one thing I've been irresponsible about. I never had a system in place to help me remember the structure or theory of the songs I write — when I begin writing a new song, it's always a fresh start.
But that's also why I have no fear of writing a song that might sound similar to another song, or reusing a chord progression from an old song. That fear is something that stops a lot of musicians in their tracks. But for me, I just don't remember very much, so it doesn't bother me. I'm sure I've used reused lots of chord progressions and maybe musical phrases that are very similar to one another. But I don't mind. Same thing with the lyrics — I don't think I've ever written the exact same lyrics twice, but seeing as the message I'm trying to convey is always the same, I've certainly used the same expressions many times. But it just doesn't bother me.
In that sense, there are elements I like in all the songs I've ever written. I couldn't possibly narrow it down to just one.
— Maybe that's the secret behind the group's 20 years?

Tsunku♂: No, no. (laughs) But really, nothing lasts if it isn't supposed to last. It's all because the fans continue to love those songs and because the members themselves love Morning Musume. And I don't think they're making a mistake in feeling that way. This might be something that's different compared to other groups.
— There are some fans who have loved the group throughout these past 20 years.

Tsunku♂: Maybe it's because the character — the female protagonist who appears in the songs — never changes. Sometimes she's in love… Sometimes she's dealing with unrequited love… But deep down, this girl is always the same — she's "Morning Musume-chan." So to both the fans who have been supporting the group for 20 years, but also to the fans who lost interest at some point… To them, it must have felt like how it feels for us when we're watching Doraemon with our kids. Throughout the group's 20-year history, the songs always had that sense of security about them.
— And that's something that just happened to take form without you even being conscious of it in the beginning. It must be because, like you said, the message you hope to convey has never changed.

Tsunku♂: Indeed. It really hasn't changed ever since "Morning Coffee."
— While in the beginning I'm sure you couldn't possibly even imagine the group lasting this long, the fact that it nevertheless became the thing that it is today must make you feel very much responsible.
Tsunku♂: It is strange. But part of that responsibility means not letting the group stagnate — in order for a group to make it this far along, it needs to be a place where new things can be born. You have to keep pushing forward, but that also doesn't mean you should be doing something crazy.
It's okay to retain the group's overall impression. What's not okay is playing it safe.
— As the OG's are becoming mothers one after the other, it's starting to become a possibility, age-wise, for an actual ex-member's daughter to join the group…

Tsunku♂: If they have what it takes, why not? If they actually have real ability, I don't think the people would accuse them of riding on their parents' coattails or whatever. The only problem is, if someone becomes a member when they're still very young, that's extremely difficult for the parents to deal with as well. As the older members are now becoming mothers themselves, I would think they've now finally learned the true importance of one's parents, too. (laughs)
---
Morning Musume in the Eyes of Tsunku♂

— Thinking back, do you personally feel that the group has done well throughout all these years?

Tsunku♂: It's like… "Wow, it's been 20 years already." The "New Era" that began with the 9th generation — five years have already passed even since that happened. Even that's a bit of a shock for me. The fun times, the difficult times, the controversial times… Each era felt like it would go on forever. And yet, all those eras are now but a single piece of history. Time sure flies.
— My final question to you is: what does Morning Musume mean to you?

Tsunku♂: It's my other self. Truly, they've really done good to make it this far…
— A completely different you?
Tsunku♂: Yes. Me, but with a completely different identity.
— Would that be "Morning Musume-chan"?
Tsunku♂: No. "Morning Musume-chan" is just a character within it. It's… how would I put it…? The group is my life. The actual protagonists appearing in the songs are something a bit different.
— So it's like the members of the group are a personification of that part of you?

Tsunku♂: Yes. And it's something I feel extremely grateful about. I will always be very thankful especially towards the members who remained in the group for a long period of time. I have respect for them. While they are of course my proteges and my juniors, I still genuinely feel that they all did a great job as people. If even one of them hadn't been there, the course of events would have been different. It's all strangely connected, and of course some of it was luck, too.
— Considering that you see the group as being another you, you must be sincerely hoping for the group to go on forever.

Tsunku♂: Well, I don't know. It might be better for the group to end and something new to begin instead. It's not for me to say. Or, if they can just keep going on spontaneously, then that's okay, too. See, this isn't something I ever felt strongly about as I worked on the group… it simply just happened that 20 years had suddenly passed.
What I would like to come across again, though, is another revolutionary song, or another revolutionary member… I hope to meet another girl who just makes me think, "you got me!" But no matter the line-up, as long as Morning Musume continues to exist, all their songs of the last 20 years will never turn into "songs of the past" — they'll forever remain "alive."
And that's a lovely thought.