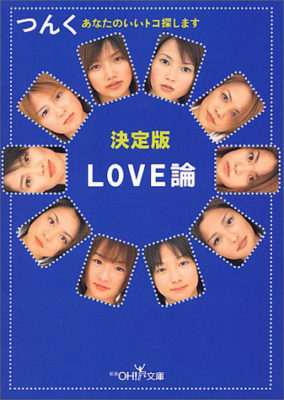 Foolish women are a big favorite of men!

In this chapter, I will be talking about something of a different nuance than what you might typically take "stupid woman" to mean. In the Osaka dialect, calling someone "stupid" is usually done in good spirit, and what it really means in this case is "man, this girl's a fun one" or "what an adorable girl this one is." Thus, "stupid woman" is by no means meant as an insult. If anything, considering how essential the owarai culture is to Osakan people, calling someone a "fool" might actually be a word of praise.
… Now that we've gotten the excuses out of the way, let me reveal some of the stupidity of the members of Morning Musume.
In Morning Musume, every member has displayed her share of foolishness. Pretty much every member will every now and then come on stage during a concert while wearing their skirt the wrong way, or with their fly hanging open. It's become something so commonplace that now the members, the staff, not even the fans are surprised when it happens. But the point where it really gets funny is seeing how their foolishness manifests itself beyond that, depending on their personalities.
Abe, for example, is such a goof that if she was any more so, she might show up to work without wearing any pants and not even realize. Sometimes, even if she has managed to wear a pair to work, she'll realize it's actually her pajama pants. That kind of dopeyness is a common occurrence with her. One of her greatest feats so far was this one time when she had to go on a day trip to a rural area for work. She also had plans to go on an overseas trip the following day, so she arrived with a huge luggage roller by her side. That would be all fine and good… if it wasn't for the fact that she forgot to bring her passport.
Yaguchi, on the other hand, is the cheerful mood maker type among the group's members, so with her it's not that she tends to blunder; she's more the type of fool who wants to mess around by her own initiative. According to rumors, she runs a "one-person imitation recital" in the group's dressing room. She'll sing songs by MAX or Taiyou to Ciscomoon or whoever might currently be topping the charts, and apparently it goes over so well with the other members that she actually gets applause for it. But whereas in the beginning she used to do it very seriously and the others would tell her "hey, that's pretty good, Marippe!," lately she's apparently progressed to doing just stupid imitations that you might expect to see comedians doing. They're probably too silly to even be shown to fans. The other day, she finally let me see her impression of Antonio Inoki.
Ishiguro is just very big-hearted… or rather, she's an airhead. When they were told they would be appearing on Kouhaku Uta Gassen for the first time, she was excitedly asking "I wonder if we're going to be put in Akagumi or in Shirogumi?!" The other members were quick to set her straight. "Akagumi of course, you idiot!"
Yasuda is someone who isn't very good at looking at herself objectively. When she started going "am I really that gloomy?!" at concert MC's and the people in the audience got a kick out of it, she apparently had a conversation about this with her mother. "I wonder why the fans laugh whenever I say that?" I was surprised to learn this. "Seriously? You don't understand why?!"
In Ichii's case, it can be fun just observe her massive amount of willpower. For example, she will start crying when recording a radio show, just because she's having trouble reading aloud some of her lines in the script without getting tongue-tied. She herself is very, very serious about it, and thus she'll start to cry because she feels frustrated over not being able to read her lines properly. But everyone around her will be laughing and going, "Come on, give yourself a break! There's no reason to cry just because you messed up a line!" Also, Ichii is very much a child of the times in that she'll always speak up without any reservation at all. Every once in a while, it'll get her into sticky situations when she says something she shouldn't have. They were once having a discussion on the topic of how "women care about getting fawned upon only up until a certain, young age." Right in front of them was a female staff member, past the age of 25, and Ichii blurbed out: "25 really is the end point of the life of a woman!" She apparently received a proper scolding for that one.
Iida becomes unstoppable once she really gets fired-up, and thus there are plenty of episodes of her reckless behavior. On Utaban, they did this fun corner called "Hitori Morning Musume" in which the members all had to do rope-jumping in a group and the one member who remained at the end got to sing a song all by themselves. It's a game you can imagine Iida excelling in. However, at the time Iida was already getting lots and lots of airtime for her talking skills, so the staff told her: "just sit this one out — let someone else win." Iida agreed… but then when it was showtime, Iida quickly won the whole thing. Afterwards, Iida looked all downhearted as she explained to the staff: "I know I was supposed to lose, but when it started, the competitiveness in me just kicked in and… it just happened…"
While Nakazawa tends to be the one made into the butt of the jokes when the group is appearing on TV as of late, the truth is that she's actually quite aunty-like outside of the TV screen, too. When the members come into the studio with their convenience store bags full of food and snacks and such, Nakazawa alone will often have bought only one item. Once, when I asked her what she'd bought, she answered "squid rings." She'd bought a bag of the same squid rings you'd expect to see at the average izakaya. "Would you like some?" Before long, the whole room was stinking of squid. She was asking me if I wanted some just before we went into recording. Hahaha!
As for the newcomer Goto, there's a good chance that she will end up becoming a goof just like Abe. For example, when she gets on an escalator she'll have trouble successfully getting off — apparently, she once got the hem of her favorite long skirt stuck in the escalator, which she was then frantically trying to pull out. And while Ishiguro at least knew that Kouhaku has two teams, Goto's reaction was: "Kouhaku? What's that?"
The members of Taiyou to Ciscomoon all have foolish points about them just the same, but first and foremost, the person who comes to my mind is their female manager. Before they headed out to their debut live performance in Niigata, a staff member had told her to bring a video tape to the event. Instead of a video tape, however, I've been told that the manager came to Haneda Airport carrying this huge VCR with her. "Wait — this wasn't it?"
When they were only just starting out, the members themselves had lots of things they didn't yet know about music or the entertainment industry in general, and so they went on to make all kinds of mistakes that we couldn't have predicted. They were taking pictures of the members, and when the cameraman went "alright, let's move on to close-ups," the members would start physically walking closer towards the camera themselves. Yeah, the cameraman has it under control — there's no need for you to move. There's so much they don't know yet… it's like they're all in a trance. When I hear about these episodes concerning them, I can't help but think about how innocent they are.
---
Whether it's Morning Musume or Taiyou to Ciscomoon, you'd give them all a warm welcome when it's these types of stupidity we're talking about, right? They're like the playful types of fools that you'll have in class. You know, the ones who'll accidentally bring Thursday's textbooks even though it's a Tuesday. Or the ones accidentally calling out "mom!" when they were trying to call for the teacher. Whenever they make silly mistakes like that, they might worry and think to themselves, "why am I such a dummy?" But the truth is, everyone in class loves them.
If a person had a girl like that as his girlfriend, she might be telling him a story about her latest blunder, her face completely red with embarrassment. "You won't believe what I did this time…" Listening to her stories, I don't think any guy would not see her as being just adorable.
On the other hand, when it's a less acceptable kind of fool, the word in Osaka dialect for people like that is "chokeru yatsu." Its meaning is similar to the word "meddlesome," but if I was to give a more appropriate translation, it really refers to people who get too carried away; people who overdo it. They feel that what they're doing is playing the fool, but their foolishness is not the clown-like cuteness of the other type. The act of "chokeru" is something that is done in bad taste.
For example, say there's a very sharp knife. The other people tell this person that it's dangerous to walk around holding that thing, so they're told to put it away. What they might do here is to pretend as if they were going to drop it. "You idiot! That's seriously dangerous! Stop it!" They can't see that they're crossing a line. The other people in the room might be nice and give them a fake chuckle, but what they're really doing is thinking about how this person can't tell when it's not the time for jokes, nor can they see what is and what isn't acceptable. That's what it is to "chokeru."
Their thinking might be that they just want to make everyone laugh and create a fun atmosphere around them, but what they actually end up doing is making everyone in the room feel put-off. By their nature, people like that tend to get carried away easily. When the mood is great and everyone is really into the discussion, they'll become unable to resist and they go off the deep end — at a moment when they shouldn't. I understand where they're coming from, I really do. But they're out.
Say a guy is at an izakaya with a girl when suddenly she makes some kind of an uncalled-for quip at the waiter or waitress. That kind of thing really just doesn't make anyone look good in the eyes of others. Most of the time, the people around stupid girls like that will be silently thinking "you god damn idiot!" from the bottom of their hearts. That thought is a million miles away from the much more lighthearted "oh, you fool."
I definitely prefer the cute dopey girls, the ones to whom you can just plainly tell to their face when they're being silly. And when they're told so, I prefer the girls who will just laugh it off. "He he he." Because the thing is that there's obviously something about the girl that the guy finds adorable about her. If she ruins it by going "No! I'm not! I'm not stupid!," then that's it. She's out.