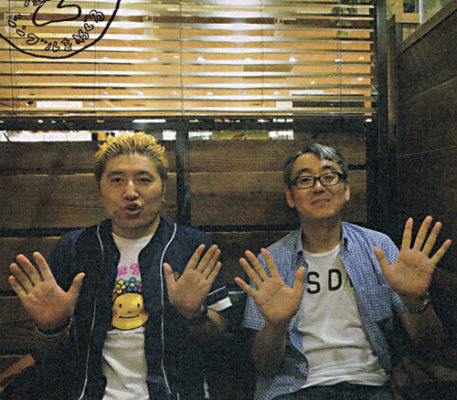 In this article, we get a discussion between Tower Records president and noted Hello! Project fan Minewaki Ikuo, and professional book critic as well as interviewer Yoshida Go. The topic: "your favorite Hello! Project singles of all-time." However…!?
— I would like to take this opportunity to talk with you two about your favorite Hello! Project singles and B-sides.

Yoshida: See, that's my first gripe with this thing — only being able to choose from single releases! I mean, you simply can't have as much personality without all the album tracks, too. Whenever I'm doing Hello! Project DJ'ing events, I hardly ever play the singles — I mostly just do songs from their soundtracks and stuff. That, and songs from fanclub-only releases.
Minewaki: But even with just the singles alone, there's so many to choose from. I just can't do it. (laughs) So what I'd like to do with this article is, I'd mainly like to talk about Yoshida's favorites and just offer my views on them.
— Sure, let's go with that. (laughs) Shall we begin with Morning Musume?
Yoshida: Of all their singles, I have to specifically mention the fanclub-only release Morning Musume Fc Special CD with ten 8-inch CD's, each of them featuring a solo song by every member at the time. Just… the sheer amazingness of Ishikawa Rika's "Rikaishite > Onnanoko"! What a song! What a voice! It lacks absolutely nothing!
Minewaki: It gets a full 100 points as an idol song.
— 100 points this early on in the conversation?! (laughs)

Minewaki: This song was released in 2001, before I first became a fan. I only bought it afterwards once I heard the high praise for "Rikaishite > Onnanoko."
Yoshida: It really is the perfect pop song. The FC Special CD is the only Hello! Project-related release that Nomura Yoshio was involved with, so when I was talking to him all excitedly about how perfect this song is, he was going "huh, did I really ever arrange a song by that name?" (laughs)
Minewaki: (laughs) Tsuji-chan's "NON STOP" is a fine song, too. But there was something very special about "Rikaishite > Onnanoko." It's essential listening for all Hello! Project fans.
Yoshida: The thing is though, there's no one out there who's really inherited this song since then, and it's a shame we never got to hear this cute side of Ishikawa Rika again after this song. v-u-den was always going more for the sexy route, and I was buying all the HANGRY&ANGRY and ABCHO stuff feeling slightly torn about it. (laughs)
— (laughs) How about Morning Musume's regular releases?

Minewaki: You could choose any one of them. But some of the ones I chose are "Inspiration!", "Popcorn Love!" and "Tsuugaku Ressha"… nothing but B-sides! (laughs) But one song I have to give a special mention to is "Manatsu no Kousen." It was arranged by Kono Shin, who also did "Popcorn Love!" He actually hasn't arranged too many songs for Hello! Project — "Manatsu no Kousen" and "I WISH" are the only A-sides he's done. They are, however, both killer tunes. I remember people back then saying the intro to "Manatsu no Kousen" sounded like The Style Council.
— It has that refreshing soul feeling to it.

Minewaki: Also, the buildup this song has in the later half is something that was later seen a lot in other songs as well, such as in the funk arrangements of Suzuki Shunsuke. There's echoes of this song even in more recent songs.
Yoshida: For me, when I was trying to choose my favorite Morning Musume single, I arrived at "Pyoko Pyoko Ultra."
Minewaki: Ah. That was a shocker of a release. The first one after Niigaki Risa had become the leader.
Yoshida: It was such a reset in their style it was almost scary. While it was a good idea to make the group feel young again, they definitely pushed the envelope on that with this song. (laughs)
— They went all the way back to chicklets with the outfits! This was also the first song for 10th gen.

Yoshida: We're now starting to get closer to what the president really wants to talk about… (laughs)
Minewaki: Ahahaha. But really, with 9th and 10th gen joining and rejuvenating the group, the fans now accepted pretty much anything from them. (laughs) "Pyoko Pyoko Ultra" really was a breath of fresh air.
Yoshida: It's a good song. I like how it just sounds like a bunch of children being all reckless. And then gradually they started moving in the EDM route as if this song had never happened…
Minewaki: The one before it was "Kono Chikyuu no Heiwa wo Honki de Negatterun da yo!", Takahashi Ai's final song, and the one right after it was "Renai Hunter," a brostep song. And then they dived straight into EDM with "One Two Three." So it was in many ways a kind of an interim song.
— Hello! Project also has lots of great sub-unit songs…

Yoshida: All of Tanpopo's music is amazing, but if I had to choose just one song, I guess it'd have to be "Koi wo Shichaimashita!"
Minewaki: Another 100-pointer — though yes, everything Tanpopo released was good.
— Truly a miraculous unit.

Minewaki: 1st gen, 2nd gen, 3rd gen… They were all good.
Yoshida: I don't think Hello! Project ever had another unit that took its concept so seriously.
Minewaki: Right. The arrangement for this song was made by Watanabe Cher — not Nagai Rui. Tanpopo tends to sort of have the image of being all Nagai Rui when actually it's just "Otome Pasta ni Kandou," "Oujisama to Yuki no Yoru," "BE HAPPY Koi no Yajirobee"…
Yoshida: And "I&YOU&I&YOU&I," which was released on what I guess you'd call a compilation album, called All of Tanpopo.
Minewaki: Right, just those four songs. The other day I met up with Nagai and he said "Even now I get people telling me they loved my work on Tanpopo, and I'm really happy about it. It's good for the songs, too, that people still listen to them." Still, if I had to pick just one song, it'd be "Koi wo Shichaimashita!" This song is very "dreamful" for us H!P wota.
— "Dreamful" how?

Minewaki: When you look at the lyrics, there's a bit about like how they went to have ramen of all things — it makes the boy in the story actually seem like an old man. (laughs)
Yoshida: Like, "this guy's definitely no high schooler anymore." (laughs)
Minewaki: I mean, it could just be that they went for ramen because he doesn't have money for anything fancier. It could go both ways. (laughs) But whichever the case may be, it kind of highlights that the guy in the lyrics isn't the typical "cool" type — which obviously leaves some room for wota imaginations to run wild. (laughs)
Yoshida: Now you're making it seem like it's a song about you being in love!
Minewaki: Well, I'll just leave it at this: it's a great deal of fun to try and imagine all kinds of scenarios within the framework of this song's lyrics. (laughs)
— S/mileage did lots of Tanpopo covers early on.

Yoshida: They did indeed. And so then when they came out with "Asu wa Date na no ni, Ima Sugu Koe ga Kikitai," it was like "this is what we've been waiting for."
Minewaki: Yet another 100-point song. (laughs) We're pretty much handing out 100 points to everything now. (laughs)
Yoshida: You're going to make the concept of "100 points" lose its value. (laughs) It's fun, too, how it's a song with this huge Tanpopo influence, and yet, it was arranged by AKIRA of all people. The song gives me flashbacks of when they performed downstairs. (Note: this interview was conducted at the Tower Records Shibuya store.)
Minewaki: They used to perform here a lot in their indie days. They did so around the time of "Suki-chan," too. At the end of the day, it's really got to be these four…
Yoshida: There's no doubt it was a miraculous foursome. Had it remained these four, I think they would've been fair rivals even to groups like Momoclo. With S/mileage, it all boils down to this song for me. Though I also love "Please Miniskirt Post Woman!"
Minewaki: That's my no. 1 favorite S/mileage song. What a fantastic song. Those final lyrics of the song… "monogatari wa tsuzuku~" ("the story continues").
Yoshida: I saw their in-store event for that single downstairs, too. The last Yuukarin.
Minewaki: I got to greet them after their performance, and so after I finished talking to Dawa about the song and that lyric especially, "monogatari wa tsuzuku", I said something like "please keep doing your best." I still vividly remember what happened next. As we parted, she turned around to face me once more and distinctly said to me: "it will continue!" Their recent songs are good, too. I love "Yattaruchan!"
— Shall we talk about some more sub-unit songs next?

Minewaki: When it comes to shuffle units, my top choice would probably be 3nin Matsuri's "Chu! Natsu Party."
Yoshida: That was amazing. It was with 3nin Matsuri that J-san (Sugisaku J Taro) was switched "on" and he became an earnest supporter of Kago-chan. (laughs)
Minewaki: I've seen footage of him at Shinjuku-Nishiguchi buying a DVD player at Yodobashi Camera to later give as a present to Kago-chan, and then loitering around Shinjuku station and in front of Yodobashi and stuff, doing random Kago-chan calls. (laughs)
Yoshida: J-san was crazy back then. He was going on about how he "must let the world know about how popular she is!" while running around outside, blasting Morning Musume songs at full volume. (laughs) By the way, this unit was also the inspiration for an event me and Tarzan Yamamoto did called "Kakutou Futari Matsuri."
Minewaki: The SATOUMI unit songs they're doing as of late kind of have the same taste. There are songs with that same matsuri-feel, sort of.
Yoshida: They've been doing the more folky type stuff with SATOYAMA units, but at the end of the day, I personally get more hooked on the matsuri-type stuff. I'm going to name Aoiro 7's "Aoi Sportscar no Otoko" as one of my favorites. I like Matsubara Ken's arrangement. He's the person who also did "Chokotto LOVE."
Minewaki: I really liked Kiiro 5's "Kiiroi Osora de BOOM BOOM BOOM." There's a video on YouTube with wota dancing to this song in front of Saitama Super Arena. Suddenly more and more people just keep appearing and they all start dancing in formation. When the song ends, everyone just scatters. (laughs) I remember them doing this 10-odd years ago. (laughs)
— Like an early version of a flash mob. (laughs) Shall we move on to other groups?

Yoshida: When it comes to Melon Kinenbi, my favorite is either "This is Unmei" or "Fuwafuwafuu." I also rate highly the later band collaborations they did.
Minewaki: Ah, the "Rock-ka Keikaku Collaboration Single" series. Their final, Tower Records-exclusive singles.

Yoshida: Which later resulted in their final album, MELON'S NOT DEAD. They picked great bands to work with — though I would've wanted BEAT CRUSADERS to just do a normal, catchy song, but they went in a metal direction instead. That one was a bit different from what I'd hoped. I liked the song they did with Midori, "sweet suicide summer story," and how Midori-like it sounds.
Minewaki: Other bands that participated were THE COLLECTORS, NEW ROTE'KA and GOING UNDER GROUND. They were actually originally supposed to do a song with Dohatsuten as well, but that never came to fruition. I would've loved to hear them sing a Masuko Naozumi song.
Yoshida: They never did have any big hits, but I have to say: Melon really did a good job for a solid ten years.
Minewaki: Yes. I think Melon might've ended earlier had it not been for "This is Unmei."
Yoshida: Right. It's one of those killer tunes that always gets everyone fired-up live. At Okite Porsche's DJ events, whenever this song comes on, he tells the audience that it's okay to start moshing. (laughs) It's like the same thing as with the chorus of "Linda Linda."
Minewaki: He also plays "Saa! Koibito ni Narou" at his events. It's actually thanks to Okite playing their songs in his DJ events and talking about them in magazines that I first started listening to them. They did an in-store event at the Shinjuku HMV around the time of their second single, "Kokuhaku Kinenbi." I was at the Shinjuku Tower store at the time so I just randomly happened to be passing by. "Well would you look at that. It's some girls performing while wearing wigs. Huh." I wasn't into idols yet back then, so it was only later that I learned I'd actually seen Melon Kinenbi that day. Looking back on it now, I realize I did something terribly impolite.
Yoshida: Had you stayed and watched them until the end, you might've heard "Fuwafuwafuu" live. (laughs)
Minewaki: I know! Tell me about it!
Yoshida: "Fuwafuwafuu" was simply groundbreaking. Here you suddenly had an idol group doing lounge pop.
Minewaki: It definitely had that bossa nova taste. I wasn't listening to it in real-time, so later when I was checking up on all that I'd missed, there was a period of time when I was just hooked on Melon. They hardly ever performed solo concerts…
— They hardly even released albums!

Minewaki: Right. Even their first album, 1st Anniversary, came quite a bit after their debut. They really were a good group.
— Let us move on.

Yoshida: With °C-ute, I guess it'd have to be "Ooki na Ai de Motenashite" for me. They already had me at those very first lines of the song. With that said, when it was first released, I think I was still trying to reason with myself not to love it. "No way! I can't! They're just children! It's too much!" (laughs)
Minewaki: Looking back on it now, there's both the bigger kids as well as the smaller ones — it felt pretty uneven. In that sense they reminded me of Berryz Koubou. By the way, now that we're on the topic of °C-ute… what was the deal with Maimai's sunglasses anyway? (laughs) My favorite Berryz Koubou song is "Gag 100bun Aishite Kudasai." Momochi was the center in this one. It's amazing.
Yoshida: Agreed!
Minewaki: It was around this time that I became a fervent fan of handshake events. (laughs) I can't get enough of that weird interjection by Chinami — "no nyuu!" But the problem is that they hardly ever performed the song in full so you didn't get to hear that specific part often. It's the same problem as it was with "Morning Coffee" and the "Kaorin!" call. (laughs)
— It was shocking to many how everyone in both Berryz Koubou and °C-ute at the time of the groups' respective debuts was still an elementary schooler.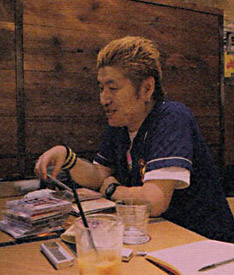 Yoshida: I think it was a crossroads situation for many fans. First you had Hellomageddon, and suddenly no one knew what was happening anymore. Some people drifted towards the futsal thing (Gatas), other people towards the elementary schoolers (Berryz Koubou), whereas other people didn't drift anywhere. Pretty much everyone around me chose the futsal thing; a few of them went for the elementary schoolers. I couldn't choose either one, so I decided to just take a break and follow other idols for a while. (Note: Hellomageddon, a slew of what were considered terrible announcements made on July 31, 2002: Goto Maki and Yasuda Kei's graduations from Morning Musume; renewal of the lineups of Tanpopo, Pucchimoni, Minimoni and Country Musume; Heike Michiyo's graduation from Hello! Project. (Also often considered part of Hellomageddon though not announced at the event: Rinne and Ishii Rika's graduations from Hello! Project.))
Minewaki: I had no problem going for both at the same time. (laughs) I was attending all the futsal events while also following Berryz Koubou at the same time.
Yoshida: Like going "hot-blooded futsal matches and elementary school children are both equally great!" (laughs)
Minewaki: Right. Gatas' match at Komazawa Gymnasium was a hot one. This was in 2006. I can never forget how Miuna from Country Musume raised her hand to volunteer for a penalty kick. She scored and they ended up winning the entire match thanks to her. In a way, that match outdid even the best concert experience for me. That might've been the most touched I've ever felt in my life. (laughs) Gatas is still active today.
— Up Up Girls (Kari) are very active with that.

Minewaki: Berryz Koubou used to tour with W in the beginning, right?
Yoshida: W was a good unit, too. "Robo Kiss" is one of the techno songs of Hello! Project.
Minewaki: Although it wasn't in promotion of that song specifically, I was moved the first time W did their first in-store event for us — Hello! Project had never done in-store events at Tower Records before. Everyone was incredibly fired-up. Tsuji-chan and Kago-chan were both such good girls, too.
Yoshida: They used to be these kids who just did whatever they wanted, but gradually they became more and more mature. (laughs)
Minewaki: W was another miraculous duo.
— Tsuji-Kago caused a revolution in the low teen idol scene.

Minewaki: Yes they did. Even now there are lots of people who only care to follow those two, and people who first got into idols through Minimoni.
— There really are quite a lot of people like that. Kyary Pamyu Pamyu is one of them.

Yoshida: Yes — not Shinohara Tomoe. (laughs) President, do you want to talk about Minimoni?
Minewaki: "Mini Strawberry Pie" is the one for me. I just sang it with my wife in karaoke the other day.
Yoshida: You're still singing it now? (laughs)
Minewaki: Also, Minimoni to Takahashi Ai + 4KIDS' "Okashi Tsukutte Okkasui~!" is good, too. This one was also arranged by Watanabe Cher.
Yoshida: All the units from Pucchimoni and beyond were good. Sheki-dol, too, was part of Hello! Project…
Minewaki: Tsunku♂ himself personally arranged some songs for Sheki-Dol — they're pretty much the only group he's ever done that for. I wonder why he only did so for them? I guess he was just so into it. But they sure were a strange group. They had member changes, too…
Yoshida: Yeah. To this day I still don't really know what they were about or what kind of people they were. But I do like the power pop of "Zentaiteki ni Daisuki desu" and stuff. And Country Musume was amazing once they teamed up with Ishikawa. Country Musume ni Ishikawa Rika's "Hajimete no Happy Birthday"… songs like that.
Minewaki: Rika-chan sang this song at her Budokan graduation as well — it was the final song she chose to sing by herself. Later on she went on to say that it was actually Country Musume that helped her break out of her shell and that she was glad she did it. It changed her. That was Rika-chan at her liveliest.
Yoshida: And then there was another unit that was like it was designed for you: ZYX.
Minewaki: Now this group right here gets 200 points! (laughs)
Yoshida: That many? (laughs) "Iku ZYX! FLY HIGH" is good, but for me, it's got to be "Shiroi TOKYO." It's a Hirata Shoichiro arrangement and there's no doubt that these were the early origins of the current style of Morning Musume.
Minewaki: I, too, prefer "Shiroi TOKYO."
Yoshida: It's almost too perfect. It's exceptional. How can it be both so glittery and so tight at the same time?
Minewaki: It felt like Yaguchi Mari just hanging out with the Kids. And the songs were great. Already you could see personality in their dancing — it may seem like Shimizu Saki's dancing is strangely powerless, but if you look at the music video carefully, you can see she's already just crazy good. And then you also had Momochi and Yajima Maimi, Murakami Megumi and Umeda Erika.
Yoshida: That reminds me. You had a funny episode regarding Murakami Megumi, right?
Minewaki: I was in the middle of a very important meeting when I suddenly got an email from a fellow wota. I just glanced at it quickly and it said "Murakami Megumi withdrew." I accidentally let out an audible "huh?!" in front of everyone. (laughs) That's the first time anything like that has ever happened to me. (laughs)
Yoshida: I wish ZYX had continued to go on as a unit indefinitely.
Minewaki: Most units tend to not last more than two or three singles no matter how good they may be…
— I guess the temporary units must stay that way. Should we talk about solo singers as well?

Yoshida: It's got to be Matsuura Aya. Her early material was absolutely flawless.
Minewaki: I like "100kai no KISS." This was Konishi Takao's work.
Yoshida: Speaking of another "Konishi"… Konishi Yasuharu arranged "Ne~e?" and it was like the perfect "Hello! Project meets Konishi" song.
Minewaki: The other night I randomly started watching Matsuura's videos and I just couldn't stop. (laughs) She has so many good songs. I tweeted about it and got loads of replies from everyone going "I like this and that song" or "I like that one album track" and so on.
— She was a natural-born idol.

Yoshida: I really think she had what it took to become the Heisei Era Matsuda Seiko.
Minewaki: Why did she decide to go the artist route?
Yoshida: Well, I've heard it's what she herself wanted to do. But it makes the stuff from her debut days shine that much brighter.
Minewaki: I actually liked Matsuura right from her debut — before I even got into Morning Musume.
— It's amazing how she was able to break right into stardom like that when Morning Musume was dominating the charts.

Yoshida: I wasn't actually going to the concerts or events back then. And yet, I made an exception for her. Matsuura's first and second albums are both masterpieces.
Minewaki: Yes. And speaking of solo artists, Fujimoto Miki was good, too.
— Fujimoto Miki joined Morning Musume a year and two months into her solo debut. All of her material up until that point had been great.

Minewaki: "Aenai Nagai Nichiyoubi," "Romantic Ukare Mode," "Boogie Train '03"…
Yoshida: Another solo artist who matched Matsuura's destructive power for me was Mano Erina. I hadn't been going to concerts for a while, but Mano-chan made me start going again.
— It'd been a while since Hello! Project had last had a pure solo artist.

Minewaki: It had indeed.
Yoshida: The unsteadiness of Mano-chan's singing was really just… exquisite. (laughs)
Minewaki: Most groups have that one member in there whose singing is shaky, but it's not often they'll have someone like that actually debut as a solo artist.
Yoshida: For Tsunku♂, the most important thing isn't whether the singer is skilled or not — it's whether their singing has flavor or not.
Minewaki: I really liked the era when KAN was writing all her songs — the ones with KAN doing the songwriting and Taisei in charge of arranging.
Yoshida: When Utamaru met with KAN, he apparently begged him to write just one more song for Mano-chan. (laughs) If I had to name a favorite, I'd say it's "Hajimete no Keiken."
Minewaki: It was all KAN-penned songs up until "Sekai wa Summer Party," right? They were all so good. (laughs) I read something with him talking about how, since Mano-chan has such a narrow singing range, he was actually purposefully writing the songs for her while keeping that in mind. Now that's a true professional for you right there.
Yoshida: Yeah. Like, it's so funny how the opening piano lines of those songs are going up and down and all over the place, but when the vocal melody kicks in, the range suddenly shrinks to nothing. (laughs)
Minewaki: Exactly! That was what made those songs so good. (laughs)
Yoshida: I liked how simple and foolish the lyrics to "Sekai wa Summer Party" were. Oh, and Kusumi Koharu's solo material was of course good, too.
Minewaki: She inspired a lot of later idols, too.
— It must be the influence of the Kirarin☆Revolution anime. There were many girls who first became interested in idols upon seeing Tsukishima Kirari. Momoclo's Takagi Reni is one such example.

Yoshida: But for me, it'd have to be MilkyWay. "Tan Tan Taan!" is just so good. Those three in MilkyWay really had nice voices. They were all very different from each other, too.
Minewaki: Kusumi Koharu, Kikkawa Yuu, Kitahara Sayaka. What a lineup!
Yoshida: They're all girls who seem like they'd have exceptionally strong personalities, too. (laughs) "Tan Tan Taan!" is also notable for being the first "Up-Front meets Maeyamada Kenichi" song. It's through this song that I first came to know him.
Minewaki: Same here. After that song, I started buying everything that had his name on it. This was even before Momoclo.
Yoshida: Right. Later when I asked Maeyamada about this song, he told me that when he first made it, it sounded pretty much just like Perfume. But then they suddenly asked him to put in a bunch of tambourine and make it sound like The Byrds instead, and so he was in a huge hurry to make what later became the finished song. And to think he made made it happen in just one night makes it all the more greater. I still often watch the music video.
— What do you think about the newest group, Juice=Juice?

Minewaki: I actually only just recently finally understood the appeal of Juice=Juice.
Yoshida: You're late!
Minewaki: People around me were going "oh, you'll love them!" and I'd buy all their indies CD's and stuff, but it just wasn't clicking with me. I couldn't get into them for some reason. It was finally with their major debut "Romance no Tochuu" that I fell for them hard. Now I can't wait until they do their first solo concert tour. (laughs)
— The sax in songs like "Watashi ga Iu Mae ni Dakishimenakya ne" really leaves an impression.

Yoshida: That is a very addictive sound. (laughs)
Minewaki: Morning Musume's "Ai no Gundan" uses the sax, too.
Yoshida: That's a great sax riff. And unexpected, too.
— That was the biggest such surprise for me since Men at Work's 80's hit "Who Can It Be Now?"

Minewaki: You do realize no one but the proper adults reading this will get that reference, right? (laughs)
Yoshida: The first time I saw the music video to "Watashi ga Iu Mae ni Dakishimenakya ne," I just burst out laughing. Miyamoto Karin was completely over-the-top. Not only was her singing and dancing top-quality, but furthermore there was just an excess of those facial expressions and poses of hers. I was like, "oh snap!" (laughs)
Minewaki: I always figured Karin-chan to be a natural — just an exceptionally skilled girl. But then Tsunku♂ wrote a blog post talking about how "she might look like she's naturally capable, but she's actually not — she just overdoes it. She's finally understood this about herself, too." I never realized it until he wrote that. She'd always struck me as the one that easily stood out the most from the Kenshuusei.
Yoshida: I think her dancing is clearly on a whole other level altogether.
Minewaki: Even on the very first glimpse, she just demands the attention of your eyes. While she may be small in stature, her movement totally makes up for it.
Yoshida: She makes it seem like her heels are never touching the ground. (laughs)
Minewaki: Right, exactly. (laughs) And her reactions are exaggerated, too.
Yoshida: I thought she was like this idol cyborg, but when I actually spoke to her, I didn't find that to be true at all. "The other members say I'm too calculating, and people at school tell me I'm just pretending to be cute." This apparently made her worried. (laughs) "But that's not true at all! I can't be calculating like that!" It's just not in her. Apparently, it's because she isn't calculating that she's become the way she is. She's a fun girl.
Minewaki: I can already tell Karin-chan is going to become very popular. It makes me happy.
— (laughs) Well, we talked about all sorts of things related to Hello! Project music. How do you feel now, having picked some of your favorites?

Minewaki: Hello! Project is the best!
Yoshida: Here we go again. (laughs)
Minewaki: I'm always saying it. (laughs) Although I couldn't choose my absolute favorites, this helped me remember just how fun it is to listen to their wide catalog of music.
Yoshida: It's just that since Hello! Project has been around for so long, the sound of their music can really change wildly throughout the years. That's why choosing just our favorite singles is way too difficult. I could easily pick ten favorites just from the very early songs alone.
Minewaki: Please make a book where you ask us to name ten favorite singles from, like, this specific group or something. (laughs) But, in researching all their past singles, one thing that really stuck with me are the B-sides of Morning Musume. So many of them are black music-inspired. There are lots of rhythm-oriented songs. I think the young people of today might find them interesting to listen to. There are songs with like new jack swing influences and stuff. It's all very cool.
Yoshida: Why not use this opportunity with Morning Musume's self-cover album, The Best! ~Updated Morning Musume~, to start discovering more of their early work?
Minewaki: And people who've never listened to anything from Hello! Project might do well to check out the B-side collection album. I think that's now a very good way of getting to know them. It's great fun listening to just the B-sides. There are some real gems in there.
Yoshida: I'd also like to hear albums with different individuals choosing their favorite songs.
Minewaki: Right. They have such a large catalog, some people might find the task of getting to know them too daunting. There could be an album with nothing but songs chosen by you for example. It might be easier to get to know Hello! Project through an album like that because it shows a bit of personal bias.
Yoshida: It'd be great to have albums like that made by several people. If it was one made by Okite Porsche, it'd only have songs like Kira☆Pika's "Hana wo Puun" for example. (laughs)
Minewaki: Those sorts of compilations would be fun to do. We could have three or four different editions and have them permanently on sale at Tower Records. … Well, I guess I can only wrap this up by saying it one more time: Hello! Project is the best! (laughs)
Interview & text: Tsuchiya Keisuke
English translation: Henkka
Minewaki Ikuo on the web: Twitter, blog
Yoshida Go on the web: Twitter