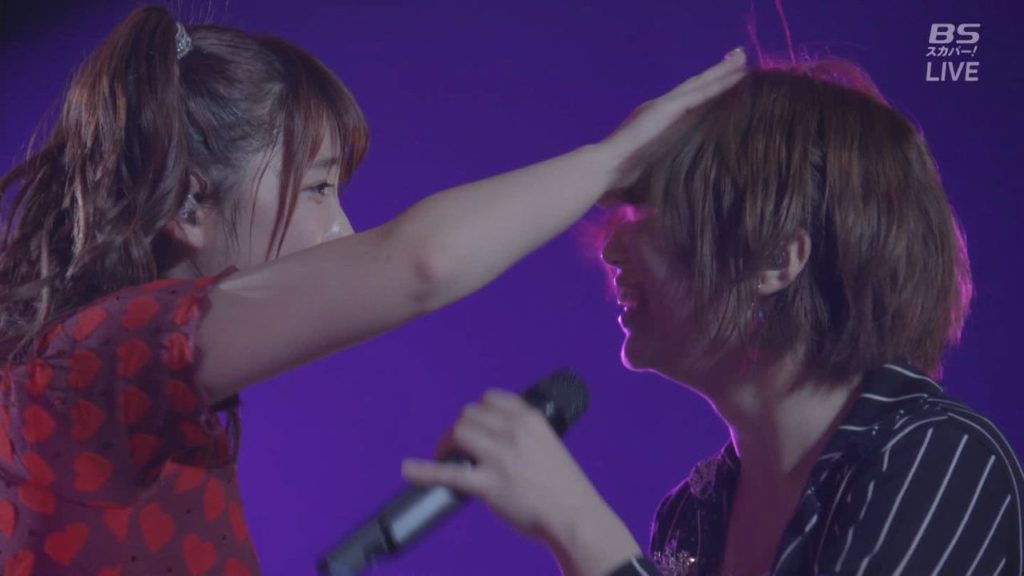 1: XXXXXXXXXXXXX 2015/12/26(土) 16:53:58.63 0.net
Why???
7: 名無し募集中。。。 2015/12/26(土) 17:11:33.75 0.net
She's cute, and thus she's loved by men and women of all ages. That's all.
8: 名無し募集中。。。 2015/12/26(土) 17:13:24.10 0.net
Take's one of the skilled members. Her dancing is cool.
12: 名無し募集中。。。 2015/12/26(土) 17:17:17.29 0.net
This high school girl who was at the same live viewing of Maro's Budokan concert as me became a fan of Take-chan, too.
13: 名無し募集中。。。 2015/12/26(土) 17:18:35.24 0.net
Because she's adorable!
10: 名無し募集中。。。 2015/12/26(土) 17:16:05.19 0.net
The same reason Honda Tsubasa is well-liked by women.
11: 名無し募集中。。。 2015/12/26(土) 17:16:29.00 0.net
She has a lot of male fans, too, though.
15: 名無し募集中。。。 2015/12/26(土) 17:22:30.95 0.net
I'd imagine one might feel pretty weird being well-liked especially by people of the same sex as you though…
18: 名無し募集中。。。 2015/12/26(土) 17:25:24.74 0.net
>>15
Not at all. They probably love having more fans of the same gender.
17: 名無し募集中。。。 2015/12/26(土) 17:24:25.81 0.net
Here you go. The fair maiden: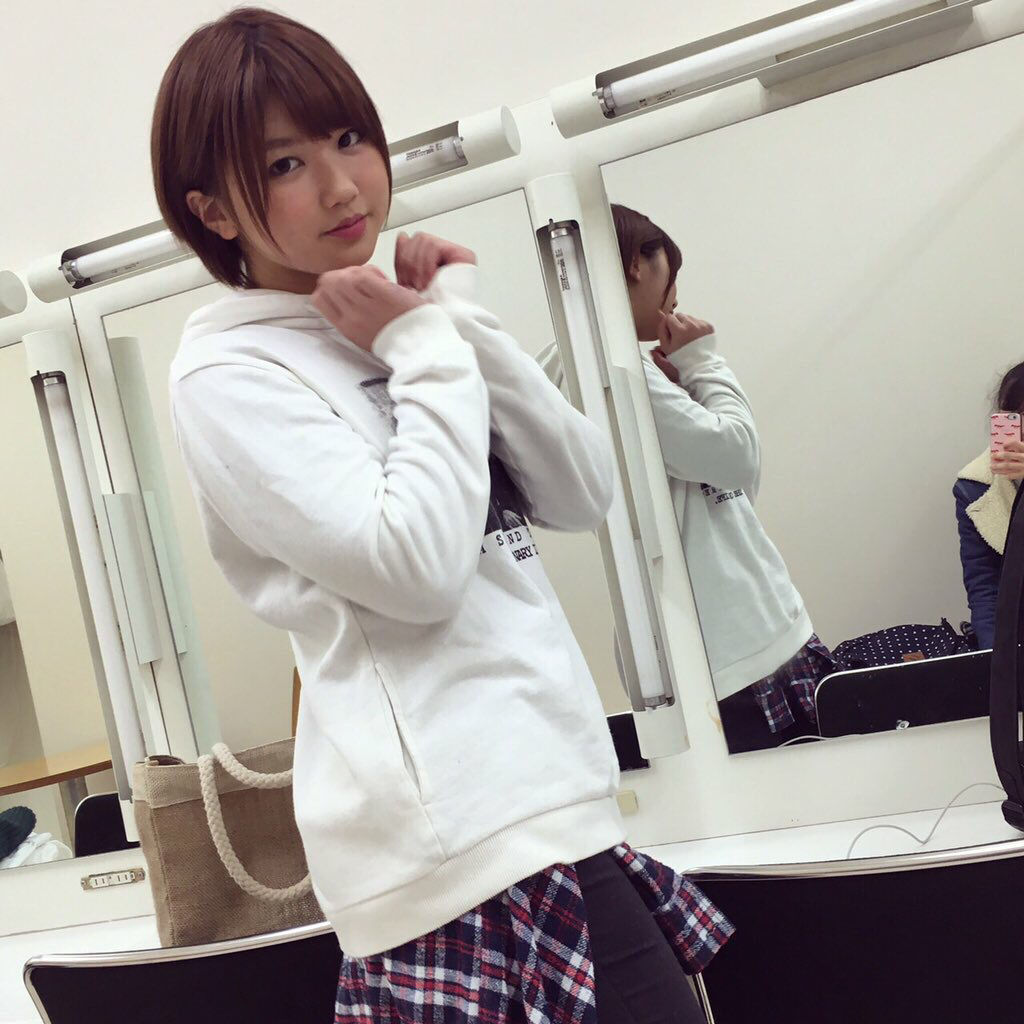 21: 名無し募集中。。。 2015/12/26(土) 17:27:35.45 0.net
"You look like a total girl! (laughs)"
19: 名無し募集中。。。 2015/12/26(土) 17:25:26.95 0.net
The other members were saying somewhere that Take-chan has a lot of wota who look like they're physically fit.
23: 名無し募集中。。。 2015/12/26(土) 17:28:44.77 0.net
Because from a woman's point-of-view she's the ideal little sister type.
28: 名無し募集中。。。 2015/12/26(土) 17:33:28.03 0.net
Because she's cool, cute, round, and acts like a cool guy.
29: 名無し募集中。。。 2015/12/26(土) 17:35:05.16 0.net
She's cool.
31: 名無し募集中。。。 2015/12/26(土) 17:35:36.03 0.net
Cuuute.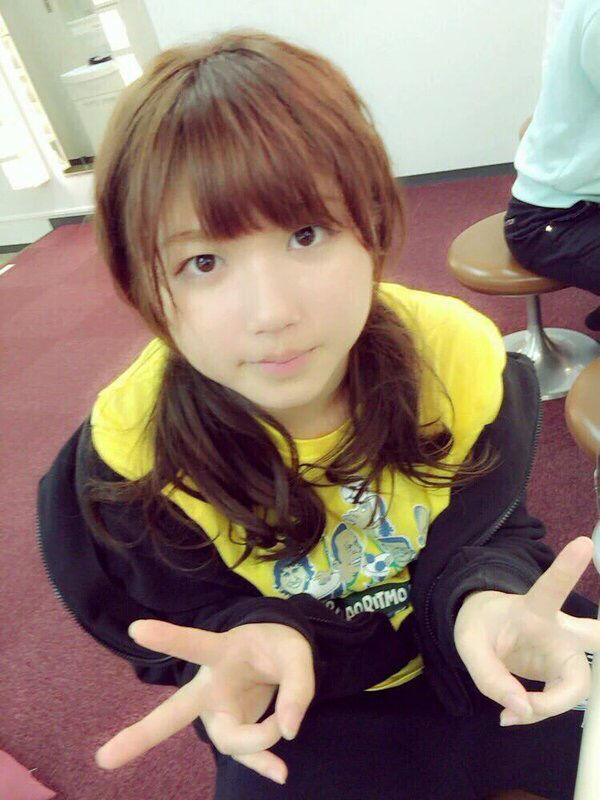 32: 名無し募集中。。。 2015/12/26(土) 17:37:09.06 0.net
My impression is that she has a lot of girl fans who look like guys themselves.
33: 名無し募集中。。。 2015/12/26(土) 17:40:25.80 0.net
Because she's lovely.
35: 名無し募集中。。。 2015/12/26(土) 17:43:52.83 0.net
The wonderful thing about her is how on first glimpse it might look like she has nothing feminine about her at all, and yet, deep down inside, she actually has the girliest, most maiden-like heart of them all.
40: 名無し募集中。。。 2015/12/26(土) 17:49:51.90 0.net
Why, you ask? Because Take-chan is the sole male member of H!P.
45: 名無し募集中。。。 2015/12/26(土) 17:57:51.06 0.net
Oden is a fool, but she's not two-faced and she's very caring. That's why so many of the younger members look up to her.
47: 名無し募集中。。。 2015/12/26(土) 17:58:34.69 0.net
Because girls like round things.
49: 名無し募集中。。。 2015/12/26(土) 18:00:59.61 0.net
Her complexion is so white and she's a little plump… she's just so cute. I really like her.
52: 名無し募集中。。。 2015/12/26(土) 18:12:25.66 0.net
It's hard to picture a Japanese person who'd hate oden.
56: 名無し募集中。。。 2015/12/26(土) 18:16:32.36 0.net
The reason is because Take-chan has none of that womanly rottenness that some females out there have — which is something all women have to tolerate every single day.
62: 名無し募集中。。。 2015/12/26(土) 18:21:03.35 0.net
>>56
You could probably say the same thing about Rikako and Aikawa, too, right?
66: 名無し募集中。。。 2015/12/26(土) 18:25:14.41 0.net
>>62
In that sense, ANGERME has all they need to become hugely popular among women.
57: 名無し募集中。。。 2015/12/26(土) 18:17:07.01 0.net
She's the kind of person you'd like to have as your little brother.
She's the kind of person you'd like to have as your little sister.
She's even the kind of person you'd like to have as your child.
In one sense, she's the perfect idol.
59: 名無し募集中。。。 2015/12/26(土) 18:19:41.41 0.net
I do admit that I like her refreshing personality.
82: 名無し募集中。。。 2015/12/26(土) 18:38:42.81 0.net
She has a cute voice.
She's round, and yet not fat.
She can sing and dance.
She has one of those cackling types of girly laughs.
She's one of those talents you feel like you've seen before, but in reality she's one of a kind.
95: 名無し募集中。。。 2015/12/26(土) 19:12:15.36 0.net
The funny thing is, you never hear about other H!P members calling Take cool. They all say they like her because she's so cute.
96: 名無し募集中。。。 2015/12/26(土) 19:13:38.90 0.net
Karin-chan has called Take-chan cool.
103: 名無し募集中。。。 2015/12/26(土) 19:52:23.57 0.net
On one birthday event DVD, Karin-chan actually cried because Take-chan was just too cute.
106: 名無し募集中。。。 2015/12/26(土) 19:53:40.85 0.net
>>103
Which birthday DVD was this?
109: 名無し募集中。。。 2015/12/26(土) 19:57:22.58 0.net
>>106
Take's one from 2014. It was at the end of the performance when it was just Take, Kana and Karin talking. Karin-chan thought Take was just so cute during her performance that she started crying. Take and Kana were obviously surprised.
123: 名無し募集中。。。 2015/12/26(土) 20:17:59.67 0.net
>>103
Karin and Kananan were watching Take's mini-live near the back of the venue and Kananan was caressing Karin's head as she cried. My seat was in the back, too, so I could see those two.
97: 名無し募集中。。。 2015/12/26(土) 19:19:24.44 0.net
Girls like Take-chan who are fit and have a manly personality and yet are girly deep down on the inside are the type who are really popular in girls' schools, too. That says it all.
98: 名無し募集中。。。 2015/12/26(土) 19:21:53.52 0.net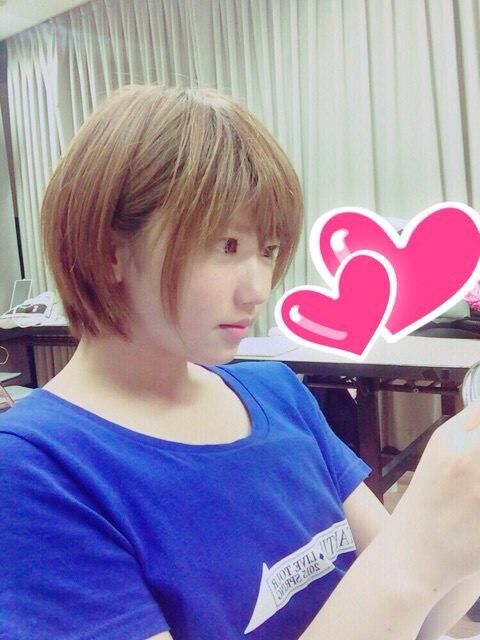 100: 名無し募集中。。。 2015/12/26(土) 19:45:49.90 0.net
There's one thing I know having seen Matsuura in her golden era: idols who aren't well-loved by their own gender will never make it to the top.
105: 名無し募集中。。。 2015/12/26(土) 19:53:23.45 0.net
When you look at things like Johnny's and Disney, it's actually the women who are more important to have as fans. You can't be popular without them. Guys will always just find a younger, cuter girl to move on to.
101: 名無し募集中。。。 2015/12/26(土) 19:47:21.62 0.net
Tsunku's commentary:
2011/12/21
Of the new members, Takeuchi is the one who can really move her body, and she's also a highly dependable singer. Sometimes it may seem like she's moving a bit too much, but well, she's still so young, so I suppose it's alright.

2012/01/17
She has amazing physical abilities. Also, her short haircut really suits her. She's quite the mood maker. She can be a bit reckless which makes me worried sometimes, but I'm very glad this girl is in the group.

2012/04/19
Takeuchi's dancing is very defined and powerful. Sometimes it's a bit too much, but that force is what makes S/mileage the group it is, so it's all good!

2012/08/11
She's always giving it her 100%, and that gives potential for S/mileage to keep going higher and higher. There's also something so fun about her dancing, and her singing is powerful. I'm glad she made it into the group.

2012/09/21
Before I'd even noticed it, this girl has become a bit more adult-like. Her outward appearance is still very powerful, but I feel like she's grown in other ways.

2012/11/05
She's a hard worker who hates to lose. Taking it too far sometimes is this girl's charm. However, she's also started to look more mature.

2013/03/02
She's always giving everything her 100% — sometimes to the point where it's scary. But I think that Takeuchi being so overtly energetic is the reason why S/mileage will continue to go forward. Don't care about what anyone else thinks and just keep giving it all you have, like you've done up until now! Give 'em hell! The short hair really suits her, too. It might be nice to see her playing with her hair color a little in the future.

2013/05/05
Takeuchi has become sexy. Her hairstyle and the way she handles herself is very boyish, but the funny thing is, the more and more she emphasizes that, the more her girliness becomes apparent. People who see her for the first time might think of her as just the short-haired boyish character of the group, but I'm convinced that the true fans know the parts of her personality she keeps hidden within herself!

2013/05/27
Takeuchi is so fun. She can sometimes say very surprising things which really makes the mood around her relaxed. She herself might think she's now one of the more level-headed members, but in reality that just isn't true, and that's something that makes her so cute. That's one of the great things about Takeuchi. I hope she never changes.
120: 名無し募集中。。。 2015/12/26(土) 20:08:14.50 0.net
>>101
I cried.
Terada really does watch over them…
102: 名無し募集中。。。 2015/12/26(土) 19:48:14.42 0.net
2013/11/26
Takeuchi keeps rushing forward like always, and yet, she's now become womanly. Her hair may be short, but some of those fairytale-like qualities in her heart have become more apparent compared to before. She adds to the youthfulness of S/mileage.

2014/04/16
It took a bit of searching, but even when we finally decided on the outfits for "Mystery Night!", I didn't expect it to suit Takeuchi so well. Of all the members, she's the one I was most surprised to see in that outfit — in a good way. She herself was surprised, too, but I don't believe she disliked it at all. I think she really made the most of it. When one feels confident, it really shows in your singing and dancing, too. So after the recording of the song and beginning with around the time they were shooting the music video, you could start seeing quite a drastic change in her mental state!

2014/07/30
It's scary how she herself doesn't even realize how she's becoming so womanly. That sexiness of hers has become even more pronounced. Usually when she's talking or practicing at rehearsals and such, she's just "Take-chan." But when it's actually showtime, her switch is turned on — unbeknownst even to her — and she just starts exuding those pheromones.
107: 名無し募集中。。。 2015/12/26(土) 19:54:05.39 0.net
Terada seems to quite like Take-chan.
110: 名無し募集中。。。 2015/12/26(土) 19:57:27.92 0.net
>>107
He once even teased her about her thick legs.
It's so lonely now that Terada is no longer involved.
124: 名無し募集中。。。 2015/12/26(土) 20:19:30.76 0.net
He really watched over the many H!P members so closely… Their songs as ANGERME have been good, too, but I can't help but think that the members might feel quite uneasy now without Terada.
119: 名無し募集中。。。 2015/12/26(土) 20:07:24.77 0.net
There are so many idols that all look the same, but I can't think of any other idol like Take who's also as skilled as she is.
121: 名無し募集中。。。 2015/12/26(土) 20:12:40.16 0.net
Compared to all those other boyish characters, she has that adorable voice of hers. Hearing that voice singing H!P's cute songs gets me every single time. She has so much to love about her, I wouldn't even know where to start if someone asked me to list them.
125: 名無し募集。。。 2015/12/26(土) 20:50:45.67 0.net
I often see female wota on Twitter going "Take-chan is just too cute! I can't take it!!"
147: 名無し募集中。。。 2015/12/26(土) 23:16:04.19 0.net
She's boyish, yet her voice is so cute.
She's a great singer, dancer, and she's good-looking.
She has a great personality and is well-liked by other members.
Lately she's even become sexy.
I simply can't find anything to dislike about her.
154: 名無し募集中。。。 2015/12/27(日) 00:17:49.34 0.net
Take's big brother has such an adorable, pure little sister in Take-chan that I really feel he shouldn't go out and bother marrying some woman just so that he never has to find out about the darkness that is inside most women out there.
152: 名無し募集中。。。 2015/12/27(日) 00:12:16.79 0.net
You guys sure love Oden.
156: 名無し募集中。。。 2015/12/27(日) 01:44:30.44 0.net
I think Take herself misunderstands why so many women like her. "I guess it's because I'm so boyish." In truth, her female fans feel a maternal kind of love for her because they see her trying so hard to pretend to be boyish when really she's not.
170: 名無し募集中。。。 2015/12/27(日) 09:46:37.29 0.net
It's cute how Oden gets angry when someone calls her Oden.
172: 名無し募集中。。。 2015/12/27(日) 11:43:20.90 0.net
It was only when I went to her individual handshake event that I realized: "wait, this one is actually a maiden at heart."
184: 名無し募集中。。。 2015/12/27(日) 21:27:38.96 0.net
H!P members who love Take-chan: Nakajima, Wada, Fukumura, Nakanishi, Katsuta, Tamura, Aikawa, Miyamoto, Kaga.
195: 名無し募集中。。。 2015/12/27(日) 23:47:16.77 0.net
>>184
You can add Airi to that list.
199: 名無し募集中。。。 2015/12/28(月) 05:20:37.87 0.net
I love seeing how much everyone likes Take-chan. She really is a true one and only, isn't she? "The boyish girl at an all-girls school type" is the perfect description for her.
204: 名無し募集中。。。 2015/12/28(月) 10:02:04.29 0.net
I'd think that rather than being in love with her in a romantic sense, most of her fans fall in the category of the older folk who see her as someone like a cute niece. (laughs)
159: 名無し募集中。。。 2015/12/27(日) 04:09:16.36 0.net
I really feel like she'd just be a fun friend to have.
160: 名無し募集中。。。 2015/12/27(日) 04:09:45.77 0.net
I want to go to a cheap family restaurant with her after school.
206: 名無し募集中。。。 2015/12/28(月) 18:12:22.08 0.net
I think this happened at S/mileage's single release event in Nagoya. There were these two female wota talking. "My oshi now is Take. She's just so cute! I want to have a little brother like her!" I was just thinking to myself, "girls, she's not a guy." (laughs)
Takeuchi Akari:
"I was really popular in 6th grade!
I was constantly getting confessed to by my
juniors and seniors alike! It was crazy!"
1: 名無し募集中。。。 2016/02/02(火) 21:29:45.70 0.net
Source: radio. (Note: Feb 2nd episode of "60TRY-bu".)
4: 名無し募集中。。。 2016/02/02(火) 21:31:20.24 0.net
Wait, seriously? Take-chan was once popular?!
2: 名無し募集中。。。 2016/02/02(火) 21:30:38.44 0.net
Take-chan in 6th grade: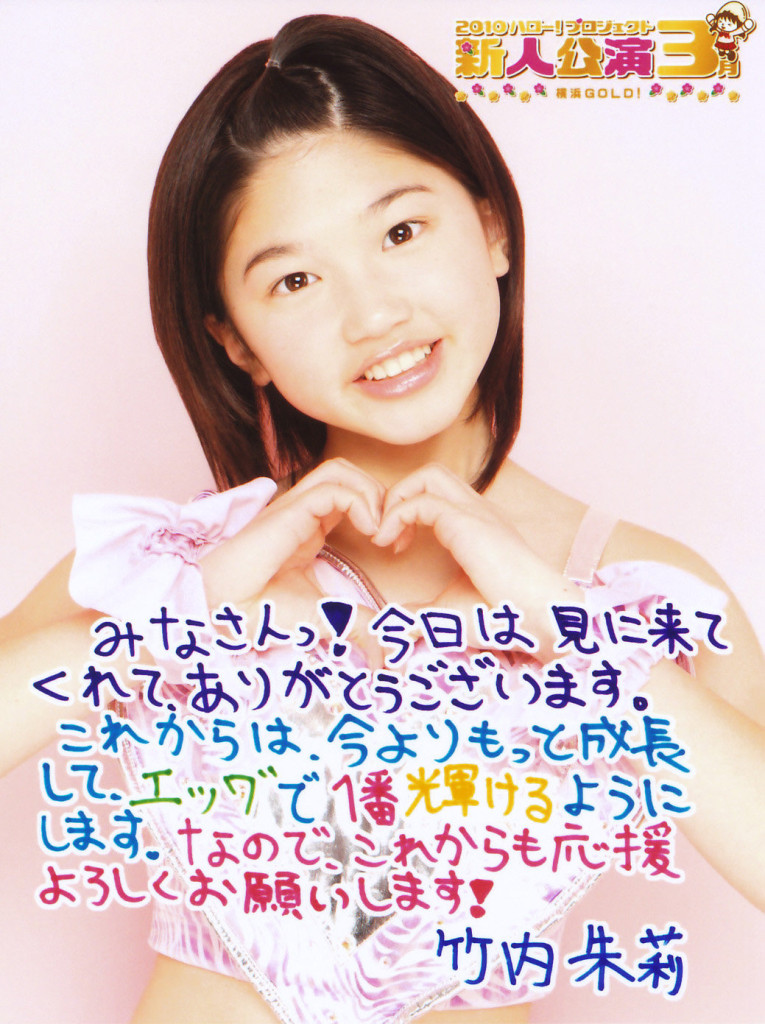 9: 名無し募集中。。。 2016/02/02(火) 21:32:58.83 0.net
>>2
Cute.
13: 名無し募集中。。。 2016/02/02(火) 21:37:53.49 0.net
>>2
Okay, yeah, kids that age are all going to fall for a girl like this. But if it was me, I'd be too scared to confess to her. I'd settle for just staring at her from the other side of the classroom.
20: 名無し募集中。。。 2016/02/02(火) 21:44:34.42 0.net
Yeah, kids are going to confess to this girl.
28: 名無し募集中。。。 2016/02/02(火) 21:47:06.44 0.net
Would there really be junior high students that'd confess to a 6th grader?
35: 名無し募集中。。。 2016/02/02(火) 21:50:34.03 0.net
She was saying she received more confessions than she has fingers.
23: 名無し募集中。。。 2016/02/02(火) 21:45:23.13 0.net
37: 名無し募集中。。。 2016/02/02(火) 21:51:04.43 0.net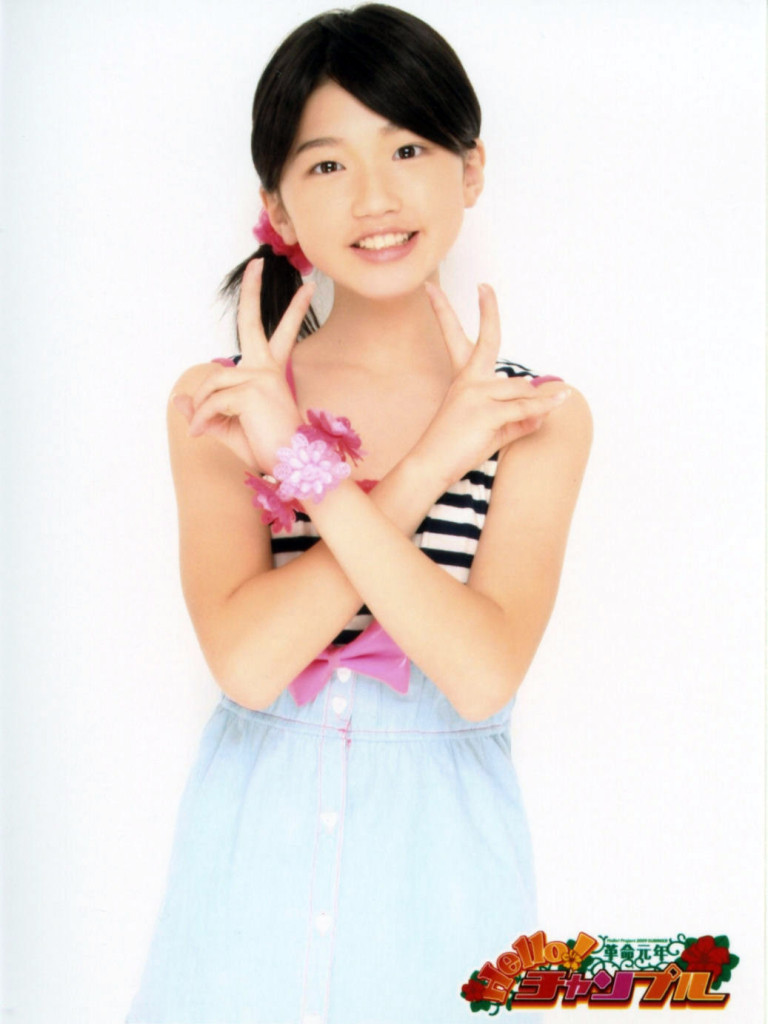 52: 名無し募集中。。。 2016/02/02(火) 22:03:08.53 0.net
>>37
Okay, this is cute.
38: 名無し募集中。。。 2016/02/02(火) 21:51:04.93 0.net
Girls who are good at sports are going to be well-liked by boys and girls alike.
40: 名無し募集中。。。 2016/02/02(火) 21:51:40.76 0.net
If I remember correctly, in 6th grade or so it was usually the girls who were more physically capable than the boys. I wouldn't be surprised if around that time Oden was at the top of her academic year at sports tests and stuff.
8: 名無し募集中。。。 2016/02/02(火) 21:32:36.56 0.net
I'd imagine that elementary schoolers would all love this type of happy, bright girl.
30: 名無し募集中。。。 2016/02/02(火) 21:47:38.52 0.net
>>8
Thinking back on my elementary school days… yeah, I think you're right.
Henkka: The first time I shook hands with Take-chan, I told her she was my favorite member of the group. You could see the disbelief in her eyes the moment I said that, and she vocally expressed her doubts. It felt like I could almost read her mind. "No way! I'm boyish! This bearded foreign guy is obviously just that — a guy! Why would a guy like someone like me!" But, see, as dedicated fans of Take-chan all know, the greatest thing about her is how she simply doesn't recognize — or doesn't want to recognize — the fair maiden inside her heart who captivates us. It's exactly like everyone above said: Take-chan is the girliest person of the group, and she doesn't even realize it herself.
Sources: http://helloprocanvas.ldblog.jp/archives/47379724.html, http://helloprocanvas.ldblog.jp/archives/47708310.html