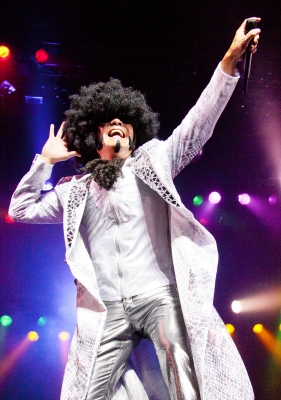 Morning Musume's biggest hit and one of the defining songs of the era — "LOVE Machine." It was with this overwhelmingly brilliant song that DANCE☆MAN became involved with Morning Musume as their arranger, setting the stage for their inevitable rise to the top. This man — a descendant from Planet Mirrorball down to Earth — who also enjoys singing misheard Japanese lyrics on top of classic soul/funk/disco classics. How does (and how doesn't) he remember that frenzied era in the group's history?
— Could you tell us again about how you became to be involved with "LOVE Machine"?

DANCE☆MAN: At the time I was regularly performing at the dearly missed Velfarre. One of the recording directors came over to the venue and told me Tsunku♂ wanted to meet me, so I said "sure!" and later went over to meet him at his office — looking exactly the way I do now, of course.
— As a space alien from Planet Mirrorball.

DANCE☆MAN: Right. At the time I was even riding on trains looking like this — though I eventually stopped and started dressing more like a human being to avoid the trouble I was getting into. (laughs) In any case, I went to meet Tsunku♂ looking like this, and he told me he'd especially liked one of the songs on an album of mine: a song called "Dance-bu Buchou Nanbara" that is a "misheard lyrics" cover of Earth, Wind & Fire's "Boogie Wonderland." He told me he loved the sound and vocal processing, and he wanted me to lend him a hand. He told me it was going to be for Morning Musume's new song and I told him I'd be glad to do it. The only thing he apologized to me about is that we really didn't have a lot of time. (laughs)
— The single was going to be released on September 9th and you first heard the demo on August 8th or so, right?
DANCE☆MAN: That sounds about right. The finished song was going to be sent to the factory on August 15th, so we essentially only had a week. The demo he played me was just him singing and accompanying himself on the guitar. Tsunku♂ is a disco fan as well, so he listed some artists and songs to give me an idea as to the direction he wanted me to take the song, and those were all songs I personally liked as well, so I was immediately coming up with ideas and already had a rough image in my mind as to how I was going to make it.
— Do you happen to remember those songs he gave you as reference?

DANCE☆MAN: I think it was funk/soul stuff along the lines of Earth, Wind & Fire and Kool & The Gang. Also, something eurobeat-like… I forget now who the artist was, but it had a bit of a UK sound along with some electro funk taste, if I remember correctly.
— I kind of get the feeling that it wasn't just funk music.

DANCE☆MAN: Yeah. Anyway, there was just so little time to work on it. I sent Tsunku♂ this programmed demo I'd worked on at home to have him listen to it, and then I had to go out traveling all over the country promoting my CD. He got back to me and said "OK, let's go forward with this arrangement," and so I got back to Tokyo, introduced him to my band, and we recorded the instrumental in the studio. Tsunku♂ was there that day, writing the lyrics as we were recording!
— Wow! Sounds like you were all cutting it pretty close.

DANCE☆MAN: I'd heard people talking about how fun his lyrics are, so I got curious and kind of peeked over his shoulder to see what he was writing. What I saw was "nippon no mirai wa uo uo uo uo" "sekai ga urayamu ie ie ie ie". He'd written the "uo" ("fish") and "ie" ("house") in all kanji. (laughs) Well, it ended up becoming "Wow x4" and "Yeah x4" in the lyrics sheet, but I remember thinking to myself "what a funny guy" as I was there working with him.
— "Uo uo, ie ie"… wow. (laughs)

DANCE☆MAN: We finished the song and I believe we somehow managed to make it in time. I couldn't be there for the vocal recordings, but when I heard the song again as we were mixing it, that's when I realized why Tsunku♂ had asked me to work on a Morning Musume song. See, I first thought I was going to be working on a Taiyou to Ciscomoon song. Morning Musume had a cuter, more idol-like image at the time. But strangely enough, when I heard the finished song, I just went "ah, alright. I see."
— What do you mean?
DANCE☆MAN: Taiyou to Ciscomoon's songs were of the cool, more danceable sort, whereas disco tunes sung by Morning Musume were rougher around the edges. They had so much energy. It wasn't a matter of how their singing was — they were past that already. You could just hear their soul clashing with the song — it was obvious to me even though I didn't know how crucial that time period was for the group. My instrumental was powerful, too, and having those kinds of vocals on top of it made it doubly so. I noticed they'd made it impossible to stop your body moving to the song.
— Us listeners, too, felt an unusual energy in that song.
DANCE☆MAN: That track would've never had the same kind of taste had it been, for example, me singing on it. Doing that song was an eye-opening experience for me.
— What with the "uo uo, ie ie" thing and all, it sounds to me like you and Tsunku♂ had a real connection between you two.

DANCE☆MAN: We did. The first time we met — and I think this is something that makes him a great producer — he made it clear how closely he'd listened to my songs, talking about how he liked my usage of compressors and stuff, and in doing that he'd immediately captured my interest. I could tell that I'd be able to do something fun together with this guy and I felt motivated straight away.
— Do you remember there being anything specific that you spent a lot of time working on?
DANCE☆MAN: Thinking about it now, that lead synth intro hook and its tone — the "tararararattara, tararararattara" bit — I actually… um, please don't say I "stole" it (laughs)… I was inspired by a certain D Train song when doing that. (Author's note: "You're the One for Me" perhaps?) I wasn't even thinking about what I was doing. All those sounds I loved just kept coming out of my brain and I put them all in the arrangement. Also, since Tsunku♂ had told me he liked "Dance-bu Buchou Nanbara," I tried to make the tone of the drums and bass sound similar to that song. What else…? I'm very sorry, but I really don't remember much.
— (laughs) After that very intense creative process, the song was released to huge success and suddenly the song became a media sensation. How did you feel, seeing the public reaction to the song?

DANCE☆MAN: We the arrangers work behind the scenes, and so it kind of felt like I was on the outside looking in. It felt like the song suddenly had a life of its own. It brought a huge boost to my career. I'd been merely one of the workers simply doing what I was told, so it kind of didn't feel right to be getting all that praise all of a sudden. (laughs)
— I bet you got a lot busier after that.

DANCE☆MAN: Indeed. It was "LOVE Machine" that kickstarted my arranging career. I felt so grateful for that. I'd never helped with sound producing for anyone else before, so in a way it felt like I'd discovered a new "talent." (laughs)
— After that you went on to do "Koi no Dance Site," "Happy Summer Wedding"…

DANCE☆MAN: Some years ago, Utamaru of RHYMESTER was doing a radio special entitled "A Thorough Analysis on LOVE Machine," or something to that effect, and he had arrangers and members of staff on the show sharing their opinions, too. One of my band members, WATA-BOO, had also been collaborating with Hello! Project under the name of Watanabe Cher, and he was one of the guests as well. Anyway, they finally invited me as the very guest, and I was happy to be invited. But Utamaru was immensely knowledgeable and he kept asking me all these super detailed questions, and I couldn't answer any one of them which just made me feel like a total impostor inside. (laughs) He was like, "well, Cher told us that the way it happened is…" and I was like "yes, that's it!" WATA-BOO apparently remembered much more than I did. Later when I was talking to him about it, he explained that at the time he was watching me, Tsunku♂ and the recording engineer debating things at the session simply as a spectator, and that's why he could remember it all so well. But later, when he was working as Watanabe Cher (the arranger), he didn't remember those sessions. In other words, I think the people working at the very front lines during recording sessions just tend not to remember things as clearly as others. That's my main excuse for today's interview. (laughs)
— That's understandable, though — the people who are right in the midst of it as it is happening tend to not actually remember much of it.

DANCE☆MAN: Yeah. I really feel bad for not remembering more, but I felt I ought to be truthful for this interview. By "Koi no Dance Site," the hecticness of my life was on a different level altogether. For a while there, it felt like I was constantly in the studio recording songs — I started receiving more work recording as DANCE☆MAN as well as arranging for other artists. Man, how'd we even record "Koi no Dance Site," I wonder? I think I remember being told to give it the feel of "Dschinghis Khan" performed in a DANCE☆MAN kind of way. Hey, wait… that's me! (laughs)
— Things like those "oo, ha!" shouts in "Koi no Dance Site" during this era of Morning Musume were pretty funny. Were those actually in Tsunku♂'s original demo as well?

DANCE☆MAN: They were. The lyrics were always all his — I never once suggested we add anything that wasn't already there. He's very original when it comes to wordplay. I mean, even "LOVE Machine" starts with "anta nya." Everyone else might think the "nippon no mirai wa~" is the hook of the song, but I thought the "anta nya" was it. That's all it took for me. I feel like to him it's not about whether the words he uses are "old" or "new." He has some other way of measuring how interesting the words are. Something about that really resonated with me, and I'm someone who's always been doing something very "old" ever since my debut — even if some people call me "cutting edge." (laughs)
— If we set aside "I WISH" that came in between, you pretty much made four consecutive million-sellers with "Happy Summer Wedding" and "Renai Revolution 21." Are your memories of those songs equally as hazy?
DANCE☆MAN: Let's see… I remember working on "Renai Revolution 21," piecing together several bits and pieces of different songs. With "LOVE Machine," we'd made a song that was like an amalgamation of many different songs from the get-go, but "Renai Revolution 21" literally felt like parts of separate songs made in different styles, merged together.
— So you're saying the song literally sounded that way to you. Similarly, the song development of "The☆Peace!" and "Souda! We're ALIVE" was equally as amazing.
DANCE☆MAN: This was supposed to be dance music, and yet suddenly it felt like we were making prog rock instead. (laughs) Until that point I'd always specialized in making dance music, so the idea of interrupting the beat would've never even occurred me. And yet, now I was asked to do it like it was nothing. But that felt so new in a way, too. It influenced my own work. I do dance music, but even while keeping the beat going, I now try to introduce completely new elements, giving the songs a taste of completely different worlds.
— The song progressions definitely aren't of the average funky, dance music type.
DANCE☆MAN: Well, that's because it's a type of music where the same riff is repeated endlessly, ad infinitum, with the intention of getting the listener into a trance. Introducing too many different elements has the effects of breaking the trance, and changing the rhythm makes the song difficult to dance to. In comparison "Koi no Dance Site" keeps the same danceable beat throughout the song, but it goes into very unexpected places in its structure. Meanwhile, with "The☆Peace!" and "Souda! We're ALIVE!", while there are tempo changes, the "world view" of the song never changes and so while they offer the listener surprises, the story of the song remains coherent. When we had the finished songs — when the vocals were all done and the composition was finalized — and we went to mix them, I always felt that nothing about them sounded off. I thought they were just cool, each and every time.
— You said that the demo you received of "LOVE Machine" had been Tsunku♂ accompanying himself on the guitar as he sang. How about songs like "Koi no Dance Site," "The☆Peace!" and "Souda! We're ALIVE"?
DANCE☆MAN: I think I remember the demos for those songs featuring a drum machine. Sometimes he'd give me an MD or CD with the demo; other times he'd just play me the song on the spot if I was with him.
— How complete would the compositions be at that point in the process?
DANCE☆MAN: The melody would be pretty much completely finished. Most of the chord progression, too. Aside from that, though, he would be happy to leave the rest up to me. Whenever I introduced some of those things from my repertoire — the Cossack dance thing, the rockabilly stuff, the Arabian-sounding stuff — he always made it really easy for me bring it to him. Like, "for this part here, let's have some of that DANCE☆MAN spice!" He always gave me the utmost freedom to let me try what I wanted. He trusted my judgement as to what I thought was cool. It basically felt like I was doing the average DANCE☆MAN song, so I almost felt a bit guilty when the group won the Japan Record Award for it. (laughs)
— I always think about how amazing Tsunku♂ is for being able to come up with such surprising material. Having worked with him, did you feel the same way about him?
DANCE☆MAN: P-Funk introduced like a prototype of the stereotypical, space-themed cosplay outfits, as well as things in the songs or their live concerts that just really entertained the listeners. Similar to P-Funk's George Clinton, I believe there's something similar to Tsunku♂'s way of thinking. The genre, their methods, and their worldviews may be different, but I really feel like there's some common ground in what it is they're trying to do.
— There really was something space-like about Morning Musume at the time. The outfits were flashy, the PV's looked unworldly, and I feel like lots of people around me at the time likened them to funk.
DANCE☆MAN: Exactly right. Thanks to "LOVE Machine," I've gotten to work on a lot of different idol music as well as anime music, and the thing about that kind of music is, there's a kind of freshness about it that's even more prevalent than in the music of "real" artists. I mean to say this in a positive way, but since idols and anime aren't by their nature so much about the music than the other things, that gives their music creators a heightened sense of freedom. Working on that kind of music is very stimulating. I feel like Tsunku♂ and his eagerness to surprise people can be heard everywhere in Morning Musume's songs. And not only in the songs, but even the outfits and the song titles — all kinds of things give hints as to his way of thinking; his taste. Also, he doesn't want to be tied down by his own creations. Once he's made something well enough, he notices and feels like he doesn't want it to become the norm, and so then with his next work he takes it all down and starts the creation process anew. That's the way it seems like to me.
— He uses the word "rock" a lot, being such a big Beatles fan.
DANCE☆MAN: Well, funk is the African American equivalent to rock, after all. Instead of adding distortion, you just swell it up with the rhythm. J.B.'s, Sly, P-Funk… for all of them, funk was the outlet to release that energy; those feelings of anger or gloom in a complicated world. So in that sense, I can understand why he first got in contact with me, hoping to collaborate.
— You've also worked on other Hello! Project songs: Minihamuzu's "Minihamuzu no Kekkon Song," Ongaku Gatas' "Yattarouze!", as well as Berryz Koubou's "Dschinghis Khan" and "Ryuusei Boy," for a total of 10 singles, or — including Morning Musume's album cuts — 14 songs in total. Do you have any one particular favorite among those songs?

DANCE☆MAN: There's one song for which I personally proposed a rhythm pattern. I believe it was "…Suki da yo!" (from Morning Musume's album "3rd -LOVE Paradise-"). Usually, it'd always be Tsunku♂ talking to me about his image for the song first, after which I would start constructing the sound. But this time I already had a rhythm pattern and a riff, which I proposed to him. Still, I guess the song that left the biggest impression on me was, by far, "LOVE Machine" — even if it was all done so fast I hardly remember any of it. (laughs) But there was a sense of me having really made something with that one. I have to work in a big hurry a lot of the time, but there hasn't been a song since on which I've had to work that hard on sheer momentum.
Interview & text: Takaoka Hiroshi
English translation: Henkka
DANCE☆MAN on the web: website