These are the highlights (as arbitrarily chosen by me) from the "150 Questions to Michishige Sayumi" event held at the Akihabara Hello! Shop on 6/21. Jicchan and Ice Cream & My Jiggly also recently translated questions from a similar Q&A event with Kanazawa Tomoko.

Please note that almost all of Sayu's answers were actually much more verbose — think of the answers below as just quick, tweet-sized summaries.
Onto the questions!
— If you could take one member with you on a deserted island, who would it be?
I'd be nervous being with an OG, so not them. Maybe I'd go with Iikubo. She seems like she would do everything so I could just sit back and relax. Definitely one of my juniors. Berryz members seem like they'd eat a lot, so not them.
— If you were to hold an event together with Eri, what kind of an event would it be?
The other day I went to Kamei Eri-chan's house and we watched the Rival Survival Sokkou DVD together. If we did an event together, I'd want to watch a DVD with everyone while talking about it.
— What would you do if you were the producer of Hello! Shops?
I'd change the exteriors to something that would make even the people just passing by see how big H!P is getting lately.
— If you could be the fashion coordinator for the members of Morning Musume '14, what would you make them wear?
Fuku-chan: kimono.
Oda-chan: swimsuit.
Sayashi… I have lots of ideas… but let's say a baggy animal costume.
Suzuki: a deep blue one-piece dress.
Ikuta I don't really care about so I'd just make her wear whatever.
Iikubo: I'd make her hair all curly and gorgeous and have her wear an extravagant dress.
Kudo: soccer uniform.
Sato: kimono.
Ishida: a cheap-looking jersey — the jersey having to look cheap is very important.
— Do you think you'll ever cut your hair short?
No! I did that photo shoot for Ray while wearing a short wig, but it looked awful if I took off my hat. People did tell me I looked cute, but I think saying that was very irresponsible on their part.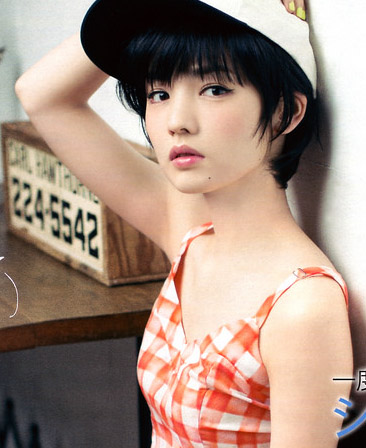 — Would you really say that right now is the peak of your cuteness?
I'll still be cute next year and so on, but this year really is my peak. I can tell that my time is coming soon…
— Which member would you want to inherit your pink member color?
No one. There are no members in the group right now that like pink that much. Back when it was still yellow for me, I couldn't wait until I got to change to pink. When I finally got my first pink T-shirt, I remember just hugging it. I want to pass it on to someone who loves it as much as me.
— I thought of a new nickname for you: "Sayuyu." What do you think?
Reminds me of a girl from a certain other idol group, but I guess I could turn that to my advantage so it's pretty good, I guess.
— You're called things like the "legend of Morning Musume", but if you could be born again as any member of H!P, who would it be?
Risako-chan. Her face is just too cute. It leaves a huge impression on me every time we meet. Although I wouldn't try to look quite as "individualistic" as her. (laughs)
— Please tell us a recent funny episode concerning Kamei Eri.
The other day she told me about something that'd happened to her before we'd met. Eri had been on her way back home from some lesson when she fell asleep while riding her bicycle. When she came to, she found herself and her bicycle collapsed at the side of the road.
— Before now, when did you think you were at your cutest?
Recently, I liked how I looked on Mille-Feuille. The shoot lasted for several days, but on each of those days I liked how my face looked. This morning I thought I looked really, really cute, but by the time I started setting up my ponytail is when I realized it wasn't perfect.
— Which of your juniors would you not want to be in the same generation with? Conversely, which members would you like to be in the same generation with?
The first one: Sayashi. She has so many singing parts, so always feeling like I'm losing to someone from my generation would make me have some mixed feelings. I would want to be in the same generation with everyone from 10th gen, apart from Sato.
— Any haircare advice?
Use a fine comb to undo any knots when rinsing.
… Oh, sorry. Looks like there are some people in the audience who this advice won't really help… (wota explode with laughter)

— Do you do anything to maintain your figure?
You lose weight when you're touring, so it doesn't even matter if you eat snacks and so on. You still won't gain weight.
… Saying it like that makes me wonder just how much certain members do eat…
— If you could have all members of Morning Musume '14 sing one song solo, what would it be?
Fukumura: "Papa ni Niteiru Kare" — it was cute when Konno-san sang this before.
Sayashi: "Dekiru Onna" (Able Woman) — because she herself isn't perfectly able at everything.
Suzuki: "Popcorn Love" — just went with something that's food-related.
Ikuta: "Joshi Kashimashi Monogatari" — all the lyrics would be about Ikuta herself.
Iikubo: "Subete wa Ai no Chikara"
Oda: "Tsuyoki de Yukouze!"
Kudo: "Ganbare Nippon Soccer Fight"
Sato: "Ii Koto Aru Kinen no Shunkan"
Ishida: "Shanimuni Paradise"
— If you had to compare each member to an animal…

Fukumura: hippo.
Sayashi: lion.
Ishida: cheetah.
Suzuki: I did think of one, but I can't say it out loud…
Ikuta & Iikubo: flamingo.
Oda: owl.
Sato & Kudo: lesser panda.
— What's your best memory as Morning Musume?
The concert when I had my triumphant return to Yamaguchi. The first performance really moved me. Also, last year's bus tour made me so happy, it gave me strength to last me a whole year.
— Why are you so cute?
I was just born this way.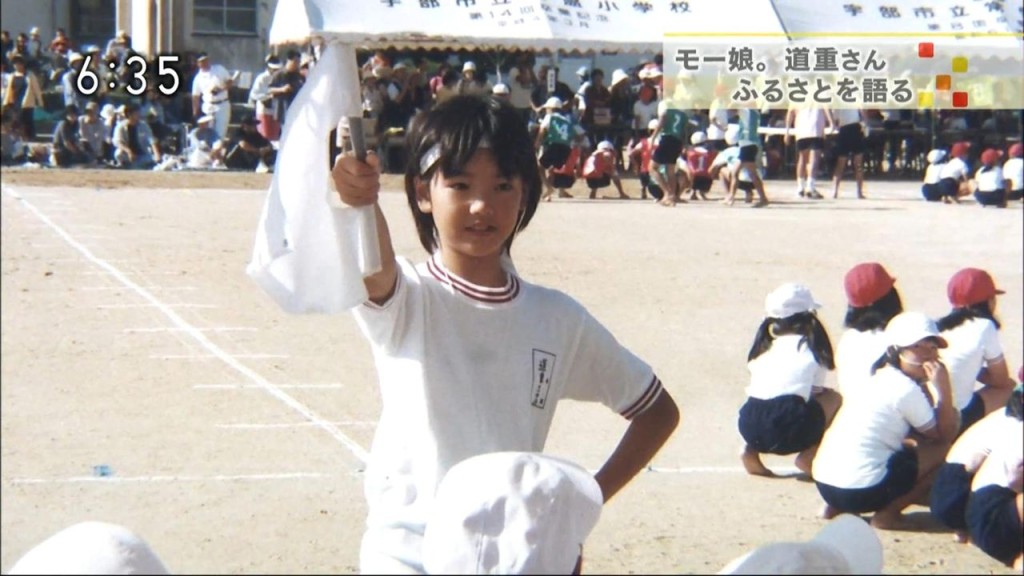 — If you were a boy, what kind of a girl would you want to date?
Someone natural, someone who isn't too calculating. I wouldn't want to date myself.
— How far along are you in Candy Crush?
Level 246. I just cleared level 245 yesterday.
— If you had a daughter, what would you name her?
I'd want to put a part of my name in hers, too. Up until now I was thinking "Sayuki" would be good, but then Takagi Sayuki-chan appeared. I tried thinking about every other possible name like "Sayua", "Sayui", etc, but couldn't come up with any other good ones. I want it to have some connection to my own name…
— Out of all previous Musume members, which members did you have the most problems getting along with and why? How did you deal with it?
There's no one like that except Koharu! I think you already know why — you know how Koharu is. We don't get along but it's not like I hate her. I was like "well good for you" when she got to do solo work before many of us, but yeah. That was just Koharu for you.
— Your fans were very much looking forward to seeing your birthday T-shirt for this year. Did you have to fight with the office as far as its design was concerned?
I wouldn't really call it a "fight", but I was worried because of the whole recent "Cool Hello" thing. I was really worried I wouldn't be able to put one out on my last year before graduating, so I consulted some people in high positions about it and strongly insisted that I get to do it.
— Who is cuter: Rihoriho when she had just joined the group, or Rihoriho now?
Rihoriho when she had just joined was cuter. For me, it's the younger, the better, you see… Anyway, she was so cute when we did the stage play so I was really excited when I heard that she'd be joining the group.
— Formerly you were known for kissing other members on stage when you got really excited. Do you not do that anymore with the current members?
No, I don't. I'm worried it might be gross if I did. I mean, if Iida-san kissed me, I might think she was a gross senpai, too. I worry that they might be put off being kissed by their leader who's a decade older than them.
— You used to say that Ishikawa-san was someone you really admired, but that seems to no longer be the case. Could you tell us why?
It wasn't anything specific, but since we worked together all that time, I got to see everything about her — both the good as well as the bad. And yeah, the fact that she was so scary was a big factor in it, too.
— Who would you pick as your successor from the current members of H!P and the Kenshuusei?
Well, if it's my successor, I'd want it to be someone who's told me they like me, so maybe Yoshihashi Kurumi-chan or Tanabe Nanami-chan. Yamaki Risa-chan, too, has told me that she really likes me.
— If Fukumura Mizuki said she would do anything for you, what would you ask for?
Money! I'd ask for money. That'd be the quick and easy way to get some.
— If you could be reborn again as either yourself or Sayashi, which would you choose?
I'd be reborn as Michishige Sayumi, absolutely. I'm fine with just looking at Sayashi. I want to be myself. Well, I guess I wouldn't mind if I got the face of someone else who's equally as cute… Anyway, it'd be rude to say I want to become someone else in front of people who like me.
— On last week's Konusapi you mentioned that you like the MV of Kashimashi. Do you still go to the supermarket without wearing any makeup?
I don't feel at all embarrassed about being without makeup. Rather, if I go somewhere without makeup, no one recognizes me at all. It's like a form of disguise. I don't even have to wear a mask because the people just don't recognize me. I can go anywhere without makeup.
— What do you think about the recent H!P T-shirt designs?
Ummm… Wow, I really have to think about how I want to word this… well… let's just say that I think about them the same way as all of you do! (applause from wota)
— Is there any song that you definitely want to sing on the Fall tour? By the way, I'd like to hear your solo version of Ookii Hitomi.
One time when we did a couple of performances without Reina (Michishige Eleven Zama evening performance, Shizuoka noon and evening performances) I did sing Ookii Hitomi alone, but it was just disastrous. (laughs) Ookii Hitomi… yeah, I don't know. Anyway, I want to sing Lalala no Pipipi.
— Have you met with Kamei Eri lately? Have you told her about your graduation?
We met two weeks ago and watched the Rival Survival DVD. I told Eri about my graduation at the same time as I told my family. When I sent her an email saying I'd be announcing my graduation at our Yamaguchi performance, she just replied "good work up until now." That's all I needed to hear.
— Is that Kagome juice really that delicious? Be honest.
Huh?! What a question. I love it! It's really good!
— Right now I'm using an orange bag, but I was thinking I'd buy a new one. Should I go for a pink or a red one?
Whichever! (laughs)
— Is there anything you've come to understand after being an idol for 11 years?
I think being an idol is a really great job. It's fun, and it's like, it feels like me and my fans have been building this relationship of trust for the past 11 years. I really believe I've been allowed to experience something amazing.
— Do you like trains?

Yes. I do.
— Is there anything you'd like to experience again?
My audition. That footage is really embarrassing…
— When did you last feel loved by the members?
When I got emails from them as I was going to go overseas — although it was just from Sayashi and Iikubo. By the way, I even got a "welcome back" email from Sayashi.
— Is there anything you want to do before graduating?
A Rokkies MC. (applause) I'm peeved that the Rokkies MC was cut from the Countdown Live DVD.
— Who do you see becoming a leader in the future?
I think any one of them could become a leader… Kanon after losing just a bit of weight first, though — the leader is the face of the entire group after all.
— If the members confessed their love to you for real, whose feelings would you accept?
Sayashi and Fukumura. Why not Ishida, too.
— Who is Anishige's oshi?
It used to be Ichii-san. Also, Hirosue (Ryoko)-san. He likes short-haired girls, more so Kudo than Ikuta's type. By the way, I still haven't told him about my graduation.
— Which member shows the most drastic change between her on and off modes?
Ishida. It's pretty incredible when she's in off-mode — in a good way. Maa-chan once emailed me a picture of Ishida and she seriously looked like one of our male managers.
— Which music video left the strongest impression on you?
Kare to Issho ni Omise ga Shitai. I was like, "you're making it the B-side even when I'm featured on it this heavily?!" That song actually became the B-side because of a staff slip-up.
— Are you close with any of the other Rokkies' siblings?
I've spent time with Eririn's and Ai-chan's little sisters.
— Are there any goods you'd like to produce?
I want to create goods that let you experience the members' skin. I really want to reproduce Fuku-chan's skin.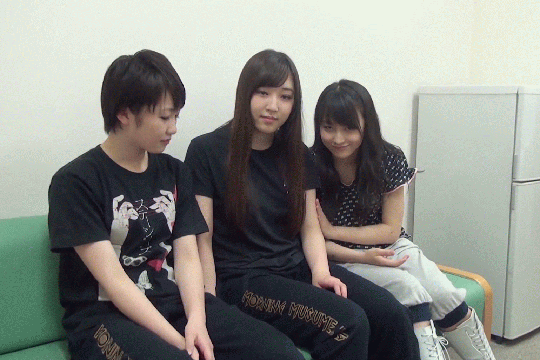 — Which tour have you liked the best?
Single Daizenshuu. That was the first time I got to sing a solo number. Getting to sing "Furusato" there really boosted my confidence. It was very physically demanding though.
— If you could make any past or present member your girlfriend, who would it be?
Eririn. Every single one of her gestures is so cute and her heart is in the right place. Also, Ai-chan. Her figure hasn't changed much at all ever since she joined the group. She has an amazing body.
— Any chance for a Platinum Era comeback after your graduation?
I net patrolled the thing we did at the Countdown Live and when I saw the footage, I realized it hardly shows me at all. It's scary because it feels like I don't stand out in that company at all.
— What's the secret behind the creation of usa-chan peace?
I was at purikura with my big sister and we just noticed that doing that pose looked really cute.
— Whose photobooks do you like looking at the most?
Sugaya, Airi, Ai-chan, Eririn, Sayashi, and my own.
Henkka: A hippo. Do you realize that this is how Fuku-chan looks in Sayu's eyes?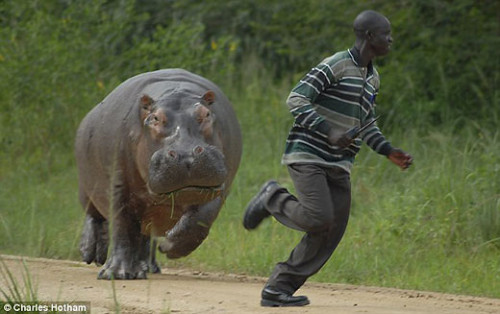 Sources: @tozamasan, @touchan0713, @kktaxmaster, http://helloprocanvas.ldblog.jp/archives/39486769.html, http://www.colorful-hp.net/archive/entry-11761.html