1: 名無し募集中。。。 2012/11/25(日) 15:53:56.00 0
Kamei: "The other day when I went into my room there were clothes scattered all over the place and the drawers had been left open. Now, you think it was me who did that, don't you? But you're wrong. My little sister had left the drawers open after borrowing some clothes from me. So I got furious. As her big sister, I'd have to straighten out my little sister.
So I called my little sister out to the living room. She'd never done this kind of thing before, leaving things all scattered about or leaving my drawers open. Today had been the first time. But see, I was really irritated, so I made her properly sit down in our living room and everything. I told her: "Little sister. It's fine to borrow your big sister's clothes, but if you do, make sure you leave everything as neat as you found it and close all the drawers, too."
She was giving me this face that was like saying "Come on, it was just this one time. Today was literally the first time this has ever happened!" But I assumed that if I properly put my foot down here, if I stood my ground and remained firm, she'd be in tears going "Nnnooo!! I want to keep borrowing your clothes! Please forgive me, big sis…" So I told her: "Little sister! If you can't do it properly, I won't let you borrow my clothes anymore!"
You know what my little sister said?! She said "Okay"! There was no scenario in my head where she'd reply with an "okay." It was completely beyond all my expectations. Thus, I had to change strategies. I was desperately trying to think of a reply to her "okay", but since nothing good was really popping up, I turned to my mom. "Mom, what do you think about this?", I asked her.
So my mom just went "huh!?" …Once again I was left in complete shock. Never could I have imagined that I'd hear her answer me with a "huh!?" It was once again completely beyond all my expectations. My mom followed it up with something like "your sister was in the wrong here, too, but I really don't know if you need to get this angry with her since it was just this one time." Suddenly it seemed like I was the bad guy here. It got awkward somehow. Since it couldn't be helped, I said the following.
"Little sister! I'll let you off the hook on this one for now." My little sister replied with "okay." Once more I was left in shock! "Okay" was literally the only word my sister had said that day!
And that was what that particular spring day at the Kamei household looked like. It was one of those days when I could be of no match to my little sister. It was big sister's defeat. I was astonished. But it was me who was in the right there, wasn't it? I wasn't wrong, was I? (Audience at venue remains mostly silent.) Oh, okay. I see. So that's how it is. Gotcha. So I was the one in the wrong there. I shall keep doing my best as a wonderful big sister."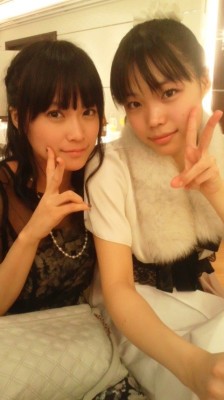 28: 名無し募集中。。。 2012/11/25(日) 17:38:14.01 0
>>1
Long, but cute.
5: 名無し募集中。。。 2012/11/25(日) 15:58:18.57 0
Kamei's stories were funny.
12: 名無し募集中。。。 2012/11/25(日) 16:14:41.75 0
ノノ*^ー^) If you spend your time just thinking "I want to become happy, I want to become happy…"
You'll seriously spend the rest of your days just thinking about how you want to become happy.
But if you think "ah, I'm so happy"? You'll always be happy.
13: 名無し募集中。。。 2012/11/25(日) 16:16:01.60 0
Kame-chan had a lot of wise sayings.
14: 名無し募集中。。。 2012/11/25(日) 16:16:52.63 0
Yep. Even though she was a fool. (laughs)
15: 名無し募集中。。。 2012/11/25(日) 16:22:01.64 0
When consulted about wanting to get rid of one's fickle nature:
Kamei: "There's no solution here. It's just a phase for you. That's all it is. You worrying about it is the only thing that makes it a problem. You just have to accept yourself for what you are right now and live your life according to that. What I'm saying is that one day you'll find yourself something to do that will help you be able to get rid of your fickle nature."
"Trying to force yourself to find that something is impossible. The only thing you can do right now is to grow older and let it pass."
66: 名無し募集中。。。 2012/11/26(月) 00:51:33.81 0
>>15
She really said this? That's deep.
122: 名無し募集中。。。 2012/11/26(月) 18:32:15.26 0
>>66
She did.
86: 名無し募集中。。。 2012/11/26(月) 10:36:14.92 0
I liked how she'd completely negate what other people were saying with words like "that is completely inaccurate" or "I have no clue what you're even saying."
87: 名無し募集中。。。 2012/11/26(月) 11:42:43.14 0
Kamei: "I do have pride, but I don't have any policies or delicacy or any stuff like that."
88: 名無し募集中。。。 2012/11/26(月) 11:46:29.29 0
Kamei: "You know the kind of people that are just kinda haphazard in anything and everything they do? That's me."
90: 名無し募集中。。。 2012/11/26(月) 11:58:26.04 0
从*^ー^) God is something that gives us not what we want, but what we need in order to become happier. Although it may be something that you don't even want yourself right now, you just need to accept it and be grateful for it.
91: 名無し募集中。。。 2012/11/26(月) 12:03:08.17 0
She'd probably immediately forget half the stuff she'd just been saying, but there were so many wise sayings among them.
93: 名無し募集中。。。 2012/11/26(月) 12:21:07.66 0
Kamei: "The way I think about it is, if I find someone who's ability to concentrate is even worse than that of mine, that actually makes my own ability to concentrate better than I'd originally thought."
96: 名無し募集中。。。 2012/11/26(月) 12:24:34.81 0
"I was thinking to myself, "ahh, this is not where I belong… I want to go back…" But, I didn't have a place to go back to. There was no place like that for me at all. So that's when I thought, "ah, so that means this must be exactly where I belong." When I realized that, it really broadened my horizons."
102: 名無し募集中。。。 2012/11/26(月) 12:53:46.80 0
Kamei: "It's said that rain only falls on cute girls. Did you know this? Of course you didn't. Only cute girls know this."
157: 名無し募集中。。。 2012/11/27(火) 13:30:55.15 0
ノノ*^ー^)< I want to become a daycare worker, but I'm no good with little children.
164: 名無し募集中。。。 2012/11/27(火) 17:45:44.66 0
从*^ー^)< I want to move to some country without any insects.
146: 名無し募集中。。。 2012/11/27(火) 08:34:44.69 0
This thread is no good… it's making the tears come out and I'm not even sad…
147: 名無し募集中。。。 2012/11/27(火) 08:35:26.24 O
ノノ*^ー^)< I'm actually an alien. Humans can't see it, but there's a hole in my temple.
158: 名無し募集中。。。 2012/11/27(火) 13:46:32.44 0
>>147
I, too, want to become someone who's able to make all kinds of random, absurd claims like this without a care in the world.
145: 名無し募集中。。。 2012/11/27(火) 08:32:07.75 O
ノノ*^ー^)< I'm not an airhead. I'm just a little bit lacking in intelligence.
6: 名無し募集中。。。 2012/11/25(日) 16:00:14.75 0
Kamei was a fool, but she was a clever fool. (laughs)
Henkka: Along with the music appreciation threads, Kamei threads are for me by far the most enjoyable and effortless to translate. Don't you just love idols who seem like genuinely good people?

Source: http://helloprocanvas.ldblog.jp/archives/21699421.html