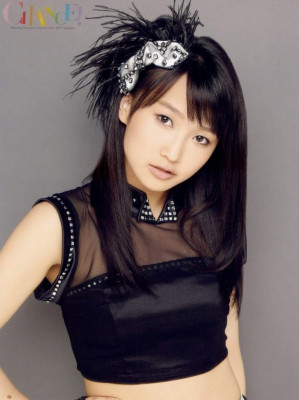 1 :名無し募集中。。。 2013/09/15(日) 08:40:38.41 0
@…..: At today's handshake event, Riho-chan loudly warned this person who looped to shake hands with her like hundreds of times.
"Please come less next time." I was shocked.
And here I thought she'd be happy about the group she so loves getting more fans…
That was awful.
3 :名無し募集中。。。 2013/09/15(日) 08:42:07.39 0
Is this guy an idiot?
6 :名無し募集中。。。 2013/09/15(日) 08:44:18.37 i
What? Sayashi was being kind.
7 :名無し募集中。。。 2013/09/15(日) 08:45:32.80 0
The ace who goes so far as to even worry about the fans' wallets. As expected.
14 :名無し募集中。。。 2013/09/15(日) 09:00:30.73 0
She joined Musume to dance and sing, but all they're making her do is a bunch of handshakes. Even the usually so patient Sayashi is going to get angry because of things like this.
17 :名無し募集中。。。 2013/09/15(日) 09:02:08.66 0
I want Rihoriho to get angry at me.
I want to be abused.
19 :名無し募集中。。。 2013/09/15(日) 09:02:32.98 0
ヒロ♂ @hiro_hp321 1 hour ago
At yesterday's handshake event:
Me: "What should I do to become your number one fan?"
Sayashi: "You don't need to become number one."
Me: "Huh? But I'm doing my best!"
Sayashi: "Everyone is doing their best."
LMAO…
23 :名無し募集中。。。 2013/09/15(日) 09:04:06.10 0
>>19
This just makes me think "serves you right, looper."
36 :名無し募集中。。。 2013/09/15(日) 09:12:37.06 O
>>19
Way to go. This is the Sayashi I imagined when 9th gen first joined.
48 :名無し募集中。。。 2013/09/15(日) 09:20:22.22 0
>>19
Treating every wota as equals and not giving anyone any preferential treatment is important for an ace. Abe-san was the same way.
69 :名無し募集中。。。 2013/09/15(日) 09:35:19.06 0
>>19
For being an idol, she gets 0 points.
76 :名無し募集中。。。 2013/09/15(日) 09:41:58.34 O
>>19
What she's saying is true, but she needs to think more about how to say it.
100 :名無し募集中。。。 2013/09/15(日) 10:14:56.51 0
>>76
No, these are the sort of guys who are going to misunderstand if you don't tell it to them like it is.
111 :名無し募集中。。。 2013/09/15(日) 10:41:49.74 O
>>100
That's true, but it's Sayashi who's going to lose money when these reports circulate on the internet like this. People will think she's the bitchy type.
221 :名無し募集中。。。 2013/09/15(日) 12:57:35.05 O
>>111
On the contrary, this is the kind of person people want Sayashi to be. It's best if that easy-going character of hers is something that she shows just to other members.
20 :名無し募集中。。。 2013/09/15(日) 09:02:58.76 0
She really has a good head on her shoulders.
30 :名無し募集中。。。 2013/09/15(日) 09:09:26.70 0
Loopers are nothing if not disgusting. It's his own fault for thinking too much of himself.
38 :名無し募集中。。。 2013/09/15(日) 09:13:40.42 0
I don't even get why anyone would think looping gets the members to like you more. Just because you're blowing money on them? Just because you're buying more than other people, it's only natural that they're supposed to like you? You're the lowest.
41 :名無し募集中。。。 2013/09/15(日) 09:15:16.46 0
To Sayashi, no wota is any better or worse than the other. She really knows how to do her job.
46 :名無し募集中。。。 2013/09/15(日) 09:18:26.98 0
It pisses me off how she doesn't seem to realize just who she has to thank for her continuing to be the ace. Even what Oshima Yuko said was better than that.
120 :名無し募集中。。。 2013/09/15(日) 10:54:16.91 0
>>46
Your thought process is disgusting. I'd be a happy fan even if they went back to doing nothing but concerts and stopped with the excessive handshake events — even if it meant a drop in CD sales.
47 :名無し募集中。。。 2013/09/15(日) 09:18:41.71 O
I probably don't get a say in this as someone who never goes to these events, but what Sayashi said was absolutely appropriate.
63 :名無し募集中。。。 2013/09/15(日) 09:30:20.15 0
As expected of the always aware Sayashi. No mistake about it: she's the ace of Morning Musume.
64 :名無し募集中。。。 2013/09/15(日) 09:30:27.96 0
The shitty office is in the wrong here for not making any statement about Rihoriho saying that.
67 :名無し募集中。。。 2013/09/15(日) 09:34:09.41 0
I want to be punished by Riho-sama. ><
71 :名無し募集中。。。 2013/09/15(日) 09:35:57.15 P
How shallow can one be for thinking they can be someone's number one fan just by the number of handshakes he has with them?
72 :名無し募集中。。。 2013/09/15(日) 09:36:05.78 0
This is just Rihoriho's way of showing kindness. Once at another handshake event, I was behind this super desperate guy who was asking her about how many concerts he should attend on this tour. Rihoriho just said "don't worry about it too much." In other words… what I'm trying to say is: Rihoriho is an angel.
73 :名無し募集中。。。 2013/09/15(日) 09:40:43.41 0
Even without frantically trying to get more fans, Rihoriho's able to get ones that are this passionate about her. She's the real deal. As expected of Sayashi the ace.
87 :名無し募集中。。。 2013/09/15(日) 09:51:54.25 0
>>1
It's been a while since something made me feel this exhilarated. I've fallen for Sayashi.
106 :名無し募集中。。。 2013/09/15(日) 10:26:53.27 0
It's fine to try and do your best as a wota, but his way of doing so is all wrong. Well, at the end of the day people like him aren't doing so for the members, they're doing it for themselves and their desire to monopolize.
118 :名無し募集中。。。 2013/09/15(日) 10:52:47.93 0
I want all the idiot idols of today who think being an idol is all about flirting with wota to take note and learn from this.
138 :名無し募集中。。。 2013/09/15(日) 11:18:42.87 i
I think I've started to like Sayashi.
156 :名無し募集中。。。 2013/09/15(日) 11:32:43.79 0
If this was AKB, I'm sure she'd be delighted.
But it's not.
163 :名無し募集中。。。 2013/09/15(日) 11:42:54.95 0
This has improved my opinion of Sayashi.
I want her to get angry at me, too.
165 :名無し募集中。。。 2013/09/15(日) 11:44:37.68 0
Okoraretai! Okoraretai!
Oooooo-koooooo-raaaaaa-reeeeeee-taaaaaaaaaaaaaaaaaaaaaaaai!
169 :名無し募集中。。。 2013/09/15(日) 11:51:42.55 0
I want Rihoriho to be angry with me, so when the next single rolls around I think I'll become a looper.
175 :名無し募集中。。。 2013/09/15(日) 12:02:01.40 0
This was a slip-up on Sayashi's part. Now she's going to start attracting all the gross masochistic wota who just want her to get pissed off at them. (laughs)
192 :名無し募集中。。。 2013/09/15(日) 12:26:49.99 0
Rihoriho won't budge. What a good girl. I'm glad she's my oshi.
126 :名無し募集中。。。 2013/09/15(日) 11:02:51.42 0
She sure says some pretty drastic things. (laughs) This girl is amazing.
127 :名無し募集中。。。 2013/09/15(日) 11:03:31.58 0
It comes with being the ace.
177 :名無し募集中。。。 2013/09/15(日) 12:03:44.17 O
Well said, Sayashi.
Henkka: Especially now after this episode, I can wholeheartedly agree with the conclusion reached by >>72: "Rihoriho is an angel."

Source: http://helloproject-sokuhou.doorblog.jp/archives/32124681.html (jp)