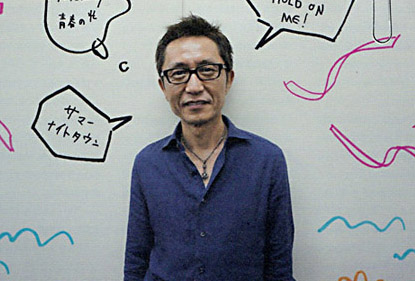 Immediately after "Ai no Tane" and "Morning Coffee" came the song that really changed Morning Musume's image: the brilliant "Summer Night Town." It was followed by a song that earned the group their first Kouhaku appearance, "Daite HOLD ON ME!," as well as the elegant "Memory Seishun no Hikari." One man who greatly contributed to the arrangements of this "cool style" of early Morning Musume was Maejima Yasuaki. Having been a member of bands like SPICK & SPAN and Orquesta de la Luz — as well as a long-serving band leader for Moritaka Chisato in the 90's — what kinds of things surprised this veteran of music in his work with Tsunku♂?
— Could you tell us about how you first came to be involved with Hello! Project?

Maejima: I was very much indebted to Seto Yukio, Moritaka Chisato's producer. Seto had previously arranged a song or two for Sharan Q, and that's how he'd gotten acquainted with Tsunku♂ and the rest of the band. Before long, the project for Morning Musume's debut was underway and Seto called me along.
— I still remember the first time I heard "Summer Night Town" — it was like the perfect night-time kayou kyoku song. Did it already sound that way on Tsunku♂'s original demo?

Maejima: If I remember correctly, I received a very basic, programmed demo of the song. It wasn't yet quite like how it eventually turned out, but the melody and overall harmonies were already there, meaning I didn't have to give it a huge makeover or anything. I just stayed faithful to the demo I'd received… I think. I don't really remember the specifics.