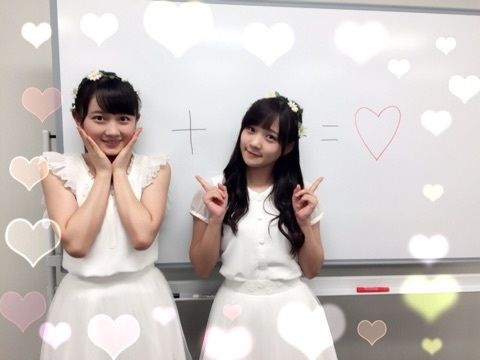 1: 名無し募集中。。。 2018/09/30(日) 21:00:23.82 0.net
I'm sure I can't be the only one who feels this way. This song isn't just "cute" — there's also something about it that makes your heart ache.
3: 名無し募集中。。。 2018/09/30(日) 21:01:41.73 0.net
Yeah. This is a good song.
23: 名無し募集中。。。 2018/09/30(日) 21:15:46.02 0.net
The melody is so good, too.
6: 名無し募集中。。。 2018/09/30(日) 21:04:54.43 0.net
Songs in a minor key apparently have a way of making people's hearts ache.
12: 名無し募集中。。。 2018/09/30(日) 21:08:00.47 0.net
The outfits are cute as well.
14: 名無し募集中。。。 2018/09/30(日) 21:09:34.11 0.net
I remember laughing about Momochi getting angry at the members for praising her voice in the intro as being beautiful, thus "raising the bar" for her.
38: 名無し募集中。。。 2018/09/30(日) 21:55:12.74 0.net
>>1
Completely agreed.
We really got a good song with this one.
20: 空耳♪ 2018/09/30(日) 21:13:33.07 0.net
Country Girls had such expressiveness about their vocals. They sounded good when singing in unison, too. I always think about how they were such a precious, wholesome group.
11: 名無し募集中。。。 2018/09/30(日) 21:07:56.86 0.net
This is an Eric composition.
28: 名無し募集中。。。 2018/09/30(日) 21:27:42.75 0.net
Wasn't this the song that Big Dick Eric said he wrote in a day after he had a dream of some girl singing it in English? It's such a Momoko-ish song — I bet Eric had his way with her.
32: 名無し募集中。。。 2018/09/30(日) 21:48:34.68 0.net
The lyrics were written by Miura, huh? The lyrics, the song, and the members' voices are all so good. Even the costumes are cute. It's all amazing.
57: 名無し募集中。。。 2018/09/30(日) 22:25:17.19 0.net
Oh, this was Miura Yoshiko?
43: 名無し募集中。。。 2018/09/30(日) 22:04:22.51 0.net
The lyrics are full of feelings of gratitude and motherhood.
31: 名無し募集中。。。 2018/09/30(日) 21:46:44.79 0.net
The final "eien ni" by Momochi makes me cry.
It's like they were Momochi's final words.
We'll never see her again.
33: 名無し募集中。。。 2018/09/30(日) 21:48:38.33 0.net
What are you talking about?
We're going to see her at Berryz' reunion.
44: 名無し募集中。。。 2018/09/30(日) 22:10:48.75 0.net
The first time I heard this song, I just knew.
"We still have six months, but I bet this is going to be her last single."
53: 名無し募集中。。。 2018/09/30(日) 22:19:54.71 0.net
My favorite Country song.
64: 名無し募集中。。。 2018/09/30(日) 22:36:00.87 0.net
The best thing about "PBJL" is the choreography during the chorus.
Whoever came up with that is a genius.
3. カラフル名無しさん 2018年10月01日 22:00 ID:ojtUOBH80
The choreography in the chorus is easy to remember and just so cute. I love it.
70: 名無し募集中。。。 2018/09/30(日) 23:59:58.75 0.net
I previously only thought of it as just an "alright" song, but whenever I listen to the Eric version (with Takui on backing vocals), it just makes me cry.
71: 名無し募集中。。。 2018/10/01(月) 00:17:26.98 0.net
I don't like Takui all that much, but his backing vocals on Eric's "PBJL" were so damn good.
76: 名無し募集中。。。 2018/10/01(月) 01:48:46.81 0.net
I like the Eric/Takui version, too.
91: 名無し募集中。。。 2018/10/01(月) 08:24:36.72 0.net
The Eric and Takui one is the best.
66: 名無し募集中。。。 2018/09/30(日) 22:42:36.84 0.net
I was listening to audio from Hello! Con the other day and I was like, "huh, what's this?" So I listened to it properly and discovered that it was a great song. Then I saw the music video and realized that it was a song from their Momochi era. Correct me if I'm wrong, but they've stopped putting out new songs after Momochi quit, right?!
67: 名無し募集中。。。 2018/09/30(日) 22:53:01.90 0.net
They've only done digital releases after Momochi left.
40: 名無し募集中。。。 2018/09/30(日) 22:01:40.90 0.net
I prefer "Onnanoko no Torishirabe Time."
Didn't Country Girls record their own version of this?
54: 名無し募集中。。。 2018/09/30(日) 22:22:30.64 0.net
So you guys like the melancholic sounding songs, huh? When it comes to Country, my favorite has to be "Ito Gome." We're never going to have that feeling that we had when they did that together as a set with "Koi Dorobou."
56: 名無し募集中。。。 2018/09/30(日) 22:23:50.07 0.net
"Koi wa Magnet" is the one that makes me cry. It makes me remember all kinds of things.
80: 名無し募集中。。。 2018/10/01(月) 02:41:20.27 0.net
I like this song, too, but for me the one that makes me cry is "Kimama na Kataomoi." It's a happy song, yet for some reason it just makes my heart ache.
87: 名無し募集中。。。 2018/10/01(月) 08:01:54.18 0.net
Of their digital releases, "Kaite wa Keshite no "I Love You"" and "Matenai After Five" were both such amazing songs that it's a waste they didn't get a CD release.
36: 名無し募集中。。。 2018/09/30(日) 21:51:39.14 0.net
I love this song so much, I actually took it to my local FM station and had them play it on-air. Their female personality was saying it was such a cute, bright, and sparkly song. She really liked it.
Henkka: Well, if we're naming our favorite Country songs… I know it's a boring choice but my vote has to go to "Koibito wa Kokoro no Ouendan." I live and die for that chorus melody.

Source: http://colorhello.blog.jp/archives/1072484607.html