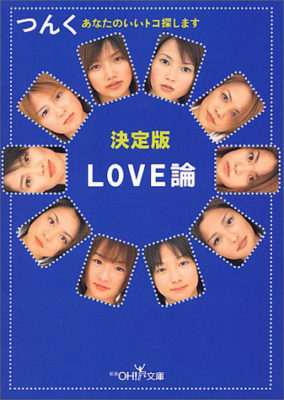 The delinquent woman's energy is her path to opportunity!
By "energetic" woman, I don't mean someone who simply works hard — I'm talking about the type that is commonly known as the "delinquent" or "yankee" woman.
Today they've all but disappeared from the scene, but in my childhood it was the Golden Age of yankees. Yankees were, in a word, unruly people. Everything from their fashion to the language they used to the way they had fun… It's like they had an entire culture of their own.
"Yankee" was a way of life.
There are many different kinds of yankees, but the tougher ones would have something resembling the traditional masculine aesthetic values. By that, I mean to say that their "weapons" were chivalry, fighting skill, and leadership. It felt like they were constantly living life at full throttle, trying to see which one of them could make the biggest name for themselves.
Of course, there were also lots of yankees who couldn't have cared less about aesthetics like that. They cared only about putting down everyone who was weaker than them. I knew guys like that, too. Whenever I saw someone like that walking towards me on the street, I'd be thinking "oh crap, how much money do I have on me today…?" They'd force you to hand them your money for even something as minor as having your eyes meet theirs. The only thing I could do at times like that was think "ah man, they spotted me" before quietly handing them my wallet. It's no secret that there were yankees like that around, too.
It feels like back in those days, the only way people could show how confident and passionate they were was through becoming a person like that. Everyone who wanted to stand out and who had an abundance of energy, they were all yankees.
It was the same with girls. They'd dye their hair brown — something you'd never catch the average "good girl" doing — and they'd wear their skirts so long, they'd be walking around with the hems dragging behind them on the ground. Compared to the skirt length of the average high school girl these days, theirs would easily be something like 60 centimeters longer. But of course if a girl was a yankee it wasn't just about the fashion — they were also very fired-up psychologically.
The energetic woman is profoundly appealing. Basically, although the yankee girls would look unruly, they would never lie, and they would devote themselves to only one guy — that is to say, their aesthetic was to be consistent as people on the inside.
People often say that there's no such thing as true female friendship. They take it for granted that a woman will always choose a man over her female friendships. But with yankee women, they have a firm understanding between them that if they're only just playing around with some guy, they will always prioritize their female friendships over that. (Although, of course, even they eventually choose the man in the end.) Being consistent with one's beliefs like that is a big theme in the hearts of all yankees. The average girl tends not to have any extremely tightly-held beliefs like that.
In most cases, the reason someone becomes a yankee is simply because they don't fit the conventional framework of society. They have nowhere else to, so that's the role they settle into. However, just the fact that they aren't normal is proof in itself of the immense amount of energy they possess. There are lots of girls out there who are simply cute, but it's the ones among them who have so much energy they don't know what to do with who become yankees… and it's that energy that can be turned into the thing that makes them shine. In other words, it's their "star quality," and in my mind it's a quality I would definitely file under the category of "rock'n'roll."
Case in point: when you look at the world of show business today, there are many idols and artists who describe themselves as having been "bad girls" in the past. I'm not denying that they have all kinds of other talents as well, but there's no doubt that their yankee characteristic also plays a big part in their appeal, and their yankee nature must have been a definite plus for them when they were developing their abilities.
---
Now then. There is someone energetic within Morning Musume, too, whose "ex-yankee qualities" have been noticed by many. I'm of course talking about Nakazawa Yuko.
However, Nakazawa is not an actual ex-yankee. That's not her life. She has a strong image of being the big sister from Kansai, but compared to the actual "big sisters from Kansai" that we knew, she's so much more modest, she doesn't have a terribly flamboyant personality, and she hasn't led the life of the queen-type who's always popular with the guys.
When girls like Abe or Iida are in a large group of people and the conversation drifts to some girl other than them, they will quickly start talking about themselves, trying to regain the spot at the center of everyone's attention. Nakazawa is not like that. She was an office lady who had experienced her share of hardships at her company, so from the get-go she gave off an altogether different impression compared to the average college girl gyaru.
She is originally from Kyoto, and as someone who is also from the Kansai region myself, I immediately got the gist of the kind of person she was from the way she carried herself — right away I could tell there was nothing "off" about this girl. Me and her are close in age as well, so when I first saw her at the auditions I was thinking to myself, "if we were at the same mixer party, I'd absolutely set my sights on her first."
Hey, she has a fair complexion, long hair, she's slender, and she's pretty, too.
I believe the reason people see some "ex-yankee" in Nakazawa is entirely due to her outward appearance. Maybe it's those head tilts that suit her so well which give off that impresion. It might be completely coincidental, but when she's filming with the rest of the group she'll often be standing tilted towards the camera, or she'll tilt her head to the side when she's talking. Even those kinds of subtle behavioral traits can give off the impression of someone being an ex-yankee.
Aside from that, the Kansai dialect is also something that comes across on TV as the speaker perhaps having an intense personality. The fact that she often speaks quite openly about her feelings as she's using that dialect might give off that image as well. And the fact that she'll make sardonic comments like "you all think I'm just an aunty," or how she'd be preaching to the other members about something or other must also be contributing factors.
True, on TV she comes across as the older, leader-type — or rather, as the lady who keeps everyone in check. But in reality she's nothing like that at all. Personality-wise, if Ishiguro is the old man of the group and Abe the most stubborn, Nakazawa is just an innocent young lady in comparison. She herself is very much aware that she's the oldest of the group so she feels like she has to be the most reliable of them all, and in a weird way it's perhaps almost like she prides herself in that. But compared to her strong TV image, she's actually a bit more of a prudent, girly type of girl.
To begin with, she was already 24 years old when she attended the auditions. While we were going all, "You're a beautiful woman — why don't you just carry on your career path of an office lady? You look like someone who's going to have such a happy married life!," her response was: "No. Just one more time, I want to try being young again." That really revealed the girliness of Nakazawa in my mind. In truth, she's not the least bit cold. She has her dreams and desires just like any other girl.
---
But although Nakazawa has led a life different from the average yankee girl, she does have one thing in common with them: she has some of that "energetic woman" component to her. She doesn't realize it herself, but I feel like there's a bit of a masochistic tinge in Nakazawa's mentality. Whenever she's presented with a new challenge or development, she doesn't just go "ah well, let's just do it." Instead, she drives herself into a corner and overthinks it to the point where she feels like she's beating herself up psychologically.
When we first talked to her about her enka debut, you could just see the "NO" written on her face. I could immediately tell how she was thinking, "But why? Just when I'd become a Musume…" After a while, she came to think that it was perhaps actually a plus for her to be doing enka, but even so, she approached us about it a number of times. "Is this really okay? Is it okay for someone like me to be singing enka?" And she wasn't just acting like she was unsure — she genuinely felt anxious about it. But at the same time, she was trying her best to turn that anxiousness into something that could push her forward. I found that vitality about her very interesting.
She wasn't at all wrong to feel anxious either. Sometimes it's simply necessary for one to really think, be lost, and feel troubled in order to truly grow. I, too, was constantly thinking, "Nakazawa, get through this! If you can weather this storm, you'll be able to change yourself!" As a result, it's because Nakazawa has that masochistic side to her that she was able to grow and turn her enka debut into an opportunity for herself. The fact that she could do that is something that's closely linked with the qualities of the "energetic woman."
Even if Nakazawa had never debuted she would've still been considered to be a very beautiful girl. It's definitely possible that she would've fallen in love and gotten married by now. This is something I've stated repeatedly in the past, but I really don't know whether or not it's the best thing for any one of the girls to have made it into Morning Musume. It's possible that they would've been happier had they just lived normal lives, and that us discovering them is actually a source of unhappiness for them. However, I've also often said that it's their own responsibility to take those circumstances and turn them into their happiness.
There may have been a couple of times when Nakazawa, too, has made me think, "this girl would have been happier just leading a normal life." But whenever she practices, Nakazawa practically torments herself as she overcomes each obstacle, one by one. And now, as a result, she's arrived at a place where she can consider herself a proper singer.
---
I have no idea where Nakazawa managed to find her source of energy — her type of girl does seem to be a rarity in this day and age. Especially nowadays, there's just no place for people to go if they stand out because they have too much energy. There's almost no place for them to establish their sense of aesthetics while they're still young. As such, it might be a tough environment for the average girl to be an "energetic woman."
For starters, when do they even have the chance to sit down and ask themselves, "what is it that I want to cherish and live my life for?" Plus, being able to stay true to one's aesthetic values also requires a certain amount of relentlessness. It's not something you can do if every minor thing in life makes you go "this is annoying" or "this is such a pain."
These days, the style or the type of depravity of "bad people" has changed. In the past it used to be that "bad people" would be depraved, with an abundance of energy. But nowadays, people like that live in comfortable depravity. I believe things like schoolgirl prostitution to be signs of just that. Whereas previously girls would display their "badness" through fighting and things like that, the way they display it now has gradually become more and more loose, more slovenly, more filthy.
Perhaps they've been influenced by the current global feeling of recession. Now the feeling that permeates the air seems to be: "rather than trying something and failing, I'd rather just not do anything and take it easy."
But when you develop your own set of aesthetics, you also acquire self-confidence and a sense of pride. Even if you happened to be stupid, ugly, and you had a half-baked personality, even someone like that could find something about themselves that they could feel proud about. And no matter what one's profession, I'm sure it would be a good kind of energy to have in life. I really feel that it's not good for girls these days to feel so indifferent about these things.
I'm not telling you to live your life as a yankee. But to all you gyaru types reading this: why not try putting a little more energy into it?