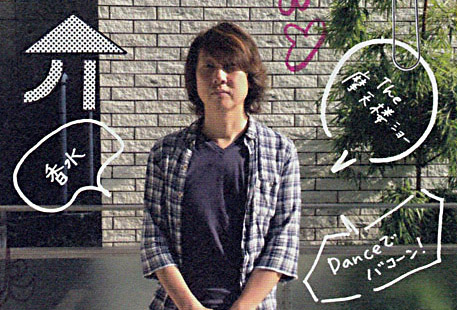 From Morning Musume's soulful funk of "The Matenrou Show" to the almost choir-like "Dekkai Uchuu ni Ai ga Aru" to the humor of "Chokkan ~Toki Toshite Koi wa~" and beyond, Suzuki Shunsuke has been responsible for the color received by a wide variety of Hello! Project songs. Where are his musical origins and what is the source of his varied arrangements?
— Could you start by telling us about your musical roots?

Suzuki: I had a father who loved jazz as well as a big brother who loved Western music, so it was only natural that I came into contact with music myself. My big brother played guitar, so one day around the time I was in middle school I picked it up and just thought, "okay, I could see myself doing this." I just felt it the moment I picked up that guitar. So then I formed an instrumental fusion band in middle school, but we couldn't find a drummer so we had to rely on a drum machine which is when I learned my basics about programming. I also loved YMO and progressive rock — I was mainly listening to instrumental music.
— Did you listen to any popular music?

Suzuki: I didn't really come into contact with it. I wasn't even watching The Best Ten. It was the one area of music I knew nothing about. I was too busy learning jazz guitar in high school — I was hooked on everything but kayou kyoku. I just didn't have the time for pop.
— And that's when you took part in the "YOKOHAMA HIGH SCHOOL HOT WAVE FESTIVAL" and won their award for best guitarist.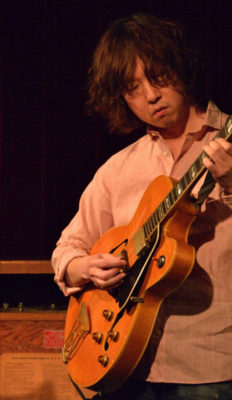 Suzuki: Yes. I found out about the contest in a magazine. I was in an instrumental band at the time and was already aiming to become a professional musician at that point — I simply wanted to earn my living playing guitar in the future. Sakurai Hidetoshi (Magokoro Brothers) also took part in that contest. We later became good friends, but of course since there was no email or even cellphones back then, the best we could do was write each other letters. (laughs) Maybe send each other cassette tapes and stuff…
— He later formed the group Sakurai Hidetoshi & Pioneer Combo, right?

Suzuki: The way he did it is, he basically just took the supporting members of his already-existing backing band and made it into a proper group. Sometimes we'd have a percussionist, other times a sax player… We had a bit of a weird sound. I guess it might be classified as a crossover band.
— What was your position in the band?

Suzuki: I was just the guitarist. Sakurai wrote the lyrics and the music by himself, so I didn't get to do any songwriting or arranging in that group.
— How did you first get involved with music arrangement?

Suzuki: When I wasn't busy with my band activities, I was also creating karaoke data tracks for a living. I would listen to songs, arrange them for the karaoke systems, and program them myself. I think I worked on over 500 songs. Everything from hit songs to enka to Motown to opera… I was willing to work on anything. It feels like making those karaoke tracks is what actually taught me the basics of arranging. It's what made me become interested in arranging in the first place. I believe had I not done that initial legwork, I would've never gone on to do actual arrangement work.
— How about work where you first actually got your name out there as an arranger?

Suzuki: I joined a music production company, made my own guitarist/studio musician demo tape and sent it to places. Afterwards, I suddenly received a message from this recording director who'd heard my tape. He asked me if I'd do arrangements for him. I have no recollection of which particular song that was for though.
— So you weren't yet working as an arranger at the time?

Suzuki: Right. But everything on my demo tape aside from the guitars was programmed, so he figured I could handle arranging work, too.
— Was that also what led to you working with Hello! Project?

Suzuki: Yes. This was just around the time when I'd first began doing arrangements.
— Did you know of Morning Musume before you started working with them?

Suzuki: I did. … Actually, your question reminds me. I had in fact worked on a karaoke version of "Morning Coffee" before becoming involved with them directly. I remember thinking to myself, "huh, this idol group sure has an interesting name." (laughs)
— So even before you received an actual job offer from them, you'd already arranged one of Morning Musume's songs. (laughs)

Suzuki: I suppose you could say so. (laughs) A drummer acquaintance of mine by the name of Yokozeni Yuji was involved with them as well, and I tried to be conscious of his drumming even when I was making that karaoke arrangement. Then I got an offer from Hello! Project to do arranging for them and had my first meeting with Tsunku♂. The first thing I worked on was "Wagamama" off the first album. That's pretty much how it happened.
— What are Tsunku♂'s orders for arrangements like when you first get them?

Suzuki: He has me listen to several songs as reference, and then asks me how his song would turn out if it was arranged similarly to those reference songs.
— What are, in your opinion, the characteristics of Tsunku♂'s music?

Suzuki: To me, his melodies are the kind which directly welcome very liberal arranging. I've only arranged Hello! Project as far as idols go so I can't make a proper comparison, but still, Tsunku♂ really gives you a lot of freedom in arranging his songs. That's not to say he doesn't have a clear image of the arrangement when he gives you the order, but… How should I put it? His melodies are just so… free.

— In other words, his melodies make you think of several different arrangements that might work for them equally just as well?

Suzuki: Right, exactly. When you take a Tsunku♂ melody and strip it down to its basics, it gives you visions of many different ways you might work on it. I think that's the kind of breadth his melodies possess.
— Your arrangements in particular tend to be very varied, but I also feel like a lot of them are black music-inspired.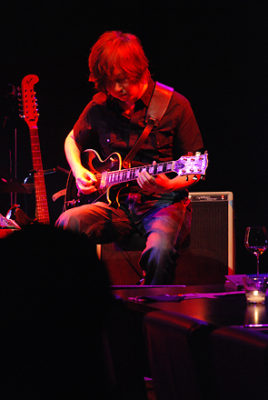 Suzuki: Well, that's usually the type of arrangement they want when they ask for me. "Make it funky" or "make it jazzy." That type of thing. But there tends to be a lot of rock-type stuff, too. I feel like Tsunku♂ often asks me to arrange songs that need a lot of guitars.
— A perfect example of that might be °C-ute's "Dance de Bakoon!" Another song that really left an impression was "Dekiru Onna" with its kayou kyoku melody but Brian May-like guitars. To me, many of your arrangements have that sort of "out-of-placeness" about them.

Suzuki: I like music that sounds thrilling so I actually very much enjoy doing things that feel out-of-place; things that break the rules a little. To me it's better if it sounds a bit rough around the edges rather than too polished.
— For me personally, I remember being surprised when I first heard Fujimoto Miki's "Namida GIRL" (off her first album MIKI①) and learning how that song, too, had been arranged by you — I still had an image of your arrangements all being funky. That pounding double bass sounded very metal/hard rock. It caught me off-guard.

Suzuki: Every now and then I'll get an order for a type of arrangement that isn't really a part of my repertoire. What I do then is listen to the songs they give me as reference and come to love that genre. (laughs) Then, once I've grasped what it is that makes those songs so good, I finally start making my own arrangement.
— Whereas someone like DANCE☆MAN's arrangements were consistently disco-influenced, you're the type of arranger who will take on new genres simply for the sake of making them your own.

Suzuki: Right. I've repeated that process again and again before finally arriving where I am now.
— Are you conscious of the actual performing artists in Hello! Project when arranging songs for them?

Suzuki: For the most part, no. I think most times when I get an order for a new arrangement, it's not yet decided who's going to get the song in question, so there's really no way for me to think about the performing artist's individual characteristics. Sometimes I do know beforehand though, and in those cases I do think about it.
— So in most cases it's not really possible for you to include your image of the singer in question in your arrangements.

Suzuki: Yes. I'm guessing that's why it's only after the arrangement is done that Tsunku♂ finally sits down and thinks about who the song would fit best.
— Of all the songs you've arranged for Morning Musume, which one has left the biggest impression on you?

Suzuki: That would be "Mr. Moonlight ~Ai no Big Band~." The order as I first got it was for something resembling The Brian Setzer Orchestra. The entire instrumental was recorded at the same time and it was a first for me to see that huge of a big band in the studio recording the whole song in one take.
— Even the brass parts were recorded at the same time?

Suzuki: Yes. As far the brass arrangement goes, I only did the basic framework for those bits. Kobayashi Masahiro was the one who did the final horn arrangement. Once we'd recorded the whole instrumental, there was a lot of work to be done in editing it. Replacing all the bass drum, creating loops…
— So it was all recorded at the same time but was later heavily edited?

Suzuki: Right. It sounds live, but it's actually very carefully edited. There's always quite a lot of editing involved when recording a band live. That was sometimes important to do, just to make the rhythm — the beat — stronger. That's what Tsunku♂ will often tell me: "make the beat stronger!"
— Are there any non-Morning Musume songs that have left a strong impression?

Suzuki: Let me think… Melon Kinenbi's "Kousui." For this song, Tsunku♂ seemed to have a rather complete vision of what he wanted the arrangement to sound like, so it took quite a long time for me to actually complete it. It took a number of retries and back-and-forth with Tsunku♂.
— What was the one song that, to you, felt the most worth doing?

Suzuki: Maybe Morning Musume's "Inspiration!" (B-side of "Renai Revolution 21"). This song was recorded by musicians I love and respect, and they recorded it all in one take! The recording session for this one was a blast.
— That's another funky song. Arrangers like Kono Shin and DANCE☆MAN were also doing songs with strong black music-influences around that time. Did you try to be aware of what arrangers like them were doing?

Suzuki: Sure. I learned a lot from them. I'd sometimes run into Maejima Yasuaki and Konishi Takao in the studio which gave me many opportunities to talk with them about all kinds of things… Yeah, I really learned a lot from them. There was a lot of talk regarding equipment.
— What sort of equipment do you use these days, by the way?

Suzuki: Cubase. Lately most of my arrangements are programmed, so basically it's all digital with me — aside from maybe the guitars. I started moving heavily towards this kind of production style around the time of "Roman ~MY DEAR BOY~."
— Now that most of your arrangements are programmed, has it made your approach to arranging any different?

Suzuki: It has. Now it isn't all just guitar-based — many of my ideas and approaches now originate from the keyboards. With that said though, I do still think of myself as a guitarist first and foremost, so I try to keep guitar-based ideas my main thing.
— Lastly, please tell us your motto as an arranger.

Suzuki: "Mood." I find that when I'm not making good progress with an arrangement, it's because the "mood" of the song has become blurred. The clearer the mood is, the better the arrangement becomes.
Interview & text: Takagi "JET" Shinichiro
English translation: Henkka
Suzuki Shunsuke on the web: Facebook