It was Pour Lui's admiration for Morning Musume and Takahashi Ai that made her decide she wanted to form an idol group of her own, and she then went on to become the leader and "naughty" member of BiS. Meanwhile, singer-songwriter Oomori Seiko has been performing her H!P covers at Hello! Shops, conveying her love of Hello! Project and Michishige Sayumi in particular. Admitting to being greatly influenced by Platinum Era Morning Musume especially, these two talked to us about what in Hello! Project music appeals to them, as well as what makes them so partial to Morning Musume.
— To start off, could you tell us how you first came in contact with Hello! Project?

Pour: I'm 23 years old which means I'm just the age where I was in elementary school when Morning Musume became huge.
Oomori: Same here. I'm the same age as Tsuji and Kago. I remember seeing Morning Musume on TV when I was 13 or 14 years old and being moved upon learning how those two were the same age as me and yet being such hard workers. That's when I became a fan.
— What about them caught your interest?
Pour: For me, it was purely admiration and love.
Oomori: I'm very interested in girls — I had this "habit" of looking inside bags of girls I liked, trying to find their gym suits and stuff… all kinds of male virgin loser stuff like that. Morning Musume was the perfect target to focus my curiosity on simply because no one would get angry at me. (laughs)
— I see… While I'm not sure how to respond to that, in other words what you're saying is that they were someone it was okay for you to chase after, right? Did you two also try mimicking their dancing or singing?

Pour: No, I just watched.
Oomori: Same here. For me there was no "I want to become like them" sort of feeling. Only love.
— From those early feelings of admiration, when did you turn into dedicated fans?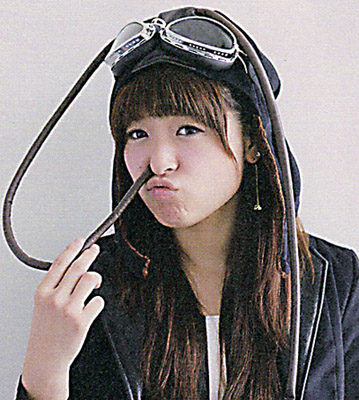 Pour: Around "Iroppoi Jirettai." That song made me a fan of them for a second time. I started up a band in high school and I was all pretentious, which drove me away from idols. But then in college a friend of mine told me about how fun AKB are so I looked them up on YouTube and through related videos, I found a Platinum Era live version of "Iroppoi Jirettai." It caught me off-guard. I was going, "were they always this awesome?" So then I checked out more videos and each one of them was cooler than the one before. I was an instant fan. This was just before BiS was formed — it's what made me want to start an idol group.
— The impetus for creating BiS was Platinum Era Morning Musume?

Pour: I wanted to become like Ai-chan. So I formed BiS, wanting to create something like the cool Platinum Era Morning Musume, but… well, things turned out a little bit differently. (laughs)
Oomori: BiS and Morning Musume have pretty much nothing in common. (laughs)
Pour: But doing my best with BiS actually gave me the opportunity to meet Ai-san, so it worked out in my favor as a wota, too. She even knew my name! "Pour Lui." It gave me goosebumps when she said it. She's like a god to me.

Oomori: My image of idols was Hello! Project, so the first time I saw BiS, I was going all "Huh?! They're considered an idol group, too?!" (laughs)
Pour: Ahaha. My life was in a downward spiral when I started looking up to Ai-chan. I was having no luck as a solo artist, things with my manager were falling apart… Rediscovering Morning Musume just then was a huge source of mental support for me.
Oomori: I so get that. I was a shut-in myself when I first saw the video of "Resonant Blue" and it was so cool. I'd always liked them, but it was only with Platinum Era that I first realized their true greatness; their coolness.
— So Platinum Era was important to you both. This was an era when they were mostly out of the limelight and were instead busy perfecting their live performances. Was it those performances that caught your interest?

Oomori: For me, it was simply that I thought Michishige-san was cute. (laughs) But the thing with Michishige-san is, she's always cuter than she was the day before, which ultimately means I love her more today than ever before.
Pour: She's also really cool as of late.
Oomori: Honestly, I don't care what Morning Musume does — at the end of the day, Michishige-san is what makes me love them. (laughs) Even if originally it was Kago-chan who I loved. But upon seeing "Resonant Blue," Michishige-san just totally stole my heart. Michishige-san has that aura about her. It's like she's saying, "it's okay for you to love me."
Pour: The perfect idol.
Oomori: Right. That's what makes me love idols. Not many girls out there could say that — "it's okay for you to fall in love with me." But Michishige-san accepts everyone. And I love how she can sometimes suddenly burst out crying on radio. (laughs) Also, it was easy to empathize with her in the Platinum Era days when she was battling her feelings of inferiority.
Pour: And now she's the one leading the group. As a leader myself, I really admire her. She herself readily admits that Morning Musume just aren't as popular as groups like AKB, but even so, she says they're the best group out there. That's so cool. Sayu's love towards Morning Musume is sort of similar to my love towards BiS. It makes me want to root for them.
Oomori: During Platinum Era, she played the cutesy, poison-tongue character just to appear on TV; to get Morning Musume's name out there. It's so cool how she went, "I don't care if people hate me as long as it serves Morning Musume." And that definitely played a part in getting Morning Musume to where they are today. But to be honest, I never expected her to be the last remaining member of Platinum Era left in the group.
Pour: She outlasted all the rest of them. I've watched lots of members leave BiS, too — that's another thing I sort of have in common with Sayu.
— It sounds like Morning Musume was, for the both of you, something that gave you strength — they helped you move on when you were down, or when you were living as a shut-in.

Oomori: They're always strong; always facing forward. So while I like songs such as Ayaya's "Momoiro Kataomoi" or °C-ute's "Sekaiichi HAPPY na Onnanoko" and other idol-y songs, when it comes to Morning Musume, I've always preferred their cool, strong, positive songs.
Pour: For me, they became someone I looked up to. Someone I could set as an objective for myself. Also, because I first started out as a solo artist, they made me think about how much fun it must be if I was in a group with other people instead. (laughs)
Oomori: When me and BiS collaborated about a year earlier, it was just you in the dressing room all by yourself. And yet seeing you nowadays surrounded by and having fun with the other members in the dressing room made me feel somehow happy. (laughs)
Pour: It used to be that we hardly ever talked in the dressing room. Everyone was scattered. But nowadays we're always running off to purikura or something whenever we have a bit of free time. (laughs)
— Let's move on to the main topic of the talk: your favorite singles and coupling songs. Who wants to go first?

Pour: Allow me. I like "The Matenrou Show." It had the perfect rhythm for running for when I did the 100km marathon. When 9th and 10th gen joined they started doing songs like "Pyoko Pyoko Ultra" and "Maji Desu ka Ska!," so I kind of expected they'd switch to doing nothing but those types of songs. And yet, they put out another cool song, which made me happy.
Oomori: Apparently, that song was originally meant for the Platinum members. You can find the "TYPE 0" version of it on Pucchi Best 13 that has Gaki-san's parts on it and it's really good.
Pour: I often think about what the more recent songs would sound like if was the Platinum members singing them. I still feel like the Platinum Era was more of a group of artists rather than idols.
Oomori: Their live performances were simply amazing.
Pour: I really like Berryz Koubou and °C-ute now that they're starting to become fully matured. In a similar sense, Morning Musume back then just really resonated with me.
Oomori: I see.
Pour: There wasn't much of that senpai-kouhai dynamic either. Everyone was pretty much the same age and it felt like everyone was in it together, working equally to create Morning Musume.
Oomori: I liked when 9th gen joined and Ai-chan told them to just call her "Ai-chan."
Pour: Also, I tend to like the slightly sad-sounding songs — the sad love songs.
— You can identify with the type of sad songs Tsunku♂ writes.

Pour: Right.
Oomori: His lyrics are so fun. I think Tsunku♂'s lyrics are pretty much as fun as lyrics can be — being second only to mine. (laughs) It's not an issue of his sense with words being "good" or "bad" — they're just so surprising. It's fun how they make you feel you shouldn't miss any of them. They captivate you. Honestly, if I had to choose and either call them "cool" or "lame," I'd probably have to call them the latter. They're just… not very cool, to put it simply. But it's because I realize I could never become someone very cute either, it's easy to identify with his lyrics. Also, it's really easy to picture the scenes taking place in the lyrics. Like in Tanpopo's "Koi wo Shichaimashita!" for example — you can just immediately picture it. I guess it's one of those kayou kyoku things.
Pour: There are a lot of phrases you feel like singing for no reason in particular.
Oomori: Many of them are deep, like in old Sharan Q songs, but I also like the simple "I love you, I love you, I love you!" and "uwaahh, what a fool I am!" type lyrics, too. (laughs) The fact that they have both makes it that much more fun to listen to them. And I also like their songs that only idols could do. I know people generally didn't think much of the chick costumes in "Pyoko Pyoko Ultra" for example, but to me it was perfect. That was just too amazing.
Pour: Those really are outfits only idols could wear.
Oomori: I love how it feels like even the members themselves seem to be thinking, "is it really okay for us to wear something like this?" They probably kind of had to force them to wear them and yet they totally made it work — that's the sign of a true idol.
Pour: I actually felt they especially suited the older members. Gaki-san was wearing pretty much a full-grown chicken outfit! That was so cute.
Oomori: And the song itself is good, too, right?
Pour: It is. Also, I like "Onna to Otoko no Lullaby Game." The lyrics are great, and when I first heard those "dakedo" and "demo ne" bits by Ai-chan, I remember thinking "What is this?! This is too cool!"
Oomori: They get you so fired-up!
Pour: I got goosebumps all over my body when I first heard it.
Oomori: When she stretches out that "deeeeeeeeeeee~" bit and the audience goes all "woooooo!," I like to think they don't do it because they want to show their support or something. They do it because they're just so excited that they can't contain themselves — like, an involuntary reaction. (laughs) That's how amazing it is.
Pour: When you hear that song and Ai-chan's voice in a large venue, it's even more amazing. It's hard to believe she could produce that kind of a voice. That slightly deep voice of hers is just so cool.
Oomori: It was great to watch her interplay with Reina in that song.
Pour: I also remember watching the live video of Ai-chan and Reina singing Taiyou to Ciscomoon's "Everyday Everywhere" and shivering from how moving it was.
Oomori: High-King's "C\C (Cinderella\Complex)" was great, too. It kind of feels lonely now without Reina's voice in the group.
Pour: Speaking of singing voices, I'm really looking forward to seeing how Suzuki Kanon develops in that department.
Oomori: She does have a really nice voice.
Pour: I like her innocence. She really is like the glue that keeps everyone in Morning Musume on friendly terms.
Oomori: Yet she still refers to Rihoriho as "Sayashi-san!" (laughs)
Pour: She doesn't dare to act as an equal to her. That's how serious she is.
Oomori: But interestingly, on her blog she's always very happy-go-lucky.
Pour: I also like Maa-chan.
Oomori: You can sense the great things awaiting her in the future.
Pour: I think she might end up becoming some sort of a superhuman. (laughs) Like, she's literally a person who's going to bring forth a new era in the world. That sort of feeling.
Oomori: At one point during "Wagamama Kinomama Ai no Joke," she suddenly has this really womanly expression on her face. I found myself unconsciously taking a screenshot of that bit. (laughs)
Pour: But on the inside, she's the most childlike of them all. Even just looking at her heals you. I really look forward to seeing her in five years or so when everyone's around the same age the members were during Platinum Era.
— Does Platinum Era represent the image of perfect idols for you?

Pour: For me, yes.
Oomori: For me, that'd be Michishige-san.
— That's something you just won't compromise on. (laughs) How about some of your other favorite songs?

Oomori: The "Wakuteka Take a chance" B-side, "Daisuki 100manten." Ishida Ayumi-chan's country bumpkin-ness, Fuku-chan's "airiness…" like, you can hear parts of the members that they weren't specifically trying to convey but that are audible anyway. I think if they were able to properly control that about themselves, they'd be a lot more like Platinum Era. But the fact that they can't — the fact that the song sounds a bit unsteady — makes it a perfect idol song for me.
— Like how it sounds like they're still very much in midst of development?

Oomori: Yes. I love how they don't yet have control over their own appeal.
— How about your, Pour Lui?

Pour: "Nanchatte Renai." I can identify with it so much — "fake love" really does make you feel empty inside. Dating isn't allowed within BiS and it's not like I have those kinds of encounters now anyway, but every now and then I feel like I want to be in love. I'll think about how this or that guy is cool, but I just can't take it any more seriously than that. This song was an encouragement for me — it reminded me that fake love like that would be pointless anyway. (laughs)
Oomori: The members all had perfect figures in this music video.
Pour: With Morning Musume, it's like someone in the group is always having difficulties maintaining their weight.
Oomori: Yeah. There's always someone who's a bit… you know. (laughs)
Pour: But during the Platinum Era, everyone had it in control. It was a time when everyone's dancing, singing, even their figures were perfect. I believe lots of girls — not just us two — relapsed back into Morning Musume fandom because of the Platinum Era.
— "Relapsed"… (laughs)

Pour: You know, I think I can kind of understand why they were losing so many male fans around that time. If a female idol group is that cool, they might actually be a bit unapproachable for guys.
— Your turn, Oomori.

Oomori: The B-side of "Mr. Moonlight ~Ai no Big Band~", "Popcorn Love!" I have sad memories regarding this song…
Pour: Huh?!
Oomori: I mean, in regards to the time when Kago-chan was "doing her best"… (laughs) Actually, her album AI KAGO meets JAZZ -The first door- was really good.
Pour: Out of all Morning Musume members, past or present, I like Kago-chan's voice the best.
Oomori: It's so cute, plus she's very talented.
Pour: She really is. But unfortunately, while someone like Ai-chan has lots of video footage of her performing solo songs, Kago-chan has almost none. It's pretty much just "Boogie Train '03" and the version of "Koi no Telephone GOAL" she sung with Kame-chan.
Oomori: It's such a waste!
Pour: It really is an amazing voice. She can do sexy, lonely, energetic… all of them equally as well.
Oomori: Plus, it's amazing how regardless of what she sings she always makes the song her own. But the same goes for Sayu, too. You always know it's her singing it. Even her processed vocals on "Fantasy ga Hajimaru" — you can immediately tell that's her.
— That's true. Pour Lui's turn next.

Pour: "Kimagure Princess." Ai-chan may be my god, but Eri was my oshi. And that same Eri was the center in this song. I really like the voices of Kago-chan and Eri the best.
Oomori: Speaking of voices, relistening to "Uchouten LOVE" today, the absence of Yuukarin becomes painfully obvious. I just feel lonely when listening to it now. I really think S/mileage's innocence and naivete back then was something that could've allowed them to be rivals even to AKB.
Pour: They really were cute. But rather than the original foursome, I actually prefer the group as it is today.
Oomori: I get that! The S/mileage of today is like one of Hello! Project's pillars of support. They need that group. They're all so talented. Girls like Meimei are just insanely cool.
Pour: Also: "Only You." Ai-chan was blonde in that one and she just dumbfounded me. This is actually my favorite song to sing. Sometimes I put on the instrumental and sing it in the bath, checking myself out in the mirror while trying to mimic Ai-chan's expressions… There was actually a time when I was so crazy, I literally wanted to become Ai-chan.
Oomori: Mimicking their facial expressions is something I do, too. Okay, my turn next. I think I'll say "Sekaiichi HAPPY na Onnanoko." It's °C-ute at their most perfect.
Pour: That one really is cute.
Oomori: And Nacky is so hot in it!
Pour: She is! (laughs) I basically think of °C-ute as this god-like existence, but I was able to meet them at the wrap-up party of this festival and they were all really friendly when they spoke to me. For some reason I'd come to think that Maimi-san might be a bit cold towards strangers, but instead she was all "let's take a picture together!" I remember thinking to myself, "they're all this cute, they can sing and dance, and they even have great personalities… Compared to them, the members of BiS don't even deserve to live!" (laughs)
Oomori: Ahaha. Everyone in °C-ute really is such a good person. (laughs) I remember when I met them and someone introduced me to them as someone who sings and plays guitar, and Airi-chan just went "wow, that's amazing!" all excitedly. And, maybe surprisingly, Rii-chan was curious about me, too. I was so happy that day. Oh! By the way, can I name an album song, too?
— Sure, go ahead. (laughs)

Oomori: Tanpopo's "I&YOU&I&YOU&I" is my number one favorite song!
— You've previously performed an acoustic cover of that song at a Hello! Shop, right?
Pour: If I could name an album song as well, I'd make it "Namidacchi." It's Platinum Era's graduation theme!
Oomori: That one always makes you cry. But for some reason it's not quite as bad when you listen to the recorded version.
Pour: Right, it's a song that really shines when performed live. I remember during Kame-chan's graduation when Ai-chan became unable to even sing anymore and Gaki-san brought her mic to Ai-chan's mouth. I was like, "ah, this is what friendship looks like."
Oomori: If you listen really carefully, you can actually hear their sniffles.
— Wow, good job noticing that! (laughs) Lastly: what do you expect from Hello! Project in the future?

Oomori: I want to see them appear on Kouhaku.
Pour: I want them to create a huge sensation again. But I want them to accomplish that through doing what they always do and have always done. I will stick by Hello! Project!
Oomori: I'd also like to work with Morning Musume while Sayu is still in the group!
Pour: And I want to work with Ai-chan!
Oomori: It'd be fantastic if, as an extension of all that we've done so far, we could stand on equal footing with them and do something together — I don't think anything could be more wonderful for me than that. Like, if I could do a joint concert with them or something… But I actually do quite a lot of joint concerts with idols already even though I'm not one myself, so maybe it's not that far-fetched of an idea. Maybe they just know how dangerous I am… (laughs)
Pour: If BiS were allowed to do a concert with them, I'd be okay with them going through all our stuff and taking whatever they wanted.
Oomori: Really?!
— Um… (laughs)

Pour: But they'd have to be mentally prepared for the possibility of finding pretty much anything imaginable — it's BiS we're talking about, after all. (laughs)
Interview & text: Takagi "JET" Shinichiro
Photography: Yamada Kaoru
English translation: Henkka
Pour Lui on the web: website, blog, Twitter, YouTube
Oomori Seiko on the web: website, blog, Twitter, Instagram, Facebook, YouTube