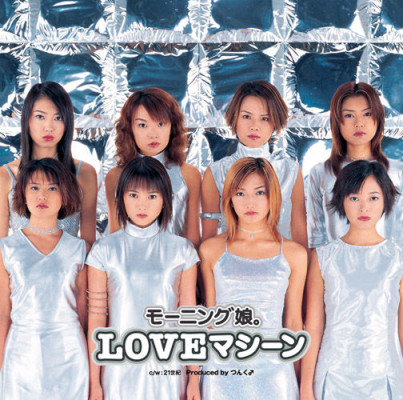 1: 名無し募集中。。。 2013/09/08(日) 13:15:12.77 0
And apparently tomorrow, September 9th, they're releasing their new song with the silly title of Love Machine. I wonder if it'll be a big hit…
4: 名無し募集中。。。 2013/09/08(日) 13:16:31.96 0
No.
13: 名無し募集中。。。 2013/09/08(日) 13:18:59.20 0
Yeah, fat chance now that they've added a bunch of newbies into the group. Idiot.
7: 名無し募集中。。。 2013/09/08(日) 13:17:52.24 0
I saw it on Asayan. It seemed pretty good.
16: 名無し募集中。。。 2013/09/08(日) 13:19:50.85 0
Isn't that blonde junior high girl pretty cute?
27: 名無し募集中。。。 2013/09/08(日) 13:24:28.34 0
The PV is good, right? I wonder if they might release it on VHS.
35: 名無し募集中。。。 2013/09/08(日) 13:27:39.22 0
I'll say this now. They're going to be singing this song ten years from now. It's going to sell like crazy.
41: 名無し募集中。。。 2013/09/08(日) 13:29:22.73 0
>>35
I promise you there is not a single person who will be singing it even in karaoke anymore at that point.
48: 名無し募集中。。。 2013/09/08(日) 13:34:06.05 0
If I was Tsunku, I'd take Yasuda, Ichii and Goto and put them in a new group. As for the name… since they're all tiny, it could be called Minimoni.
53: 名無し募集中。。。 2013/09/08(日) 13:35:37.24 0
>>48
Me, I'd put younger girls in it. It might be interesting if you put a set of two brats in who would always be up to some mischief. It'd create a contrast with Nakazawa.
50: 名無し募集中。。。 2013/09/08(日) 13:35:03.91 0
What are you saying? There's already Tanpopo and besides, Goto only just joined the group. They won't put her in a new unit so soon.
52: 名無し募集中。。。 2013/09/08(日) 13:35:35.65 0
I can see into the future a little bit. I can see in my head them singing this song in 2013 on a program called FNS Uta Matsuri. The members will be almost, or rather, completely different, but the audience seems to be fired up. This song might be something pretty big.
57: 名無し募集中。。。 2013/09/08(日) 13:36:59.74 0
>>52
2013? I think you mean 2003. (laughs)
63: 名無し募集中。。。 2013/09/08(日) 13:40:26.37 0
>>57
No, I'm sure it was 2013 I saw, though I guess you probably won't believe me. I can also see them releasing another arrangement of this song on an album, also in 2013.
68: 名無し募集中。。。 2013/09/08(日) 13:42:07.71 0
With this kind of group, they'll be lucky to be around next year, let alone 2013. Nope, they'll break up and Nakazawa will marry Tsunku.
66: 名無し募集中。。。 2013/09/08(日) 13:41:50.14 0
You guys are way too optimistic. There's no way these girls will be popular for long.
61: 名無し募集中。。。 2013/09/08(日) 13:39:16.04 0
This girl Fujimoto Miki who was at the avex dream 2000 August audition was cute.
59: 名無し募集中。。。 2013/09/08(日) 13:37:56.23 i
There's no way a song like this will sell. I wish they'd go back to doing songs like their earlier material. I liked that stuff better.
70: 名無し募集中。。。 2013/09/08(日) 13:42:10.57 0
They dropped to just 150,000 copies sold with "Furusato"… they probably won't make it to Kouhaku this year. Not unless they come out with a really big hit.
80: 名無し募集中。。。 2013/09/08(日) 13:45:21.08 0
If this song doesn't sell, they'll break up by next year.
72: 名無し募集中。。。 2013/09/08(日) 13:43:01.89 0
The other day I spotted Goto Maki! She was walking with a boy who looked exactly like her, maybe her younger brother? They should have him debut, too!
84: 名無し募集中。。。 2013/09/08(日) 13:46:17.81 0
Setlist from the other day:
1. Morning Coffee / all
2. Tanpopo / Tanpopo
3. Last Kiss / Tanpopo
4. DANCE & CHANCE / Coconuts Musume
5. Summer Night Town / Coconuts Musume
6. Futari no Hokkaido / Country Musume
7. Karasu no Nyoubou / Nakazawa Yuko
8. Junjou Koushinkyoku / Nakazawa Yuko
9. Anata no Yume ni Naritai / Heike Michiyo
10. scene / Heike Michiyo
11. Unchain My Heart / Miyoshi Chinatsu
12. Tsuki to Taiyou / Taiyou to Ciscomoon
13. Uchuu de La Ta Ta / Taiyou to Ciscomoon
14. Everyday Everywhere / Taiyou to Ciscomoon
15. Gatamekira / Taiyou to Ciscomoon
16. Manatsu no Kousen
17. Memory Seishun no Hikari
18. Furusato
19. NIGHT OF TOKYO CITY
20. Happy Night
21. Summer Night Town
22. Daite HOLD ON ME!
~Encore~
23. Zurui Onna / all
88: 名無し募集中。。。 2013/09/08(日) 13:47:59.24 0
Taiyou to Ciscomoon are still around? Everyone's pretty much forgotten about them already, right? Just break up already and do auditions for a new Inaba-led group or something. (laughs)
90: 名無し募集中。。。 2013/09/08(日) 13:49:50.61 0
Ciscomoon are all good singers. I like Ruru. They might actually end up going on longer than Momusu.
92: 名無し募集中。。。 2013/09/08(日) 13:50:13.42 i
Everyday Everywhere is a great song. If they get good singers around the 5th or 6th gen, I wish they pass that song on to them.
94: 名無し募集中。。。 2013/09/08(日) 13:51:27.44 0
5th or 6th gen? What's that?
95: 名無し募集中。。。 2013/09/08(日) 13:52:11.28 0
There's no 4th generation even so why even bother talking about a 5th generation at this point?
97: 名無し募集中。。。 2013/09/08(日) 13:52:46.96 0
Yeah. The auditions end with Goto.
104: 名無し募集中。。。 2013/09/08(日) 13:55:44.96 0
They definitely won't have any more new members after this. Goto Maki is amazing. We don't need any more.
105: 名無し募集中。。。 2013/09/08(日) 13:55:55.97 0
If they keep adding girls up to the 6th generation, I wonder just how many members they'll have in total? (laughs) If they reach like 15 members, they might as well split the group in two.
108: 名無し募集中。。。 2013/09/08(日) 13:57:32.42 0
There's this kind of badness in Goto that stops me from supporting her.
111: 名無し募集中。。。 2013/09/08(日) 13:58:26.15 0
>>108
Yeah. I like pure, honest girls like Yaguchi more.
125: 名無し募集中。。。 2013/09/08(日) 14:02:48.53 0
What were they thinking putting some blonde kid who can't sing into the group? She's no substitute for Fukuda.
127: 名無し募集中。。。 2013/09/08(日) 14:03:46.75 0
Now that they don't have any members who can sing after Fukuda left, maybe they'll start putting more emphasis on dancing or something.
129: 名無し募集中。。。 2013/09/08(日) 14:05:52.19 0
Time to move on already, Fukuda wota.
122: 名無し募集中。。。 2013/09/08(日) 14:01:05.35 0
Nacchi is an angel.
135: 名無し募集中。。。 2013/09/08(日) 14:06:44.62 0
I wonder what they'll pick as her nickname. Goto… maybe something like Gotuu?
139: 名無し募集中。。。 2013/09/08(日) 14:09:13.53 0
>>135
I think Maa-chan would be good.
148: 名無し募集中。。。 2013/09/08(日) 14:12:00.75 0
Tsunku's lost his genius…
165: 名無し募集中。。。 2013/09/08(日) 14:17:52.76 0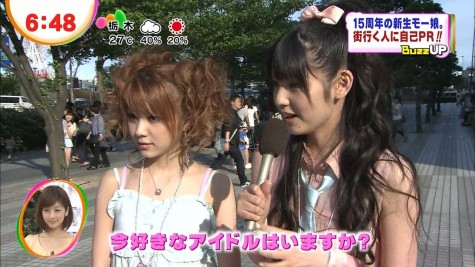 169: 名無し募集中。。。 2013/09/08(日) 14:20:09.71 0
>>165
"Morning Musume's 15th year"…?
Is this a photoshop?
179: 名無し募集中。。。 2013/09/08(日) 14:25:47.41 0
>>165
Who are these two? Is the pretty one interviewing someone?
171: 名無し募集中。。。 2013/09/08(日) 14:21:45.19 0
I just realized that they don't really have the cutesy type in the group. You know, the kind that calls herself the number one cutest girl in the world. I mean, not that they'd ever pick a girl like that. (laughs)
167: 名無し募集中。。。 2013/09/08(日) 14:18:14.62 0
Abe-san should remain the center. Who needs that damn yankee brat.
206: 名無し募集中。。。 2013/09/08(日) 14:55:38.61 0
I'm a Musume wota and I want to go see them with their their new song coming out and everything, but it's not gonna happen with my wife in the late stages of pregnancy. Ah well, it's going to be a girl so hopefully in the future I can get her to join Musume. The expected date is on October 27th. I'm hoping for an easy childbirth.
207: 名無し募集中。。。 2013/09/08(日) 14:57:51.96 0
>>206
Oh, you share the same expected date with the Kudo-san in our neighborhood!
166: 名無し募集中。。。 2013/09/08(日) 14:17:59.06 0
What the hell is this? Did I suddenly jump back in time or something?
Henkka: Mark my words: if Ichii ever graduates, that will be the end of Morning Musume.

Source: http://helloprocanvas.ldblog.jp/archives/32641734.html (jp)