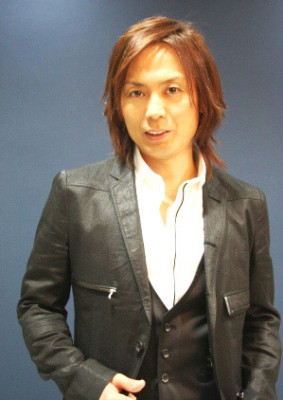 1:名無し募集中。。。:2012/09/30(日) 02:39:00.65 ID:0
Tsunku on Young Town:
"The members of Hello! Project are an extension of myself."

"What I can't realistically do in 24 hours myself, they do for me."

"Hello! Project is a production, not a product."

"Their parents entrusted them to me. That makes them equal to my own daughters. I could not see them in "that" way."
2:名無し募集中。。。:2012/09/30(日) 02:39:29.20 ID:0
That's Tsunku for you.

5:名無し募集中。。。:2012/09/30(日) 02:40:11.55 ID:0
And on the other side there's Akimoto Yasushi who built himself a harem.

11:名無し募集中。。。:2012/09/30(日) 02:42:29.57 ID:0
Tsunku's such a good person compared to Akimoto. Akimoto cares about nothing else but success.

13:名無し募集中。。。:2012/09/30(日) 02:43:20.39 ID:0
This is the one thing I can praise Terada for. (laughs)

14:名無し募集中。。。:2012/09/30(日) 02:43:23.16 ID:0
Akimoto

The members are a product

Thinks of the members as objects romantic interest

Dirty old man

Tsunku
The members are a production

Would never think of the members as objects of romantic interest

Cool old man
19:名無し募集中。。。:2012/09/30(日) 02:44:59.28 ID:0
>>14
Akimoto
→ Married a member.
Tsunku
→ Had an arranged marriage with a woman to whom he was introduced by a friend.
22:名無し募集中。。。:2012/09/30(日) 02:45:43.96 ID:P
It's pretty incredible how he went for an arranged marriage even with so many beautiful girls all around him.

27:名無し募集中。。。:2012/09/30(日) 02:47:17.01 ID:0
I'm no Terada fan, but this is the one thing I give him credit for.

29:名無し募集中。。。:2012/09/30(日) 02:47:23.54 ID:0
It's probably faster to ask if there are any Onyanko members Akimoto didn't fuck.
39:名無し募集中。。。:2012/09/30(日) 02:49:10.53 ID:0an
>>1
As expected of Tsunku. I'd like Komuro, Kobatake or Akipig to hear those words.
>>29
Nitta Eri revealed that although Akipig tried coming on to her, she managed to get away.
53:名無し募集中。。。:2012/09/30(日) 02:51:20.66 ID:0
>>39
He probably fucked all of them basically.
Wasn't their songwriter Goto this brute lolicon type, too?
33:名無し募集中。。。:2012/09/30(日) 02:47:44.41 ID:0
It's a known fact that Akimoto put his hands on Onyanko members.

38:名無し募集中。。。:2012/09/30(日) 02:48:58.05 ID:0
This must piss off the Akipig fanatics.

41:名無し募集中。。。:2012/09/30(日) 02:49:52.53 ID:0
Tsunku's most touching words for me was when that male transvestite sold the story about having had sex with Tsunku, and Tsunku had then later said to him: "You fool… I would have always held you like a woman."
52:名無し募集中。。。:2012/09/30(日) 02:51:15.01 ID:0
>>41
I think I remember him making fun of that story on some radio appearance.
56:名無し募集中。。。:2012/09/30(日) 02:51:37.41 ID:0
>>41
No, he said: "Out of all the girls I've had sex with, you were the cutest or second cutest of them all!!"
(TL note: Apparently this really was once reported by Friday or some other gossip mag. I'm unable to find exact information as to when the rumor first got out but it was years and years ago, predating Morning Musume.)
43:名無し募集中。。。:2012/09/30(日) 02:50:08.42 ID:0
Terada is somewhat of a fool, but he's a good person.

44:名無し募集中。。。:2012/09/30(日) 02:50:15.97 ID:0
Are you saying there's someone even in AKB who Akipig hasn't fucked?
50:名無し募集中。。。:2012/09/30(日) 02:51:07.03 ID:0
>>44
I'm thinking even Akimoto wouldn't put his hands on the junior high school students or younger.
46:名無し募集中。。。:2012/09/30(日) 02:50:16.97 ID:O
I'll be honest: I respect the guy.

67:名無し募集中。。。:2012/09/30(日) 02:53:38.92 ID:0
To Akimoto, rather than an "extension of himself", AKB must feel more like a sex doll.

68:名無し募集中。。。:2012/09/30(日) 02:53:48.78 ID:0
He's a male and that of course comes with limitations as to what he can express by himself; the girls of H!P do for him what he himself can not. I'm starting to turn into a Terada fanatic…
79:名無し募集中。。。:2012/09/30(日) 02:55:47.19 ID:0
All this time I thought we were cheering on cute girls, but it turns out we were actually cheering on an extension of Terada.

80:名無し募集中。。。:2012/09/30(日) 02:55:54.85 ID:0
But Tsunku's wife is ridiculously beautiful, and she comes from a good family, too. That must make even Akipig jealous. (laughs)

81:名無し募集中。。。:2012/09/30(日) 02:55:55.82 ID:0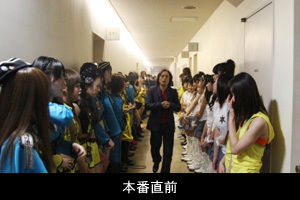 85:名無し募集中。。。:2012/09/30(日) 02:56:15.66 ID:0
H!P's members are like female speakers through which Tsunku can sing.

91:名無し募集中。。。:2012/09/30(日) 02:56:59.67 ID:0
Tsunku's a guy who's somehow been able to express himself both as the front man of a band as well as a female idol.

99:名無し募集中。。。:2012/09/30(日) 02:57:55.64 ID:0
Well, Matsumoto Takahashi disclosed the case of Akipig trying to coerce Yuuki Nae into sleeping with him. When she declined, he made her a target of bashing. Any human with some some sense knows better than to trust a pig like that. Well, everyone aside from Dentsu. (laughs)
211:名無し募集中。。。:2012/09/30(日) 03:17:09.20 ID:0
>>99
Yeah, but Dentsu is the problem…
127:名無し募集中。。。:2012/09/30(日) 03:03:33.89 ID:0
In Akimoto Yasushi's case, that's what was his goal to begin with when he became an idol producer. Unlike Terada, he knows nothing about music and such.

129:名無し募集中。。。:2012/09/30(日) 03:03:51.21 ID:0
At least Goto's a cool looking guy so the women will come to him without having to resort to coercion (Hori Chiemi for example). No one would approach Akipig if he didn't hold any authority over them. I mean, his looks are on the level of Ijuuin Hikaru.
155:名無し募集中。。。:2012/09/30(日) 03:06:50.64 ID:O
>>129
Isn't he worse than Ijuuin Hikaru? Judging purely on looks, he looks like your everyday gross wota.

130:名無し募集中。。。:2012/09/30(日) 03:03:54.87 ID:O
Tsunku is a fool, but he's not a bad person. Plus, Tsunku probably holds no real power.

139:名無し募集中。。。:2012/09/30(日) 03:05:17.36 ID:0
People who rose up in the world using their own strength are just something else. I like Sharan Q, I was in elementary school during the Musume Golden Era, and now that I'm once again looking forward to what Musume does, it feels like a part of that is because I can trust Tsunku P. Rather than a creator or a producer, he might be closer to an author.

147:名無し募集中。。。:2012/09/30(日) 03:05:58.06 ID:0
I respect him just a tiny little bit.

157:名無し募集中。。。:2012/09/30(日) 03:07:22.75 ID:0
If anyone slept with Terada, they'd probably feel a sense of superiority about it. Not to say that anyone else would want to sleep with Terada, but they'd probably feel jealous anyway.

165:名無し募集中。。。:2012/09/30(日) 03:08:06.84 ID:0
It does feel like he doesn't think of them as more than a production.

168:名無し募集中。。。:2012/09/30(日) 03:08:46.10 ID:0
I really like Tsunku's lyrics. He's a really good match for my own personal values.

178:名無し募集中。。。:2012/09/30(日) 03:10:22.65 ID:0
Terada must be in high spirits for scoring an already pretty accomplished singing machine like Sakura.

183:名無し募集中。。。:2012/09/30(日) 03:11:19.26 ID:0
The words he said about Michishige at her audition: "This one… this one is really interesting. She's an artist. This girl is a production in herself. I ought to start calling her my master. 'Master! Thank you very much!'"

184:名無し募集中。。。:2012/09/30(日) 03:11:46.43 ID:0
The bad thing about Tsunku is his favoritism. You shouldn't do that to a bunch of girls going through puberty. It's in contrast compared to Momoclo's Maeyamada who says he'd never favor someone over the other.
201:名無し募集中。。。:2012/09/30(日) 03:14:32.56 ID:0
>>184
A bit of favoritism is just right. To Tsunku it would be out of the question to start giving out boring sympathy points and thus lessening the quality of his production.
203:名無し募集中。。。:2012/09/30(日) 03:14:50.00 ID:0
>>184
A lot of Kansai people are like him. Sanma for example. It's their form of love, or rather, their way of honesty. I'm not sure if I'm really getting the nuance across…
190:名無し募集中。。。:2012/09/30(日) 03:12:29.49 ID:0
If he wants to sing women's songs, he can just make use of the many H!P members he has available. If he wants to sing men's songs, he can sing them himself. He gets the best of both worlds.
192:名無し募集中。。。:2012/09/30(日) 03:12:55.12 ID:0
I can give Terada some credit for this.

198:名無し募集中。。。:2012/09/30(日) 03:14:17.96 ID:0
Tsunku is just a puppet of his office. The only thing Tsunku has command of is the music. That's the only area where he gets to enjoy being a producer.

206:名無し募集中。。。:2012/09/30(日) 03:15:59.99 ID:0
Tsunku just wants to sing idol songs as a girl, but his voice and body are that of an old guy, so he has no option but to use the H!P members. That's all.

213:名無し募集中。。。:2012/09/30(日) 03:17:17.46 ID:0
He always makes it a point to record all songs with his own demo vocals. I think what that really points to is that he actually wants to be a member of H!P himself — and there are quite some many H!P wota who want the same thing.

221:名無し募集中。。。:2012/09/30(日) 03:19:04.35 ID:0
It's obvious that Tsunku is more wholesome on this matter. That's why he always picks the girls who aren't quite his type but just a little bit homely-looking.

223:名無し募集中。。。:2012/09/30(日) 03:19:14.97 ID:0
62 : 名無し募集中。。。 : 2012/01/10(火) 20:56:39.74 O
Something that Akimoto Yasushi said when he was a guest on Nakazawa's ANN:
"I've told Tsunku♂ that at some point what he needs to do is to marry one of the Morning Musume girls and be the producer of her life, too."
428:名無し募集中。。。:2012/09/30(日) 04:27:26.50 ID:0
>>223
What a fantastically low-life, vulgar and coarse statement only a morally bankrupt piece of shit like him could say.
226:名無し募集中。。。:2012/09/30(日) 03:19:25.87 ID:0
His way of thinking is the polar opposite of Akimoto.

260:名無し募集中。。。:2012/09/30(日) 03:24:06.09 ID:0
So there are some pigs out there who think putting your hands on your employees is the same thing as "producing their lives"…
264:名無し募集中。。。:2012/09/30(日) 03:24:33.35 ID:0
>>260
He's sure got his way with words. So fucking disgusting.
239:名無し募集中。。。:2012/09/30(日) 03:21:29.93 ID:0
Stop trying to glorify your power abuse by calling it "producing their lives." (laughs)

231:名無し募集中。。。:2012/09/30(日) 03:19:46.42 ID:0
The shortcomings of the office are a separate problem. It's useless to criticize Tsunku about anything except the quality of the songs.

274:名無し募集中。。。:2012/09/30(日) 03:26:31.46 ID:0
For better or for worse, Terada doesn't have the kind of fanatics like Akipig does. If they see or hear something that isn't good, they are quick to say so. That's different from the blind akekasu who eat up anything Akipig puts out. (laughs)

306:名無し募集中。。。:2012/09/30(日) 03:35:39.38 ID:0
The fact that his fans are quick to point out his failure comes with both its good things as well as bad things.

312:名無し募集中。。。:2012/09/30(日) 03:39:09.89 ID:0
Unlike Akimoto, Terada just doesn't have that much authority.

323:名無し募集中。。。:2012/09/30(日) 03:46:01.95 ID:0
Tsunku-chan being so easygoing only makes him more trustworthy in my eyes.

400:名無し募集中。。。:2012/09/30(日) 04:10:59.43 ID:0
Tsunku-chan might be easygoing, but he's dead serious, too.

344:名無し募集中。。。:2012/09/30(日) 03:55:54.93 ID:0
No matter which way you look at it, Tsunku is the better man on this matter. Just because someone likes AKB doesn't mean that they have to be obstinate enough to think AKB is the best at everything.

359:熊五郎 ◆KQuXvLdrz2 :2012/09/30(日) 03:59:31.81 ID:0
I think Tsunku's lying when he's saying that though. I think he definitely sees them as women. It's just that he hasn't done anything with them because he figures it'd probably make him look uncool. And that's what makes him Tsunku. This is purely just speculation on my part though. (laughs)
396:名無し募集中。。。:2012/09/30(日) 04:10:29.36 ID:0
>>359
He's like a teacher with a strong sense of ethics. He knows there's something much more fulfilling than making one of his students his lover.
365:名無し募集中。。。:2012/09/30(日) 04:01:49.93 ID:0
He picks all these girls as young as 12 or 13; that must make him have parental feelings for them, too. Having sex with them when they get older would be such a brutish thing to do.

373:名無し募集中。。。:2012/09/30(日) 04:03:27.79 ID:0
"An extension of myself"
"A production"
"Equal to my daughter"
Don't all of them sort of contradict each other?
442:名無し募集中。。。:2012/09/30(日) 04:37:57.25 ID:0
>>373
He explained the "extension of myself" thing as something that lets him do the things that he can't (as a male) do himself, but of course he knows they're human, too, and being their producer, he feels parental affection towards them as well.
375:名無し募集中。。。:2012/09/30(日) 04:05:04.79 ID:0
It's a bunch of pretty awful people involved with AKB right now. It's like the same guys who caused all sort of problems with not only Onyanko Club but also Checkikko and others, all concentrated in one place once again. (laughs)

380:名無し募集中。。。:2012/09/30(日) 04:06:01.56 ID:0
I like Terada as an artist. I can agree with his attitude towards production work.

404:名無し募集中。。。:2012/09/30(日) 04:11:47.44 ID:0
The AKB wota must not know about the time when Tunnels Ishibashi bullied the hell out of Akimoto about his marriage when he was appearing on his radio show. He was just unable to say anything. Anyone who remembers that shamefulness simply wouldn't be able to call him "Yasusu-sensei" or whatever.

411:名無し募集中。。。:2012/09/30(日) 04:14:26.13 ID:0
I think Okamura's comment about him says it all. "Ever since that whole Onyanko thing, I've never been able to trust Akimoto at all."

426:名無し募集中。。。:2012/09/30(日) 04:25:33.27 ID:0
Now I've started feeling bad for the AKB wota…

456:名無し募集中。。。:2012/09/30(日) 05:26:02.76 ID:O
Maybe I'll try trusting Tsunku.

470:名無し募集中。。。:2012/09/30(日) 07:05:03.84 ID:0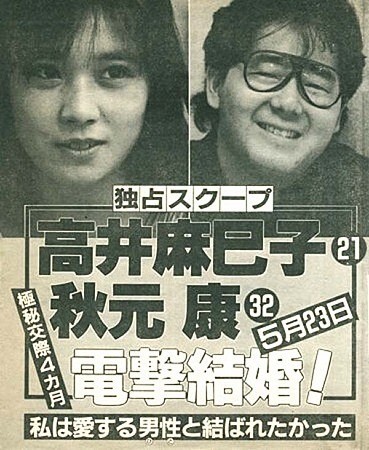 (Note: the above is a magazine headline about Akimoto and Takai Mamiko's (ex-Onyanko Club) sudden marriage.)
475:名無し募集中。。。:2012/09/30(日) 09:17:03.29 ID:0
>>470
I wasn't even born yet when that happened. That must've been a shock to the fans at the time.
471:名無し募集中。。。:2012/09/30(日) 07:24:30.81 ID:0
It's because Akipig does business while seeing the members as sex objects that makes people gather around him. Hell, even I'd become someone's lap dog if I got to have sex with young girls all the time.
473:名無し募集中。。。:2012/09/30(日) 07:29:00.74 ID:0
>>471
Akimoto is good at grabbing important people by their dicks like that.
Henkka: I wish I was an extension of Tsunku.

Source: http://oha2.blog.fc2.com/blog-entry-450.html (jp)