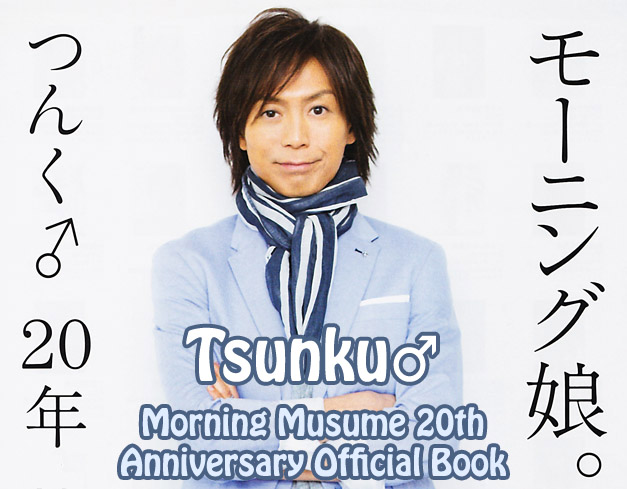 The Father of Morning Musume
Tsunku♂ looks back on the past 20 years
Morning Musume, congratulations on your 20th anniversary.

I never imagined that it would go on for this long. I do believe it wouldn't have been possible without all 41 members of Morning Musume, both current as well as those who graduated, leaving the nest in order to find their own paths in life.

The god of music must have been watching over us all.

The reason the group has gone on to exist for 20 years is thanks to you, the members, for having been there to express my music. I look forward to seeing how many more years there are to come. Let us both continue facing the music with sincerity in our hearts.

2018
Tsunku♂
— Congratulations on the 20th anniversary.

Tsunku♂: Thank you. It really is an achievement to have come this far. The group never had to experience any truly painful times, nor was there ever a time when someone was ordering them to stop despite them wanting to continue. So while it is partly that they've just been blessed with good luck, I am nevertheless grateful.
---
The Birth of Morning Musume
— I'd like to start at the very beginnings of the group. You yourself are an artist, appearing first as a member of Sharan Q, making you someone who would go out there on stage yourself. Did you always feel strongly about wanting to produce others?

Tsunku♂: I remember seeing Komuro Tetsuya back then, leading the way by being busy not only with his own musical activities but also as a producer. That was something I admired. There was something that just sounded appealing to me about the word "producer" at the time. But I had already established myself as a mere member of a band — I wasn't the type who could stand in front of an orchestra waving the conductor's baton. I hadn't received any sort of a proper musician's education at a young age. So the truth is that I was worried. "How should someone like me react when they're suddenly called a "producer" or a "teacher"?" I didn't know if I was actually up to it… but something told me that if only I just tried, I would be able to pull it off. Though I was basing this on nothing, of course.
— So that was what was running through your mind when you first met those girls.

Tsunku♂: Yes. By sheer coincidence, there were these five girls there who just happened to know even less about music than we did — but they all really loved to sing.