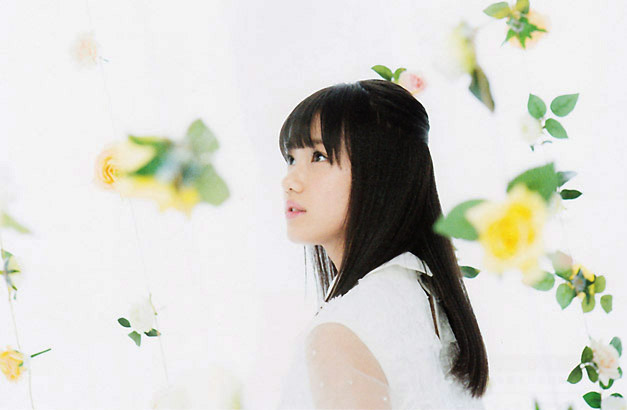 Yokoyama Reina
February 22, 2001 — Saitama
2016/12/12 ~

Yokoyama: I first became aware of the group's existence with Morning Musume 14's "wake-up prank." Because I only discovered them so late, I might not know as much about the group as the other members. Nevertheless, I sincerely felt that this was where I wanted to be and I personally applied for the auditions on my own, and thus I'm determined to do my best as a member of Morning Musume.
The Pressure of the Legendary 6th Generation
— It was announced in the lyrics of the Morning Musume '17 version of "Joshi Kashimashi Monogatari" that you are the "second generation Reina," being the successor of the name.
Yokoyama: I have never once met Tsunku♂. I've never been able to meet him in-person, and I've never gotten the opportunity of being taught anything by him. So being suddenly named the "second generation Reina" in the lyrics of "Kashimashi," considering I hadn't even met Tanaka Reina at the time and especially considering how she is one of the true legends of Morning Musume… it was a huge source of pressure for me.
— Was it something you became more conscious of once you were literally named the "second generation"?
Yokoyama: If anything, I felt that I shouldn't just try to copy my predecessor. Tanaka was known for her crisp, powerful voice, which is something I don't have. Instead, I consciously try to sing in a cute voice. But setting aside me being the "second generation" Reina, I'm just trying to be the version of me that suits me the best.
— Is your famous "self-satisfied facial expression" one of the ways by which you express yourself?
Yokoyama: That really is something I'm not doing the least bit consciously! (laughs) It's just something that comes out naturally, so maybe it's like God is telling me to just run with it. I'm actually still searching for my place within the group, but since we already have a cute character in 14th generation's Morito Chisaki, I guess maybe the "annoying self-satisfied character" is the most "me."
— Your first name Reina (玲奈) brings to mind that of Kamei Eri (絵里), and it's not the only resemblance fans have pointed out between you two.
Yokoyama: That, again, was a huge source of pressure for me. I'd be told that my face when I laugh resembles that of Kamei… But she again is one of those absolutely legendary OG members. It's like, please stop raising the bar for me! I know I don't have half the skill of members like her. The more I'm told things like that, the only thing I can do is just try my best to improve the quality of my performances. That's the thing that keeps me going.
— You sang Kamei Eri's song at the 2017 Hina Fes, didn't you?
Yokoyama: Kudo Haruka was the 13th generation's mentor at the time, and she along with our manager came up with that idea by the two of them. They apparently had several songs they were choosing from, but ultimately they thought about how the timing was so close to spring and how the song seemingly really fit me, so they chose "Haru Beautiful Everyday."
— Any sort of pressure you might've possibly felt at the time was quickly cast aside as you were suddenly made the very center.
Yokoyama: Honestly, what with it only having been four months since I'd joined the group, I was struggling so much that I couldn't even see the fans' faces. But while I personally felt that I wasn't able to enjoy myself to the fullest, I'm just glad that Kudo was there to encourage me. I was genuinely worried about how I could create an image for myself, appearance-wise.
A Turbulent Two Years
— It has only been a year and half since the 13th generation joined Morning Musume, but in a good way it doesn't actually feel like you're the newbies of the group.
Yokoyama: I'm still struggling with everything though. For me, 2016 and 2017 were years when I had to deal with things I'd never had to face before. That was the most turbulent time of my life.
— You had previously failed the 13th generation auditions, hadn't you?
Yokoyama: Yes. I failed my first audition and became a member of the Kenshuusei. I then passed with my second try. During my time as a Kenshuusei, I did a lot of dancing but not so much singing, and of course I had no experience with MC's or things like stage plays. But each day felt so fresh because I was constantly doing something that was new to me.
Also, the Kenshuusei system is one where it's not at all set in stone that you're ever going to debut. As a result, everyone in it feels very much like their own person, and everyone hates to lose. It's like everyone is 100% motivated. I really feel thankful for being able to have had that great experience.
— The Kenshuusei all feel that they can't miss their big chance.
Yokoyama: Right, and my personality had been like that even from before. I always loved to stand out. Morning Musume was my biggest aspiration and even if I had failed the 13th generation audition a second time, I don't think I would've ever given up for as long as I was still within the age limit. There are other idol groups I like as well, but Morning Musume was the only one I ever actually wanted to join.
— That surprisingly strong determination of yours is something that didn't fade even after you joined the group.
Yokoyama: From the moment I joined Morning Musume, I immediately wanted to become the most unique person in it. With 13 members in the group it just happens that some of us get buried under the others, and in MC's and such there are many members who aren't able to keep talking for several minutes straight. Especially in MC's that are unscripted you have to have a character that you can make known to everyone.
— In other words, it's important to know how to sell oneself in a limited amount of time.
Yokoyama: Our seniors all have that ability and they know the time and place to use it — they can read the situation. I don't have that ability yet. I don't know when it's okay for me to go to the front. Maybe that's something that's going to change as I gain experience.
— As your character becomes more defined, I'm sure you'll gain confidence and you'll be able to act without hesitation.
Yokoyama: So many of the members in the group now play the role of the "funny man." Pretty much the only one playing the "straight man" character is Oda Sakura. With Oda alone setting everyone straight, I'm always thinking about how I can make it funny. But even for the members in the "funny man" role, it's not good enough if it's just acting silly on purpose. It's also necessary to have the kind of airheadedness that just flows out naturally.
— That's a very professional analysis.
Yokoyama: Having gotten the chance to appear on "Young Town" alongside Akashiya Sanma, that has made me much more serious in regards to speaking. I've realized that it's not good to just talk mindlessly. After all, in addition to the performance itself, MC's are one important part of the overall concert production.
— Is that the case for the juniors and the seniors alike?
Yokoyama: Of course. The junior-senior hierarchy is something that can't ever be broken — it's part of the Morning Musume tradition. For example, I may have joined Morning Musume before Morito, but she's the one who debuted first so to me she's my senior. So right now I'm in a situation where I'm surrounded only by my seniors and zero juniors. That's why I can't really give my take on things. But in the future this is all something I'd like to be more conscious of, and I'd be happy if I could have an effect on the group as a whole.
— Properly conveying to one's juniors the things that need to be said has always been the Morning Musume way.

Yokoyama: There's still a part of me that can't speak my mind because I worry about what the other person will think of me. But I realize that I need to become stronger mentally, and I hope that by continuing to do my best in this environment that's exactly what's going to happen.
— Is it encouraging for you to have a generation-mate?
Yokoyama: I felt worried when I first heard that the 13th generation was going to be just us two. We both came from the Kenshuusei but there was a difference in the amount of time we'd spent there, meaning there was obviously also a difference between our skill levels. I was thinking about it a bit negatively, thinking I might hold us back. But then when I saw Morito join the group all by herself, it was scary to think about if it had been me joining the group all alone. I probably wouldn't have been able to talk to anyone about my issues and it would've just been a sad existence.
I'm actually someone who likes being by myself a lot, but even so it really is a relief to have a generation-mate, even if just to always have someone I can talk to when there's something bothering me. It really is great to have a person who I can freely speak my mind to.
— Generation-mates are invaluable.
Yokoyama: It's not like the two of us have set roles or anything, but Kaga Kaede really is the strong one. She's so cool because she always sticks to her opinion. Whenever the two of us get into an argument, I'm always the one who backs down to her in no time. (laughs) I've always hated arguing anyway, so it doesn't take much for me to give in to someone strong-willed like her.
In that sense, our personalities really are the complete opposites of each other. We have a very balanced relationship. Kaga is very serious whereas I'm the loud, silly type, so lately we've been constantly doing the sort of funny man-straight man routine together. I was worried in the beginning, but now after getting to know her, I'm fine. We're good partners.
Determination Behind the Smile
— Do you think about the role you play in Morning Musume's 20-year history?
Yokoyama: I hadn't given it much thought before just because it felt like such a distant thing. But what with us celebrating our 20th anniversary since last year, I got the opportunity to appear together with many of the OG's and watch lots of past footage, and that finally gave me a better sense of the group's long history. I don't know what my role in it all is… but I'm often told by people how I'm always laughing and how it seems like I'm having so much fun.
— Is that something you do consciously?
Yokoyama: Not at all. It really is a lot of fun, so I'm just laughing a lot naturally. If my smile can be even a tiny positive to the image of Morning Musume, then I'm going to keep having fun and laughing forever.
— I don't think Morning Musume has ever had another member who has said that their contribution to the group is their smile.
Yokoyama: The saddest and most difficult day I ever had in Morning Musume since the moment I joined was the day Kudo graduated. But the next day, things in the group were back to normal. Everyone was smiling like always — just like when Kudo had been in the group. In that moment, I thought about just how cool Morning Musume is. Because of that, I felt that it wasn't okay for me alone to just stand still. I decided that I had to keep laughing and having fun.
— All the graduations and new members joining the group are what make the group stronger and allow it to develop. That's Morning Musume.
Yokoyama: Thinking about it like that, right now is when the group should be at its strongest. But the biggest difference between the group now and the group in the past is the lack of a sense of rivalry. During recording, for example, the members in the past wouldn't even be talking to anyone around them — they were so focused on themselves and in trying to stand out more.
— It's true how that sense of rivalry between members was very strong back then.
Yokoyama: That's not the case with Morning Musume today. We have good teamwork thanks to the formation dancing and we often have to teach each other. Maybe that's the reason for the faded sense of rivalry today. But I feel this sense of danger in that… Like, if this goes on, maybe we'll become merely another idol group… with juniors and seniors who are all "friends" with each other.
— I can definitely feel something passionate behind that smile of yours.
Yokoyama: No other idol group out there has been around for twenty years. While I don't think there's a need for us to force ourselves to change, I do feel like it would be a good thing to have things like that sense of rivalry which we lack right now. It would light a fire in all of us. I definitely think it's something very important. Having joined Morning Musume, I too have a desire to be in the front. I want to move forward with that as my goal.
— It's important to be properly motivated.
Yokoyama: Like, it's always frustrating when you don't receive solo lines. But then the question is: can you still do your best? Can you still give it your all? The way you think about things has an effect on your own future. Sure, you take the things you were good at from before… but it's also important to take a hard look at the parts of yourself that aren't so good and overcome them.
— With that fighting spirit, I feel like you're actually very much suited to being an idol.
Yokoyama: When it comes to idols, you can immediately tell how hard someone is working. There's no future for you if you give up, so giving it my all is the only thing I can do.
— What is Morning Musume to you?
Yokoyama: It's my second life. I spent three years in the brass band club in junior high school and I really learned a lot in that time. I feel like that was my first life. I actually used to hate group activities, but that experience is what allowed me to start thinking about the feelings of others and to treasure my friends. That experience is also something that I still make use of in my group activities with Morning Musume.
Now, in my second life, I've been able to join Morning Musume. My dream has come true. It's a fulfilling life. I'm going to keep learning a lot, and I sincerely believe that Morning Musume will end up being the biggest thing that ever happened in my life.
My Song
"Egao no Kimi wa Taiyou sa"


Yokoyama: I like the lyrics in the second verse. I remember hearing the lyric "otona wa kimi ni modoritai to omotteru yo" ("adults all want to go back to being your age") as a junior high schooler, and there was something about it that really hit me and my tears just started coming out. I still listen to it every day. I hope one day I can sing it myself.