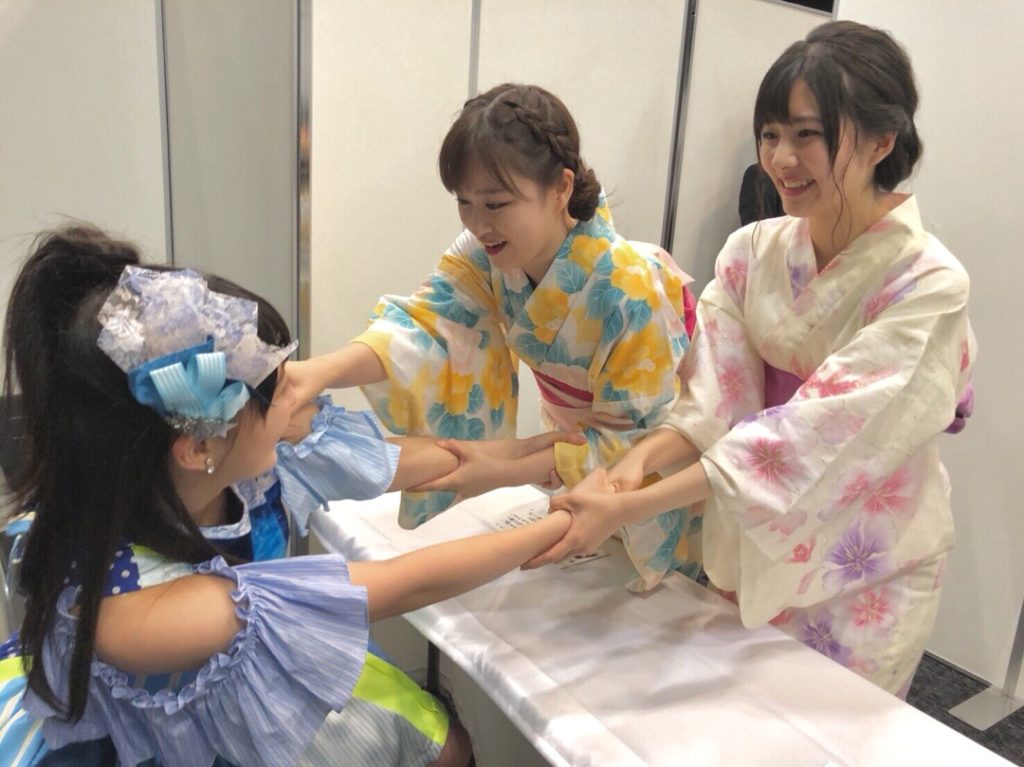 1: 名無し募集中。。。 2018/10/22(月) 22:47:46.99 0.net
Wanting to talk to them, wanting to be friends with them, wanting to be recognized by them — I just don't get any of that. I think they shine when they're performing up on stage, but off-stage, I see them as being just like any other girls.
2: 名無し募集中。。。 2018/10/22(月) 22:48:40.38 0.net
Sure, they're fun.
6: 名無し募集中。。。 2018/10/22(月) 22:50:20.93 0.net
Yeah, they're fun enough.
11: 名無し募集中。。。 2018/10/22(月) 23:00:58.63 0.net
Of course they're fun, you baldie.
16: 名無し募集中。。。 2018/10/22(月) 23:07:11.20 0.net
I'd like to go one day, but I live in the countryside so I haven't been able to yet. More than the handshake, for me it's just the thought of getting to talk with them in person, even if only for an instant… That sounds like a dream.
30: 名無し募集中。。。 2018/10/22(月) 23:15:27.73 0.net
>>16
That's what it's all about.
This is what makes it fun.
22: 名無し募集中。。。 2018/10/22(月) 23:12:16.77 0.net
I've only went once — I really needed to shake hands with Momochi.
Yurushite nyan.
23: 名無し募集中。。。 2018/10/22(月) 23:12:55.82 0.net
I don't care about being recognized. I just like how you can ask them about things they said on TV or in a magazine, or tell them directly how you felt about the show. Don't assume that everyone who goes to handshake events just wants them to learn their face and become friends with them.
26: 名無し募集中。。。 2018/10/22(月) 23:14:24.31 0.net
I have no idea why it's somehow considered "bad" to want to be recognized by them.
31: 名無し募集中。。。 2018/10/22(月) 23:16:38.21 0.net
I don't think there's anything bad about wanting to be recognized if you're not being annoying about it. It's something to talk about at least.
40: 名無し募集中。。。 2018/10/22(月) 23:20:08.11 0.net
I've shook hands with normal actresses and models, but I really do think handshakes with idols are the best.
45: 名無し募集中。。。 2018/10/22(月) 23:23:03.66 0.net
I'm personally not a fan of situations where you have to be that close to someone, so I've never gone to one myself. I do think people who spend their money to touch these girls are pretty amazing.
63: 名無し募集中。。。 2018/10/22(月) 23:34:47.64 0.net
I'm going to Kobushi's individual handshake event. Excited.
69: 名無し募集中。。。 2018/10/22(月) 23:38:34.85 0.net
>>63
Whose booth?
78: 名無し募集中。。。 2018/10/22(月) 23:48:23.55 0.net
>>69
Ayapan, Minamina, Reirei.
Not that it's my first time though. (laughs)
73: 名無し募集中。。 2018/10/22(月) 23:45:11.63 0.net
Tsubaki's handshake events are easy since they'll come up with all the topics for you.
86: 名無し募集中。。。 2018/10/23(火) 00:00:22.64 0.net
Getting to shake hands with the same girls you're always watching on stage — how would that not make anyone happy? Though to be fair, for me it's enough to just do the quick handshakes with everyone at release events and stuff.
99: 名無し募集中。。。 2018/10/23(火) 00:18:35.76 0.net
It really just feels like I'm going there to quickly say hi to them.
113: 名無し募集中。。。 2018/10/23(火) 01:05:46.43 0.net
The clothes you wear are important.
115: 名無し募集中。。。 2018/10/23(火) 01:08:38.92 0.net
Fashion does make for a topic of conversation. Though I've had them suddenly start talking to me about it and it caught me off-guard. (laughs)
118: 名無し募集中。。。 2018/10/23(火) 02:14:30.31 0.net
This. Your fashion is important. The Kobushi members especially will talk to you about your clothes a lot. It's cute.
121: 名無し募集中。。。 2018/10/23(火) 03:13:05.20 0.net
>>118
Which members have done that with you?
124: 名無し募集中。。。 2018/10/23(火) 03:20:00.90 0.net
>>121
Nomu-san, thrice.
Ayapan and Hama-chan, once.
158: 名無し募集中。。。 2018/10/23(火) 12:39:56.18 0.net
I don't really need the handshake — I just want to see them up-close. I'm always amazed by just how tiny they are. And it's just fun to kind of realize, "wow, these girls really do exist in this world." I don't care about getting to touch them.
3. カラフル名無しさん 2018年10月23日 20:05 ID:0KhSOKT60
I've been a wota for some 10-odd years now, but I've never felt the need to actually talk to them or shake hands with them. I often find that I can't really hold a conversation with wota like that.
147: 名無し募集中。。。 2018/10/23(火) 09:20:54.62 0.net
I do think there are some members who hate doing handshakes, so I was worried what my current oshi was going to think of me when I first started going to her handshake events — like, what if she thought I was gross or something?
But then one time her group was doing a joint event with another group, and when I went to talk to one of the girls from that other group, she told me that my oshi had said to her that she was "so proud to have me as a fan." This made me like my oshi even more. To think that there's an idol who would be so generous in her interactions even with some middle-aged man like me…
152: 名無し募集中。。。 2018/10/23(火) 11:43:38.59 0.net
I've actually never been to one.
Maybe I'll go and just try it out one of these days.
Source: http://colorhello.blog.jp/archives/1072707932.html