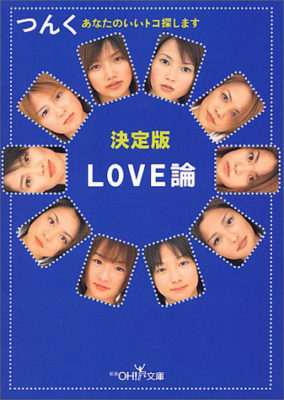 Careful not to fall into a trap of your own making
"Watashi, dekichattan desu yo."
Those were the words spoken to me by Shinoda Miho at the Taiyou to Ciscomoon auditions. Of course, by "dekichatta" she did not mean to say that she had gotten pregnant.
Shinoda's words were the answer to a question I had posed to her. "How were you able to so completely devote yourself to gymnastics? How on earth were you able to work that hard?" She answered: "When I was told to do something, I found that somehow I was just… able to do it (dekichatta). And when I could do it, I was told to try things that were more and more challenging. And somehow, I could simply do those things as well." That's how she explained it to me.
All the members of Taiyou to Ciscomoon have this aspect about them to some extent. You might know someone like this from school or work — the type who's seemingly capable of anything. They possess something that just stands out about them; they're playing a whole different ball game compared to the average person. It's a talent on a level where, if an ordinary person tried to challenge them on it, they would simply never reach their level no matter how hard they tried.
When the average girl thinks about things like that, they might go "ah, it must be nice to be someone with a talent like that." Hey, even I'm envious of people like that. But what you need to realize is that capable people have plenty of their own hardships and pitfalls in life as well.
Inaba Atsuko is one of those capable women. She has an extremely good intuition when it comes to music and dancing — put simply, she has an edge over the average person. To give you a sense of the level she's at… If it was a running contest, she would at a minimum be the fastest runner in your school. That's how amazing she is. Looks-wise, too: she has a small, cute face, she's sexy in a curious way, and she easily has the best figure with a waist line she can brag about.
I would think she was already the same "capable type" even back in her lesser-known idol days. Inaba was in a center position in her old group, and the reason behind it must have been because someone found her persuasive enough that they felt center was where she needed to be.
However, when I first saw Inaba at the auditions, my initial thought was, "I can tell that this girl has received some training… but she isn't even trying to sing in a soulful way at all." She had a great talent, she had acquired some real ability, and yet she just wasn't making the most of it. She seemed not to know how to express herself in a soulful, "appeal to the heart" kind of way. Perhaps Inaba just hadn't had people around her who could teach her how to do so.
There are plenty of people like that out there. There were probably lots and lots of idols in the late 80's and early 90's who had some real talent but the people teaching them didn't realize and they would just make them all sing and dance in the exact same way. That was as far as Inaba, too, had been able to go. She had never driven herself into a corner, or rather, she was in an environment where she never even needed to. She didn't have to think much — she could easily do everything they wanted her to do, and so there was no reason for her to think in the first place.
In other words, rather than thinking it through and creating her own form of expression, I feel that Inaba is more the "performer" type who excels when she's expressing herself in a way that has been given to her. She isn't aware of this herself, but she's probably the perfect example of an artist who subconsciously feels, "instead of thinking about this, I ought to just do as I'm told and practice as hard as I can." Sometimes that can bring good results… other times, not so much.
It's the same with work or with sports: if you want to advance on the merits of your personal strengths, there are times when you must do some thinking on your own. That's why even though the capable person is able to perfectly execute what is asked of them, they have trouble improving and broadening their capabilities beyond what they already know.
---
Following Inaba's debut as a member of Taiyou to Ciscomoon, she was the most stable member of the group in terms of their singing and dancing. The rest of the members — as well as Inaba herself — must've thought of her as something like the supporting pillar of the group.
It must've then been a shock to her when, after the unit had just debuted, we sent her off to train along with Nakazawa Yuko on ASAYAN.
The only explanation she received in the beginning was that she "lacked recklessness," that she was "too by-the-numbers," that she was "faking it." She herself probably had no idea why she was being sent out on Nakazawa's promotional enka campaign, but the truth is that I felt like I had been seeing some of that "fakeness" in Inaba ever since I first saw her at the auditions.
The thing that made me feel that way the most were her MC segments at their debut concert. It's not like she was completely hopeless, but the words coming out of her mouth in front of their audience just didn't have any heart to them — they didn't have soul. It was like, "Pleased to meet you. I'm going to do my best at singing." It didn't sound like she meant any of what she was saying, and her words had no originality.
Changing things up even just a little bit is usually enough to convey to the audience that you're really trying to say something to them and that you're trying to get them to have fun.
With Morning Musume for example, when the staff tells them to do something a certain way, they always change it up in their own ways. Obviously they can't change the lyrics themselves because they have to sing them along with all the other members, but they'll always have a bit of their own influence in the MC's for instance.
Even if it's just a single, tiny nuance, they'll find some way of showing their personalities. Instead of saying, "Abe Natsumi desu. Kyou mo ichinichi ganbarimasu" ("I'm Abe Natsumi. I'm going to do my best today"), she might say "Abe Natsumi desu. Kyou mo ichinichi ganbarimasu yo." They know that even that single "yo" will elicit a different kind of reaction from the crowd. Taiyou to Ciscomoon seemed a bit lacking in that sense — Inaba especially was just too "normal."
I would guess that back in her unsuccessful idol days, she had to keep her MC's brief simply because they had so many members. She must've been still stuck in that mode, trying to eliminate everything superfluous from her MC's. But the thing is that it's those "superfluous" parts that set you apart from everyone else — they're part of your personal appeal.
Even besides her MC'ing, while Inaba always looked extremely cool when she was singing or even just standing up, she was noticeably lacking in other areas such as trying to look good when she wasn't singing, or coming up with inside stories to tell. She'd just blank completely in those situations. "What do I do?" If it was any Morning Musume member, what they'd do is be all "yaaay!" and start randomly talking about things they've been carrying with them as of late. It's something that adds to their charm, and while that kind of thing might be only a secondary component when it comes to idols, it just felt like Inaba was wasting this chance that had been given to her.
---
But by the time Nakazawa's promotional enka campaign ended, Inaba must've realized: "I have to try and be more showy… Morning Musume are really good at this." And though they may be very good, it's not like the members of Morning Musume are trying to be good; they're simply reacting to things honestly. But that's something that can really move people's hearts, and Inaba must've recognized that she was wasting all her chances to do the same, despite them being so plentiful.
By her nature, Inaba would never try to flirt with the audience in a sexy way, nor would she try to gain their attention by talking about racy stuff. That's okay if you just think of her as an individual — it is, after all, a manifestation of Inaba's honesty and purity. However, as someone whose job it is to make the audience have a good time, I do think she needed to be more professional.
Recently, I've been starting to hear Inaba herself saying, "I want to say this to the audience!" She's just bursting on stage, and even her MC's have started to have more personality. She's gained more variety in her expressiveness, too. She really has developed nicely. She's become very much conscious of how, as an artist, she needs to make the audience have fun, and she's constantly learning about the methods of how to do that, so I have a feeling there might well be some unforeseen developments awaiting in Inaba's future. What she is right now is perhaps the type of artist who just wants to have you see and hear her talent, but I believe that going forward, she will gradually be showing her inner cuteness and revealing more of her charm points.
The real Inaba actually has a lot of cute things about her. Sometimes they'll be talking about everyday things with the staff or amongst themselves, and when someone asks "what do you think, Inaba?," they'll discover that she's fallen asleep mid-conversation. It's so sudden, apparently, that it makes people go "no way, you were awake just five seconds ago!" And most of the time her eyes will still be half-open, too.
I'm looking forward to seeing more of that type of silly cuteness from Inaba.