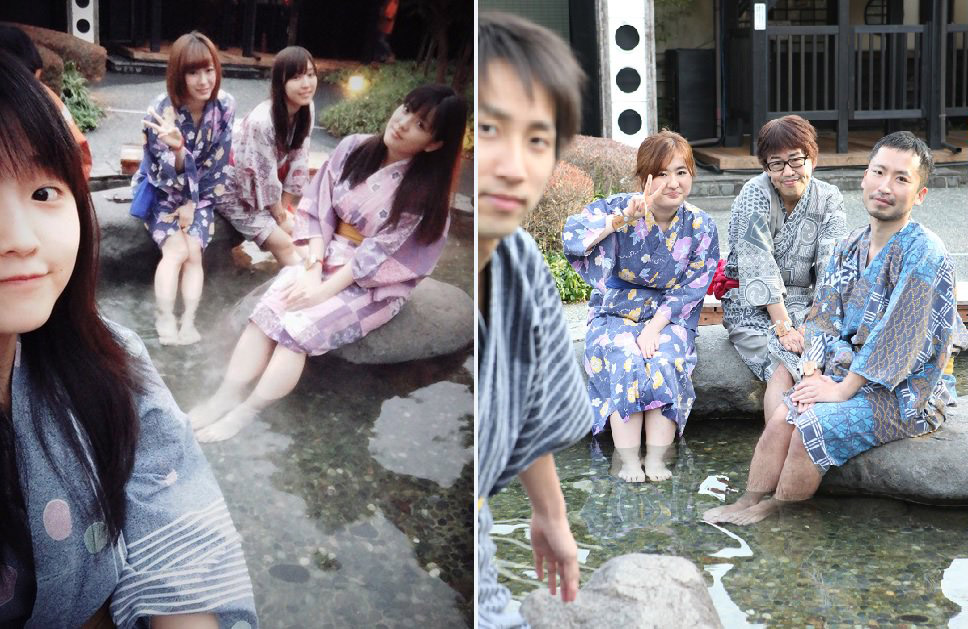 Part Four: "Ghosts ~The Ooedo Onsen Illusion~"
Writers Yuzuki Asako and Asai Ryo
profile the lyrics of Hello! Project songs!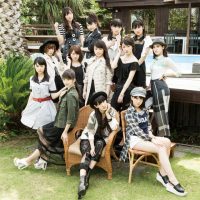 Song #1: Morning Musume '15 – "Watashi no Nanni mo Wakacchanai"
(Tsunku/Tsunku/Ookubo Kaoru)
Asai: This time around, we got the staff to recreate with us the foot bath picture of the four in Morning Musume '15's 9th generation when they went to Ooedo Onsen Monogatari last November.
Yuzuki: Honestly, I liked that whole episode of those four so much I could write a novel about it. Men like to talk about how scary female friendships are, but really: what girls do is we slowly try to figure out each others' personalities while keeping an appropriate distance between each other, and we do that in order to be able to keep lasting relationships. Yes, seeing the nonchalant friendship between Kago-chan and Tsuji-chan or the neverending chatter in Berryz Koubou also made me think "now this is what I want to write about!" But the whole "Eri can't" incident really reminded me of the roughness that girls going through puberty can display.
Asai: Maybe we should explain to the readers what that whole thing was about. So the four girls in 9th generation were talking about going somewhere together before Sayashi's graduation, and they were just about to decide on Disneyland. Ikuta broke an earlier promise to meet her friend just so she could go. But then Sayashi said how "going to Disneyland just for a quick visit would already make it feel like we'd been there," suggesting they only spend the morning at Disneyland before going to karaoke in the afternoon.
Yuzuki: Fuku-chan and Sayashi talked about this in CDJournal's January edition. So then Ikuta replied: "Yeah, I can't do that. When I go to Disneyland, I want to spend the whole day there."
Asai: Fuku-chan then tried to coordinate things. She thought of places where both Eripon and Sayashi would be happy going to, but when she suggested Ooedo Onsen, Ikuta immediately invoked her veto rights: "Eri can't." Eventually, though, she cancelled plans with another friend and finally agreed — on the night before the day they were supposed to go.
Yuzuki: Making memories… I wonder what kinds of friends Ikuta has? She has lots of friends and she's always hanging out with them, right? Some girls are like that. Like, these crazy energetic girls who can never sit still. It's different when you get older and you mellow out a bit, but in your teenage years, girls like that just seem to really shine. The adults will tell young people to watch and learn from Sayashi the "honor student," but people from the same generation see something dazzling about Eri's freedom. There's something cool about the sense required to be able to say something like "Eri can't."
Asai: "Can't." It sounds so final. And, on top of that, there's that "Eri" to add even more weight.
Yuzuki: Sayashi is so serious and always trying her best. I do think her sentiment of "spending the whole day at Disneyland would be tiring" is a fair argument. Especially considering how it came from a 17-year-old — it's very mature of her to think that. I like her. I think she's a good girl and I respect her. And yet… I'm sure it would be more comfortable hanging out with Eri.
Asai: Eventually, the four of them ended up going to Ooedo Onsen and fans could breathe a sigh of relief when they saw the pictures they were uploading on their blogs. But in recreating the picture above, we made a shocking discovery: in order to take a picture from that angle, Sayashi most likely wasn't soaking in the foot bath with the rest of them.
Yuzuki: And Eri was doing so constantly.
Asai: It was a sad discovery to make.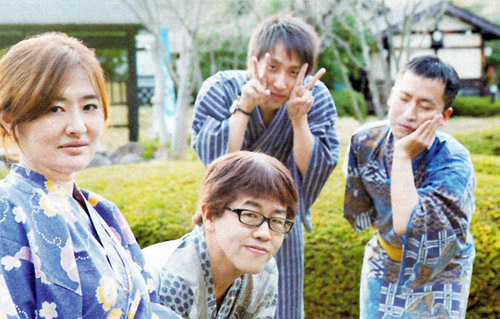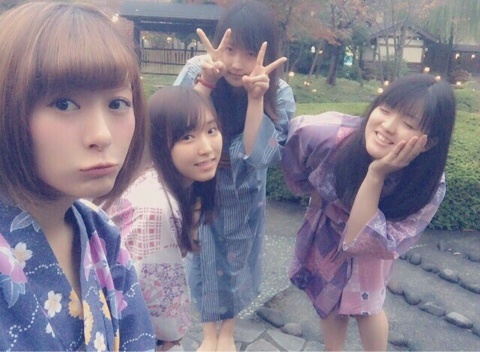 Yuzuki: The point we're trying to make is that this is Sayashi: "ikiru no ga heta / warau no ga heta / jouzu ni amaetari mo dekinai" ("bad at living / bad at laughing / unable even to depend on others") ("SONGS").
Asai: Furthermore, although we're analyzing her like we fully get her, Sayashi would surely tell us: "watashi no nanni mo wakacchanai" ("you don't understand a thing about me").
Yuzuki: Right. She would say we don't understand a single thing about her, and she would hate our tendency of appreciating her for how much of a "good girl" she is and not for her performance ability; for being someone with real talent like her. It's not that she doesn't like her fans — she's just bad at communicating, and that's something you could again see with this "Eri can't" incident. We make jokes about how she's always alone and how she's awkward, but she's not the type of person who could take that in stride and go "I know, I really am awkward!" Instead, she surely feels embarrassed, thinking "I have to make sure I don't screw up. Otherwise people are going to laugh at me again…"
Asai: She mentioned how she couldn't bear watching her own TV appearances. Live performances she's apparently okay with though. She must've struggled in this current era where idols are expected to communicate with their fans.
Yuzuki: … That claim, too, she would dismiss as us "not understanding a thing" about her. It's only once you have the value system of an adult that Sayashi's integrity really hits home. She's the kind of girl you'd be happy if your own daughter became friends with. "Why aren't you better friends with Sayashi?" "Huh? Ummm… She's a nice girl and all, but I want to hang out with Eri-chan." "Eri-chan? That girl's a bit selfish, isn't she? Sayashi is good at studying; you'd make your mom proud if you became friends with her. Bring her over to the house next time!" But of course your daughter would only bring over Eri. "Hi there, auntie~!" She'd be exactly like Kimmy in Full House. (laughs) You know, similarly to how Takagi Sayuki resembles the Olson Twins. Like the selfish trickster character who's actually really beautiful.
Asai: She's the person it's more comfortable to hang out with.
Yuzuki: Like, just being around Sayashi, she'd make you think about your own inabilities…
Asai: It'd probably wear you down — both of you.
Yuzuki: I wonder how she's going to do in America? I definitely think she's going to be popular over there. She even looks like a Japanese doll.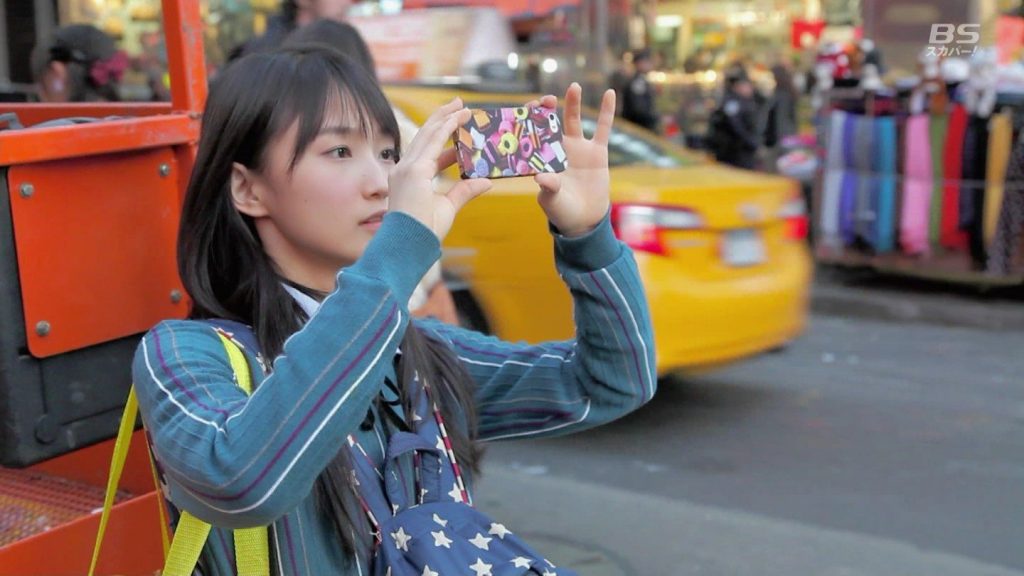 Asai: She really shouldn't meet up with Chinami though. If she saw Chinami, who can get by any situation through the sheer power of her smile alone, I bet she'd feel pressured again.
Yuzuki: Even if she couldn't speak half as good English as Sayashi, Chinami would still be comfortably getting through conversations with simple English like "uh-huh" or "okay." And then nothing about Sayashi would change — she might as well be back in Japan.
Asai: I mean, Chinami is someone who's tagging her own posts on Instagram with "#genius!" Sayashi is the type who thinks it's bad to make mistakes, so she probably doesn't approach people or ask them questions very much.
Yuzuki: Even if she had a group of people gathered around her, being curious about her, she'd probably just be looking down at the ground. If it was someone like Maro, she'd be warmly welcoming everyone!
Asai: Rather than Maro, I'm recently just busy thinking about Suzuki Keita from Joujou Gundan. He was the MC at Karin-chan's birthday event, and there was just this very "real man-like" quality about him that I liked. He just has this sense of being this manly, "this guy only has eyes for women his own age" kind of guy, and I was glad they had someone like that communicate with Karin-chan especially. His presence allowed her to reveal her true self and talk openly. To the wota — who sometimes see Karin-chan as this sacred, perfect being — this served the effect of bringing them back to reality.
Yuzuki: Men that age are just the right age for these girls to see them as "easy-to-talk-to older brothers." If Suzuki was a teacher at an all-girls school, I think he'd be hugely popular but without any admiration or crushes or anything like that. It's easy to tease him, but he's also a proper grown-up who would listen to you if you had something to say.
Asai: He's just right for the job. He wouldn't curry favor with anyone either. He's a key person.
Yuzuki: I want to invite him over for a discussion.
Asai: Non-wota, reality-based, hard-working, has the good sense to keep a proper distance… Male MC's like him give these events a really nice balance.
Yuzuki: "Nanni mo wakacchanai / dare mo wakacchanai / kanashinjau ja nai" ("You don't understand a thing / no one understands a thing / you're going to make me sad").
Asai: Ah, I was starting to speak like I knew what I was talking about again. My bad, my bad. But anyway: "tochuu jitai wa nai / tochuu jitai wa yurusanai" ("I can't give up halfway / I won't allow myself to give up halfway"). This is a running theme in Tsunku♂'s lyrics. "Sukatto My Heart," too, had them repeatedly saying "mou nigedashitari wa shinai" ("I'm not going to run away anymore").
Yuzuki: "Monogoto no douri ga wakaranai nante sa / tada tomodachi to sugosu no mo muzukashiku naru" ("if you don't understand the truth behind things / even being around your friends becomes difficult").
Asai: That's a nice line. It fits perfectly with the 9th generation episode we were just talking about.
Yuzuki: "Aa onna nara kankaku de wakaru darou" ("ah, if you're a woman, you should just get it instinctively.").
Asai: Doesn't that line kind of piss off women, though?
Yuzuki: Well yeah, if it was a male saying it, I'd just reply with a "oh yeah?" But when you think that it's the female protagonist saying it, it's acceptable. There are actually quite a lot of these gender-related things in Tsunku♂'s lyrics that make me go "oh yeah?" like that, but I just like them too much to care.
Asai: It's Odasaku, Fuku-chan and Sayashi singing right around this part in the song. In the Hello! Station live footage, Odasaku enters the frame with her face in profile — like in a kabuki play.
Yuzuki: "Kodomo da to iu nara / sore demo maa ii kedo" ("if you're going to call me a child / well, I guess that's your right"). That's Kuduu's line.
Asai: The next line is quite the counter punch against the wota: "ato kara genjitsu uketomeru koto dekiru no kana" ("but will you be able to come to terms with reality afterwards?").
Yuzuki: "Otona da to iu kedo / ate ni nado shitenai / itsuka wa mata kono watashi mo / otona ni natte / otona ni natte shimau" ("You call me an adult, but I have zero faith in your words / One day, I too shall truly become an adult").
Asai: Amazing lyric! While saying she's going to become an adult herself one day, she's also saying how adults simply don't take people for their word. There's an overwhelming feeling of her having resigned herself to the truth. That is my favorite lyric of the song.
Yuzuki: I, too, feel like the recent songs have more of that sort of feeling of resignation.
Asai: It's this kind of thing that keeps me hooked on Tsunku♂'s songs. That feeling of resignation is so important. You can't keep saying you'll be a virgin forever. They're singing "akirame nanka nai / akirame nante atama ni nai" ("I'm not giving up / the thought never even crosses my mind"), but immediately after that comes the line about resignation.
Yuzuki: But it's great how they're still not suggesting that it'd be a good idea to just give up either.
Asai: They didn't release this song as a single. If you look up the song title on Twitter, there's nothing but praise for it. And yet, it's not a single, you can't find it in karaoke, and they didn't even sing it at Budokan — a performance which was probably filmed. What's the deal with that…?
---
Song #2: °C-ute – "The Power"
(Tsunku/Tsunku/KOH)
Song #3: Aoiro 7 – "Aoi Sports Car no Otoko"
(Tsunku/Tsunku/Matsubara Ken)
Yuzuki: I actually didn't like "The Power" that much before.
Asai: If anything, I was surprised when I first heard it. But lately I've been comparing the lyrics of this song and "Arigatou ~Mugen no Yell~" side-by-side and I can't believe they were both sang by the same group. The girl in "The Power" must've been knocked off her pedestal somehow, and it changed her character so that she's now singing "Arigatou" — that's the only way I'm able to make sense of it.
Yuzuki: This song is from the point-of-view of the girlfriend of some ex-delinquent guy who's started up his own company.
Asai: "Shifuku toka dasai kuse shite / oshare unchiku mechakucha kataru" ("though he wears lame clothes himself / he babbles on about his fashion expertise"). This is a prime example of a girl so scary, you could only find one in a Hello! Project idol song.
Yuzuki: "Nihon demo sokosoko datta no ni / sekai toka honki de katatteru" ("even though he barely got by in Japan / he seriously talks about the world on a global scale"). Our tax accountant is this person who talks, with a straight face, about wanting to buy a house with a swimming pool. I wonder if his wife thinks about him in similar terms?
Asai: On the one hand, she's thinking "fukai ne fukai ne / wake wakaranu yume" ("oh, how deep / your dream that makes no sense"). And yet, she also thinks: "hanashi dake kiiteru to jitsugen shichaisou de / yatteru no wo miteru to moshikasurya to omou" ("just listening to you talk, it almost feels like you might make it into a reality / watching you work on it, it starts to seem like you just might"). I really get this part, too.
Yuzuki: All things considered: she does love him.
Asai: I really like the wordings in these lyrics. "Asobou yo / shigoto jama suru yo" ("hey, let's go do something / no, I'd be getting in the way of your work"). Here, it's like she's saying that while sitting on his knee.
Yuzuki: Right, because then it's: "jikan wa tsukurinasai" ("make time for me"). Men are always going on about how busy they are!
Asai: °C-ute are always thought of as the "honor students," but this song feels like it's them finally speaking from the heart. I really like it, and yet, it's not a very popular song.
Yuzuki: I like this bit. "Taiyou ni te ga todoku hodo shusse shitatte ii keredo / watashi no koto nakashita hi ni wa donzoko made tsukiawaseru kara" ("climb up the corporate ladder all you like / but the day you make me cry, I'm going to drag you down with me to the rock bottom") Also: "watashi no koto bujoku shita nara ashita nante mou konai kara") ("if you insult me, just know that there's no tomorrow for you"). She throws all her pride and all her demands at him. That's love. She makes a fool of him, yet she also respects him, and she demands things from him.
Asai: After I saw Nogizaka on "Kouhaku" on New Year's Eve, I had to immediately go and listen to this song. Or rather, watch the "Dance Shot Ver." Just to regain my balance.
Yuzuki: Yeah, I get you. The protagonist in their song is like the Virgin Mary, whereas over here we have a real girl. (laughs) I mean, there's nothing bothersome about the girl in Nogizaka's song, right? She's perfectly cute on the outside, and she descends upon this equally, perfectly boring guy. Just the fact alone that she has no specific desires of her own makes her different from the average girl out there. She's quite literally like the Virgin Mary.
Asai: In the later half of the song, when we get the line about him becoming a "big enough a celeb that even my ancestors would do a double-take if they saw him," I think that's when Tsunku♂ really got into writing the song. That expression makes it feel like that's exactly when he had his writer's catharsis.
Yuzuki: This girl doesn't see money when it comes to men. She's not the type of calculative person who would look at a guy and think "he's nothing special, but at least he makes a lot of money… I guess I'll date him." The protagonist in Nogizaka's lyrics would never date a guy this big of a fool — they'd want someone who had their stuff together.
Asai: It's important to also have the type of people you have in Nogizaka's lyrics, though — the girls who save those people in the shadows.
Yuzuki: Sure, the girl who saves people from the shadows is fine, too. What I want to write novels about isn't her, though, but the foolish girl who chases after the "sexy boy rumored about around town" ("chimata de uwasa no sexy boy"). I read a scary article in this women's magazine the other day. The title was something like "How to Become a Woman Who's Popular with Everyone." Don't dress weird, be a good listener, don't be needy, don't be assertive, be considerate, let him take the lead, lose weight… I mean, ultimately, you could sum up their advice as: strip yourself of any life force as much as you can. And that's exactly the type of girl that's wanted of idols these days. But if you don't have any life force, what are you? You're either a corpse, or you're a ghost. It makes me think that the ultimate form of idols that people today want to see is like the 5-member group of these perfect, beautiful ghosts.
Asai: They would never betray you.
Yuzuki: They never age, they never get fat, they never have sex, they never want anything, and they never make fun of you. Plus, they're dead, so they're even worse off than their fans. (laughs)
Asai: I think there's a real case to be made about how Japanese people find it difficult to cheer for anyone who doesn't have it worse than themselves.
Yuzuki: The H!P protagonist is flesh and blood. She's a bothersome woman. She likes good-looking guys, she likes fashion, now she's eating something again, she's gained weight, she wants to study abroad… She's full of the joys and pains of life.
Asai: Hearing all these songs with the ghost-like girls as of late, it always makes me want to go back and listen to "The Power."
Yuzuki: That's your body telling you it needs life force.
Asai: I wish °C-ute would get to sing another song like this.
Yuzuki: Seeing all my favorite members quitting one after the other, it makes me think that people really might do well to demand less from idols. If it was commonplace for everyone to love their idols in a more carefree manner, with their flaws and their darknesses and all, I feel like many of these idols would want to go on for much longer. I don't know, maybe I'm just being naive.
Asai: But I really think that's something that comes from us already being so content with our own lives. Let's be real: I don't think we like idols to get happiness from them. We already enjoy our lives. But when it's someone who leads an extremely hard life, someone whose only joy in life is idols, what we're proposing here would just sound like a bunch of horseshit to someone like that.
Yuzuki: My life isn't all diamonds and roses.
Asai: Well, I mean come on now: we're talking about idols in a magazine here, and we're getting paid for it.
Yuzuki: I don't know. It's something Tsunku♂ has always said: he says to get out there. Take action. Enjoy yourself. "Sabottenaide sunetenaide komottenaide kocchi ni oide GO GO" ("don't slack off, don't feel sulky, don't close yourself off, come here, GO GO") ("Brainstorming").
Asai: Some wota like to enjoy idols by sitting down and thinking about the meaning of their lyrics more deeply. Others don't.
Yuzuki: But I really do think the only way to lower the level of demands we put on these girls, thus prolonging their idol careers, is to first lead fulfilling lives ourselves. For example, I personally tend to put a lot of focus especially on the idols' individual skills. But if I'm going to judge them that intensely, maybe I ought to first practice how to sing and dance myself. Even if I don't show it to anyone, it might be surprisingly fun just to give it a shot. You know?
Asai: Look, I totally agree with you on the point that the only way is to lead more fulfilling lives ourselves. But then it's like, what exactly do you want people to do? If there's some wota out there who feels like he's truly living in distress and idols are his only escape, what answer can you offer him?
Yuzuki: I really don't feel like I'm especially blessed myself. I feel like H!P gives me the energy to somehow keep going. My dull, daily life consists entirely of work — even though I'm the same age as Country Girls Yanagawa's mother. It's pathetic, really.
Asai: But the difficulties we face as two people who get to have a conversation at an onsen versus people working themselves to the bone out there are on two completely different levels.
Yuzuki: … Fine. All I'm saying is: when you push all your demands on idols, you're making them suffer. I just don't want any more of my favorite members to quit prematurely.
Asai: And I don't disagree with that statement at all. I just don't think our words can reach everyone out there.
Yuzuki: Why couldn't they? You tried to do just that yourself with "Budokan."
Asai: And it didn't work to the extent that I would've wanted. I could tell it was going to get mixed reviews, which it did.
Yuzuki: I just think it's fun to go to places like Ooedo Onsen with your wota friends like this. Is that bad?
Asai: Of course not. But I do think there are some people to whom our words won't be conveyed. I felt that in a very real way after I'd written "Budokan."
Yuzuki: Why? Do you get people saying something to you about it?
Asai: I sometimes do, yes. I suppose it's only natural to be pissed off by someone like me, someone who gets to meet Juice=Juice through his work, saying how "idol wota need to focus more on their own lives!" I certainly don't think there's anything inherently wrong with them feeling that way.
Yuzuki: I, too, got to meet my beloved Tomosaka Rie. Ehehe.
Asai: While we're on the topic of people we've met through work, I recently got to meet Ichii Sayaka when we had a discussion in the saita magazine. Once it was over, I told her I was actually a huge fan. I asked her if she was truly able enjoy singing a song like "Aoi Sports Car no Otoko" when she was just 16 years at the time of its release, and she said it really did catch her off-guard at first. She told me that, in all honesty, she first wanted to sing Akagumi 4's song when she heard it. No surprise there. I hear echoes of "Aoi Sports" in "The Power."
Yuzuki: "Mune wo hatte anchan" ("hold your head high, man").
Asai: It's the same as with the "Maybe" in "Busu ni Naranai Tetsugaku." It gives you a pep talk right at the beginning: "amattaren ja nai wa yo" ("don't act like a spoiled child").
Yuzuki: It's like it's saying "don't bother with these good-for-nothing men — let's just have fun by us women!" It has something in common with movies like "Mad Max: Fury Road" or "Death Proof." I like that worldview.
Asai: I wish this song would become widely known once more.
Yuzuki: It's pretty amazing how these idols who were at the peak of their popularity came out with a message similar to the one in the movie "Thelma & Louise" — a message that was never really hugely popular in Japan.
Asai: Looking back, them releasing those Aka/Ao/Kiiro songs all at the same time and the fact that all three songs were of such high quality…? Tsunku♂ really is a genius for being able to write them.
Yuzuki: "Yellow… reminds me of the sky." "Blue… yeah, a sports car." "A graceful red… it's gotta be a diary." I can imagine the staff reactions when he was telling them all that. (laughs) And then he finished the lyrics, and it was stuff like "amattaren ja nai wa yo / jibun de shina!" ("don't act like a spoiled child / handle it yourself!") and "aoi afro wa kaminarisama da ze" ("my blue afro is like thunder").
Asai: I'd think someone like Lehua had no idea what that song was all about.
Yuzuki: It's like straight from a Tarantino film. It's so cool.
Asai: I mentioned this to Ichii as well. "It's pretty amazing for the song to begin with that "amattaren ja nai wa yo" line. You don't hear a lot idols singing songs like that these days!" When I said that to her, she said: "Those lyrics aren't about making fun of men. They're just about women doing their best together." I felt pretty happy that, even though it's a song she received when she was just 15 or 16 years old, she not only remembers it but also understands it on a deeper level.
---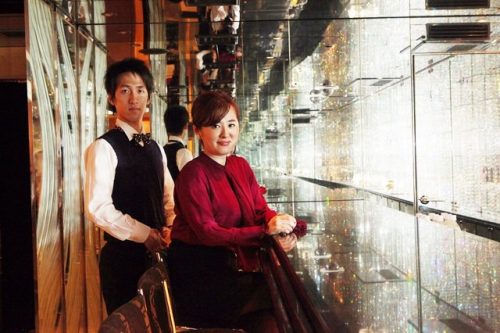 On Otaku, Ghosts, and…
Yuzuki: Although the "Budokan" drama hasn't begun airing yet, I'm disappointed that most of the talk surrounding it seems to revolve around the love scenes that will be portrayed in it. While it's not strictly an idol thing, there's just so much societal pressure in the world these days. To me, "Budokan" as you originally wrote it is a story about how one can live in that society while still maintaining their sanity; a story that asks if it's even possible to become happy while responding to all those demands. And yet, the focus seems to be entirely on the "scandalous" aspects of the work.
Asai: Well, apparently TV dramas have to be "catchy." Compared to films, they're something you just watch while you're doing something else around the house.
Yuzuki: That's fine. I just don't like how it's all about that one thing… Did you read the interview with Karin-chan in the February issue of CD Journal?
Asai: I did. Twice.
Yuzuki: While you can really sense how much she cares about her fans, she's also so exceedingly serious that it kind of makes you worried for her. It could be that our expectations for her are set so high, we're making it painful for her. It's something I've been thinking about lately: I feel like none of the female celebrities that are able to survive in the world of public entertainment are, for better or worse, perfect.
Asai: Like Sasshii coming in first place in their elections two years in a row, or Shimazaki Haruka really having a temper…
Yuzuki: They get angry. They cry. They sometimes carelessly overeat. They make mistakes. But is that not what it means to be alive, doing all of that? When you try to deny someone's right to do those things, what you're effectively doing is… you're telling them to die. You're telling yourself to die, too.
Asai: Recently on her blog, Karin-chan has repeatedly been saying how fans shouldn't confuse the drama with reality.
Yuzuki: And that's something we should be feeling ashamed about. You have this tiny little girl who has to take our feelings into consideration and specifically explain to us: "remember, it's all just fiction!"… Because she knows there are some people who would otherwise lose their minds over it.
Asai: Karin-chan is aiming to become the kind of idol who can answer to everyone's expectations. "In this world with so many things that go wrong in people's lives… I alone will be someone who can answer to all of the fans' demands!" It feels to me like Karin-chan is saying: "I will become that ghost for you." Seeing as I'm the guy who wrote that book, the book that says "it's not okay to be a ghost," I don't know how to feel about it…
Yuzuki: You're trying to change her mind by any means possible…
Asai: The one thing that gets said about "Budokan" a lot is that it's not kind towards the otaku; that it doesn't speak for their feelings. To most fans out there, when we're talking about trying to be the ideal person who doesn't need idols to save them from something, it's often seen as the minority opinion.
Yuzuki: What can we do in response?
Asai: I don't know. Nani mo wakacchanai. We'll just have to look for the answer~ ♪
Yuzuki: Yeah. I feel like there's something in Japanese culture — not just in the world of entertainment — that approves of these "ghosts." And I feel like that bit of our culture is still thriving. How can we set them free?
Asai: Paruru is someone who tried to open that door by openly showing her feelings of anger on the outside. As a result, she had to switch to catering to female fans. Seeing that, it reminded me of how unforgiving the male fans can be.
Yuzuki: Paruru is very cute, but she's not exactly the type who's at the forefront because of her amazing technique…
Asai: We're both fans of the skilled members, after all.
Yuzuki: If she was someone like Odasaku, it'd be perfect.
Asai: Odasaku really is too awesome!
Yuzuki: It's that life force of hers. But it's also true that what makes us idol wota cheer on our idols is because we're all in search of this weird sort of "energy" they can give us. That's the reason why we can sometimes fall for an idol whose only merit is simply their overflowing positivity.
Asai: To me, it feels like H!P has always insisted that idols aren't ghosts. I hope that will continue to be the case.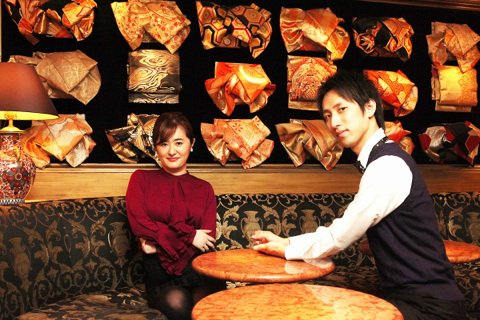 Yuzuki: Having been commissioned to do a column on "Budokan," I went back and watched the first drama of an idol playing the part of an idol: "Mama wa Idol!" In it, Nakayama Miho is cast in the role of hugely popular idol "Nakayama Miho," but as it turns out, she's actually married to her old elementary school teacher (Mitamura Kunihiko) and she's now the mother of three children from his previous marriage. It's just this slapstick comedy, but in the end, Nakayama Miho confesses all this at a concert. "I'm sorry I kept this a secret from you all this time. Is it wrong for an idol to be a mom?" It ends with this scene where she's surrounded by media reporters, but her fans all come in to protect her from them. Miporin is able to make her escape, all smiles, and it's a happy ending.
Asai: The public allowed them to have a happy ending to a story like that… What a wonderful period in time.
Yuzuki: The very final scene is when she sends the kids off to school and she gets a phone call from her manager. "What, I have to go to work? Right now?! Oh no!" (laughs) It ends with her having acquired it all — both love and work. Now, 29 years later, I'm surprised by how much more suffocating society has become in comparison. Nakayama Miho has such hade (flashy) looks — that's even the name of the theme song: "Hade!"
Asai: People these days have become unable to forgive anyone who leads a happier life than them. Whenever you see these people on social media maybe going a bit too far when they're having fun doing something, you can be sure there's a flood of bashing directed at them. I really think it's because people these days can't stand anyone who has more things than them; who is having more fun than them. They hate people like that.
Yuzuki: What do we do? Is it not okay to even have fun in life anymore?
Asai: Sure it is. You just have to make sure no one finds out. If your private LINE conversations are ever leaked, that's it — you'll be finished.
Yuzuki: Oh dear… that's terrifying. (laughs) Even earlier today I was having so much fun…
Asai: It's a strange thing, having to feel frightened about the fact that you're happy.
Interview & text: Takaoka Hiroshi
Photography: Katano Tomohiro
English translation: Henkka
Asai Ryo on the web: Twitter
Yuzuki Asako on the web: blog, Twitter