H: In case you haven't looked on the internet in the past 24 hours, here's what this thread is about.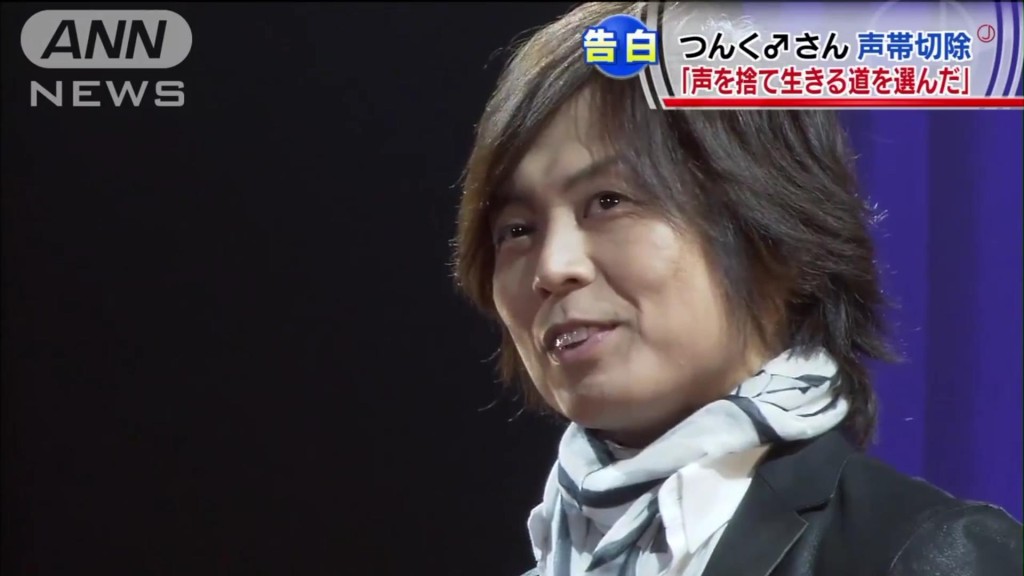 1: 名無し募集中。。。 2015/04/04(土) 11:22:32.25 0.net
Source: Kindai entrance ceremony.
3: 名無し募集中。。。 2015/04/04(土) 11:23:22.99 0.net
This can't be true…
4: 名無し募集中。。。 2015/04/04(土) 11:23:33.99 0.net
This must've been so rough for him, but even so it's still nothing to lose your life over. His kids are still so young, too.
5: 名無し募集中。。。 2015/04/04(土) 11:24:46.23 0.net
I'm watching this on Nico Nama. Tsunku looks like he's almost in tears…
20: 名無し募集中。。。 2015/04/04(土) 11:27:36.23 0.net
I love Tsunku's singing voice… I'm in shock.
10: 名無し募集中。。。 2015/04/04(土) 11:26:39.74 0.net
Speaking is still possible even without your vocal cords. Singing isn't, though.
21: 名無し募集中。。。 2015/04/04(土) 11:27:44.01 0.net
Humans are pretty amazing: even if you lose your vocal cords, your esophagus will apparently adjust in order to enable you to speak again
36: 名無し募集中。。。 2015/04/04(土) 11:28:37.99 0.net
It's been a while since we last saw his face. He looks to be doing fine as always.
38: 名無し募集中。。。 2015/04/04(土) 11:28:43.84 0.net
His address to the new students ended without him speaking a word. His message to them came up as subtitles.
You may be asking why I'm not able to speak to you using using my voice right now… The reason for this is because I've had my vocal cords removed. I'd been receiving treatment for my throat since last year, but ultimately my cancer never went into full remission. Thus, I had no other option but to have my vocal cords removed. I chose to keep my life over the voice that I'd cherished for so long.
66: 名無し募集中。。。 2015/04/04(土) 11:30:15.38 0.net
>>38
It was for real…
177: 名無し募集中。。。 2015/04/04(土) 11:36:34.03 0.net
>>38
This is so sad.
188: 名無し募集中。。。 2015/04/04(土) 11:37:00.03 0.net
>>38
The way he looks at the camera in that last picture is so heartrending.
45: 名無し募集中。。。 2015/04/04(土) 11:28:59.35 0.net
I knew this announcement was coming but it still makes me so sad…
52: 名無し募集中。。。 2015/04/04(土) 11:29:26.09 0.net
If that's what it took for him to get better, then he did the right thing. I hope it never relapses.
47: 名無し募集中。。。 2015/04/04(土) 11:29:02.88 0.net
There's all sorts of machines nowadays to help people like him speak, but he's probably too proud to use something like that in public.
73: 名無し募集中。。。 2015/04/04(土) 11:30:37.17 0.net
To think that Terada of all people would have to go through the tragedy of being a singer who lost his voice…
145: 名無し募集中。。。 2015/04/04(土) 11:34:45.78 0.net
Tsunku was writing songs while conveying ideas using his voice up until now. Not being able to do that will have a major impact on how he works. I don't think he'll be able to mass produce songs like before at least.
150: 名無し募集中。。。 2015/04/04(土) 11:35:11.48 0.net
But with that said, he did write "Seishun Kozou." He'll be fine.
173: 名無し募集中。。。 2015/04/04(土) 11:36:26.49 0.net
At least he can still hear. He'll still be able to give his feedback on things.
256: 名無し募集中。。。 2015/04/04(土) 11:40:28.43 0.net
This is harsh. His voice was so soulful.
1. 名無しさん@ハロプロキャンバス 2015年04月04日 12:13 ID:A2ppXjNr0
I'm sure Tsunku♂'s post-recovery songs are going to be something amazing.
2. 名無しさん@ハロプロキャンバス 2015年04月04日 12:16 ID:dHb.fi7wO
It's been a while since I last cried.
This is so incredibly sad.
9. 名無しさん@ハロプロキャンバス 2015年04月04日 13:01 ID:wzVBQIMA0
※2
Sad stuff, isn't it? The amazing thing about Tsunku though is how he doesn't let even a glimpse of any negativity show. I'm so glad he still has his life and that he'll go on creating and writing songs for us. I'm happy I was able to get to know a genius like him.
4. 名無しさん@ハロプロキャンバス 2015年04月04日 12:35 ID:ZjizFHlO0
So it really happened… It's not like I ever saw him live in his heyday or anything, but I really liked his voice… His self-cover of "Manatsu no Hikari" for example, you don't often hear anyone be able to sound that melancholy.
7. 名無しさん@ハロプロキャンバス 2015年04月04日 12:49 ID:8aQPP1I.0
That must've been difficult beyond imagination. I'm praying that his cancer doesn't metastasize.
8. 名無しさん@ハロプロキャンバス 2015年04月04日 12:52 ID:ixbqvLoy0
We'll never be able to hear Tsunku♂'s singing again, but even so, if I had to pick between the two I'd still choose to hear his new compositions.
12. 名無しさん@ハロプロキャンバス 2015年04月04日 13:12 ID:IcGU8L3v0
This made me cry.
15. 名無しさん@ハロプロキャンバス 2015年04月04日 13:40 ID:o4orXm1h0
Just how positive can this guy be? I've never heard him complain even once. He's the definition of cool.
21. 名無しさん@ハロプロキャンバス 2015年04月04日 14:41 ID:M3ZaDfkn0
Does this mean we won't even see him on TV either? That makes me feel really lonely…
41. 名無しさん@ハロプロキャンバス 2015年04月04日 22:19 ID:Ik6.41eH0
I cried. I loved those annoying Tsunku backing vocals.
22. 名無しさん@ハロプロキャンバス 2015年04月04日 15:52 ID:BY0pFzCm0
I can't say I'm not worried about how he's going to be able to manage H!P from now on, but I'm thankful he's alive. Please do stay healthy from now on.
25. 名無しさん@ハロプロキャンバス 2015年04月04日 16:31 ID:vLzIZKJr0
It makes me sad to think we won't hear any more of his demo vocals…
27. 名無しさん@ハロプロキャンバス 2015年04月04日 17:44 ID:IODC.7K00
This man is amazing. It's okay to take your time, but please do write songs for us again.
34. 名無しさん@ハロプロキャンバス 2015年04月04日 19:53 ID:BvZhTTg00
Tsunku is so cool. I will seriously keep supporting him forever. I like H!P, but I would've never gotten so hooked on them if it wasn't for Tsunku's songs.
36. 名無しさん@ハロプロキャンバス 2015年04月04日 20:52 ID:1EzP6BSD0
This only made me want to support him more. One day I want to become a person as strong as Tsunku♂.
42. 名無しさん@ハロプロキャンバス 2015年04月04日 22:44 ID:cOuMlKyg0
Tsunku-san… (´;ω;`) Even during all this pain you've been going through, you've just been tweeting all those heartwarming comments of yours, and it made me think about how strong and cool you are… It makes me incredibly sad to think about how I won't be able to hear your singing anymore, but I love the songs you write and they've helped me get over some difficult times in my own life, and every time I listen to them I just think about how amazing you are. Please take care of yourself, and please let us hear your lyrics and your songs again in the future. You're truly a champ. I wish you nothing but the happiest of days with your family.
43. 名無しさん@ハロプロキャンバス 2015年04月04日 23:12 ID:OP.MvJZ.0
Right then. This is where one should really pay attention to what Tsunku♂ does — it was only when Beethoven lost his hearing that he showed what he was really capable of, too. The same will happen with Tsunku♂ and the new Morning Musume '15.
33. 名無しさん@ハロプロキャンバス 2015年04月04日 19:49 ID:HJMI6JRz0
BARKS mentioned this, too, but only Terada could be tweeting about ramen on a day like this. I don't even know why but seeing that just gave me such a peace of mind. Terada will be fine, I'm sure of it.
44. 名無しさん@ハロプロキャンバス 2015年04月04日 23:39 ID:8Q1HR6Yl0
This man has become a living legend.
心配したところで、なんの役にもたたないから…っと祈るしかなかった。 結果も、そうだったか…っと受け入れつつ、涙がこぼれます。。。 ファンとして、そして歌い手として…

— kominato☆miwa (@komix215) April 4, 2015
I was so worried, and even though I knew I could do nothing for him… I kept praying anyway. But this is what it came to in the end… I'm trying to accept it — both as a fan and a fellow singer — but the tears are coming out…
ダメだ。。。泣く。。。 pic.twitter.com/ux8UK9vwaj

— kominato☆miwa (@komix215) April 4, 2015
No good… I'm crying… (Note: above picture shows Sharan Q songs.)
つんく♂ 事前に明るく二人でランチを とりながらいろいろ話しました。 音声で言いたい。 凄い! 優しい! 強い! 一緒に何かやっていこうと 強く約束しました。 奥さん、お子さん、仲間も すごいサポートだと思います。 ゴメン、別れてから涙が止まらなかったよ。

— Tetsuya Komuro (@Tetsuya_Komuro) April 4, 2015
Tsunku♂
Not long ago we had a conversation as we enjoyed lunch by the two of us.
What an amazing, kind, and strong man!
We made a promise to each other to one day work on something together.
He must have an amazing support network in his wife, his children, and his friends.
But I'm sorry. After we parted ways following our lunch, I couldn't stop myself from crying.
Henkka: I don't remember the last time a piece of "celebrity news" has affected me to this extent. I realize this is a pretty self-entitled thing to say, but I feel like I've been robbed of something invaluable.
Source: http://helloprocanvas.ldblog.jp/archives/44119483.html