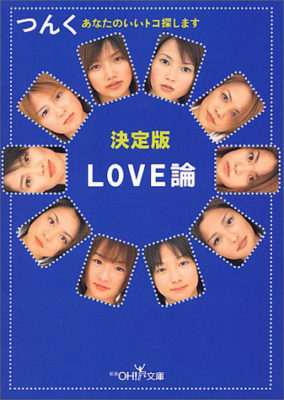 Women who can brag about themselves with class are the best!
When it comes to women and bragging, it feels like the topics they brag about are mostly limited to their possessions, their boyfriend, how rich they are, how popular they are, how great they look… that sort of thing. Right?
When there's a girl by my side bragging about something, it's probably safe to say I'm only pretending to be listening to them most of the time. I'll be nodding my head while thinking about something entirely different. Or, I'll be listening intently, trying desperately to find something in what they're saying that I could use to steer the conversation in a different direction. I'm not alone — I feel like this kind of reaction is something that comes very naturally to men. That's because there's some part of us that just thinks, "what's the point in listening to someone brag?" Maybe if it was a guy who's exceedingly nice to women, or just really, really devoted, he might actually listen. And not only that — he'd probably praise them to high heavens.
By and large, however, most men will only think "mmm" in response. With most women, their bragging is just that: bragging. It doesn't lead to anything; there's no conclusion. That feels unsatisfactory to us men, and we'll be busy struggling to come up with a fitting reaction. I sometimes wonder: if you'd just finished listening to some girl's long-winded, boastful story and you were simply to ask them "…and?", what on earth would their answer be?
I think women are bad at bragging.
Bragging, too, is an expression of yourself. Bragging is communication with the other person, and I feel like you should be doing your best to entertain them when you're communicating with someone.
Let's look at the different patterns of bragging. Direct bragging about yourself is the most common type of brag for girls. "Look, isn't this cute?" "Look, I made this myself! Aren't I good?!" That type of thing. But when it's at that level, there's a certain cute, obvious need for attention that shines through — which is something most people wouldn't take issue with. When a girl is honestly just saying "praise me, praise me!," that's actually something that feels very natural for guys to accept.
But when it develops into a more tedious type of bragging, it can start to feel suffocating to us. When someone keeps repeatedly bragging to you about themselves, how exactly are you supposed to react? Sure, if the girl doing the bragging is doing so with pure intentions; when they just feel so happy about something they can't contain themselves as they're sharing it with you, it's easy to say "good for you" and feel genuinely happy for them.
But often their bragging will be more along the lines of "oh yeah, this was all me — what do you think?!" What you have there is this person wanting you to envy them; wanting you to assess them more highly; wanting you to see just how amazing they are. What this feels like is that they are coercing you; forcing you to praise them. Tell me: when they do that, is it not the unpleasantness of that girl rather than the content of her bragging that stands out the most? Seeing as the listener can always quickly recognize that in the speaker, it just becomes pointless. Who would want to be hated by the person they're speaking to? I do believe you shouldn't brag at that sort of low level.
Naturally, I believe everyone has a desire to be well-liked. Perhaps that desire is even stronger in girls. But if you brag about yourself to someone with the hopes they'll think you're someone amazing or worth envying, you might find yourself disappointed. Personally, I'm able to find girls cute when they're eagerly bragging about themselves in a simple way. But as for their female friends, or other guys around their age? I think most would think of you as an unpleasant, annoying girl.
Although then I suppose it could also be said that, if you're bragging about yourself with the intention of trying to make the other person feel bitter about something, you're certainly accomplishing your goal. But I worry if that's really the kind of human nature you want to aim for.
Aside from that direct sort of bragging, another common pattern with girls is when they're doing so under the pretense of asking for advice from their so-called friends. "Listen, I need to get your take on something!" So you shut up and listen. "My boyfriend bought me this bag that's way too expensive! I don't know what to do!" That's when it hits you: this person isn't the least bit troubled by any of what they're talking about. The thing about engaging in this sort of indirect bragging is: the more indirect it gets, the more unpleasant you become when you do it.
---
Now, if you want to know about the types of bragging that are possible to do without having people come to hate you for it, looking at the ways men brag might make for a good reference point.
Even when men brag in a direct way, they mostly do so in a manner that isn't unpleasant. Perhaps it's because they become a bit of a fool, leaving room for you to make jokes at their expense, that it's hard to hate them for it.
Here's an example. "So yesterday, this girl, man! She was so cute, and she started hitting on me all of a sudden! I swear, she looked literally like Fukada Kyoko!" He'll be excitedly telling you his story, and the more excited he becomes, the bigger of a fool he seems. But while his friends are all listening to his story, silently thinking "oh, this stupid idiot…," they'll be doing so with warmth in their eyes. They're just going off on this big monologue by themselves, with not a care in the world if the people they're talking to might praise them for it or not. Perhaps that's the key.
Another point to make is: the things guys brag about are quite different from the things girls brag about. Many girls tend to brag about material things, whereas for men it's more varied. They'll brag about how poor they are; how badly injured or how sick they are; how badly they screwed up. A lot of it is worthless masochism. But it will still have a point, and what they talk about will still be interesting. I think as long as you're bragging about yourself in an entertaining way, you're not going to turn off your listener. A guy will lift up his shirt, just to show you his stomach and say "look, 13 stitches!" Or he'll pull up the cuff of his pants to show a scar and talk about how he hurt himself so bad you could see the bone and blood was just spurting out. No matter how arrogantly he might be telling you his story, it wouldn't bother you — who would feel jealous over a story like that?
Guys will often brag about their past heroism, too. But even when we're doing so and exaggerating — "man, this one time I was surrounded by these ten yakuza guys, and I just started knocking them out left and right!" — the people listening will be thinking "yeah, sure you did…" with smiles on their faces. When we brag about the times we've been extremely poor, we like to give each other slaps on the back and go "man, you sure did your best."
Men have an instinctive habit of constantly acting big, so oftentimes it'll sound like we're bragging even when we're not. Even when it's some guy saying how their apartment is haunted, it's always with an air of "beat that!" Perhaps it's for this reason that men's boastful stories are of a different flavor than the women's.
But sometimes you'll see girls who are equally as skilled with their bragging. People like that are really cool. Hisamoto Masami bragging about how unpopular she is with men or Shibata Rie's bragging about how clumsy she is — not only is it really funny, but the more you hear them say it, the more you find yourself liking them. It's the kind of stuff the average person would not be very happy about if it was happening to them personally, and yet they invite everyone to laugh about it with them. It makes people admire them, and just the fact that they're trying to make everyone have a good time must be why they're so well-liked.
---
One type of bragging that happens a lot, even though it really shouldn't, is women bragging about how they dumped some guy, and men bragging about how they slept with some girl. This type of bragging is very much against the rules.
When a girl brags about just how harshly she dumped some guy, what she's actually doing is bragging about how popular she is. When it comes included with a nuance of just how effortless it was for them to do so, it must make them feel like they're super popular with guys. But it's really as if they were saying: "I'm an awful person who exploits men." To me, it's like they're advertising how bad their personality is. Furthermore, I believe that women who enjoy betraying men like that will, sooner or later, without a doubt, end up breaking their own hearts.
Similarly, when a guy brags about how he slept with some girl — while as a man I completely understand where that sort of brag is coming from — it really is equally as nasty. I had a girl I liked back in my student days. One day, this guy bragged to me about how he'd slept with her. Let me put it this way: for a while there, it made me really have to contemplate on my life.
It used to be the case, though, that bragging about having slept with someone was something only guys did, but I now hear about girls doing the same. Learning about that kind of surprised me. I suppose that sort of thing has always been visible in mass media though — for some women, it's their signature move. One thing you'll often see in the weekly magazines is the "one-night lover of celebrity reveals all about their steamy night together!" thing. Don't you just feel bad for the guys being written about? When it's a baseball player, it's stuff about how he was "swinging his bat around" even at night. When it's an Olympic athlete, it's about how even the lower half of their body was "gold medal material."
I can't stand people like that — both the people who write it and the people who utter it.
Ultimately, bragging is something you would do well to avoid. Whenever it's done in the vein of "look at how great I am!", it always comes off as lame. People who are always eagerly bragging about themselves do so because they have a complex: they think no one will appreciate them if they don't specifically point out what it is people should be appreciating about them. But when it's a girl who is truly confident and content with being herself, she wouldn't do the same. I really do wish everyone would aim at becoming someone cool enough to not have to partake in meaningless bragging.
…And I swear I'm not saying all this just because I don't want you to sell your story of your one-night love with me to the weekly magazines.