— Today we'd like to ask you to name and discuss your favorite Hello! Project album songs.

Yoshida: Are you going to include in this book information about the Kamome Jidou Gasshoukan album that Nacchi was featured on? (Note: Abe Natsumi appeared as a guest on their album Yaita Sakana no Bangohan on the track "beautiful.")
— Seeing as she only had a guest appearance on that one, it'll probably just appear as a column later.

Yoshida: That really ought to be in this book. It was a collaboration with Kamome Jidou Gasshoukan, which means there is now a direct link between Hello! Project and Sakamoto Shintaro (who released the song "Anata mo Robot ni Nareru feat. Kamome Jidou Gasshoukan.")
— I see that you're immediately going to begin this feature with a curveball… (laughs)

Naka G: Alright! Listen, guys! I want us to talk about Berryz Koubou!
Yoshida: Yes, I was prepared for that eventuality, what with it being you and Minewaki in the room with me…
Naka G: My favorite album in the whole world is 6th Otakebi Album.
Yoshida: Your favorite in the whole world?!
Naka G: Yes. My favorite song in the whole world is "VERY BEAUTY," but my favorite album in the world is this one. I mean… it has "Ground Demo Rouka Demo Medatsu Kimi" and "Kimi no Tomodachi."
Minewaki: Those are good. Which do you like better?
Naka G: "Ground Demo Rouka Demo Medatsu Kimi." It's Kumai-chan and Sudo singing by the two of them.
Yoshida: Now there you have two people who do indeed stand out ("medatsu"). (laughs)
Naka G: Even the intro is amazing. I loved "Omoitattara Kichi desse!" (sung by Tokunaga Chinami, Sudo Maasa and Kumai Yurina) that was on the fourth album, 4th Ai no Nanchara Shisuu, and I love "Ground Demo Rouka Demo Medatsu Kimi" equally as much.
Yoshida (while looking at the CD jacket): She wasn't yet doing the Momochi Musubi in 2010.
Minewaki: Yeah. Quite surprisingly, she didn't actually have them in most of their CD jackets. (looking at the CD jacket) Ah, Maasa sure is cute here.
Naka G: You got to attend their event at Yomiuri Land with the purchase of 6th Otakebi Album.
Minewaki: I didn't go to that one. Did you?
Naka G: I didn't.
Yoshida: Even though it's your "favorite album in the whole world"?
Naka G: I know, right? Why did I not go? I wonder if I actually had some proper reason for not going…?
Yoshida: I wouldn't know. (laughs) I mean, did you forget about it or something?
Naka G: Yeah. So then they released a DVD of the event and everyone was wearing those pink, SUPER LOVERS overalls. It was great.
Yoshida: … And you were watching it, going "why was I not there?" (laughs)
Naka G: Exactly. I'm still so bummed out about it.
Yoshida: I get that. It's those kinds of life experiences that end up turning one into a person who starts going to all of the events so they don't miss anything ever again.
Naka G: Right. No, but seriously: this album is so good. I get goosebumps whenever I hear Rishako's speaking part in "Kimi no Tomodachi."
Minewaki: When we got Berryz Koubou to appear at the 2012 POP'n Idol event, the manager told me they would sing any song I asked them to. So I put in a request for "Kimi no Tomodachi." I was one happy wota that day. (laughs)
Yoshida: That's abuse of power. (laughs)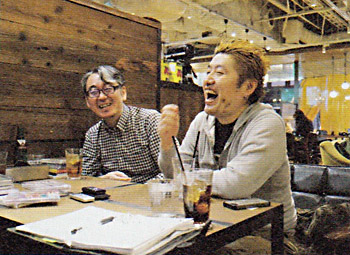 Minewaki: The following month, Risako was talking in Top Yell magazine about how the song had been requested by me, and so she had been thinking about me while singing it.
Yoshida: Man! That's like… private correspondence! (laughs)
Minewaki: It is. To this day I have that issue of the magazine pinned up on my wall. (laughs)
— While we're at it, why don't you discuss the appeal of Berryz Koubou in general.
Naka G: I love all the songs Tsunku♂ writes for children.
Yoshida: He's definitely freer in writing those songs as he is when writing for adults.
Naka G: Exactly. Early °C-ute and Berryz Koubou's 1st Chou Berryz — they were all elementary schooler songs, right?
Yoshida: The first album is amazing!
Minewaki: Indeed. But is it just me or were there no other groups featuring kids that small around back then? When the Hello! Project Kids debuted, their average age was probably around 10 years old. Thinking back on it now, they were much too young.
Yoshida: There are more child idols now. They're all so young today.
Minewaki: That just proves how much of an impact they had. And making them sing "Anata Nashi de wa Ikite Yukenai," a song that was completely beyond their age range… "Hatsukoi wo saigo no koi ni shite" ("make my first love be my last") — just what on earth are they making these little kids sing about?! (laughs)
Naka G: What are your favorites from the first album?
Minewaki: Of the album songs… perhaps "Semi." Also, "Anshinkan."
Naka G: "Anshinkan!" Yeah, that's a must if you're a Kuma wota.
Minewaki: Right — I'm saying that especially as a Kuma wota. 2006's Nyoki Nyoki Champion! was the first tour Kumai-chan did after graduating from elementary school, and she sang "Anshinkan" solo while wearing that idol dress. She then came out carrying a randoseru and left it on the stage, symbolizing her own graduation.
Yoshida: Sort of like Yamaguchi Momoe leaving her mic on stage at the end of her very final concert. (laughs)
Naka G: And what's more is that that was in fact Kumai-chan's actual randoseru.
Yoshida: Right. Not just a prop.
Minewaki: "Anshinkan" represents all those memories for me. By the way, we had a Berryz Koubou event at Tower Records some time ago and Maasa asked me if there was any song I wanted them to sing…
Yoshida: Again?! (laughs)
Minewaki: But she immediately followed her question with "Anshinkan is not an option!" (laughs)
Yoshida: Even the members know how much you love "Anshinkan."
Naka G: What song did you end up choosing?
Minewaki: My brain wasn't working that day, so I told her to "just pick a song that you personally like."
Yoshida: That's the single worst possible answer!
Minewaki: I just wanted an escape, you know? I felt like I shouldn't be able to have a direct conversation with Berryz Koubou like that. I just tried to have them stay away from me. (laughs)
— Go, what's your favorite Berryz Koubou album?

Yoshida: I like all the early albums, but I don't have a strong emotional attachment to them unlike these two. I kinda feel guilty for even being here!
Minewaki: Ahaha. But yes, Tsunku♂ really is good about conveying that worldview of our generation in his lyrics. By the way, I actually saw some traces of Berryz Koubou in S/mileage…
Naka G: You do see glimpses of some of those early days. Like they've inherited parts of it.
Minewaki: To me it feels like when S/mileage first appeared after Berryz Koubou had become all grown up, they passed the baton on to them. But it feels like S/mileage, too, has already moved on from that worldview, and now I feel like it's gone to Hello! Pro Kenshuusei. Well, yeah. Kids, Eggs, Kenshuusei… It's like, "just how big of a lolicon are you?!" (laughs)
Yoshida: Hey, you said it, not us! No, but really: I'm quite aware that I, too, am a lolicon when it comes to the subject of music. That is to say, of course songs that are about projecting childhood are best sung by children. Their ineptitude is what makes those songs work. I feel like that's partly the reason arrangers like Konishi Takao decide to use children's chorus vocals in their songs.
Minewaki: And it's just fun to listen to. That's why I'm looking forward to the new Kenshuusei unit so much. Just what kind of a worldview will their songs have?!
Yoshida: Seeing the footage of Hama-chan being chosen for the group made me cry — and I say that as someone who doesn't even have a particularly strong attachment to Hama-chan or anything. I cried regardless!
Minewaki: Oh, yeah, I just completely lost it when they announced it. My only gripe is, the camerawork during that announcement was just atrocious. You could hear Hama-chan wailing but they didn't show her! I was busy staring at her reflection in the window behind Maimi who was making the announcement.
Yoshida & Naka G: (laughing)
— Let's get back on topic. How about your favorites aside from Berryz Koubou?

Naka G: Hey, I still want to name another song from them!
Yoshida: Let me guess: you want to promote something from Dai ② Seichouki, don't you?
Naka G: Yes! One song that I really love from that album is "Sabori"…
Minewaki: "Sabori" is a good one.
Naka G: And no matter how many times I listen to it, "Special Generation ED" is something that continues to surprise me. It's just these kids talking to each other before bed at the end of their field trip…
Minewaki: Just a bunch of girls at the end of their school trip, pressing their futons together to chat… This is, of course, just my imagination running wild though. (laughs)
Naka G: I definitely think that's the image they were going for. Someone saying, "Hey! You ate my snacks without permission, didn't you, Miyabi-chan?!"
Minewaki: Not many people would select this track as one of their favorites. (laughs)
Yoshida: It's not even a song. (laughs)
Naka G: … Oh.
Minewaki: Well, it's up to you. (laughs)
Yoshida: Isn't that what people want out of this book anyway? The chance to read about crazy people like Naka G. (laughs)
Naka G (facing the tape recorder): If you buy this album, don't you dare skip this song!
Yoshida: I bet if it was Naka G making his own Hello! Project compilation album, he'd be putting this song on there.
Naka G: I would!
Yoshida: Thought so. (laughs)
Minewaki: But really, Berryz Koubou does have a lot of great album songs. "Sabori" is great, as is "Aisuru Hito no Namae wo Nikki ni."
Naka G: As well as "Joshi Basket-bu ~Asaren Atta Hi no Kamigata~!"
Minewaki: These are the kinds of songs they'll only do at fan club-only tours and whatnot. I wish they'd perform them during regular concert tours, too. Ah! "Ohiru no Kyuukei Jikan" with its opening spoken lines is another great example.
Yoshida: Honestly, when you look at the setlists they do at fan club-only events, that's what makes you actually want to join the fan club.
Minewaki: True. Just a while ago, I heard about how Kumai-chan had carried a randoseru on her back at a recent bus tour. I was hitting myself for not going…
Yoshida: Hahaha. You sure love your randoseru.
— So far, we've barely talked about anything aside from Berryz Koubou. (laughs) Shall we move on to the albums of °C-ute?

Naka G: I like early °C-ute. Every song on their first album, Cutie Queen VOL.1, is great. I like how "Time Capsule" and "EVERYDAY YEAH! Kataomoi" are are paired up on the album. The lyrics of "EVERYDAY YEAH! Kataomoi" — a song about a girl's unrequited love — are really cute. It has to be one the greatest Tsunku♂ loli songs. That's how much I love it.
Yoshida: Yep. But isn't it sad how, the older they get, the less they perform those early songs live?
Minewaki: It is. They hardly do any of the album songs now. "Massara Blue Jeans," sure, but "Time Capsule"… not so much.
Naka G: I wish they did. And what do you guys think about their second album, ② mini ~Ikiru to Iu Chikara~? I love "Tsuugaku Vector☂."
Minewaki: Ah, Suzuki Airi's solo song. It's great. As is Nakajima Saki and Hagiwara Mai's "Disco Queen." I want to see Yajima Maimi's "Natsu DOKI Lipstick" performed live again.
Naka G: The one where Maimi dances like crazy.
Minewaki: Of these songs, they still perform "That's the POWER," but not "Tsuugaku Vector☂" or any of the other solo songs. I wish we got to hear them live again. All the songs on the second album are great.
Naka G: Exactly! This album is fantastic!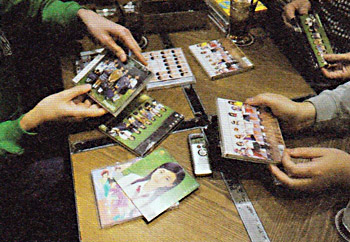 Yoshida (looking at the CD's Naka G brought to the discussion): This is pretty much just the early stuff of Berryz Koubou and °C-ute. Oh, and Kenshuusei. (laughs) It's all kids. You're actually pretty much like Minewaki in some respects, aren't you, Naka G? (laughs)
Naka G: I did think about bringing some Morning Musume CD's, but I wanted us to have a more loli-oriented discussion…
Yoshida: Compromising for the company president's sake, huh…? (laughs)
— What would you name as your favorite album, Company President Minewaki?

Minewaki: I'm going to say Matsuura Aya's First KISS.
Yoshida: Perfection.
Minewaki: When I heard it was going to be an album book this time and I got to thinking about it, I came to believe that it might just be the single greatest masterpiece in the history of Hello! Project.
Yoshida: She didn't sound too childlike, and it had the necessary quality to appeal even to non-idol fans.
Minewaki: I get so moved listening to "Sou Ieba." If I was told to pick one favorite Matsuura Aya song, it might just be this song. That's how much I love it.
Naka G: "Oshare!" is great, too.
Minewaki: It's amazing. That tune reminds me of aiko.
Naka G: But the album ends on a lonely note, doesn't it?
Minewaki: Would you have preferred a more energetic ending?
Yoshida: "All albums need to end with a drama-like thing where the girls are chatting at the end of their school trip!" — that's basically what you're thinking, isn't it? (laughs)
Naka G: Exactly right. (laughs)
Minewaki: In any case, Ayaya's first album is… I'm not sure if this is the right way to put it, but it's quite rare for an idol to ever come out with an album that's this accomplished.
Yoshida: The album tracks are all such high quality, it's no wonder the album has seen another wave of appreciation in recent times.
— What are some of your other favorites besides Matsuura?

Minewaki: I also like Tanpopo's first, TANPOPO 1.
Yoshida: All of Tanpopo is amazing, too.
Minewaki: Uh-huh. Man, I sure did listen to my fair share of Tanpopo. The sad thing is, TANPOPO 1 is no longer being pressed. We don't even sell it at Tower Records these days.
Yoshida: They should re-release it with all the coupling songs as bonus tracks. Which songs of theirs do you like? Let me guess: Yaguchi's "Sentimental Minamimuki"?
Minewaki: That's the one!
Yoshida: Yaguchi is a very talented vocalist, isn't she? But even so: Tanpopo really was special. The 1st and 2nd generations were completely different and yet equally great.
Minewaki: They're just so much fun to listen to. I actually first found out about Tanpopo when I was reading this feature about them in a Hello! Project book. The writer, Yasuda Kenichi, referred to the two lineups of the group as Zaidan Houjin Tanpopo and Ankoku Tairiku Tanpopo. "Oh, okay. So the group was like the second coming of Jagatara." (laughs) (Note: reference to Japanese band Jagatara who had separate Zaidan Houjin and Ankoku Tairiku "eras" of the band.)
Yoshida: "Wait, that's how you differentiate between 1st and 2nd gen?!" (laughs)
Minewaki: He meant to describe how funky their music sounded to him.
— How about Morning Musume?

Minewaki: I'm aware that everyone already knows it's a masterpiece, but even so: Second Morning is full of great songs.
Naka G: Amazing album!
Yoshida: I can't even begin to guess how much I've listened to First Time and the second album during my lifetime.
Minewaki: Songs like Nacchi's "Senkou Hanabi," Yasuda and Ichii's "Otome no Shinrigaku," "Never Forget"… Oh, and "Da Di Du De Do Da Di!" They released Kago-chan's version of this on a fan club-only DVD (Morning Musume ~Best Shot Vol.2~) that's shot on one camera and she just walks through an aquarium as she sings the song. She knew exactly how to act for the song, including the use of her eyes… I remember thinking to myself, "Kago-chan's a genius!" Also, Tsunku♂'s minor chords come out really nicely in "Senkou Hanabi."
Yoshida: That song has a nice kayou kyoku feel to it.
Minewaki: That said, I only first listened to Second Morning after the fact — I became a fan in 2001, so the first album I could listen to in real time was 4th "Ikimasshoi!" The one with songs like "The☆Peace!" and "Renai Revolution 21."
Naka G: "Sou da! We're ALIVE," too. Nacchi's "Otoko Tomodachi" and 5th gen's "Suki na Senpai" are good as well.
Minewaki: I hope they continue singing "Suki na Senpai" in concert. "Ii Koto Aru Kinen no Shunkan" is also a good song. As are "Mr. Moonlight ~Ai no Big Band~" and "Hajimete no Rock Concert." Yep, it's a great album.
Yoshida: You really get a sense for how energized everyone was back then.
Minewaki: I quite like "Ikimasshoi!," "Densha no Futari" and "Honki de Atsui Theme Song" as well, but if I had to pick just one from the bunch, I guess it'd have to be "Suki na Senpai."
Naka G: I do love that song.
Minewaki: If memory serves me right, they first sung that song at Saitama Super Arena.
Naka G: I remember that very well. It was during the LOVE IS ALIVE! tour. Nacchi was singing "Otoko Tomodachi" in the center with 5th gen behind her. When the song ended, Nacchi walked away and 5th gen sang "Suki na Senpai" together. That sudden change left me mesmerized. I'll never forget it.
— What about Melon Kinenbi?

Minewaki: Melon released 1st Anniversary in 2003, so timeline-wise, it was just after I'd become a fan of Hello! Project; when I was completely engrossed with them. But man, that cover art… just awful. (laughs)
Yoshida: We'd been waiting forever for their first album, and that's what they gave us… (laughs) It made it pretty obvious how little money they wanted to spend on the group.
Minewaki: At the time, I read many of these articles by Okite Porsche where he was praising them, and that prompted me to start going to their shows. Thinking about the hardships of those four back then, hearing a song like "ENDLESS YOUTH" now just makes me cry. Also, at their first solo live show at Akasaka BLITZ — it was a snowy day — that was the first time ever that moshing occurred at a Hello! Project concert.
— The moshing during "This is Unmei" was incredible.

Yoshida: All these people who had been used to moshing at club events suddenly found their way to Melon's shows. It makes you wonder what might've happened with the group had they moved more in the direction of those kinds of "mosh songs." All of a sudden they'd found popularity in that sort of scene, but they changed styles right away.
Minewaki: Right. Just looking at their singles, "This is Unmei," "Saa! Koibito ni Narou," "Natsu no Yoru wa Danger!," "Kousui," "Akai Freesia"… their genre was constantly changing. Still: I was buying all their merchandise at the time.
Yoshida: Although you don't even have that much of an emotional attachment to Melon?
Minewaki: Yep. I was even buying all the pictures — including the individual ones. And several copies of the Shiba-chan and Melon photobooks…
Yoshida: Sounds like you really were way too into Hello! Project at the time. (laughs)
— Could you tell us about some of your favorites, Yoshida?

Yoshida: Whenever they released those cover albums, like THE GARAGE's Garage Opening Song Shuu or FOLK SONGS or the like, the fans' reactions were never very excited. But you'd always have a couple of people like me who would be ecstatic about them. "Huh?! "Tunnel Tengoku"?! They're covering The Dynamites?!" ""Salvia no Hana"?! They now have a direct link to Hayakawa Yoshio!" That kind of thing. (laughs) Though, to be honest, the covers themselves weren't all that impressive… But starting from around FOLK SONGS 3, Yano Hiroyasu started doing arrangements for Hello! Project. That was interesting.
Minewaki: They did a concert for FOLK SONGS 3, too. It featured members like Nakazawa Yuko, Mikitty and Gocchan.
Yoshida: If I was to name an album… Kopinks! Melodies ~star chart~ was one of the most accomplished albums I've heard in recent years.
Minewaki: Miyamoto Karin-chan! That's such a good album. You said you attended the event for it in Shizuoka, right? It's quite rare for you to attend events, no?
Yoshida: That might've actually been my first one. I've been to Shizuoka twice just to see Kopink.
Minewaki: The material on this album was originally supposed to only be released online, wasn't it?
Yoshida: Yes. But then they collected it on a disc and it was supposed to only be sold at the venue, so that's why I made the trip. It was just a few of us chosen ones there that day. (laughs) The CD did later get a proper release though. Up until that point I didn't have much of an attachment to Karin-chan, but thanks to Kopink I started digging up all her past stuff, too. Just knowing about her long history in the Eggs, all that hardship she went through, and seeing her finally singing on the stage solo… It made it that much more touching. Oh, and I made the discovery that Sawayaka Goro is an unexpectedly good singer, too. (laughs)
— Now that you've brought up the Eggs… What do you think about S/mileage's albums?

Yoshida: Their debut, Warugaki ①, is a good one. No doubt about it: by far my favorite group from that period of time was S/mileage.
Minewaki: The second album, ② Smile Sensation, is good as well.
Naka G: It is. I like that one, too.
— Their more recent songs — after the name change to ANGERME — have been well-received as well.

Minewaki: Sorry to go off-topic, but the Pucchi Best albums will be included in this book, right? Every now and then they'll release a good Pucchi Best album, too.
Yoshida: "Every now and then"… (laughs)
Minewaki: Like, with really good song selections. Pucchi Best 10 was the one with the new Pucchimoni and stuff. I remember listening to that one quite a lot.
Yoshida: The one with the units getting all-new members. Tanpopo#, Pucchimoni V, Shin Minimoni…
— Anything else?

Yoshida: Hey, we haven't talked about Mano Erina yet! Her debut, FRIENDS, is a great album. I like the second one, MORE FRIENDS, too… but FRIENDS is just perfection. Like, how often do you get idol albums of that quality? For me, quality-wise, it's like the second best album ever — right after Matsuura's debut.
Minewaki: The first one had quite a lot of KAN songs.
Naka G: They re-recorded her vocals for the indies songs. I actually liked that indies feel of the original recordings…
Yoshida: Right. That unsteadiness is what made the original "Manopiano" so great. (laughs) But re-recording it had the positive effect of highlighting the importance of singles.
Minewaki & Naka G: Ahh.
Yoshida: The album tracks are all great, too. Songs like "OSOZAKI Musume"…
Minewaki: That's a really good song. And whenever she sang "Matsuge no Saki ni Kimi ga Iru"… that song is about us wota. She's singing about watching us fans as she sings… it makes me tear up. "My Days for You" is similar — it's just an honest, straight-up, "thank you for always watching over me." That one makes me cry, too. I remember seeing Mano singing it at her Hello! Project graduation and seeing all those fans crying in the audience…
Yoshida: It's beautiful. It's not often that they're able to convey their gratitude to the fans at their graduation concert to that extent.
Minewaki: It's isn't, no. It made me envious of all the Mano Friends — she conveyed her gratitude to them simply through a song. Her graduation concert was great. She's done some live shows after that, too, though.
Yoshida: I guess the intended meaning was that she's no longer an idol, even if she does sing.
Minewaki: KAN only did one more song for her on MORE FRIENDS — that bossa nova-influenced track.
Yoshida: "Dare ni mo Iwanaide." Great song.
Minewaki: It made me think once more about how great KAN is.
Yoshida: When Utamaru of RHYMESTER met KAN, he confronted him and flat-out begged him: "please write songs for Mano-chan once more!"
Minewaki & Naka G: (laughs)
— Any other favorite albums?

Naka G: Of the Kirarin☆Revolution anime, I like the Kirarin☆Revolution Song Selection series and Tsukishima Kirari's Best☆Kirari.
Yoshida: Those are fantastic. I love them.
Naka G: Right? I love "Tan Tan Taan!"
Yoshida: I adore that song so much I could die!
Minewaki: Kusumi Koharu, Kitahara Sayaka, Kikkawa Yuu — MilkyWay.
Naka G: I love Saaya's voice so much, sometimes just hearing it is enough to make me tear up.
Yoshida: You're too easily moved!
Naka G: It's that "fleetingness" of her voice… there's just something indescribable about it. I really loved the way her voice sounded in MilkyWay.
Yoshida: They have an album song by Maeyama Kenichi (Hanasaki Kobeni starring Kikkawa Yuu – "Hana Hatena"). That's a good one.
Naka G: They each have their solo songs. Saaya's song (Yukino Noeru starring Kitahara Sayaka – "Makenki! Tsuyoki! Genki! Maemuki!") was really good, too.
Minewaki: Let us also not forget about Kumai-chan's unit, Guardians 4.
Naka G: Guardians 4 was nice.
Minewaki: It's just that they never released an original album. Pretty much the only two collections their songs were included on were Shugo Chara! Song♪ Best and the video version, Shugo Chara! Clip♪ Best.
Yoshida: Oh, and I forgot to mention Tsuji-chan's album.
— You mean her solo album?

Yoshida: Yes. In collecting data for the compilation album that I selected tracks for (Hello! Project no Zenkyoku kara Atsumechaimashita! Vol. 2), I found out that Tsuji-chan's album actually included a song that was supposed to appear on W's third, unreleased album. Listening to it now, it does sound like an H!P song from that era. It's really good.
Minewaki: Right. We were talking about how even the wota might not know about this bit of trivia. If people knew how good this song is, they'd definitely go out and buy it.
Yoshida: The album is already worth buying for that song alone. It's a cover album called Minna Happy! Mama no Uta — other songs featured on it include "Oshiri Kajirimushi." (laughs) But for some reason it also has this original song called "Chibi★Devwil" — this is the one that was probably originally meant for Tsuji and Kago. Keep that in mind when you listen to it and you'll recognize that it's really good.
Minewaki & Naka G: Hmmm.
Yoshida: I mean, otherwise no one in their right mind would actually buy an album called Minna Happy! Mama no Uta, would they? (laughs)
Minewaki: No, they wouldn't. (laughs)
— Anything else you wish to mention?

Minewaki: Is Buono! going to be included in the scope of this book? I like all their albums, but if I had to pick just one, I think I like their debut, Café Buono!, the best.
Yoshida: If they'd continued their activities full-time, I feel like they would've ended up receiving a lot more recognition. When Buono! appeared at Sashihara's event ("Sashihara Rino Produce Dai Ikkai Yubi Matsuri ~Idol Rinji Sokai~" held on 2012/6/25), everyone's opinion of Hello! Project shot way up.
Naka G: People were going, "damn, that Airi's a really good singer!"
Minewaki: I was sitting next to Akimoto Yasushi at that event, and after it ended, I left Budokan with this huge feeling of "hell yeah, our team won!" (laughs)
— Let's try to wrap this up. In closing, please discuss what makes Hello! Project albums so interesting.

Yoshida: Well, there are two types of good albums: the really accomplished, perfect albums… and the ones that aren't quite as perfect, but that still have one or two godly songs. That's not just a Hello! Project thing — it happens with everyone. Every group tends to have exceptionally good first albums. I think the three of us, too, mostly named early songs as our favorites. It makes me think that the energy of the first and second album, and the greatness of a group's early activities, isn't something that's limited only to bands.
— It's an important factor in establishing a personality for the group.

Minewaki: Albums have a tendency of just becoming single collections, but in the early era of any given group, there's always that heightened feeling of "come on, let's make a proper album here." I mean, Café Buono! had "Hoshi no Hitsujitachi" — a song composed by Tsutsumi Kyouhei!
Yoshida: That was my entire reason for buying the album.
Minewaki: Hashimoto Jun writing lyrics and Tsutsumi Kyouhei composing the music — that's the same duo who wrote the 1969 smash hit "Blue Light Yokohama." Tsutsumi had mostly ceased working altogether around this time.
Yoshida: He was pretty much doing one or two songs a year around then, and suddenly it's like "wait, he's coming back just to write a Buono! album song!?" It seemed pretty unreal. (laughs)
Minewaki: It came completely out of the blue. The duo worked together once again on the group's third album, We are Buono!, on the song "Koucha no Oishii Mise." That's no small thing.
— The more you dig into the details, the more you will find ways of better enjoying these albums. Is there anything else you wish to say?

Naka G: Well… In closing, could we talk a little bit more about Berryz Koubou?
Yoshida: You still have something more to say about them? (laughs)
Naka G: Well, I just wanted to reiterate that, at the end of the day, the loli era of Berryz Koubou was my favorite.
Minewaki & Yoshida: "The loli era." (laughs)
Naka G: I like their early days… but they have such a long, varied history, don't they? I liked the Inazuma Eleven songs; the Thongchai McIntyre songs… The group may have had its ups and downs, but I do like the spot they find themselves in today. I feel glad to have watched over them all this time.
Yoshida: So, in other words, though we may have brought with us only the early albums today, we do like their current material, too. That's something we perhaps ought to point out more. (laughs)
Naka G: Yes. (laughs)
— By the way: has your favorite member within the group ever changed, Naka G?

Naka G: It was Momochi at first. I mean, they were still just children at the beginning so I didn't really have a specific favorite, but I thought Momochi was funny. But at around "Koi no Jubaku," it changed to Kumai-chan. It's been that way ever since.
Minewaki: For me, it was Shimizu Saki-chan first, then Momochi, and then Kumai-chan.
Naka G: That's quite a big change.
Minewaki: I came to like Saki-chan through watching the movie Koinu Dan no Monogatari… because of that milk stealing scene. (laughs)
Yoshida: So even you'll sometimes change favorites, huh.
— I feel like Shimizu's looks have evolved quite a bit.

Yoshida: To me, she's pretty much at the peak of her cuteness today. She was amazing when she had those forehead-length bangs and the eyepatch…
Minewaki: Ah, you mean when she was a guest on Idol 36bou.
Yoshida: Yes. Black hair, those bangs, and that eyepatch… To me, that marked her peak cuteness. (laughs)
Minewaki: She dyed her hair right after, so you've actually got it pinpointed almost down to the day. (laughs)
— Well, having heard you three talk about all kinds of album songs today, I suppose the conclusion we've reached here is basically that it was worth it to chase after Berryz Koubou all these years. (laughs)
Naka G: Yep. It really was.
Yoshida: We did follow them for a long, long time.
Naka G (solemnly): Yes…
— I have this mental image of Berryz Koubou and Naka G beginning to run together, side-by-side… before finally reaching the end and cutting the finish line together. (laughs)

Naka G: It really does feel that way.
Interview & text: Tsuchiya Keisuke
English translation: Henkka
Minewaki Ikuo on the web: Twitter, blog
Yoshida Go on the web: Twitter
Naka G on the web: Twitter, Twitter, blog